Classic New England-style lobster rolls are loaded with fresh lobster meat and served in a buttered, toasted bun.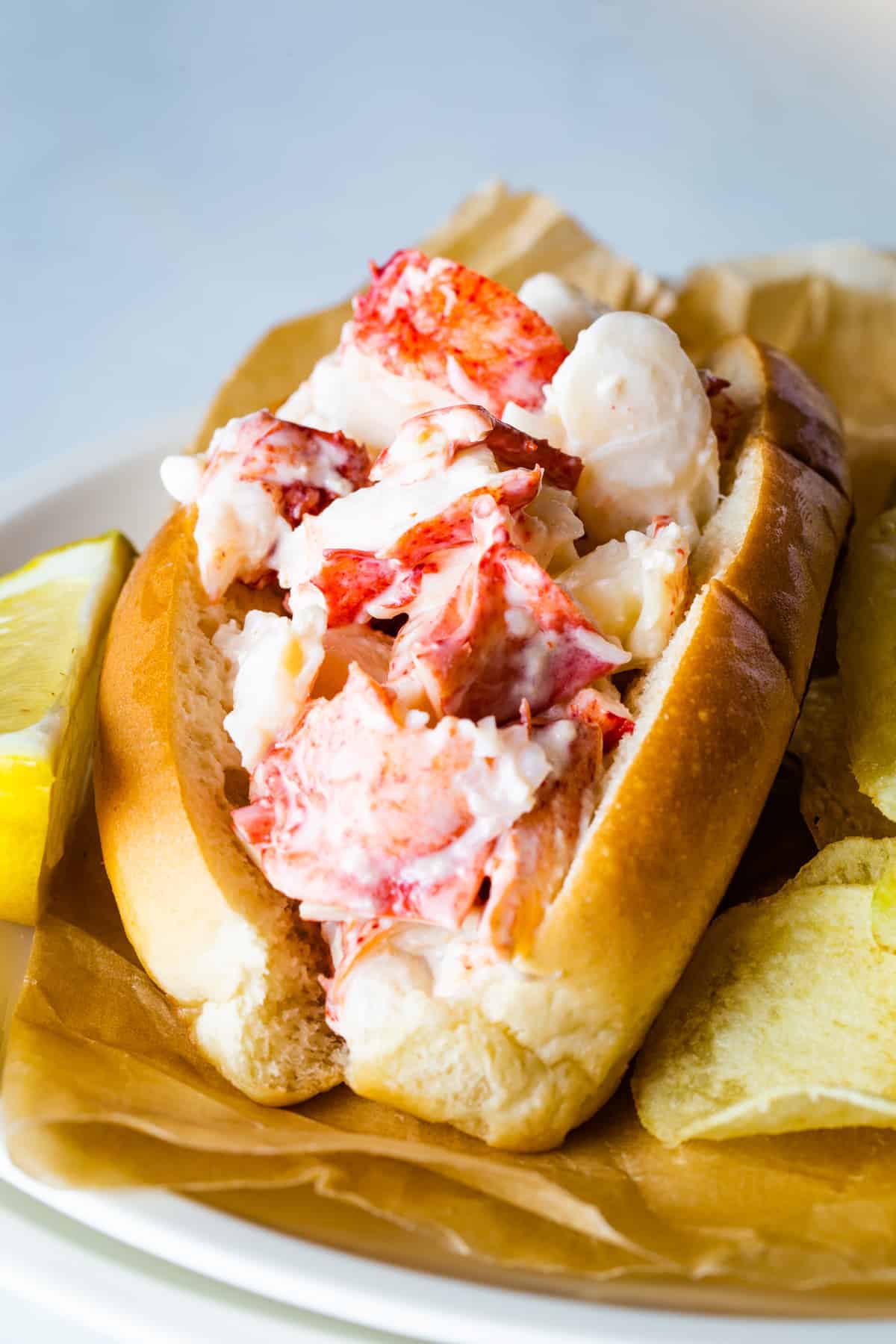 If a lobster roll is your idea of the perfect summer food, you've come to the right place.
Today we're talking about how to make the perfect New England Lobster roll—the kind that's bursting with lobster and served on a toasted bun.
In New England, you'll find two types of lobster rolls.
Butter Lobster Rolls: Cooked lobster meat drizzled with melted butter and served on a bun.
Mayo Lobster Roll: Cooked lobster meat tossed with mayonnaise and lemon juice. Sometimes chopped celery and onion are added. (One time I saw a lobster roll with chopped cabbage. Don't get me started on this.)
The Mayo Lobster Roll is my favorite and the one we're making today.
Ingredients for Classic Lobster Rolls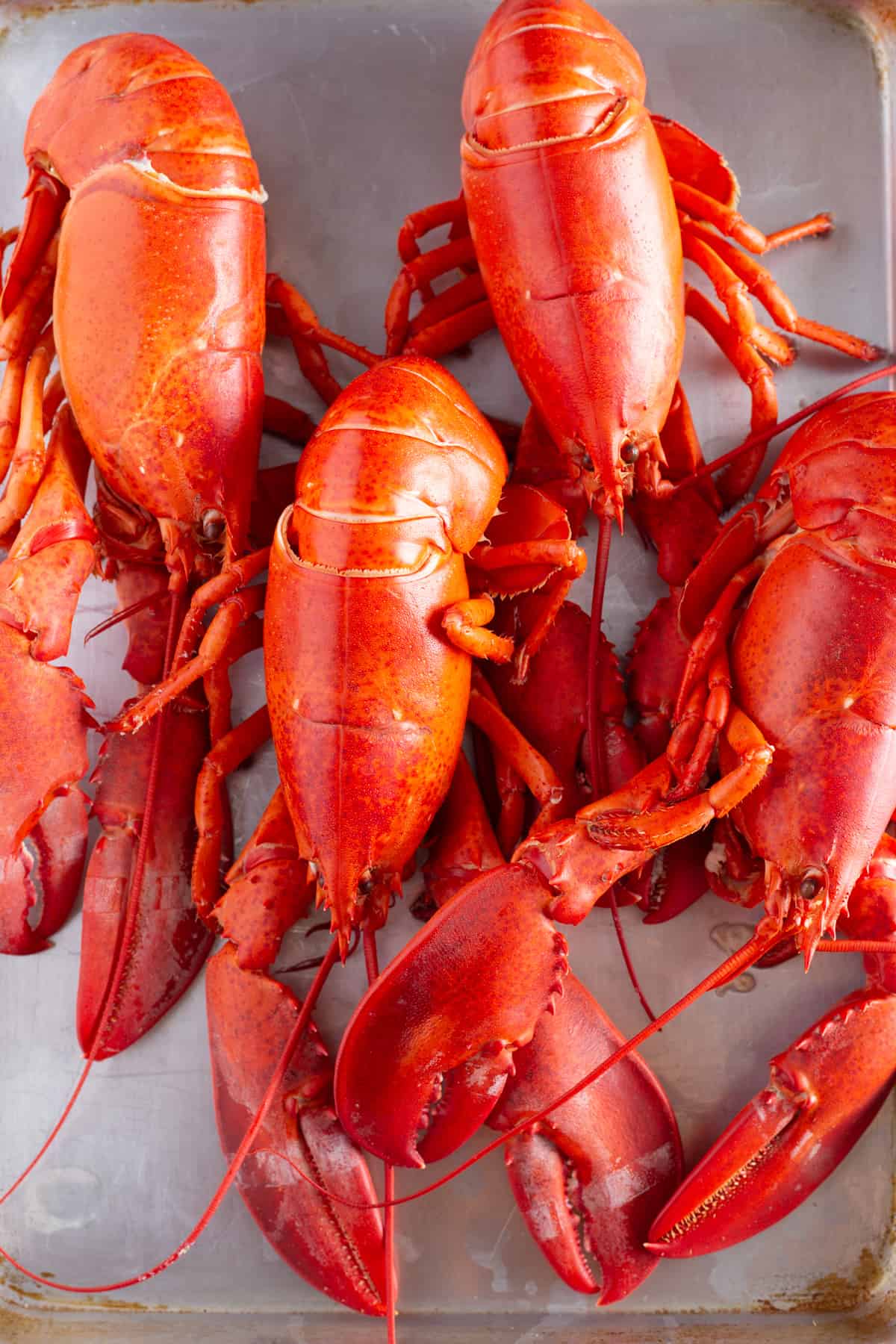 When I'm eating a lobster roll, the only thing I want to taste is lobster. This keeps my ingredient list simple. You might be wondering why I prefer the mayo roll to the buttered roll if all I want to taste is lobster. Good question. While I love butter and lobster, I find buttered lobster rolls a little lacking. Mayo and lemon juice are favor enhancers. Butter, while great, is buttery. It doesn't add anything to the meat other than a buttery flavor and sometimes, I think, it overpowers it a bit.
What you need to make lobster rolls.
Fresh lobster. The key here is very fresh lobster meat. You can either cook and clean the lobsters yourself or buy freshly cooked lobsters or lobster meat from the grocery store.
Mayonnaise. Classic mayonnaise tastes best. I use Hellmann's. Don't use a salad cream, like Miracle Whip, for lobster rolls. It's too sweet and spicy for the delicate flavor of the lobster meat.
Lemon Juice. Freshly squeezed lemon juice is a must. This isn't a time for the bottled stuff, which is too sharp for lobster rolls.
New England Hot Dog Buns. The classic bread for a lobster roll is a New England Hot Dog Bun. They're less bready than traditional hot dog buns and, the best part, because of how they're baked, the outside of the bun is flat, providing the perfect surface for buttering and toasting.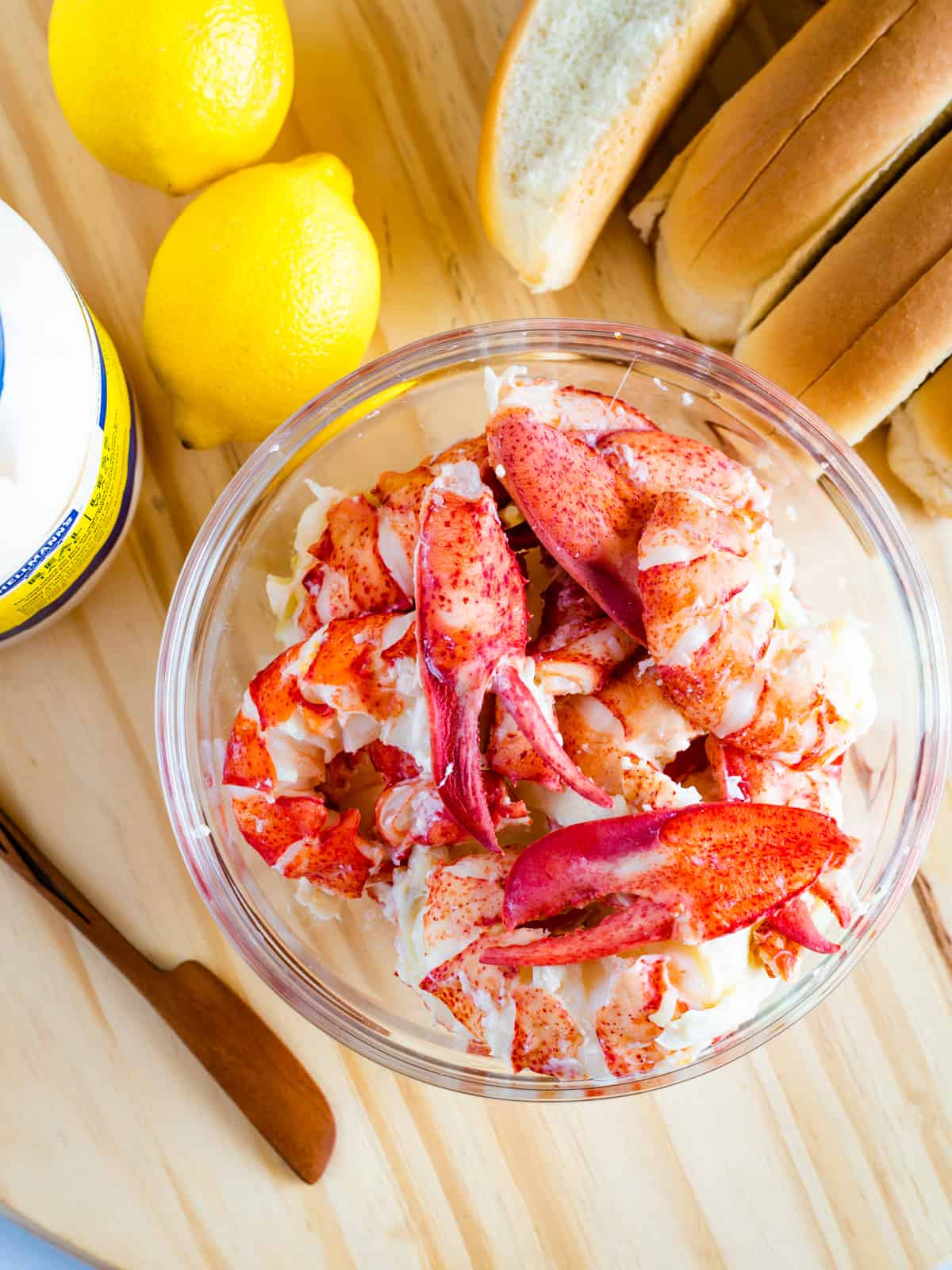 How Much Lobster Meat is in a Lobster Roll?
You want to use the meat from one small (1 pound to 1 1/4 pounds) lobster per roll. This works out to be about three to four ounces of meat per roll.
How to Make a Lobster Roll
Steam the Lobster (optional) Some grocery stores cook fresh lobsters for you. (And some sell the meat precooked and chopped.) If you're cooking the lobster at home, steaming it is the way to go. You only need about an inch of water to cook lobsters. I prefer steaming to boiling because it keeps the flavor of the lobster in the meat, instead of in the water, which happens when you boil a lobster.
Chop the Lobster Meat. Chop cold lobster meat into bite-size pieces, about 1/2 inch. Aim for pieces that are easy to enjoy in one bite.
Add Mayonnaise. Place the chopped lobster meat into a bowl. Add a dollop of mayonnaise. How much mayo? Good question! Just enough.
When adding mayonnaise, go slow. You can always add more but you can't take it away. The reason why I don't give a set amount is because the amount of mayonnaise varies from batch to batch depending on how small the lobster meat is chopped.
You don't want the lobster meat drowning in mayo. You're looking for a light, very light coating of mayo on the lobster meat. A whisper of mayo, if you will.
Add Lemon Juice. A little lemon juice brightens and enhances the flavor of lobster meat. As with the mayo, you don't want to use too much. The juice of one wedge of lemon is usually perfect.
Taste and Adjust. After adding the mayo and lemon, stir everything together. Give it a taste. If you think it needs more mayo or lemon juice, adjust as needed.
Butter and Toast the Buns. Classic lobster rolls are served on buttered, toasted New England hot dog buns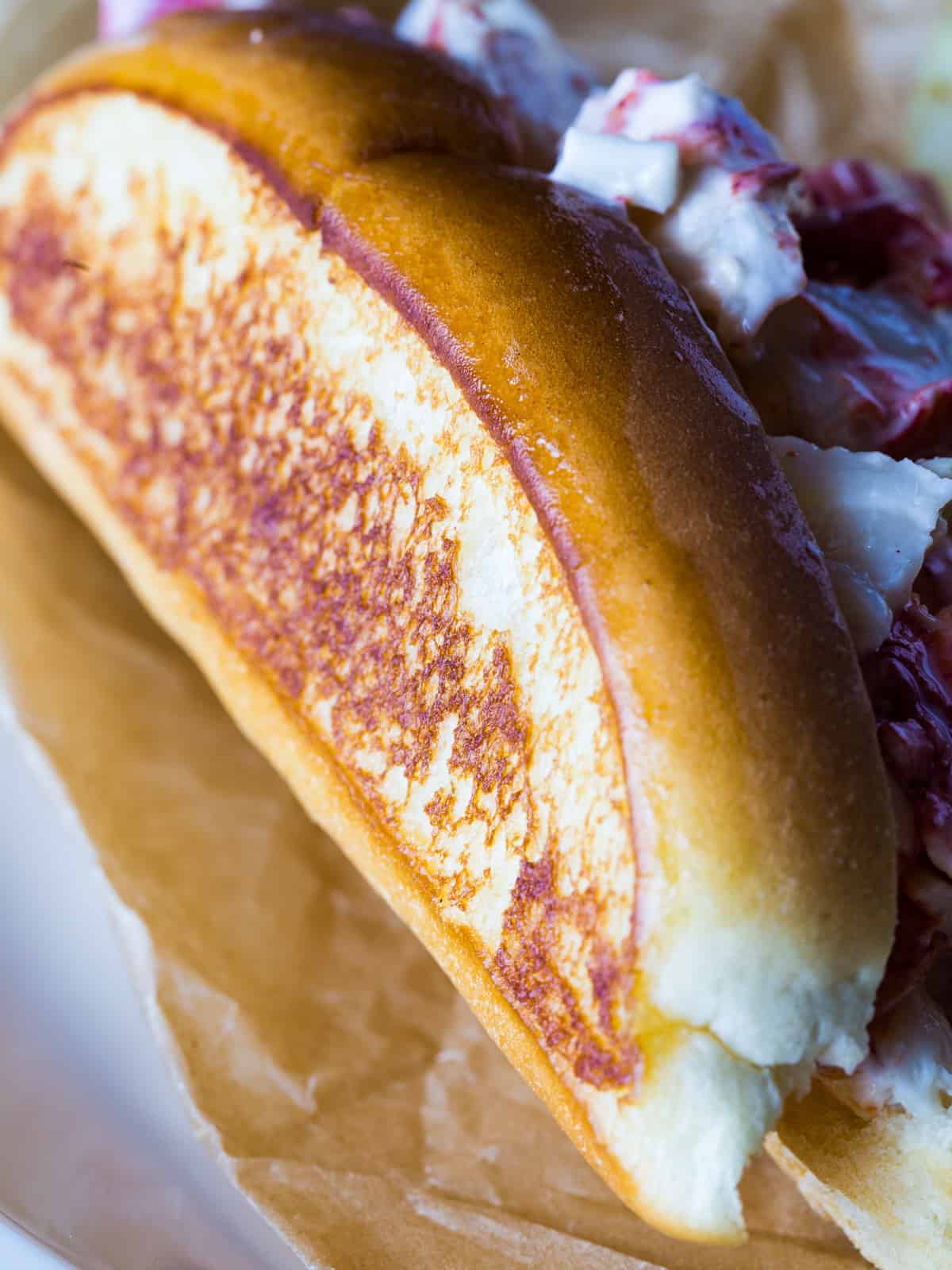 How to Toast a Bun for Lobster Rolls
Spread butter on the outside of each bun. Heat a nonstick griddle or frying pan. Place the bun, butter side down, in the pan. Cook until lightly golden brown. This takes about two to three minutes, per side.
Remove the bun from the pan and allow it to cool for a few minutes before filling.
Can you add celery to a lobster roll?
You sure can. I don't like anything competing with the flavor of the lobster. If you enjoy a little crunch, add finely chopped celery to the lobster salad.
Why doesn't the recipe contain salt or pepper?
Fresh lobster meat brings a briny, salty flavor with it. I don't find it needs additional salt. As for black pepper, I don't love the peppery kick with lobster.
Of course, you can add salt and freshly ground black pepper when tasting the lobster to adjust the mayo and lemon juice.
Can you make lobster rolls ahead of time?
You can prepare the meat a day ahead of serving. Cover the cooked, chopped meat and chill in the refrigerator. Toss the meat with remaining ingredients just before serving.
What to Serve with Lobster Rolls
French fries.
Baked potatoes
Potato chips
Coleslaw
Dill pickles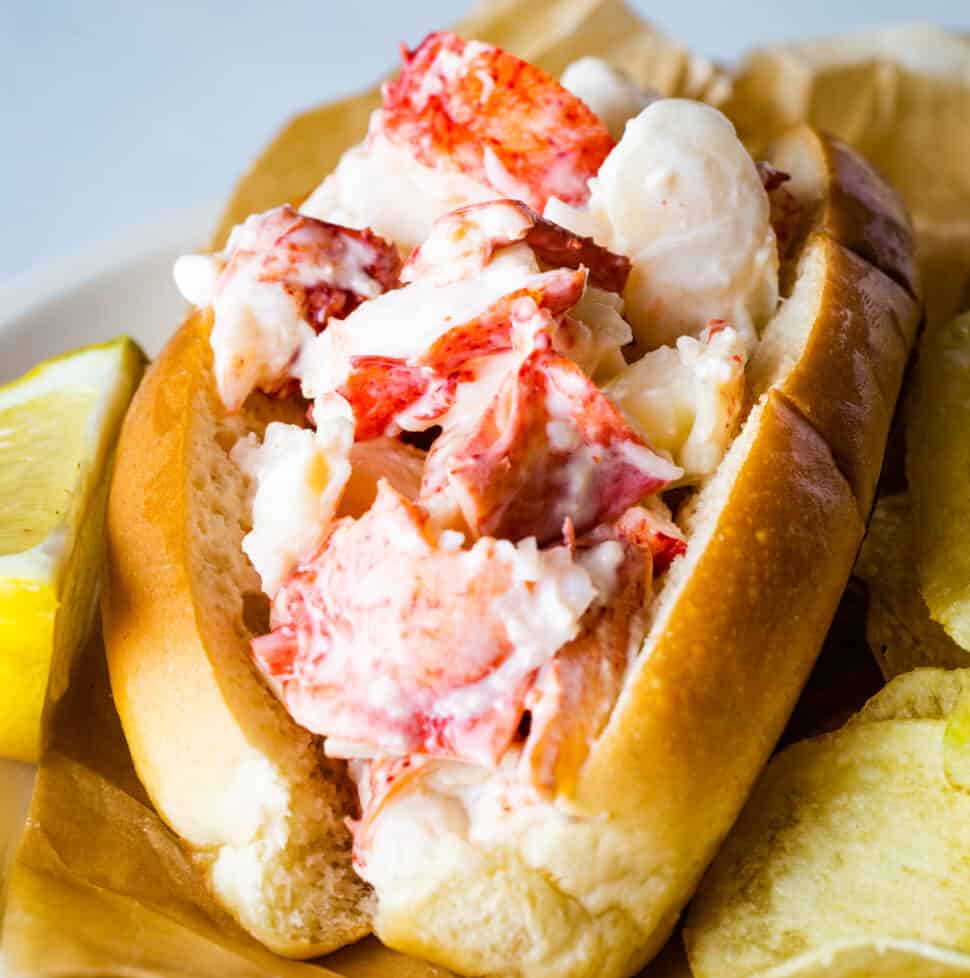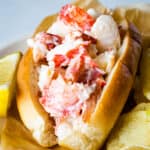 Lobster Roll
Classic New England-style lobster rolls are loaded with fresh lobster meat and served in a buttered, toasted bun.
Lobster Cooking Time
12
minutes
Ingredients
salt, for cooking lobsters

4

one to 1 ¼-pound live lobsters, cooked and cleaned OR one pound of lobster meat

Mayonnaise, about two tablespoons

Fresh lemon juice, about one tablespoon

4

New England–style split-top hot dog buns

Butter, room temperature
Instructions
Steam the Lobster. Fill a large pot with 1 inch of water. Salt generously. Bring to a boil. Add the lobsters, cover, and cook until bright red, 10–11 minutes. Transfer lobsters to a rimmed baking sheet and allow to cool.

Crack Lobsters and Pick the Meat. Remove the meat from tail and claws. Chop meat into bite-size pieces.

Make the Filling. Place lobster meat in a medium bowl. Add about two tablespoons of mayonnaise and about one tablespoon freshly squeezed lemon juice. Stir gently. Taste. Add more mayonnaise and lemon juice, if needed.

Toast the Buns. Spread flat sides of the buns with butter. Heat a nonstick griddle over medium heat. Place buns, butter side down, onto hot griddle. Toast until golden brown, about 2 minutes per side. Remove from the pan and allow the buns to cool slightly.

Fill the Rolls. Fill each toasted bun generously with the lobster mixture. Serve immediately.
Recipe Notes
Steaming the Lobster Note
Don't crowd the pot when cooking lobsters. Cook one or two lobsters at a time if you have a small pot.