Well, hello there! It seems you're looking for a healthy nacho recipe. You've come to the right place. I make sheet pan nachos for dinner when I want something quick and easy. And I consider my recipe healthy-ish.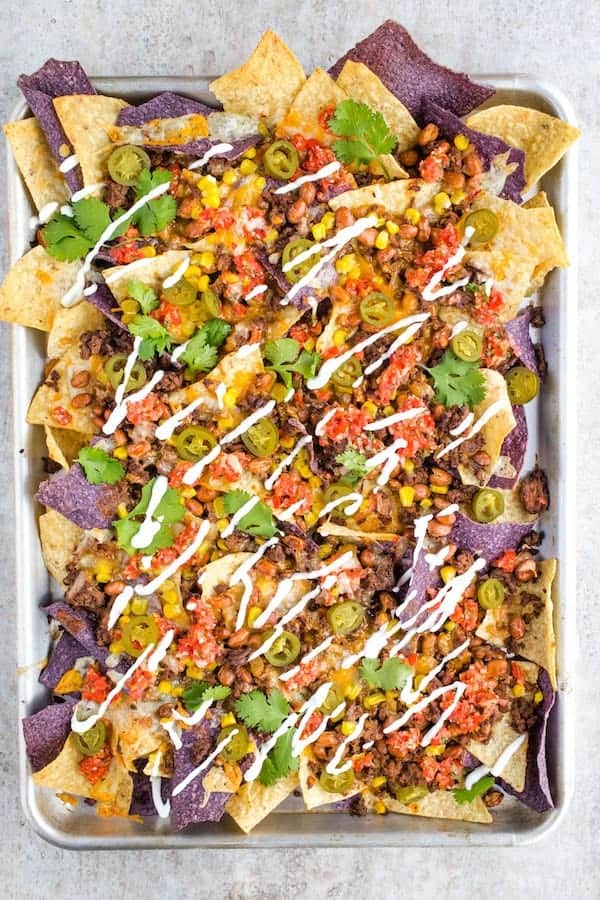 Why healthy-ish?
These Sheet Pan Nachos contain
Ground beef (extra-lean with some turkey)
Cheese (just enough so that you can taste it)
Tortilla Chips. (baked, not fried)
These nachos aren't vegan or paleo or even low calorie. But they're lighter (read: not a gut bomb) than traditional nachos. If that works for you, let's make some.
How to Make Healthy (ish) Sheet Pan Nachos
Use Lean Ground Beef or Turkey (or a combination of both.) For this recipe, I usually use half 97% ground beef and half lean ground turkey. Why the combination? Taste and texture. This combination gives me the taste of traditional nachos without being so heavy. (Then I save the remaining beef and turkey for a batch of Instant Pot Sloppy Joe's.)
Use Spices, Not Salt. Not only are most nachos loaded with fat, they often contain a lot of salt. Use a salt-free chili powder to flavor the cooked ground meat mixture. I like to use Penzey's Regular Chili powder.
Use Low or No Sodium Beans. Here's another easy way to control how much salt the recipe contains: buy canned beans that are low in salt. They're usually sold right next to the "regular" canned beans at the store. The good news? They're the same price as regular beans.
Use (a little) Good Cheese. Okay, I'm not talking about pulling out your best five year Cheddar here but if you want lots of flavor, you need to grate your own cheese. Pre-shredded cheeses aren't as flavorful and don't melt as well as cheese you grate yourself. For sheet pan nachos, I use an extra-sharp Cheddar.
Add "Flavor Bombs." For a recipe like this, little things, like pickled jalapenos, make a big difference. Add some toppings that pack a big flavor punch without bringing too much salt or fat to the nachos. (suggestions listed below)
Use Baked Tortilla Chips. There are several brands of "healthy" tortilla chips on the market. To check how healthy they are, be sure to read the label. Some are healthy in name only.
Skip the Queso. Jarred queso is yummy…it's also not the healthiest option. (I know. Shocking right? Hee.) For these nachos, skip the queso. They'll taste good without it, I promise.

Healthy Sheet Pan Nachos

Healthy Sheet Pan Nachos with Ground Beef make a tasty--and easy--weeknight meal.

Ingredients

For the Nachos

nonstick cooking spray

8

ounces

tortilla chips, baked suggested

2

teaspoons

olive oil

8

ounces

extra lean ground beef or lean ground turkey

(or half ground beef and half ground turkey)

1

small

onion, diced

2

cloves

garlic, minced

2

tablespoons

regular chili powder

1

(15-ounce) can

low sodium pinto beans, drained and rinsed

1

cup

corn kernels

frozen

3/4

cup

shredded extra sharp Cheddar

For the Toppings (optional)

Pico de Gallo or Salsa

Sour Cream

Guacamole

Sliced Black Olives

Pickled Jalapenos

Chopped Cilantro

Instructions

Preheat oven to 424 degrees F. Lightly spray a rimmed baking sheet with nonstick cooking spray or line with aluminum foil.

Place tortilla chips in a single layer onto the prepared baking sheet. Set aside.

Heat olive oil in a large nonstick skillet over medium high heat until shimmering. Add ground beef. Cook, breaking up beef with a wooden spoon as it cooks, until beef browns and no pink spots remain, about 3-5 minutes. Add onions, cook until soft, about two minutes. Add garlic. Cook for one minute. (Drain excess fat if needed.) Stir in chili powder.

Top tortilla chips evenly with the cooked ground beef, pinto beans, corn, and cheese.

Bake until the cheese melts and nachos are heated through, about 7-8 minutes.

Remove from the oven. Sprinkle desired toppings evenly over the warm nachos. Serve immediately.