Honey mustard pretzels are so easy to make. Simply make a honey mustard glaze and pour it over your favorite pretzels. Then bake for about 30 minutes.
And if you love flavored pretzels, try these cinnamon-sugar pretzels. They're the perfect combination of sweet and salty.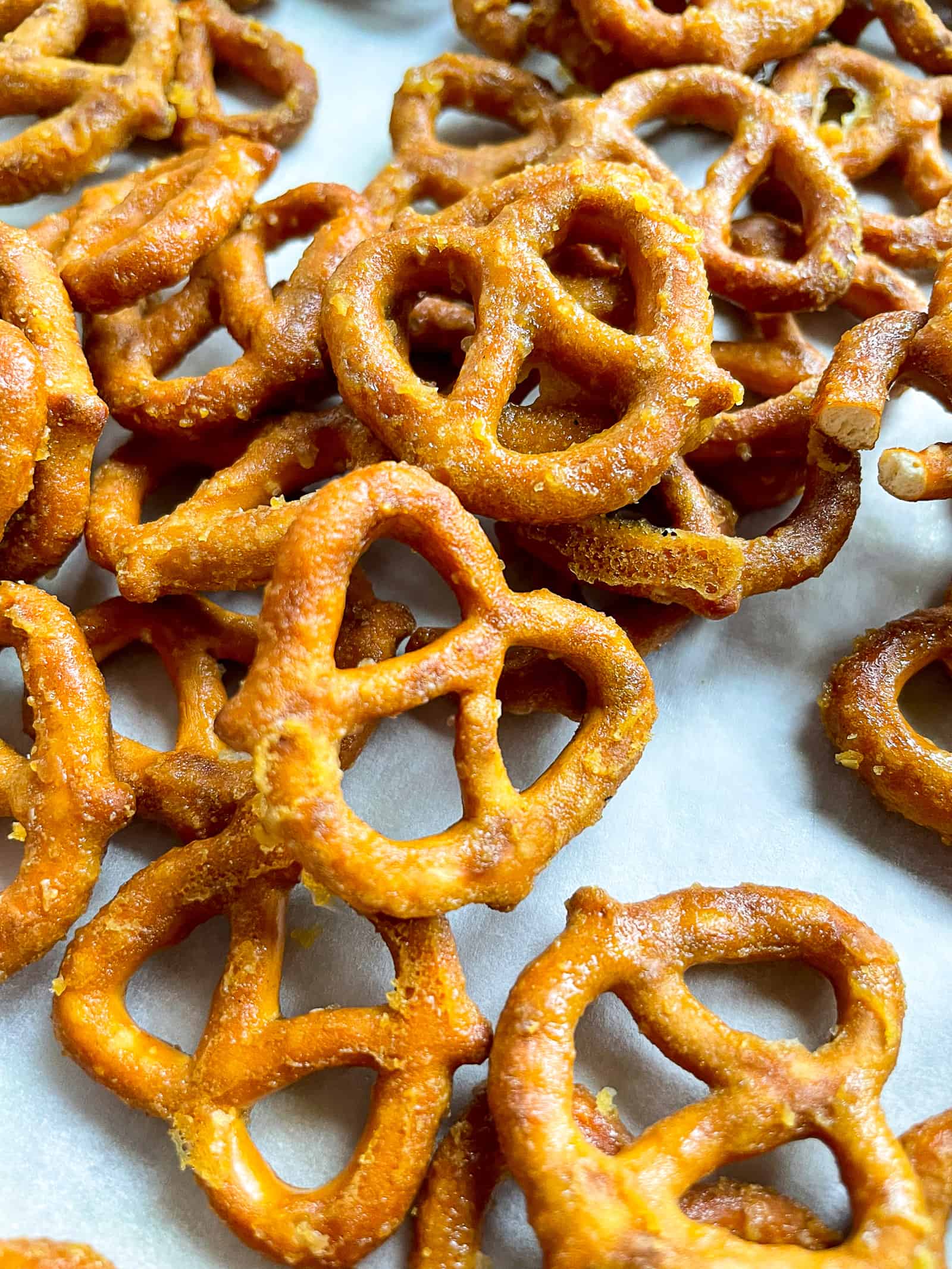 I recently bought a bag of honey mustard pretzels. And loved them. When I went to get more, they were sold out. So I decided to make my own. Like the store-bought pretzels, they're sweet with a really nice mustard flavor. The texture is a little different. The homemade pretzels have an almost sticky glaze. I don't mind because the flavor is so good. 
Honey Mustard Pretzel Ingredients.
Pretzels. Use any pretzel you love. I think butter-flavored pretzels are especially nice. If you want to use big, sourdough pretzels, break them up before coating. Not only does this make them easier to eat, but the glaze also sticks better to the broken pieces. 

Avoid any pretzels with flavoring, since the recipe adds a honey-mustard glaze. If you buy unsalted pretzels, add about 1/2 teaspoon salt to the glaze. 

Butter. A little butter adds richness and helps make the coating smooth. If you don't want to use butter, replace it with melted dairy-free butter, margarine, or vegetable oil.  

Honey. Three tablespoons of honey make the pretzels pleasantly sweet.

Yellow or Dijon Mustard. I first made these pretzels with dijon mustard. But found that yellow mustard made the for the most "mustardy" flavor. But, really, you can use whatever mustard you like. 

Mustard Powder. My first few batches of pretzels didn't have enough mustard flavor. Adding more mustard made them too soft. The solution? Mustard powder.

Onion Powder. The onion powder is optional. It gives the pretzels a nice savory flavor. 
How to Make Honey Mustard Pretzels.
Make the Glaze. 
Bring all the ingredients, except the pretzels, to a gentle boil. You can do this in a small pan or in a microwave-safe bowl. 
Coat the Pretzels. 
Pour the hot glaze over the pretzels. Stir really well to coat each pretzel with the glaze. Don't worry if a few pretzels break up. They taste just as good. 

Spread the pretzels into one layer on a 18×13-inch baking sheet. These pretzels love to stick to an uncoated pan. To prevent this mess, use a parchment-lined or greased pan.
Bake. 
Bake the pretzels for about 30 minutes in a 275℉ oven. This sets the coating. After baking, remove the pan from the oven and allow the pretzels to cool. Don't eat them right away. The glaze is hot and can burn your mouth.

After the pretzels cool, gently break them apart with a spatula.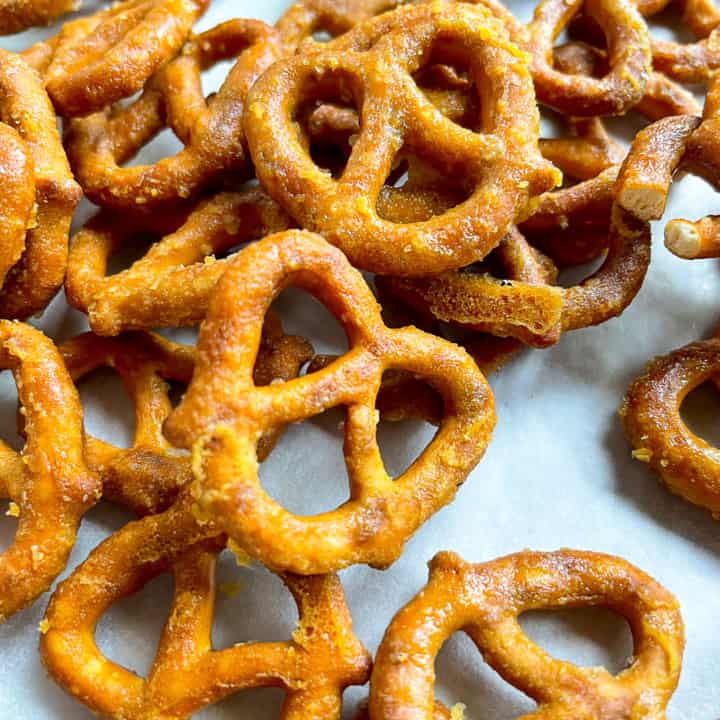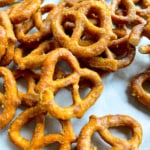 Honey Mustard Pretzels
Honey mustard pretzels are so easy to make. Simply make a honey mustard glaze and pour it over your favorite pretzels. Then bake for about 30 minutes. The finished pretzels are tangy and sweet.
Ingredients
3

tablespoons

butter

3

tablespoons

honey

2

tablespoons

yellow or Dijon mustard

1

tablespoon

mustard powder

½

teaspoon

onion powder

4

cups

small pretzel twists
Instructions
Preheat oven to 275°F. Line an 18×13-inch baking sheet with parchment paper.

Combine butter, honey, yellow mustard, mustard powder, and onion powder in a small pot. Bring to a boil over medium heat.

Place pretzels in a large bowl. Pour honey-mustard mixture over pretzels. Stir to combine, coating each pretzel.

Spread pretzels onto the prepared baking sheet in a single layer.

Bake for 30 minutes. Allow pretzels to cool on the pan. Once cool, break apart and enjoy.

Store covered on the counter for up to 7 days.