This restaurant-style Pasta e Fagioli recipe is made in the Instant Pot. Filled with beans, sausage, tomatoes, and vegetables, it's rich and filling. If you love ordering this at the Olive Garden, this version is for you.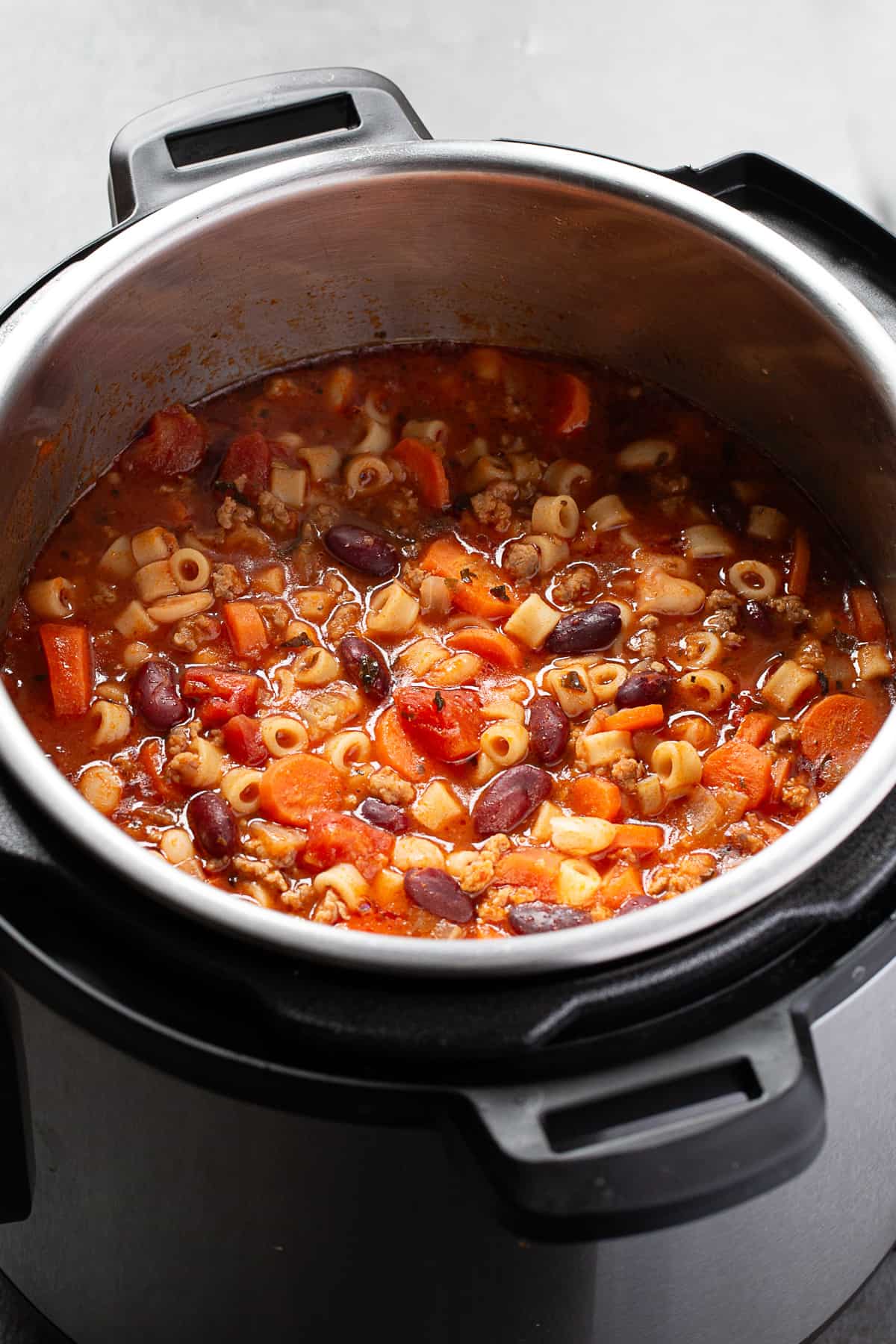 I think this recipe is one of the best things you can make in your Instant Pot. It takes a classic pasta e fagioli and adds sausage, carrots, celery, and Italian seasoning. This soup is filling and every spoonful is loaded with flavor.
Ingredients.
Here's what you need to make this recipe. To make prep faster, you can chop and measure all the ingredients the night before you want to make the soup. Just remember to store everything in the fridge until you're ready to cook.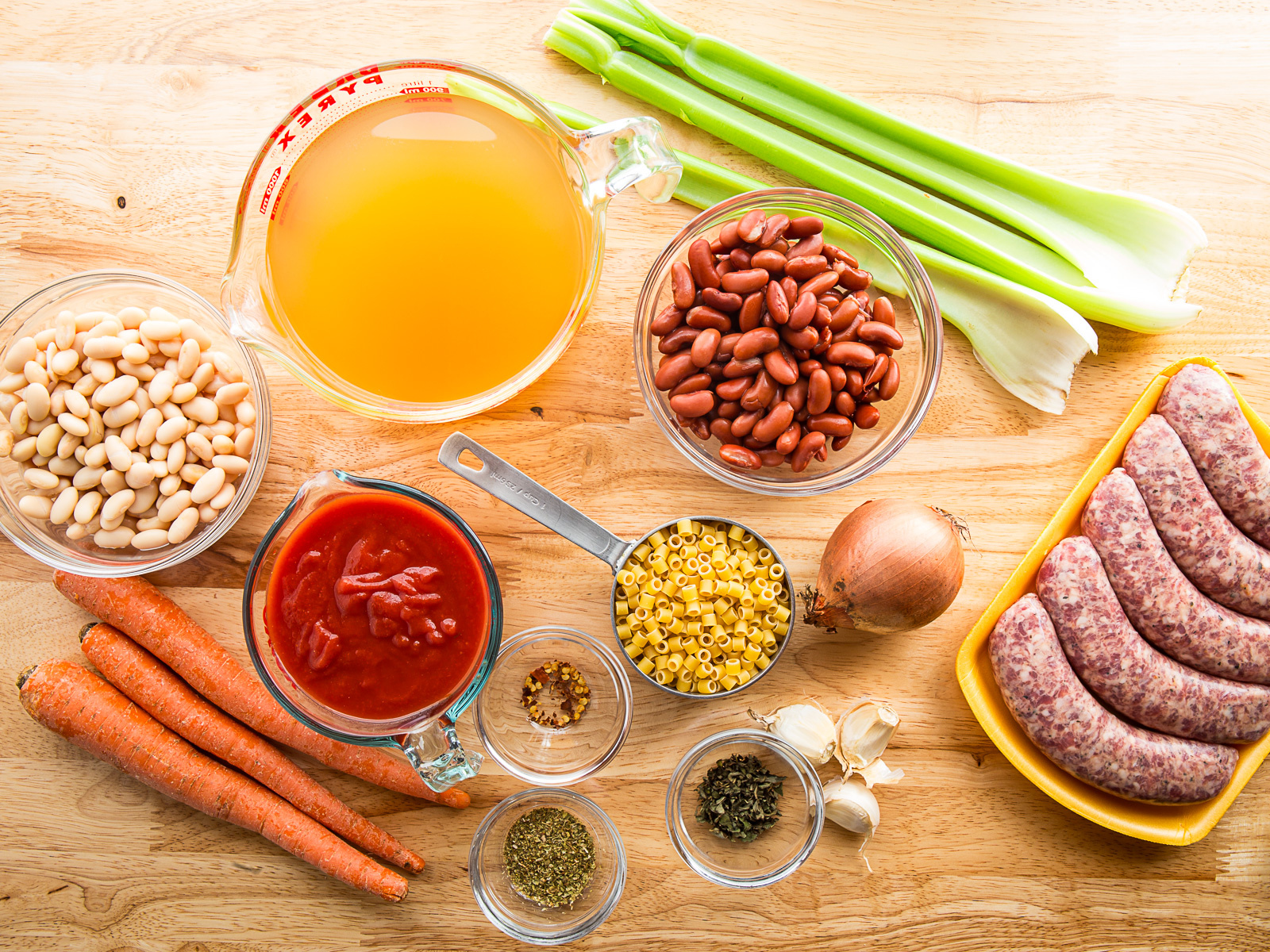 Italian sausage. Use spicy or mild Italian sausage. If you can't find ground sausage, use sausage links and remove the casing before cooking. 
Ground turkey. (optional)  A blend of half-sausage and half-ground turkey is a nice option for a lighter flavor. 
Chicken broth. I like to use low or no-sodium chicken broth when making soup. It allows you to salt the soup to your taste. 
Tomato sauce. Be sure to use a can of tomato sauce, not pasta sauce. Canned tomato sauce isn't too thick and gives the soup the right flavor and consistency.
Diced tomatoes. Regular or petite diced both work great.
Beans. Think of the beans as suggestions. The recipe calls for a can each of red kidney beans and great northern beans. You can use whatever canned beans you like. Rinse them before adding to the pot. And just like the chicken broth, I prefer the low-salt versions. 
Pasta. Ditalini pasta is perfect for pasta e fagioli. It's small, tube-shaped, and fits perfectly on a spoon. If you can't find it, use small elbows or shells.
Vegetables. The onion, carrots, celery, and garlic are cooked before pressure cooking to give the soup lots of flavor. 
Herbs and Seasonings. Use dried basil, oregano, and red pepper flakes along with salt and black pepper. 
How to Make Pasta e Fagioli in the Instant Pot.
Cook the Meat and Vegetables. Select the sauté setting on your pressure cooker. Heat the oil until it shimmers. Cook the ground sausage until it's brown. Be sure to crumble the meat as it cooks. 

If your pressure cooker doesn't include a sauté setting, do this step in a frying pan and then transfer it to the pressure cooker. 

Once the meat is browned, add the onions, carrots, celery, and garlic. Cook for about three minutes. Stir it frequently as it cooks. Cooking the vegetables before starting the pressure cooking cycle adds flavor. I don't recommend skipping this step
Deglaze the Pot. Have you ever experienced a "burn" notice on your pressure cooker? Even when nothing in the pot was burned? This warning can appear when food is stuck to the bottom of the pon. To avoid this warning, add about ½ cup of chicken broth to the pot.  Scrape the bottom of the pot to remove any stuck-on pieces of food. 
Add the Remaining Ingredients. Turn off the saute setting and add the remaining ingredients. Stir the soup a few times before you lock the lid in place. 
Cook for Three Minutes. Select the manual setting and program a 3-minute cook time. While the soup only needs to cook for three minutes, it takes about 15 minutes before it reaches pressure.   
Allow a 10 Minute Natural Release. Once the soup is done cooking, let it cool for 10 minutes before releasing the pressure. If you vent the pressure cooker as soon as the cooking time is completed, soup could potentially spray out of the valve. 
Release the Remaining Pressure. Carefully turn the pressure release valve to release any remaining pressure in the pot. Open the lid slowly and give the soup a stir. 
How Long Does Pasta e Fagioli Take to Cook in the Instant Pot?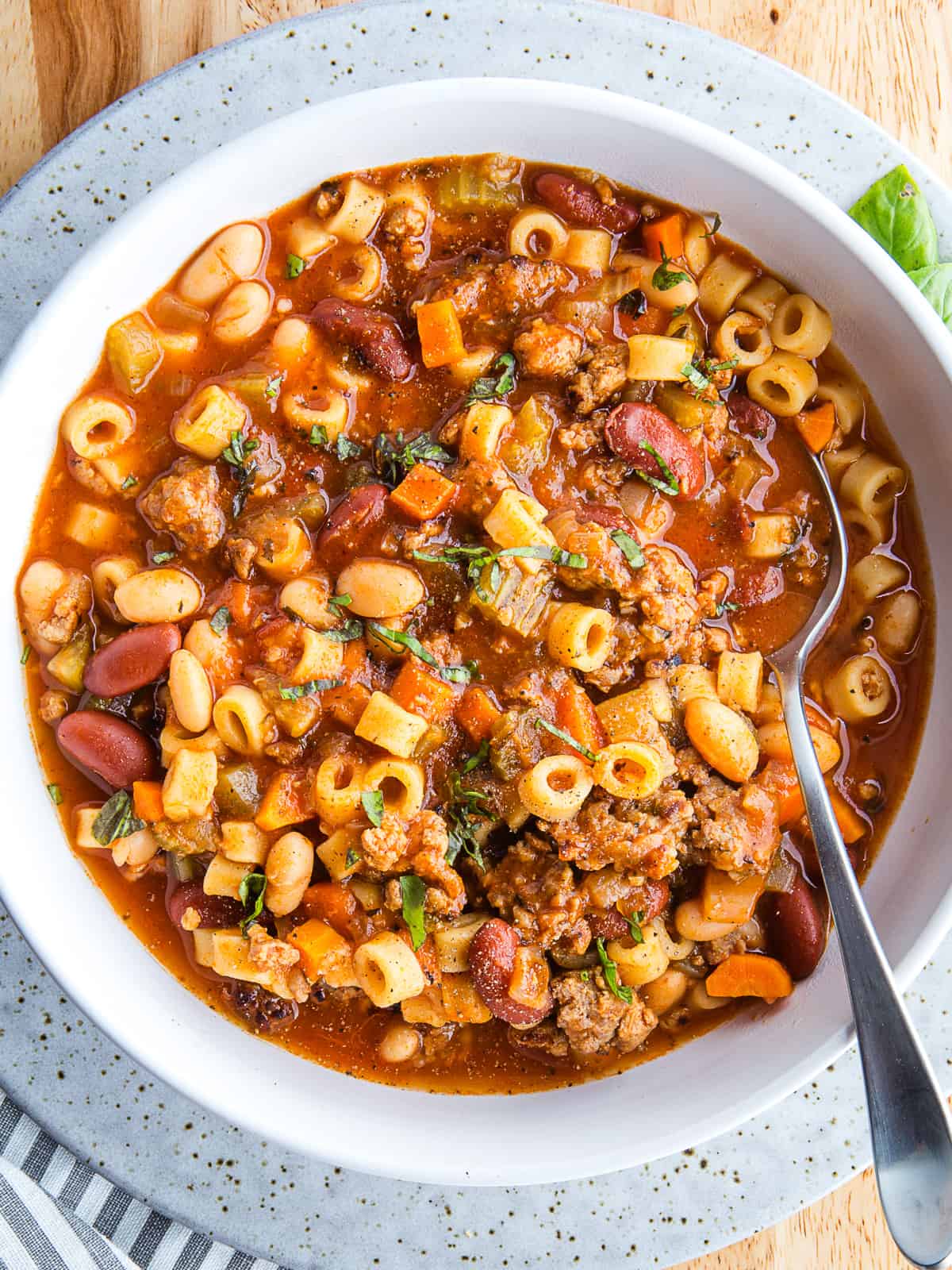 This soup takes about 30 minutes from start to finish to cook. This doesn't include the prep time for the ingredients. Although you set the cook time on the pressure cooker for only three minutes, the soup takes longer than that to cook. First it must reach pressure. This takes about 15 minutes after you close the lid and turn the pressure cooker on. When it reaches pressure, it seals and cooks for three minutes. Finally, when the cook cycle is complete, it needs to cool in the pot for 10 minutes before you release the pressure.
How to Reheat Pasta e Fagioli.
Pasta e Fagioli keeps for up to three days in the refrigerator.
Pasta e fagioli leftovers thicken quite a bit because the pasta soaks up the liquid. When reheating, add enough water to loosen. Stir the soup and then turn the heat to medium-low. Heat until it's warmed through. If you want to reheat it in the microwave, cook for one minute. Let it cool for a few seconds. Stir and then enjoy.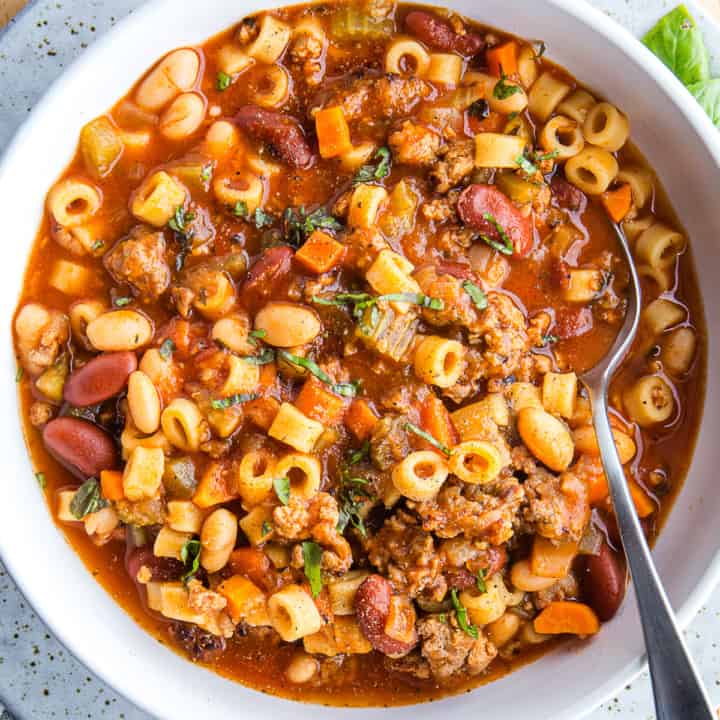 Instant Pot Pasta e Fagioli
This restaurant-style Pasta e Fagioli recipe is made in the Instant Pot. Filled with beans, sausage, tomatoes, and vegetables, it's rich and filling.
Natural Release
10
minutes
Ingredients
1

tablespoon

olive oil

8

ounces

mild or spicy Italian sausage*

8

ounces

93% lean ground turkey*

1

medium

onion, finely diced

(8 ounces; about 1 ½ cups chopped)

3

small

carrots, diced

(6 ounces; about 1 cup diced)

3

stalks

celery, thinly sliced

(8 ounces; about 2 cups sliced)

3

cloves

garlic, minced or put through a garlic press

(about 2 tablespoons)

4

cups

low or no sodium chicken broth

1

(16-ounce) can

tomato sauce

(Hunt's recommended)

1

(15-ounce) can

diced tomatoes

2

teaspoons

dried basil

1

teaspoon

dried oregano

pinch

red pepper flakes

1

(15 ounce) can

red kidney beans, drained and rinsed

1

(15-ounce) can

great northern beans, drained and rinsed

1

cup

ditalini pasta

Kosher salt and freshly ground black pepper

to taste
Instructions
Select Sauté and adjust to the "high" setting. Add oil to the pot insert. Heat until "hot" appears on the display. Add the sausage and ground turkey. Cook, breaking up with a wood spoon, until no pink remains.

Add onions, carrots, celery, and garlic. Cook for three minutes, stirring frequently. Add ½ cup chicken broth. Scrape bottom with a wooden spoon to remove any stuck on bits. This is important. Cooked on food can cause the "burn" message to appear.

Add remaining chicken broth, tomato sauce, diced tomatoes, kidney beans, Great Northern beans, basil, pasta, basil, oregano, and red pepper flakes. Stir to combine. Press cancel to turn off sauté setting.

Close and lock the lid. Set the valve to sealing. Select manual (High pressure). Set the time to 3 minutes. When the cooking time completes, allow the pressure to release for 10 minutes.

After 10 minutes, carefully turn vent to release remaining pressure. Remove lid. Stir soup. Adjust salt and pepper to taste. Serve.
Recipe Notes
*You can use 1 pound of Italian sausage or 8 ounces of sausage and 8 ounces of ground turkey. If you can't find ground Italian sausage, use links. Remove them from the casing before cooking.