Confused by the Instant Pot? Here are 5 terms that make it easy understand and use your Instant pot!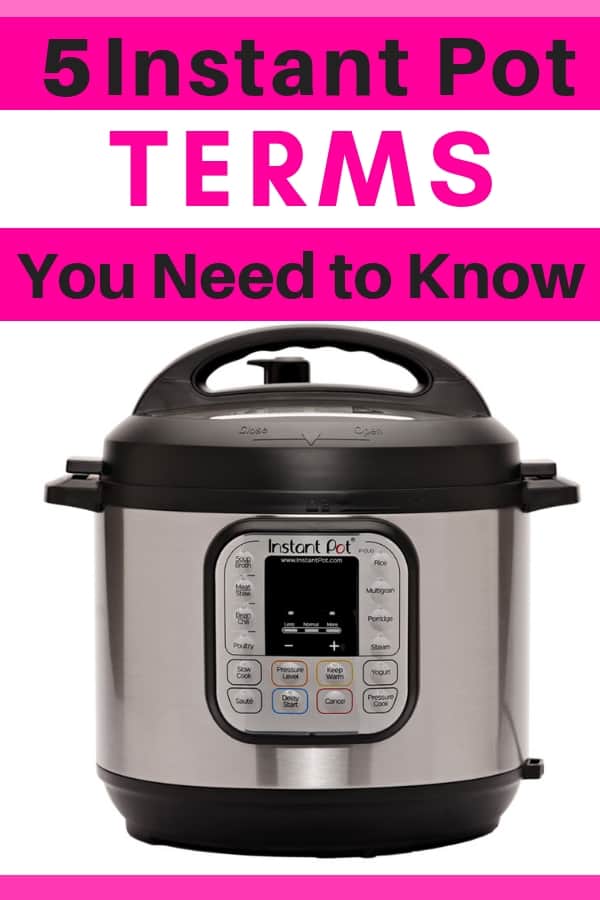 So you've followed my Instant Pot Set Up 101. Excellent. But…you still have questions. I get it!
Although Instant Pot and other electric pressure cookers are enjoying a surge in popularity, they aren't the most intuitive of appliances. Unlike a crock pot, where you just add ingredients and go, the Instant Pot uses some techniques and terms that can be confusing at first.
Here's my list of terms that every Instant Pot User should know. Read this list and you'll soon understand PIP from QR!
Natural Release/ Natural Pressure Release / NR
What it Means: Allowing the pressure (steam) to release on its own.
How to Complete a Natural Release on the Instant Pot:
Once cooking time completes, do not touch the Instant Pot. As the pot cools, the pressure slowly releases from the pot. You don't have to do anything. Natural release time takes anywhere from 10 to 20 minutes, depending on the fullness of the Instant Pot.
After the valve drops, turn the pressure release knob to "venting". This step ensures that the float pin has dropped all the way and all pressure is released. Don't skip this step when completing a natural release.
Once you've turned the pressure release valve, and no steam escapes, open the lid away from your face.

Quick Release /Quick Pressure Release / QR
What it Means: Turning the pressure release valve to release pressure (steam) all at once.
How to Do a Quick Release on the Instant Pot:
Turn the pressure release valve to venting position when the cook time completes. A jet of steam will quickly and forcefully escape from the valve. Be sure to keep hands and face away from the valve or you could get severely burned. A quick release takes about 15-30 seconds to complete.
Once the valve pin drops, turn the lid and open it away from your face. This protects you from getting a face full of steam.

Manual/ Pressure Cook
The manual/ pressure cook setting allows you to select the pressure level (on some models) and the cook time (on all models.) It's by far my most used setting on the Instant Pot and the one you'll see most often in recipes created for electric pressure cookers because it allows you to specifically select the cook time, unlike the other settings, which select the pressure and cook time for you.

Insert/Inner Pot
As with a crock pot, you must cook food inside the Instant Pot insert. It's the "pot" of the Instant Pot. Be sure to always place the insert into the Instant Pot before cooking. You'd be surprised how many people forget. And it makes a mess!
There are two types available, the stainless steel insert that comes with your Instant Pot and a nonstick ceramic version that you can purchase. The nonstick ceramic version is great for puddings and yogurt, or any foods that tend to scorch. (Note: You can buy an additional stainless steel pot if you need one.)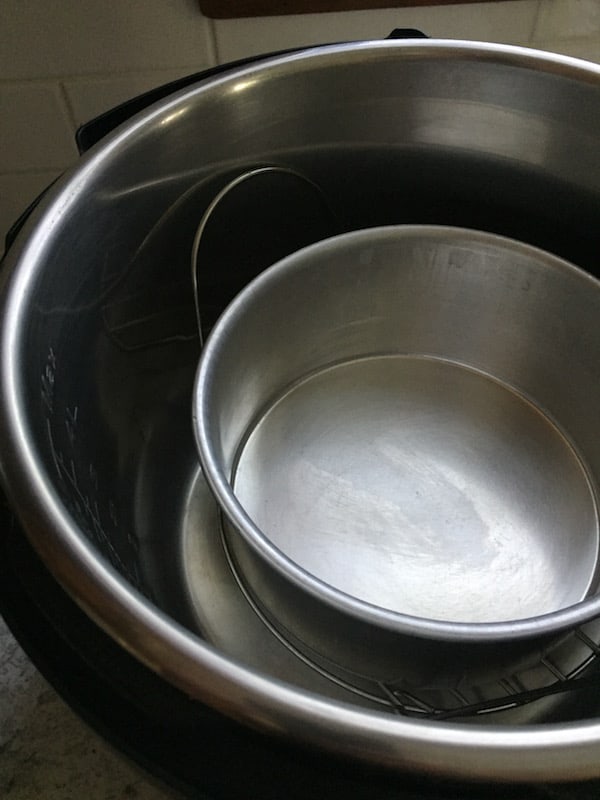 Pot-in-Pot (PIP)
A method where a bowl, dish, or pan is placed inside the Instant Pot Insert, often on a trivet. This cooking method is used for a variety of foods that might burn or scorch if cooked directly in the insert. Pot-in-Pot is also used for "baking" in the Instant Pot.
For this method, you'll need a pan that fits inside your Instant Pot. For most, a pan with a 6″ or 7″ diameter works best. This is the cake pan show above.