Easy Instant Pot Turkey Chili. Loaded with veggies. Perfect for busy weeknights.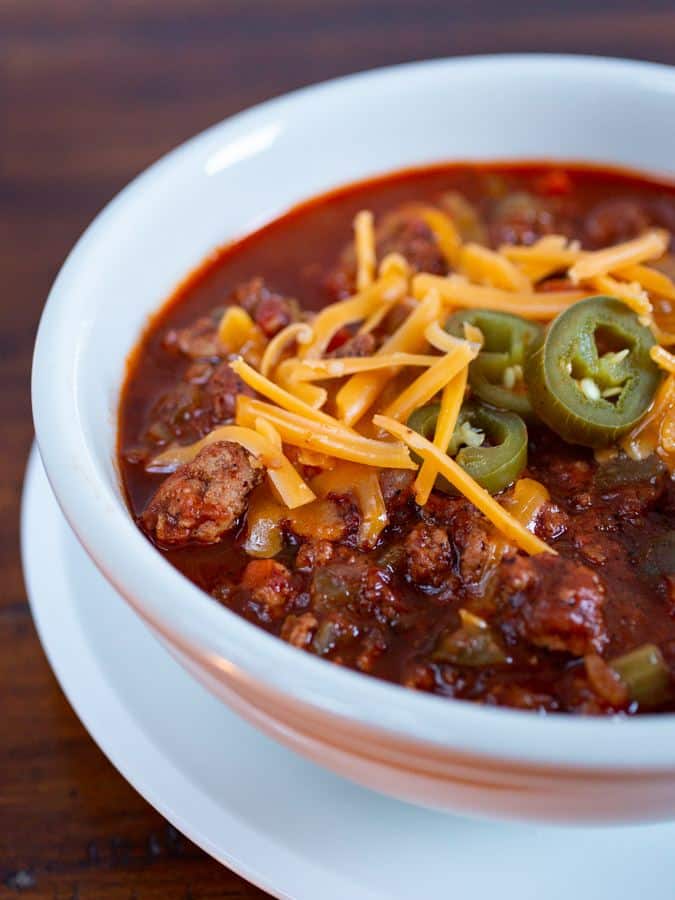 Around here, "Do you want chili for dinner?" usually means one thing: veggie chili. It's the recipe we go to again and again. (and again.)
But sometimes I mix things up a bit and make…turkey chili. I know. I'm a wild woman over here.
This recipe borrows heavily from my veggie chili. It's loaded with celery, carrots, peppers, and onions. (And garlic. Mustn't forget the garlic!) If you prefer your chili as a meat-only affair, I'm afraid this one isn't for you.
Easy Instant Pot Turkey Chili: The Ingredients
The Turkey
For the best flavor, use a low-fat ground turkey that's labeled 85 to 93% lean rather than one that's ultra low-fat (95% lean and above).
It's important to cook the turkey, browning and crumbling as it cooks, before adding the rest of the ingredients. This step adds flavor and prevents the turkey from cooking in large clumps.
The Vegetables
Carrots, celery, onion, green pepper, and garlic make the chili filling and flavorful. To save time, chop your vegetables the night before you plan on making the chili. Store the prepped vegetables in the refrigerator overnight.
The Beans
I like this recipe with pinto beans. But, really, use any canned bean you like. Why canned beans? Because dried beans take too long to cook and the other ingredients would overcook by the time the beans were ready.
The Spices
A mild chili powder works really well in this recipe. I like Penzey's regular chili powder. If you prefer the chili with a bit of a kick, add a little dried chipotle and/or some cayenne powder.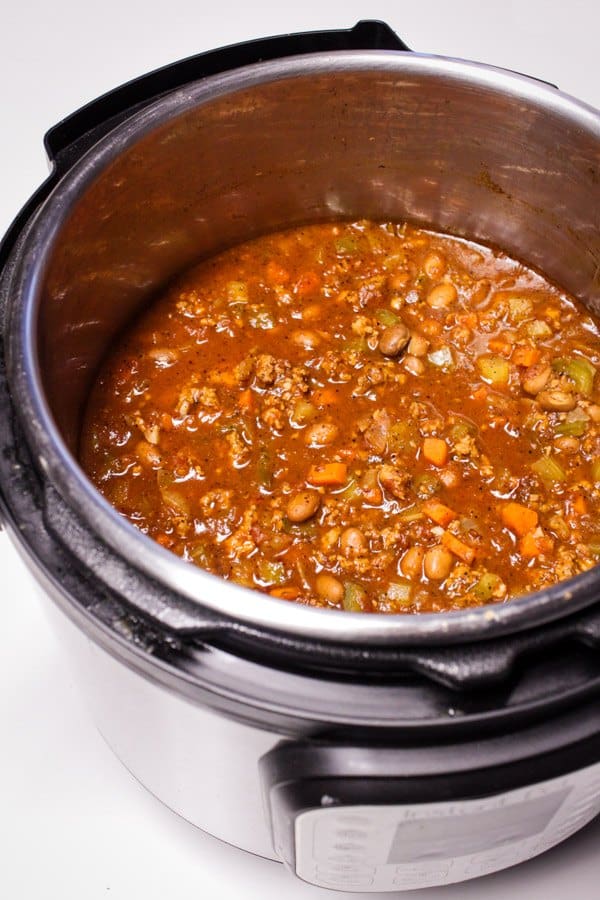 Troubleshooting
The Burn Message Appeared.
Note: This recipe was created for a six-quart pressure cooker. If you use a larger pressure cooker, the burn message can appear. Follow the steps below to see if it solves the problem. 
If you're using a six-quart pot and get the message, here's what to do: vent any pressure and safely remove the lid from the pressure cooker. Scrape the bottom of the pot to remove any stuck-on pieces of food. Then add about a 1/2 cup water. Stir. Replace the lid. Cook as directed.
The Chili is Too Thin
The consistency of crushed tomatoes varies from can to can. If the finished chili is thinner than you'd like, select the "saute" setting. Allow the cooked chili to simmer, uncovered, for a few minutes. If the chili is very thin, add a tablespoon or two of tomato paste. Stir to combine.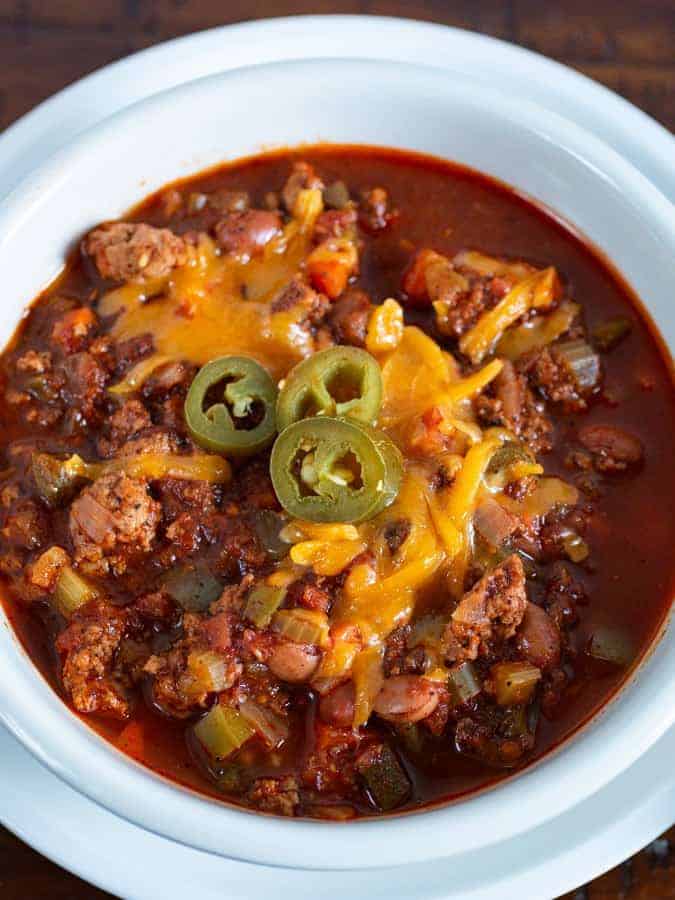 FAQs
How to Store Leftover Chili?
Cool chili. Store covered in the refrigerator for up to three days.
What to Serve with Chili?
Corn chips
Grilled Naan
What toppings go well with chili?
Grated cheese

Chopped red or green onions.

Guacamole or chopped avocado

Sour cream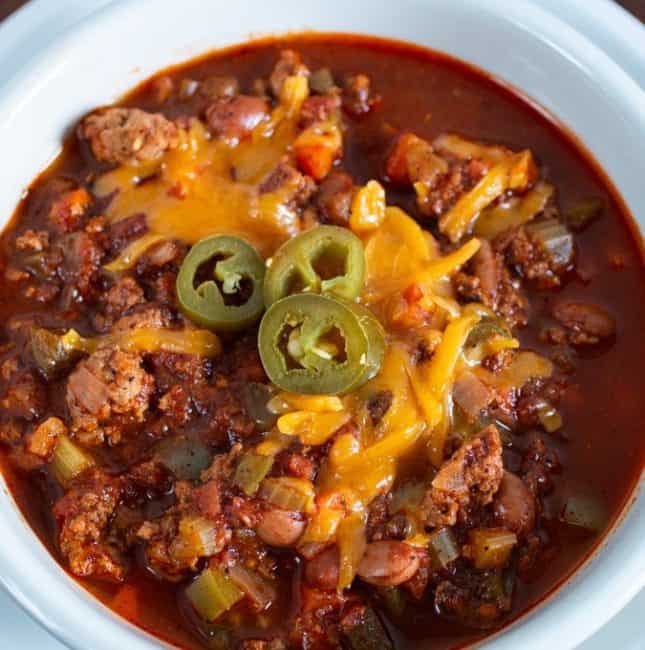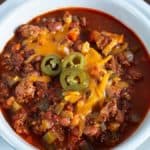 Easy Instant Pot Turkey Chili
Easy Instant Pot Turkey Chili. Loaded with veggies. Not too hot! Perfect for families and busy weeknights.
Ingredients
1

tablespoon

olive oil

1

pound

lean (85 to 93%) ground turkey

1

medium

onion, finely chopped

1

medium

green bell pepper, cored and finely diced

3

medium

carrots, peeled and thinly sliced

3

stalks

celery, thinly sliced

3

cloves

garlic, minced or put through a garlic press

1

(28-ounce) can

crushed tomatoes

1

(15-ounce) can

pinto beans, drained and rinsed

1/2

cup

water

3

tablespoons

chili powder

1 1/2

teaspoons

ground cumin

1

teaspoon

kosher salt
Toppings
thinly sliced scallions

shredded cheddar cheese

diced avocado

sour cream

diced red onions

chopped cilantro
Instructions
Place the oil in the insert of a 6-quart electric pressure cooker or Instant Pot. Turn the sauté setting on and heat the oil until shimmering. Add the turkey and cook, stirring constantly to break up the meat into small pieces, until no longer pink, about 4 minutes.

Add the onion, bell pepper, carrots, celery, and garlic. Cook, stirring occasionally, for 3 minutes. Add the tomatoes, pinto beans, water, chili powder, cumin, and salt. Stir to combine.

Secure the lid and close the vent. Set the cook time for 15 minutes at high pressure. When the cooking time completes, open the valve to quick release the pressure. Open the lid away from your face. Stir the chili. Serve the chili with your desired toppings.
RECIPE NOTES
Leftovers can be stored in an airtight container in the refrigerator for up to 4 days or frozen for up to 3 months.