Mac and Cheese Cupcakes are an over-the-top crispy, crunchy treat. Scoop your favorite mac and cheese into muffin cups, top with bread crumbs, and bake until golden brown.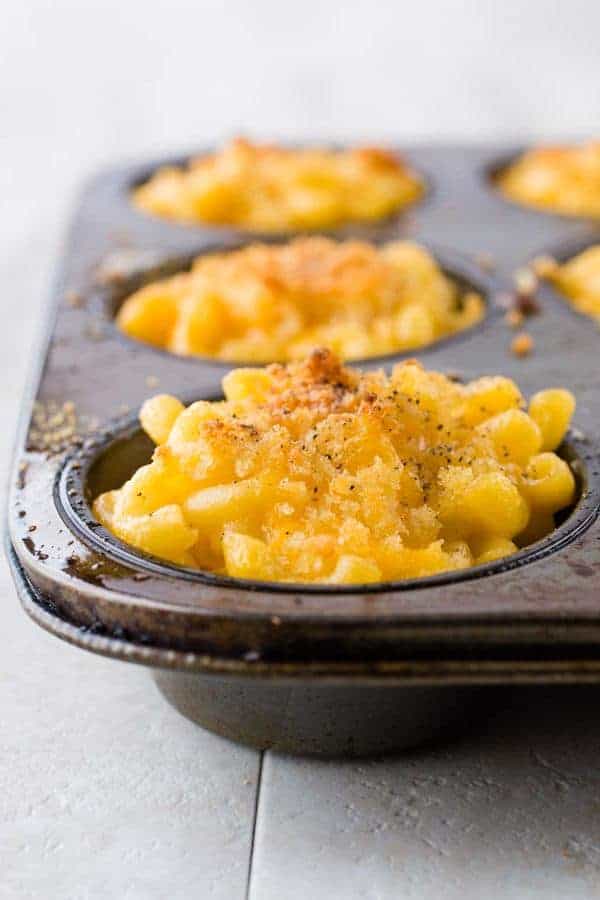 What are your feelings on the crispy, crunchy edges on baked mac and cheese? If you love 'em, this recipe for mac and cheese cupcakes is for you.
When you bake mac and cheese in a muffin tin, the outside and top of the "mac and cheese muffin* get nice and crispy. Basically, you get a bit of crunch in every bite. No more fighting for a crispy edge!
*"mac and cheese muffin" is my new band name.
How to Make Mac and Cheese Cupcakes
Make it. Make a batch of your favorite mac and cheese. (I recommend my Instant Pot Mac and Cheese. It makes the perfect mac and cheese for these cupcakes.)
Scoop it. Place the warm mac and cheese into a greased muffin cup. (Use a muffin scoop to make this job really easy!)
Top it. Buttered bread crumbs and a little Parmesan cheese make for tasty and crunchy topping for mac and cheese. (Or you could use crushed potato chips or even leave them plain!)
Bake it. Bake the mac and cheese cupcakes until golden brown and bubbly.

Why Make Mac and Cheese Cupcakes?
Crunchy. The edges are nice and crispy. Even picky eaters love these cups. (Unless they hate crunchy pasta. Then this one is a pass. Heh.)
Perfect individual portions. One of these with a salad makes a great summer meal or serve them as an appetizer.
Portable! Take them to your next picnic or a potluck.
Personalizable You can personalize them. Stir whatever add-ins you love into the cooked mac and cheese before placing it into the muffin cup. Make a few with chopped, cooked baked. Some with steamed broccoli, and a couple with leftover ham.
Perfect for Holiday Buffets. Serve these cups on Easter, Thanksgiving, Christmas, or, heck, even Arbor Day.
What to Serve with Mac and Cheese Cupcakes
Salad. I like to make a salad that includes some bitter greens, like arugula to cut through the richness of these cupcakes.
Broccoli. What can I say? There's a reason broccoli and Mac and Cheese is a classic culinary combo.
Roast Chicken. Serve mac and cheese cups with a roast chicken and some broccoli or broccoli rabe for a tasty Sunday super.
Ham. Ham and mac and cheese on Easter tastes extra special.
Fish (Sticks). One of my friends claims that she never ate fish sticks without mac and cheese as a kid. As an adult, she still likes the combo. Whether you want to serve these cups with baked fish or fish sticks is up to you!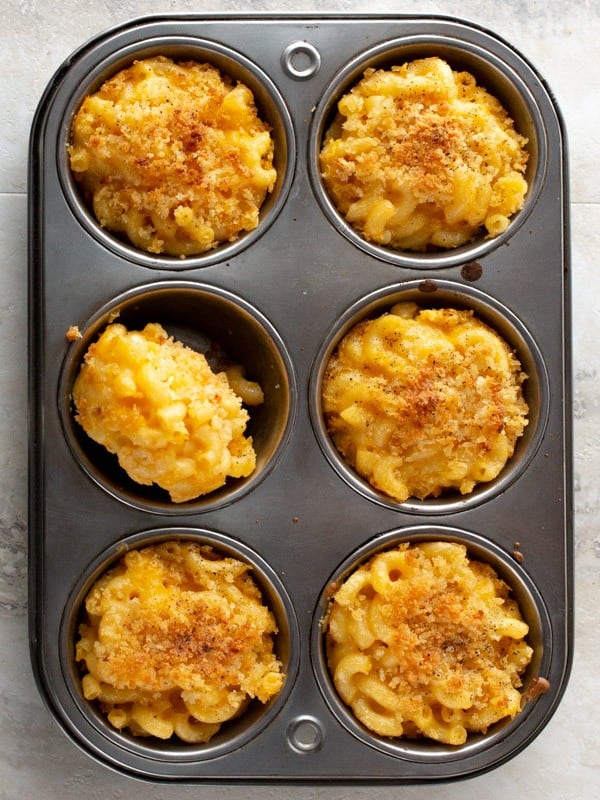 FAQs: Mac and Cheese Cupcakes
Can I freeze mac and cheese cups?
Yes! When ready to serve reheat in the oven or microwave. You can reheat from frozen but I prefer to let them thaw before reheating. It takes more time but I think it's worth this. This way you don't get hot edges with frozen centers.
Can I serve these at room temperature?
You sure can! I prefer them warm but if you enjoy room temp mac and cheese, go for it!
Can I make this a day before serving?
Yes! Reheat when you're ready to serve. Or scoop the mac and cheese into cups, cover, and refrigerate overnight. When ready, remove from ridge, top, and bake.
Can I top these with crushed potato chips?
Absolutely! (And then invite me over for dinner.)
Would this recipe work in mini muffin tins?
Yes! Be sure to grease the mini muffin cups really well. Bake until tops are brown.
Can I make this recipe gluten-free?
Yes! Replace the elbow macaroni with gluten-free pasta and the flour with an equal amount of white rice flour. Since gluten-free pasta tends to get hard when cold, I'd serve the gluten-free version warm; not at room temp.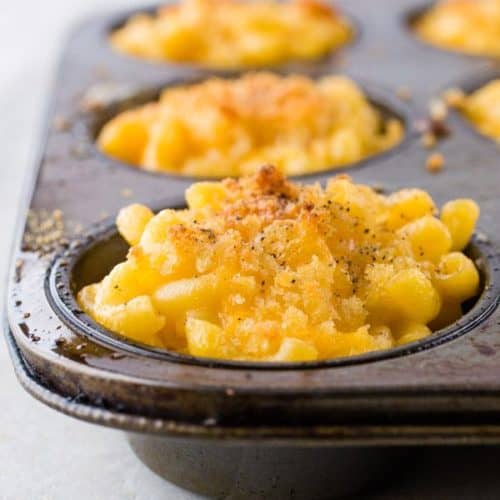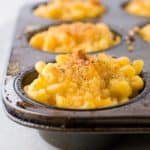 Mac and Cheese Cupcakes
Mac and Cheese Cupcakes are an over-the-top crispy, crunchy treat. Scoop your favorite mac and cheese into muffin cups, top with bread crumbs, and bake until golden brown.
Ingredients
2

cups

elbow pasta*

2

tablespoons

unsalted butter*

2

tablespoons

flour*

1

cup

whole milk*

8

ounces

(2 cups) grated sharp Cheddar cheese*

1

large

egg*

beaten

2

tablespoons

breadcrumbs

2

tablespoons

grated Parmesan cheese

2

teaspoons

melted unsalted butter
Instructions
Preheat oven to 425 degrees F. Grease 12 standard muffin cups with nonstick cooking spray. Set aside.

Bring a large pot of water to a boil. Salt generously. Cook pasta according to package instructions. Drain well.

While the pasta cooks, prepare the sauce. Melt butter in a large saucepan over medium heat. Add flour. Cook, whisking constantly, until lightly brown, about 1 minute. Slowly add milk in a slow and steady stream. Bring to a boil. Cook until thick, about two minutes. Reduce heat to low. Add cheese, one handful at a time, stirring gently. Allow cheese to melt between each addition. Remove from heat. Add drained pasta. Stir to combine. Add egg. Stir until combined.

Spoon mac and cheese into prepared muffin cups. In a small bowl, stir together bread crumbs, Parmesan cheese, and melted butter. Divide evenly over each muffin cup.

Bake until golden brown, about 20 minutes.

Store leftovers wrapped in the refrigerator for up to three days. Reheat, covered, on low power in the microwave or place the mac and cheese cups in a small baking pan. Add one tablespoon water to the pan. Cover the pan tightly with foil. Heat in a preheated 350 degree oven until warm, about 15 minutes.