Instant Pot Peeps Rice Krispie Treats are a fun and easy Easter dessert.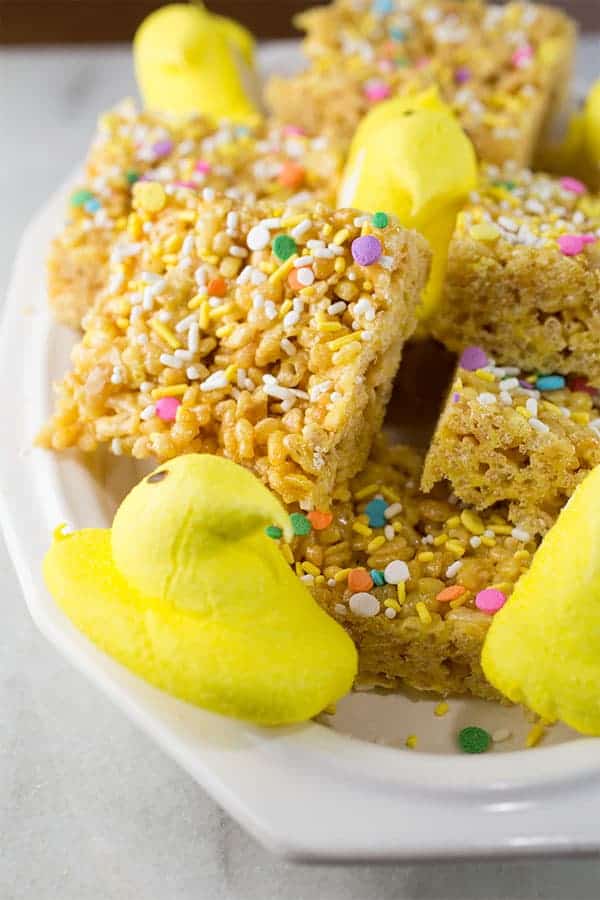 If you could eat one dessert every day, with no consequences, what would you pick?
I'd pick (drumroll, please)…Rice Krispie treats.
Yup. Rice Krispie treats.
They're the one dessert that tests my self-control. Ice cream? I'll take a scoop. Cookies? One or two. Rice Krispie treats? The entire pan, please and thank you.
It seems I love rice desserts in all forms. Rice pudding, anyone?
Since I love crispy treats so much, I've attempted various versions over the years.
Cookies and Cream: So yummy! I shared the recipe. (Cookies and Cream Crispie Treats)
Peanut butter and chocolate? Excellent.
Coconut. Very good.
Kale. I liked it. My family…did not. (yes. you read that right. I added kale to my krispie treats).
There was one bridge I'd never crossed: Peeps Rice Krispie Treats.
This year, I did it. Oh yes I did!
How to Make Peeps Rice Krispie Treats in the Instant Pot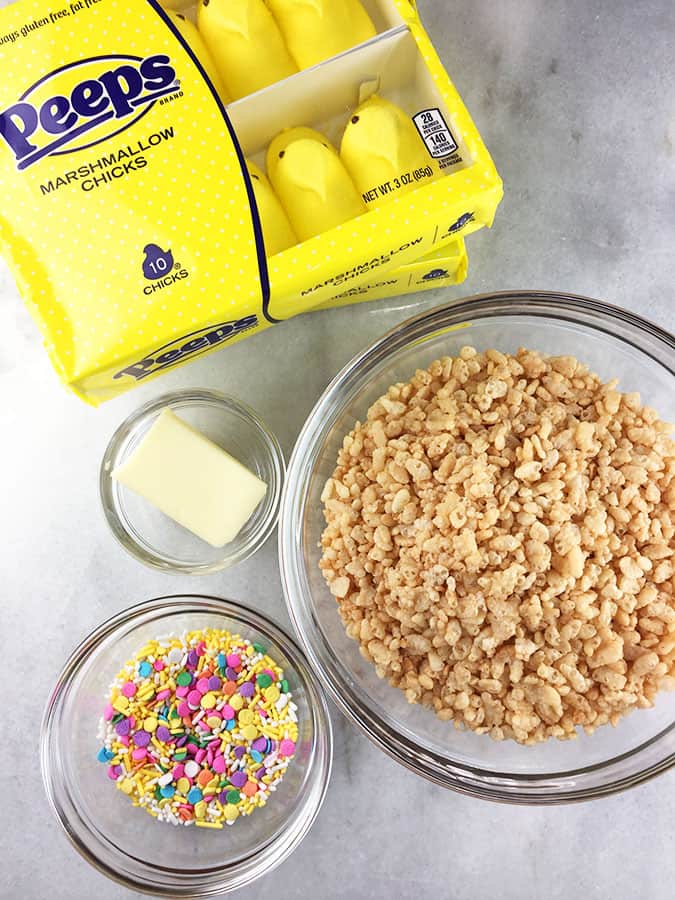 It's easy to make Rice Krispie Treats in your Instant Pot.
Melt the Butter. Select the saute setting and melt the butter or margarine.
Melt the Peeps. Add fresh peeps and stir until melted.
Add the Rice Krispies. Stir until combined.
Press into a Greased Pan. One the cereal is coated with the melted marshmallows, spread it into a greased pan.
Instant Pot Peeps Rice Krispie Treats: Step-by-Step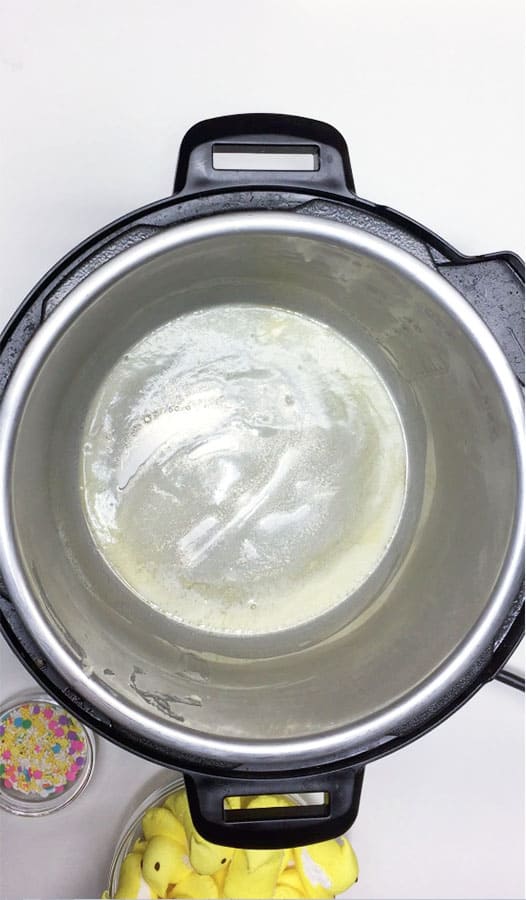 Melt some butter in the instert of your Instant Pot. Don't brown the butter. While brown butter krispie treats are awesome, the lovely caramel flavor from the brown butter overpowers the Peeps flavor. And we don't want that to happen.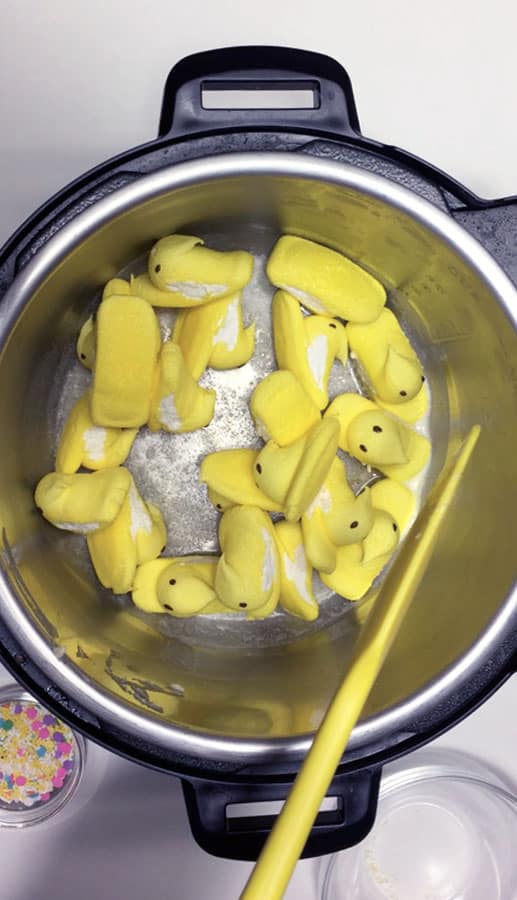 Turn the saute setting to low and add the Peeps and start stirring. If you don't keep them moving, they'll burn.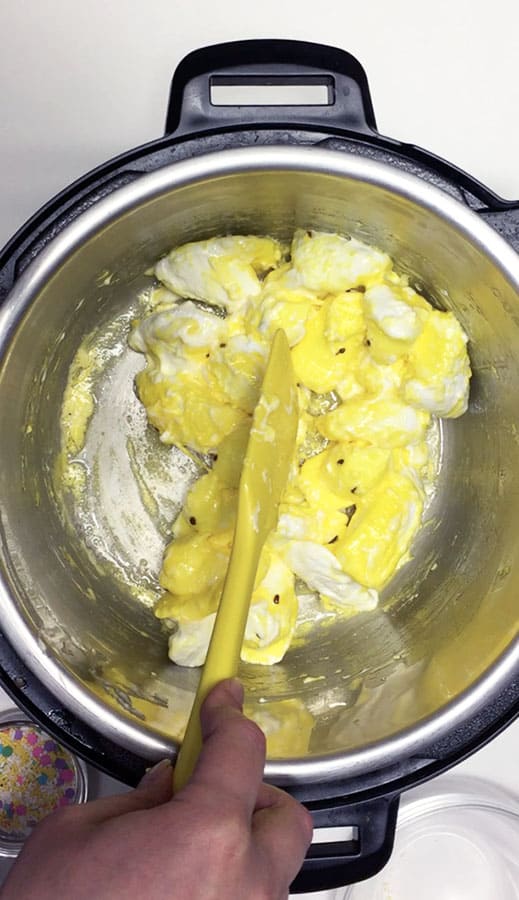 Just keep stirring! Just keep stirring!
Watching the color come off the chicks feels oddly satisfying.
This takes a minute or two because we're melting the Peeps over low heat. If you've ever made krispie treats and they turned out hard, the heat was probably too high. You want to melt the marshmallows, not cook them.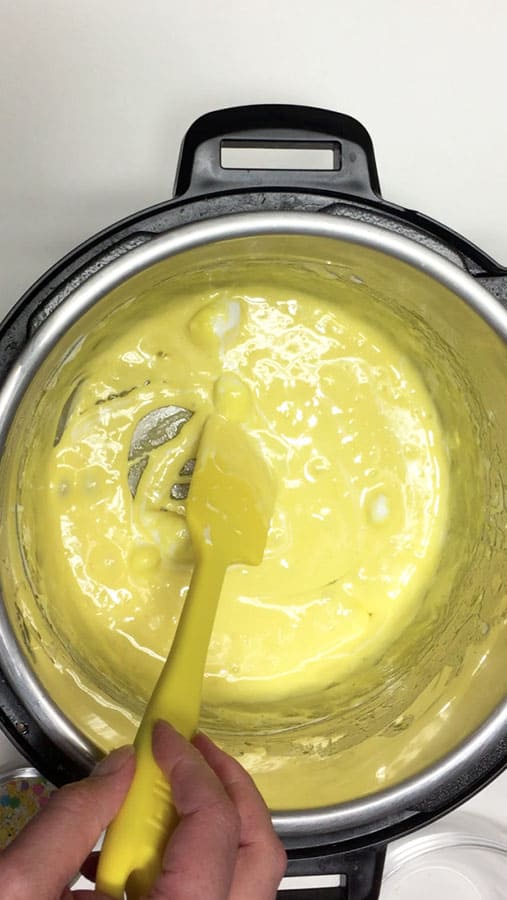 Perfect! How fun does that look?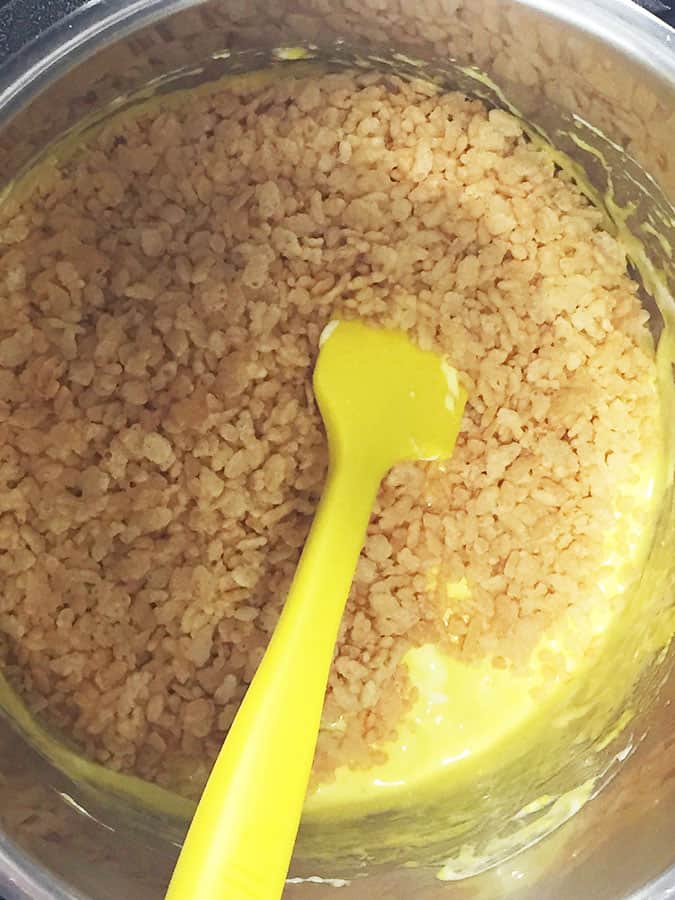 Once the peeps melt, turn off the heat. Add the cereal and stir, stir, stir.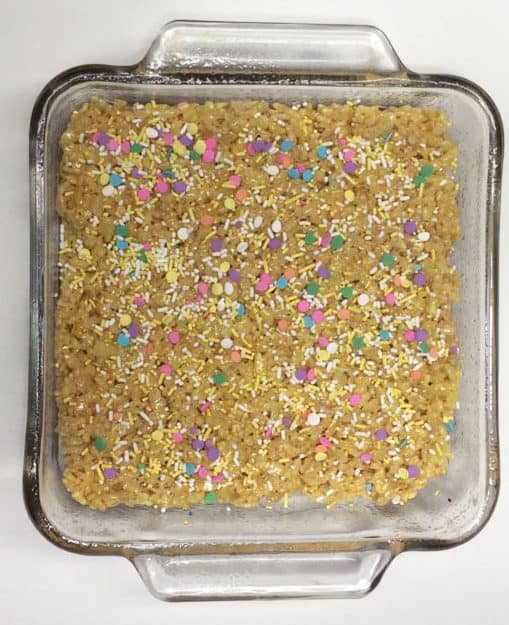 Transfer the mixture to a greased 8-inch square pan.
Wet your hands and quickly press the treats into the pan.
Top with some sprinkles because sprinkles make everything better. (Or skip this step. I have a friend who hates sprinkles. If that's you, you're not alone.)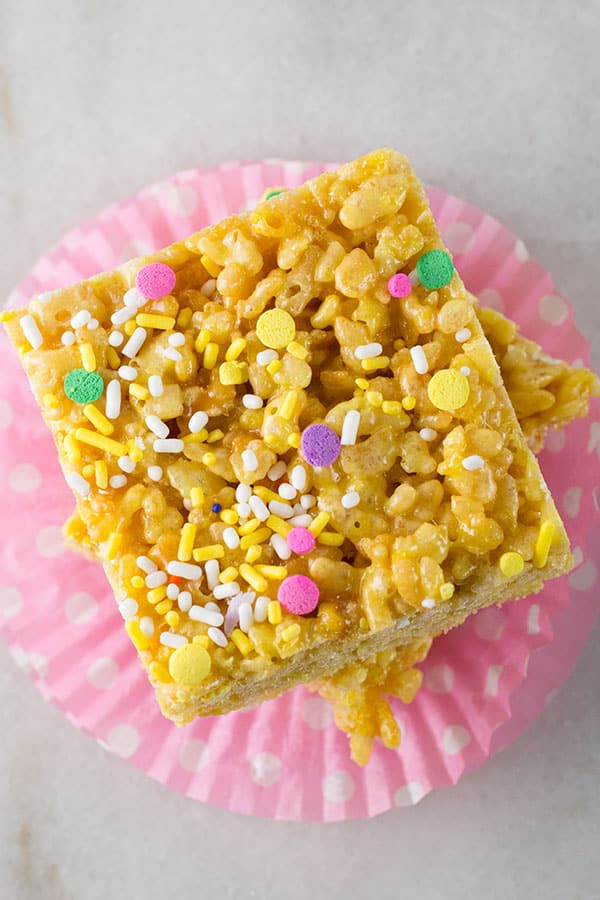 Let the bars set up for a half hour or so and then cut into squares.
The best part? They're good. The Peeps treats are a bit sweeter than regular rice krispie treats but I loved them. And so did my friend. I told her that I'd made crispy treats with Peeps and she was horrified.
Then she told me to bring her one.
I did and she scarfed down two of them in minutes. #friendship.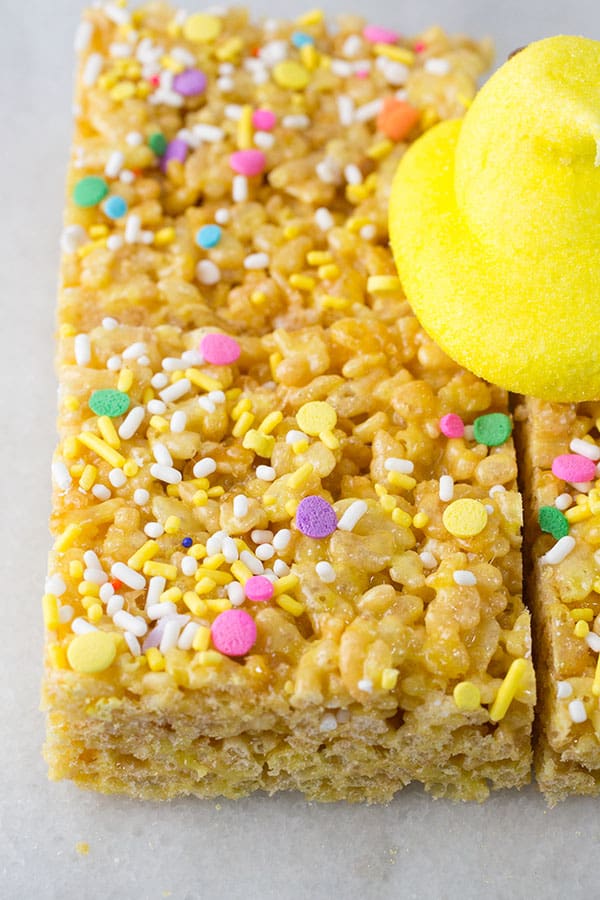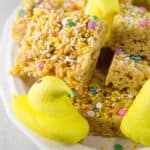 Instant Pot Peeps Rice Krispie Treats (Crispy Rice Treats)
Making Peeps Crispy Treats in the Instant Pot is fun and easy!
Ingredients
cooking spray

3

tablespoons

butter or margarine

20

(6 ounces)

Peeps chicks

3

cups

crispy rice cereal

sprinkles, optional
Instructions
Prep the Pan: Spray an 8-inch square baking pan with nonstick cooking spray.

Melt the Butter and Marshmallows: Select the "normal" saute setting on the Instant Pot. Add the butter to the insert pot. Stir occasionally until melted. Don't brown. Once the butter melts, reduce saute setting to "low". (On some models, you need to turn on the Instant Pot and turn it on again to do this.) Add the Peeps. Stir until melted.

Add the Cereal: Turn off the Instant Pot. Add the cereal. Stir to combine. Transfer the mixture to the prepared pan. Lightly wet your hands with cool water. Quickly press down the mixture. Top with sprinkles (optional). Allow bars to set for an hour. Cut into 12 squares.