This pressure cooker chicken soup recipe takes only 10 minutes to cook but tastes like it's been simmering all day.
The other day my friend Michele asked what I put in my chicken noodle soup. My reply: "Nothing fancy! Chicken, egg noodles and enough onions, carrots, celery, and garlic to make it taste good. Oh, and I add some dill."
"Dill?" she said.
"Yup. It adds a nice flavor without taking over. I love classic chicken noodle soup."
She agreed that classic chicken noodle soup is the best chicken noodle soup. This is why we're friends.
As much as I love a pot of soup simmering on the stove, I love that I can make classic chicken noodle soup in just minutes in my pressure cooker. Because, let me tell you, I think a good 40% if my winter diet consists of soup–and a lot of that is chicken noodle soup.
Pressure Cooker Chicken Noodle Soup: The Vegetables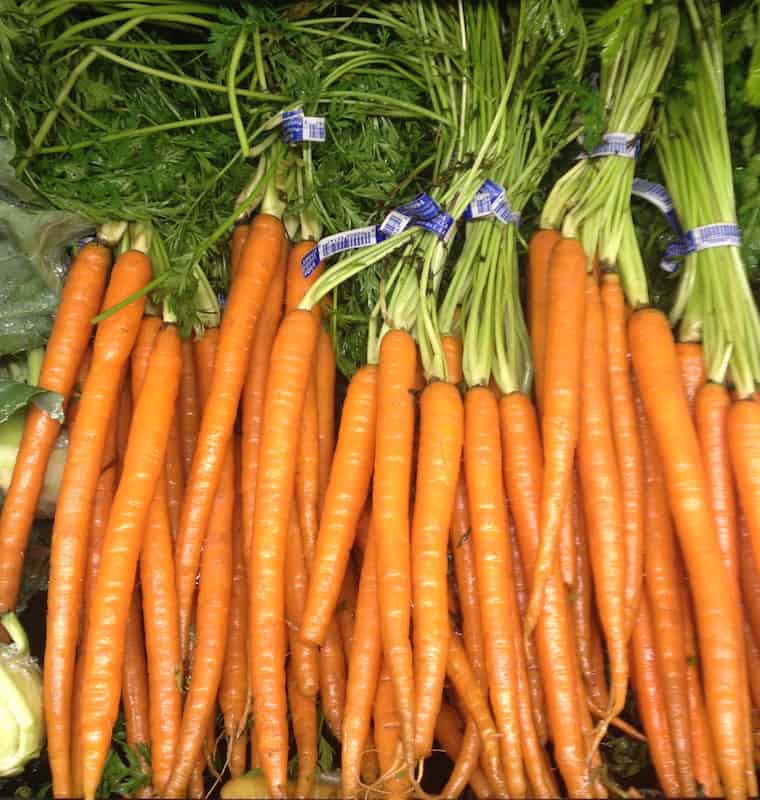 This soup starts by sautéing vegetables in just a splash of olive oil. Since the soup cooks so quickly, it's tempting to skip the sauté step. I mean, the vegetables will cook anyway, right?
Right!
They will cook. However, they won't taste the same. Sautéing brings out different flavors than cooking raw vegetables in the soup. It sounds like it wouldn't make much of a difference but it does. When sautéd, onions and garlic taste less sharp and the carrots have a lovely sweet flavor that you don't get if you just throw them into the pot raw.
As much as I like shortcut cooking, sautéing the vegetables is one step I wouldn't skip.
You can save cooking time by chopping up the onions, carrots, and celery the night before. (Mince the garlic right before you use or it will lose some flavor.) Store the chopped vegetables in a covered container in the fridge. When you're ready to make the soup, just throw them into the hot oil. Oh, and about that container, make sure the lid snaps on tight or your entire fridge will smell like onions.
Pressure Cooker Chicken Noodle Soup: The Chicken
I grew up eating Campbell's chicken noodle soup which, if memory serves, was made up mostly of mushy noodles and salt. Gosh. I loved that stuff. Even as a kid, I remember thinking there wasn't enough chicken in the Chicken Noodle Soup. My favorite spoonfuls involved bite-sized pieces of tender chicken. And it always seemed like those cans of soup had one, maybe, of those bits in them.
Not this recipe! This recipe makes a soup that's loaded with pieces of tender chicken. And I wouldn't have it any other way.
As I mentioned in the recipe for pressure cooker burrito bowls, boneless, skinless chicken thighs are my favorite cut of chicken to use in a pressure cooker. There's enough fat to keep the chicken moist and tender under pressure. Chicken breasts tend to get rubbery cooked in a pressure cooker. So you'll rarely see me call for boneless chicken breasts on this site.
However, if you want to use chicken breasts, this is a great recipe for them. The chicken gets cut so small that texture isn't really an issue. That said, I encourage you to try chicken thighs at least once. The flavor tastes so much better than chicken breasts that I bet you'll love it!
Cook Fast, Eat Well Tip: Cut the Chicken Before You Begin
Most recipes for chicken soup call for you to cook the chicken breasts or thighs whole and then cut it up after the soup has cooked. I don't do this. To save time, I cut my chicken thighs into bite-size pieces before they go into the pot.
"How does that save time?" you ask.
Good question!
For me, it saves time because I don't have to remove hot, cooked chicken thighs from the pressure cooker. Cut them while they are too hot to handle. And then return them to the pot.
Instead, I chop the chicken, put it in the soup, and when the cook time is done, I can eat. No burning myself on hot pieces of chicken required!
Pressure Cooker Chicken Noodle Soup: The Broth–and a boost.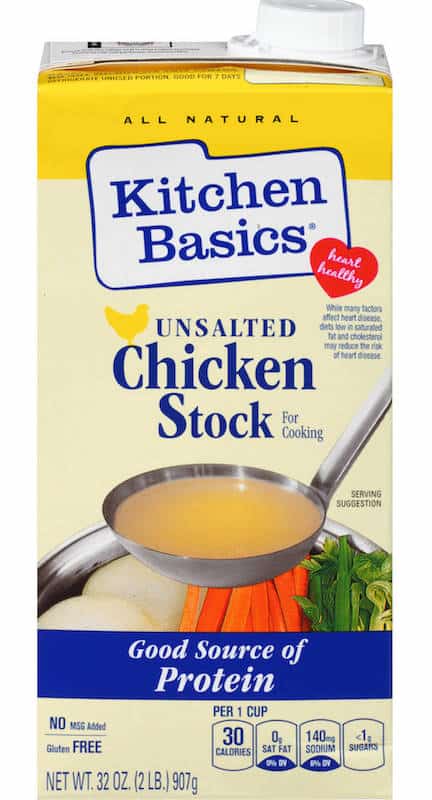 Most of the time, I don't have homemade chicken broth on hand. (If you do, I'm totally envious!) For soups and other recipes, I usually use Kitchen Basics chicken stock, but, I have to tell you, lately, I'm LOVING Aldi's Organic, Low Sodium Chicken Broth. If you have an Aldi's near you, try it. (Not an ad, btw.)
Then I boost the flavor of the soup with a little soup base. Some might call this cheating. I don't. I call it…enhancing!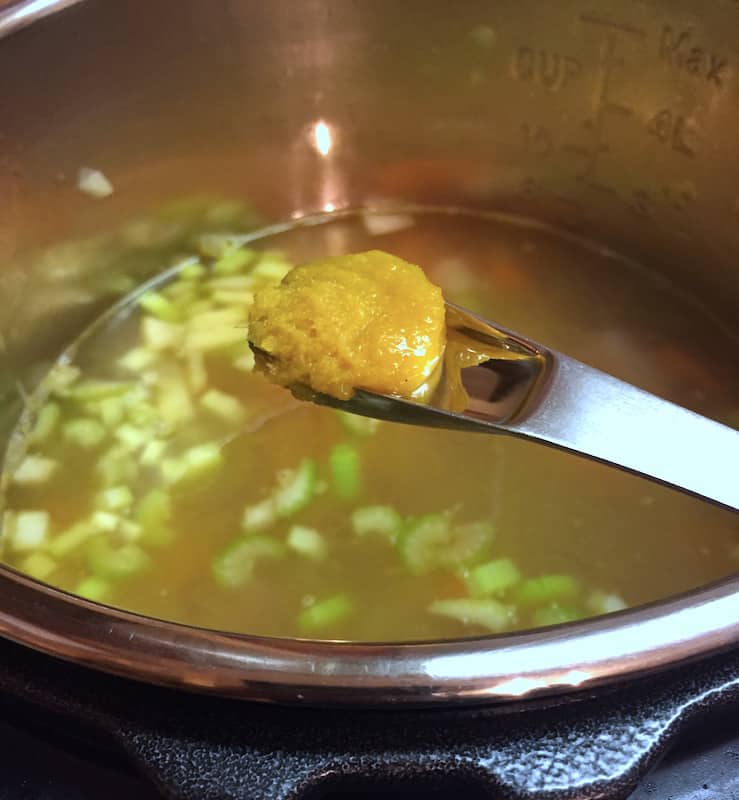 I stir in about a teaspoon of Better Than Bouillon chicken base. Unlike regular dried chicken bouillon, this adds a depth of flavor that makes the soup taste fantastic but not fake.
Pressure Cooker Chicken Noodle Soup: The Herbs
As I told my friend Michele, I like to add a little dried dill to my chicken noodle soup. The dill brings a light, almost sweet, flavor to the soup. I got the idea from my grandmother. She didn't make homemade chicken soup. What she did make were those little boxes of Mrs. Grass's soup. She loved that soup and said more than once, "I think there's dill in this."
To this day, I have no idea if Mrs. Grass's soup ever contained dill. My grandmother thought it did and that's good enough for me*.
(Actually, no. That's a total lie. It's good enough for me because it tastes awesome in soup. If she though there was dill in the soup and it tasted terrible when I tried it, there'd be no dill in this recipe. Tastebuds > Family Memories.)
Pressure Cooker Chicken Noodle Soup: The Noodles
Now let's get serious. It's time to talk about noodles!
It doesn't matter what kind of noodles you use in this soup. Use whatever you love. Personally, I'm all about egg noodles. We do need to talk about how to cook those noodles.
Don't get mad at me. Please? Please don't get mad at me.
(takes a deep breath)
I don't cook my soup noodles in the pressure cooker. There. I said it.
Noodles cooked in soup makes for a cloudy soup. The starch from the noodles not only makes the soup cloudy, it also mutes the flavors a bit.
In this case, I think it's worth the extra time–and pot–to cook noodles separately and then add them to the soup. As the pressure cooker builds pressure, I bring a pot of water to a boil and cook the noodles while the soup does it's thing in the Instant Pot. My noodles are always ready at the same time as the soup. Then I drain the noodles and stir them into the soup.
If you don't feel like dirtying an extra pot, I totally understand. Simply make the soup under pressure. After releasing the pressure, turn the saute function on and bring the soup to a boil. Stir in the noodles an cook until tender. For egg noodles, this takes about 6 minutes.
Pressure Cooker Chicken Noodle Soup: Releasing the Pressure
For safety reasons, never fill a pressure cooker more than halfway full. If a pressure cooker contains too much liquid, the hot liquid can spray out of the pressure release valve when you do a quick pressure release.
We want to avoid that.
For this recipe, allow the pressure to release naturally for a few minutes before you do a quick release. And, as always, never, ever block the pressure release valve during a quick pressure release.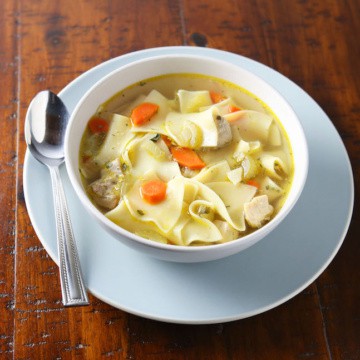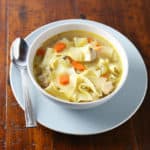 Pressure Cooker Chicken Soup
This recipe takes ten minutes to cook but the soup tastes like it's been simmering all day.
Ingredients
1

tablespoon

olive oil

1

small

onion, diced

3

medium

carrots, peeled and thinly sliced

2

medium

stalks celery, thinly sliced

1

clove

garlic, minced or put through a garlic press

4

medium

boneless, skinless chicken thighs, cut into bite-sized pieces

4

cups

chicken broth

low or no-salt prefered

4

cups

water

1

teaspoon

Better than Bouillon Chicken Base

optional, see note

1/2

teaspoon

dried dill weed

1/2

teaspoon

dried parsley

salt and pepper

6

ounces

(half bag) wide egg noodles, cooked according to package directions

see note
Instructions
Place the olive oil in the pot of your electric pressure cooker. Select the saute setting and heat oil until it shimmers but does not smoke. Add the onion, carrots, celery, and garlic. Cook until soft and fragrant, about three minutes.

Add the diced chicken thighs. Stir to combine. Add the chicken broth, water, chicken base (if using), dill, and parsley. Stir to combine.

Lock the lid in place and set the pressure release valve to "sealing." Cook on high pressure for 10 minutes. When the cooking time ends, allow the pot to sit for three minutes and then turn the release valve for a "quick release."

Stir in the cooked noodles. Season with salt and pepper to taste.
Cooking the Noodles
In a separate pot: As soon as you lock the lid on the pressure cooker, start a pot of water on the stovetop for the noodles. Generously salt the water and bring to a boil over high heat. Add the noodles and stir frequently during the first few minutes of cooking. Cook until tender. Drain and add to the soup.

In the Pressure Cooker: Once the soup finishes cooking and you've released the pressure, select the saute setting and bring the soup to a gentle boil. Stir in the noodles. Cook, uncovered, until the noodles are tender.
Recipe Notes
Better Than Bouillon Chicken Base
Adding one teaspoon of chicken base enhances the flavor of the soup. I always use Better Than Bouillon. While this ingredient is optional, it's strongly recommended.