It's so easy to make a small batch of homemade applesauce. This recipe includes brown sugar and cinnamon but you can skip those if you'd like.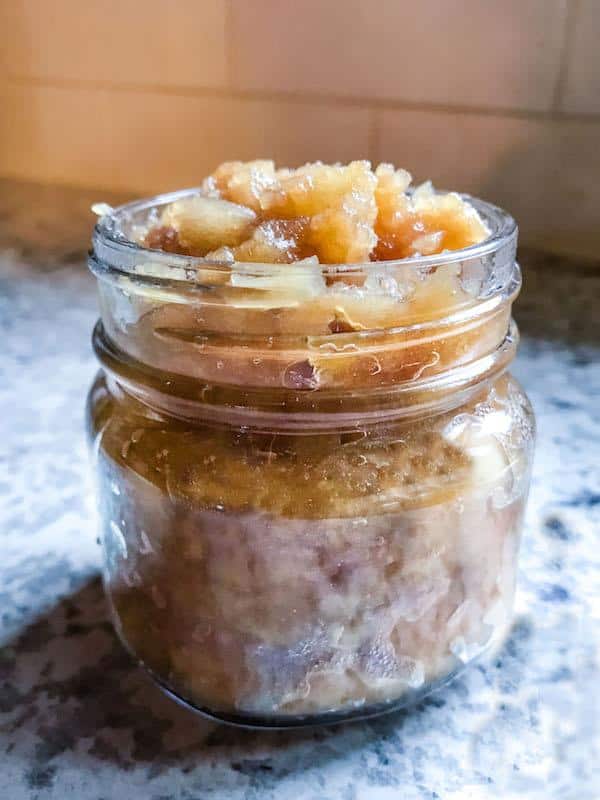 Today's recipe isn't so much a recipe as it is a method for making a small batch of applesauce. Often when we think about making applesauce, we think about making a lot. While that's great, I rarely want a lot of applesauce. There's no kids in our house; so applesauce isn't something we eat on a regular basis. So when I do crave it, I want it to be good.
No, not good, amazing.
And you can make amazing applesauce with only a few apples.
How to Make Small Batch Applesauce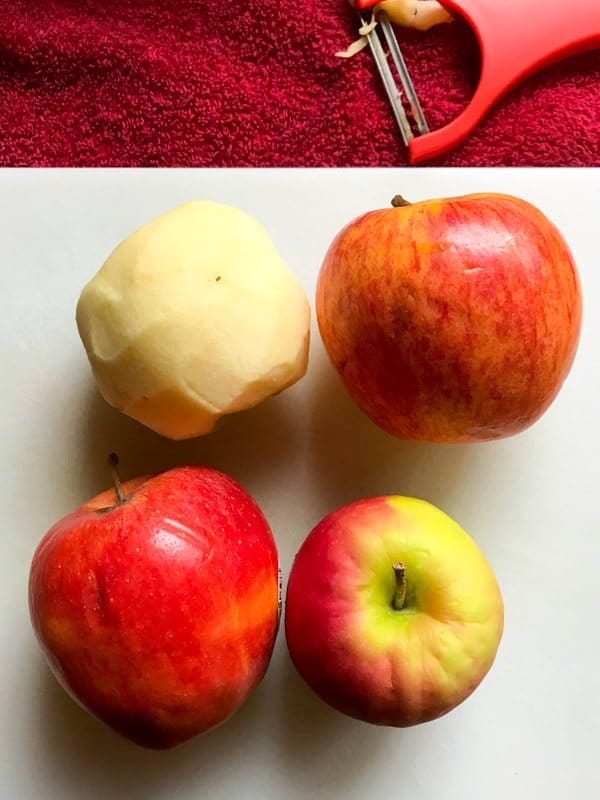 Start with four or five apples.

It might surprise you when I say that I don't care what kind of apples you use. While some apples break down into sauce more easily than others, it doesn't really matter as long as you own a fork or potato masher. Sweet apples, like Honeycrisp, give you a sweet sauce and tart apples, like granny smith, give you a tart sauce. It's really that simple.

I usually use the apples that have been kicking around my fridge for too long or the bruised apples that sometimes come in the peck of apples I buy at the farmers' market.

Peel, core, and cut.



Peel the apples, core, and cut into large pieces. There's no need to be fussy about this. One inch cubes are a nice size.

Add water or juice.

Place the apples in a small saucepan. This is key. Since we're working with such a small amount of apples, the pan needs to be small. If it's too large, the apples can scorch as they cook.

Add about 1/2-inch of water to the bottom of the pan. It's hard to say just how much water you'll need because it depends on the size pan you use. I needed about one cup of water. Some recipes call for apple juice or apple cider when you're making applesauce. I avoid this for two reasons. The first is simple: I rarely have apple juice or cider in the house. The second is because apple juice and cider, even no-sugar-added varieties, are rather sweet. The sugar cooks along with the apples and can give a caramelized flavor to the sauce. While this is nice, it's not usually what I want.

Cook.

Place the pan on the stove and heat, uncovered, over medium-low heat. When the water begins to boil, turn the heat to low. It's a good idea to give the sauce a stir at this point.

Add sugar and spice



Sometimes I like my applesauce with a bit of sweetness. (Warm applesauce over vanilla ice cream makes for a lovely dessert.) Add up to one tablespoon of dark brown sugar. The brown sugar contains a bit of molasses that goes well with the flavor of cooked apples.

If you like spice in your applesauce, this is the time to add it. I like to add a little cinnamon. And the key here is a little. I don't want the cinnamon to overwhelm the sauce. But I want a whisper. Somehow it makes the apples taste more, well, apple-y.

Stir and mash.



Cook until the apples are soft, stirring occasionally. If you notice that the pan looks dry, add a splash more water. Sometimes older apples are dry and can burn.

When the apples are nice and soft, it's done. You can either mash the applesauce with a potato masher or leave it alone. (Or if you like smooth applesauce, like the kind you get at the grocery store, puree it with an immersion blender.)

Spoon into a jar.



This recipe, unlike my pickled jalapenos, isn't suitable for canning. It makes about a 1/2 pint–but the yield varies depending on the size of your apples. Spoon the applesauce into a clean jar and store in the fridge. That's it. You've made applesauce!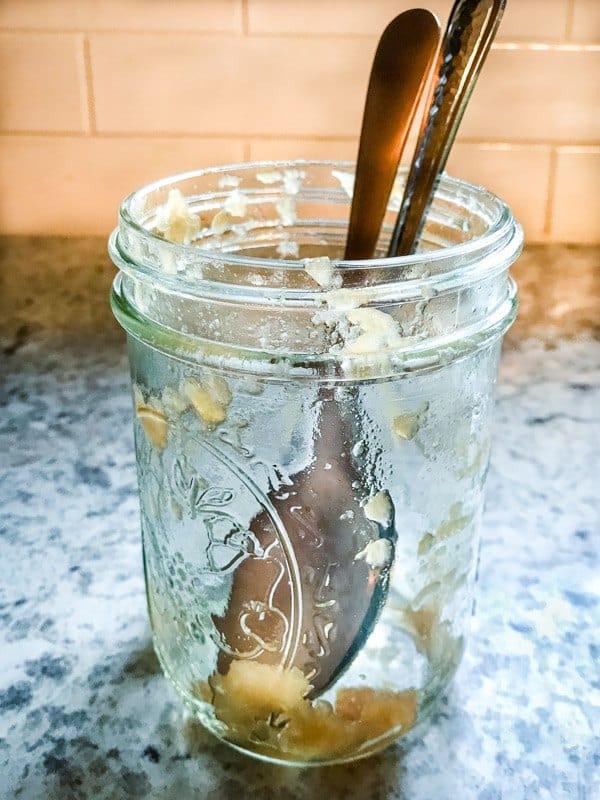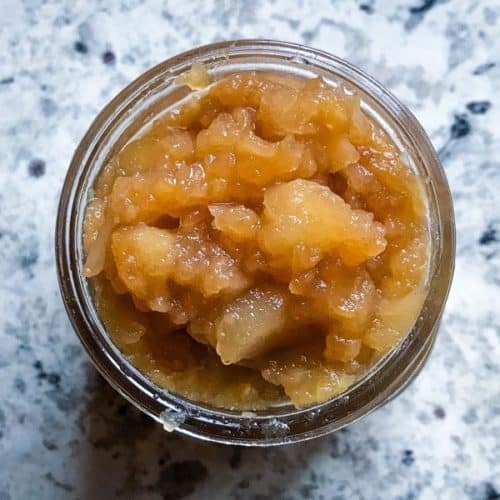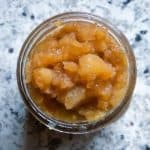 Small Batch Applesauce
It's so easy to make a small batch of homemade applesauce. This recipe includes brown sugar and cinnamon but you can skip those if you'd like.
Ingredients
water

4-5

large

apples

1

tablespoon

brown sugar

see note

½

teaspoon

ground cinnamon

see note
Instructions
Prepare the Apples

Add 1-inch of water to a small saucepan. Peel, core, and cut apples in cubes, about 1-inch. Place apples into the pan.

Cook

Heat over medium heat until the water begins to bubble. Stir. Add sugar and cinnamon, if using. Stir to combine.

Reduce heat to low. Stir applesauce every five minutes or so. If the pan seems dry, add additional water.

Mash

When apples are tender, mash with a potato masher. Spoon applesauce into a small jar. Enjoy warm or store in the refrigerator for up to five days.
Recipe Notes
Sugar
Add as much or as little brown sugar as you'd like to the applesauce. I never use more than a tablespoon but the amount used is totally up to you.