Easy recipe for soft and chewy chocolate chip cookies. The dark brown sugar and low oven baking temperature make flavorful and tender cookies. And the best part? You don't need to chill the dough before baking.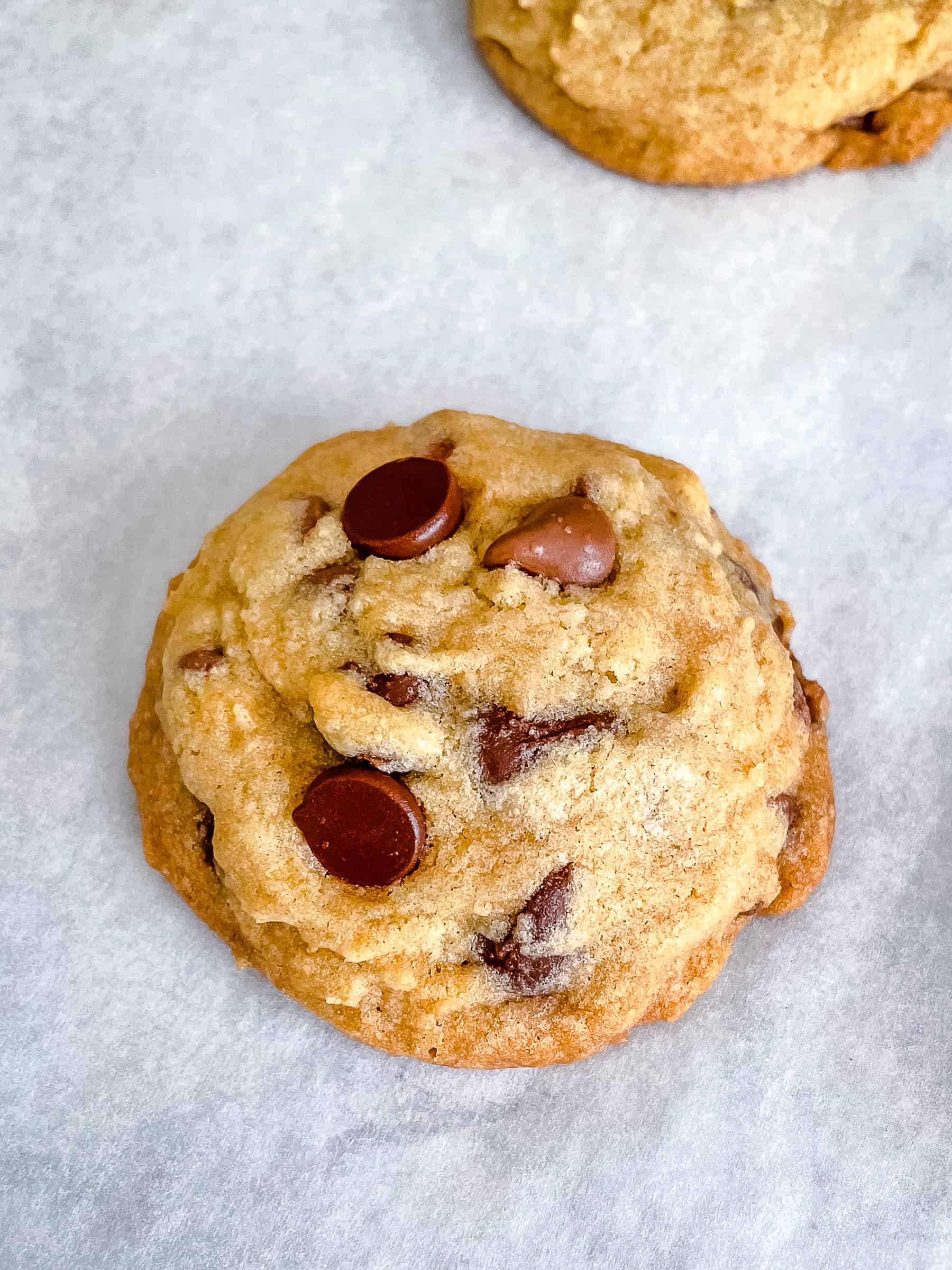 If you love chocolate chip cookies, you probably love a certain type (or types). Soft. Crisp. Cakey. They're all wonderful and they're all a little different. Today we're making soft and chewy chocolate chip cookies. This is my favorite style. I love the dense texture and the brown sugar flavor. 
Why This Recipe Works. 
The combination of dark brown and granulated sugar gives the cookies a dense, soft texture with a nice flavor.
Mixing softened butter until it's fluffy helps lighten the cookies without making them cakey.
Baking at 325℉ keeps the cookies soft from edge to edge.
What You'll Need to Make a Batch of Soft Chocolate Chip Cookies.
Butter. Softened salted or unsalted butter work. Salted butter adds a slightly deeper flavor. So it's the one I reach for when making this recipe. 
Dark Brown Sugar. The molasses in dark brown sugar gives the cookies the classic "chocolate chip cookie" flavor while also keeping them thick as they bake. 
An Egg. One large egg is all you need to bring the dough together. 
Vanilla Extract. Use up to two teaspoons of vanilla extract in the dough. Any more than that and the cookies takes on a slightly floral flavor. 
Flour. There's no need to use special flour for these cookies. All-purpose flour works great giving the cookies a nice chew. If you're gluten-free, use an all-purpose gluten-free flour blend.
Baking Soda. Not only does the baking soda add a little lift, it also helps the cookies brown. 
Salt. A half teaspoon of salt brings out the flavors of the other ingredients. If you use salted butter, there's no need to reduce the salt. 
Chocolate Chips. I like to use a blend of milk and dark chocolate chips. Use whatever chocolate chips or chunks you love. 
Five Tips for Making Perfect Soft Chocolate Chip Cookies Every Time. 
There's nothing worse than craving a soft chocolate chip cookie only to have it turn out crispy. Here's how to make them soft every time.
Tip 1: Start with Softened Butter. 
Softened butter is one of the keys to perfect soft chocolate chip cookies. When combined with the sugars and the egg, it mixes up light and fluffy. That wonderfully fluffy texture traps air, helping the cookies bake light and tender.

But what does "softened" or "room temperature" butter mean? These phrases are calling for butter that's around 65 to 68 degrees F. At this temperature, the butter feels soft but not squishy to the touch.
Softening butter on the counter takes about an hour or so depending on the temperature of your room. If you don't want to wait, pop the stick in the microwave. Heat on the lowest heat for about 10 seconds.
Tip 2: Use Dark Brown Sugar. 
This recipe works with both light and dark brown sugar. But! I suggest using dark brown sugar for two reasons. The first is flavor. Dark brown sugar contains more molasses than light brown. This hint of extra molasses brings more flavor to the cookies. The second reason I love dark brown sugar for this recipe is the texture. Cookies made with brown sugar spread less than those made with granulated sugar.  The dark brown sugar keeps the cookies nice and thick.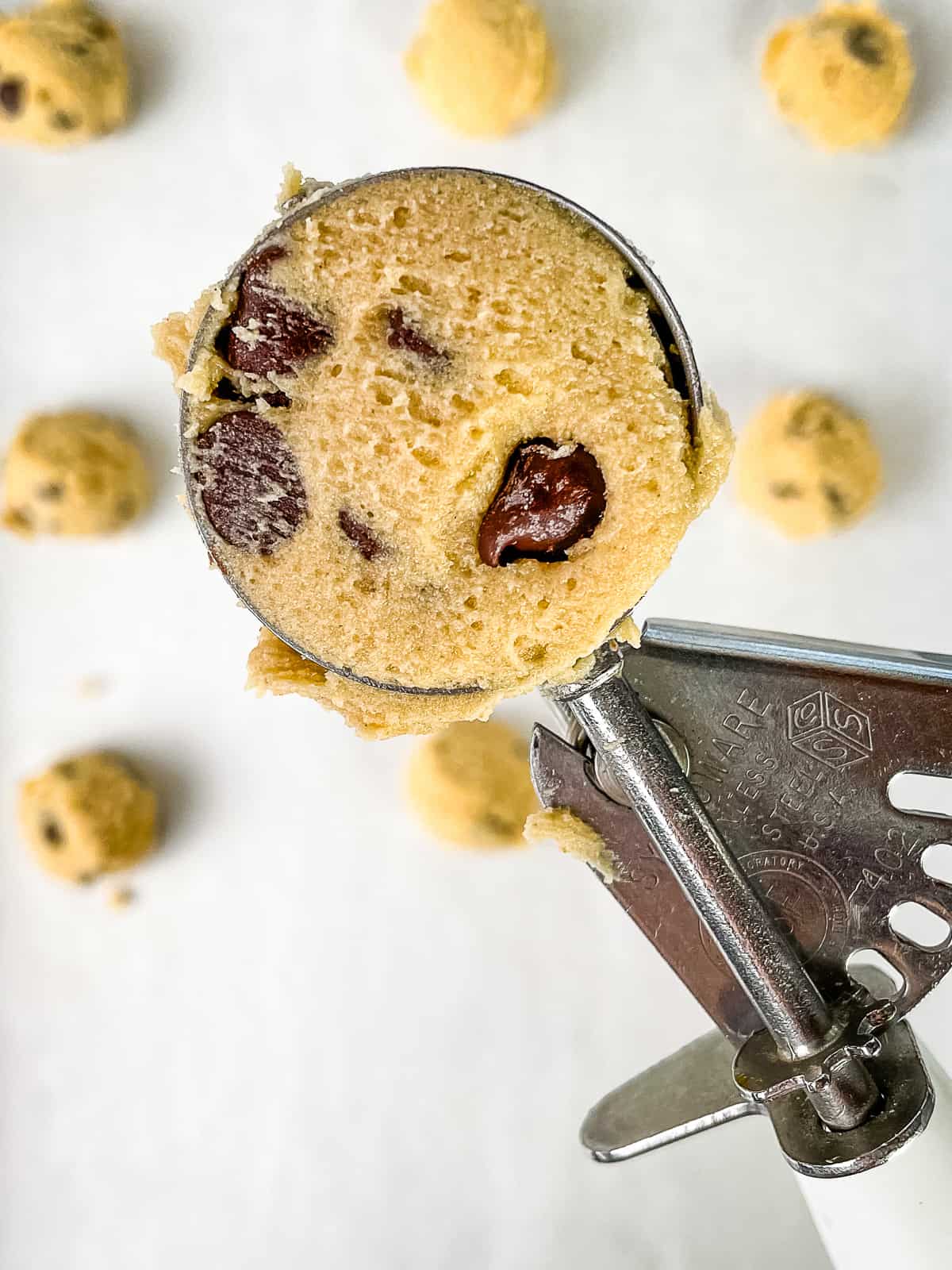 Tip 3: Scoop the Dough.
Want perfect chocolate chip cookies? Use a cookie scoop. It ensures that each cookie is the same size. And cookies that are the same size take the same amount of time to bake. This is important with all cookies but especially if you're trying to nail a soft texture. If there are large and small cookies on the pan, the small ones can over-bake before the large cookies are done. If you don't have a cookie scoop, drop about two tablespoons of dough onto the pan. Taking the time to measure the dough really makes a difference.
Tip 4: Bake at 325℉ or a little lower. 
According to J. Kenji Lopez Alt, author of the Food Lab, "The lower the oven temperature, the more evenly the cookie bakes, with less of a contrast between the edges and the center." When these cookies are baked in a 325℉ oven, they remain soft with the edges having just a hint of firmness. If you want them evenly soft from edge to edge, reduce the oven temperature to 300 degrees.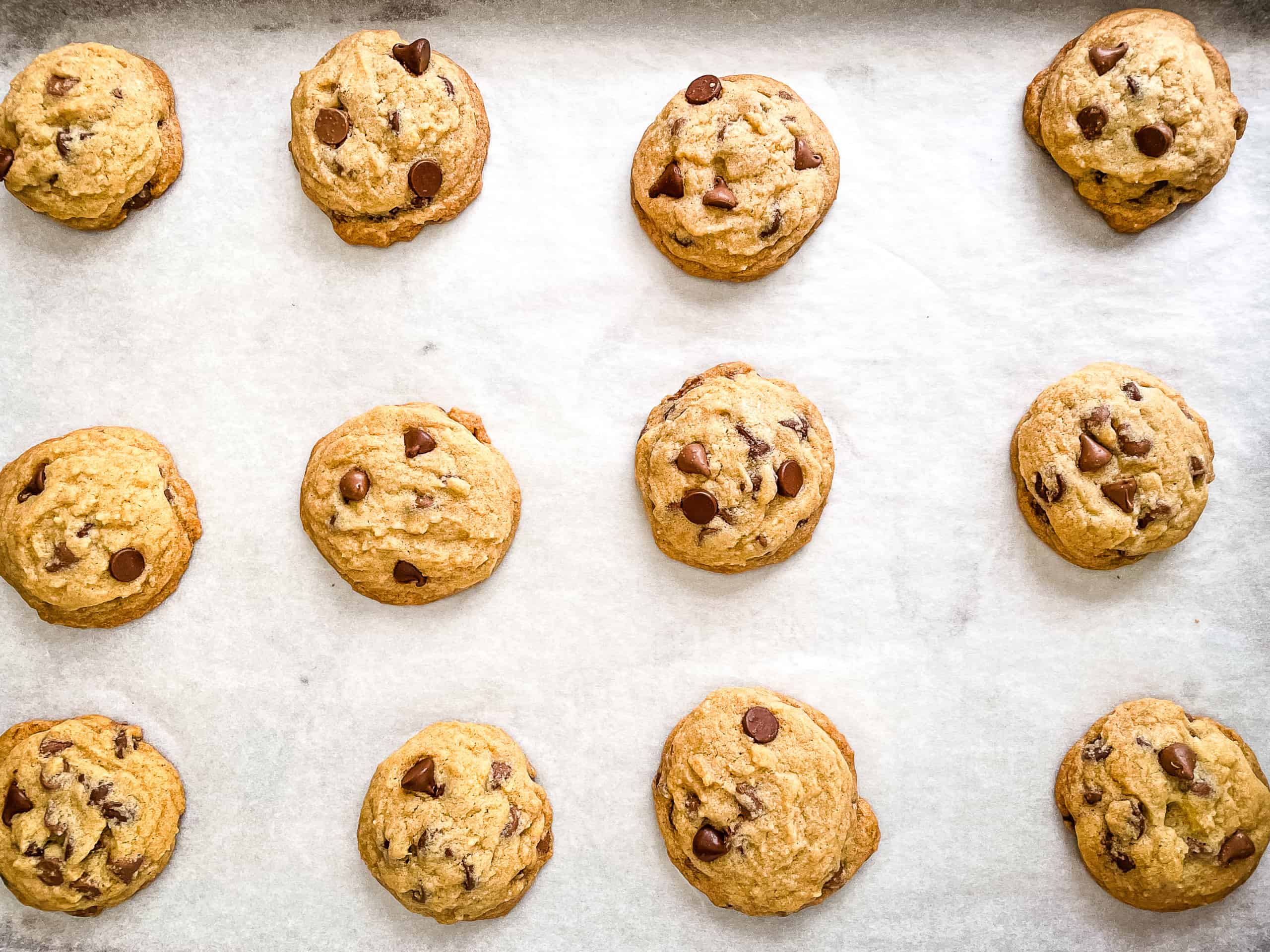 Tip 5: Don't Overbake. 
If you overbake these cookies, they lose the lovely soft texture. Bake until the edges are set and they start to look a light golden brown. A pan takes about 12 minutes. Since they're so easy to overdo, I always use a timer. 
After baking, let them cool on the pan for about a minute. Not much longer. If you let them cool on the pan, the heat from the pan continues baking the cookies. 
Want Extra Soft Chocolate Chip Cookies? Do this.
If you like your chocolate chip cookies really soft and tender, place them in an airtight container with a lid while they're slightly warm. Seal the container and don't open it for 24 hours. This helpful hint comes from Stella Parks, author of Bravetart. Doing this traps the steam from the warm cookies, giving them a soft texture from edge to edge.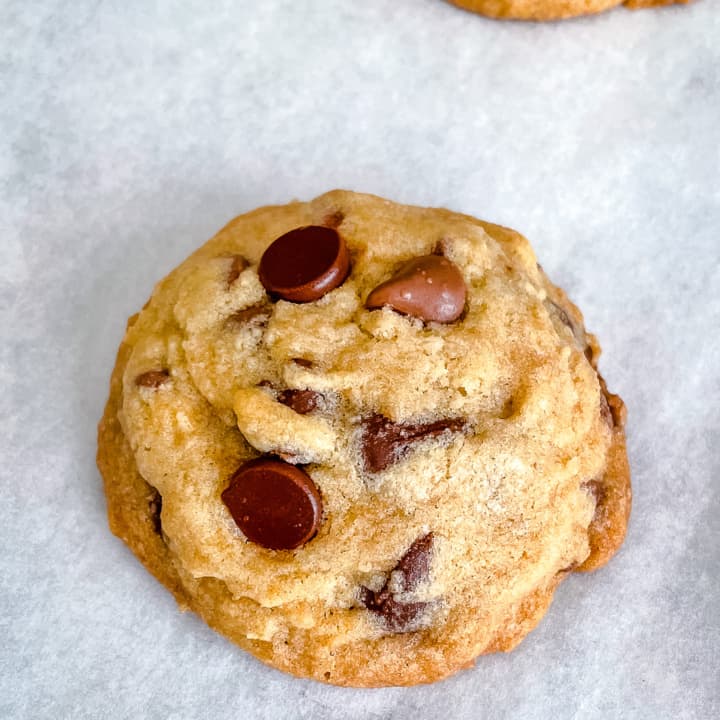 Soft Chocolate Chip Cookies
Easy recipe for soft and chewy chocolate chip cookies. The dark brown sugar and low oven baking temperature make flavorful and tender cookies. And the best part? You don't need to chill the dough before baking.
Ingredients
¾

cup

butter, softened

(6 ounces; 170 grams)

¾

cup

dark brown sugar

(5 ¼ ounces; 150 grams)

¼

cup

granulated sugar

(1 ¾ ounces; 50 grams)

1

large

egg

2

teaspoons

vanilla extract

2

cups

all-purpose flour

(9 ounces; 250 grams)

1

teaspoon

baking soda

½

teaspoon

salt

2

cups

chocolate chips or chunks

(12 ounces; 340 grams)
Instructions
Preheat oven to 325℉. Line a baking sheet with parchment paper.

Combine the soft butter, brown sugar, and granulated sugar in a large bowl. Mix on medium-high speed with a handheld or stand mixer until light and fluffy. Stop the mixer once and scrape the bottom and sides of the bowl.

Add the egg and vanilla extract. Mix on medium-high speed until very light. Stop the mixer and add the flour, baking soda, and salt. Mix on low speed until a dough forms. Stop the mixer. Stir in the chocolate chips with a wooden spoon or firm rubber spatula.

Drop dough, about two tablespoons each, onto the prepared baking sheet.

Bake until edges are set, about 12 minutes. Don't overbake or cookies won't be soft.

Store cookies in an airtight container. For extra-soft cookies, place the warm (not hot) cookies into an air tight with a lid. Cover for 24 hours.