This sweet potato casserole pie combines a classic sweet potato casserole with sweet potato pie.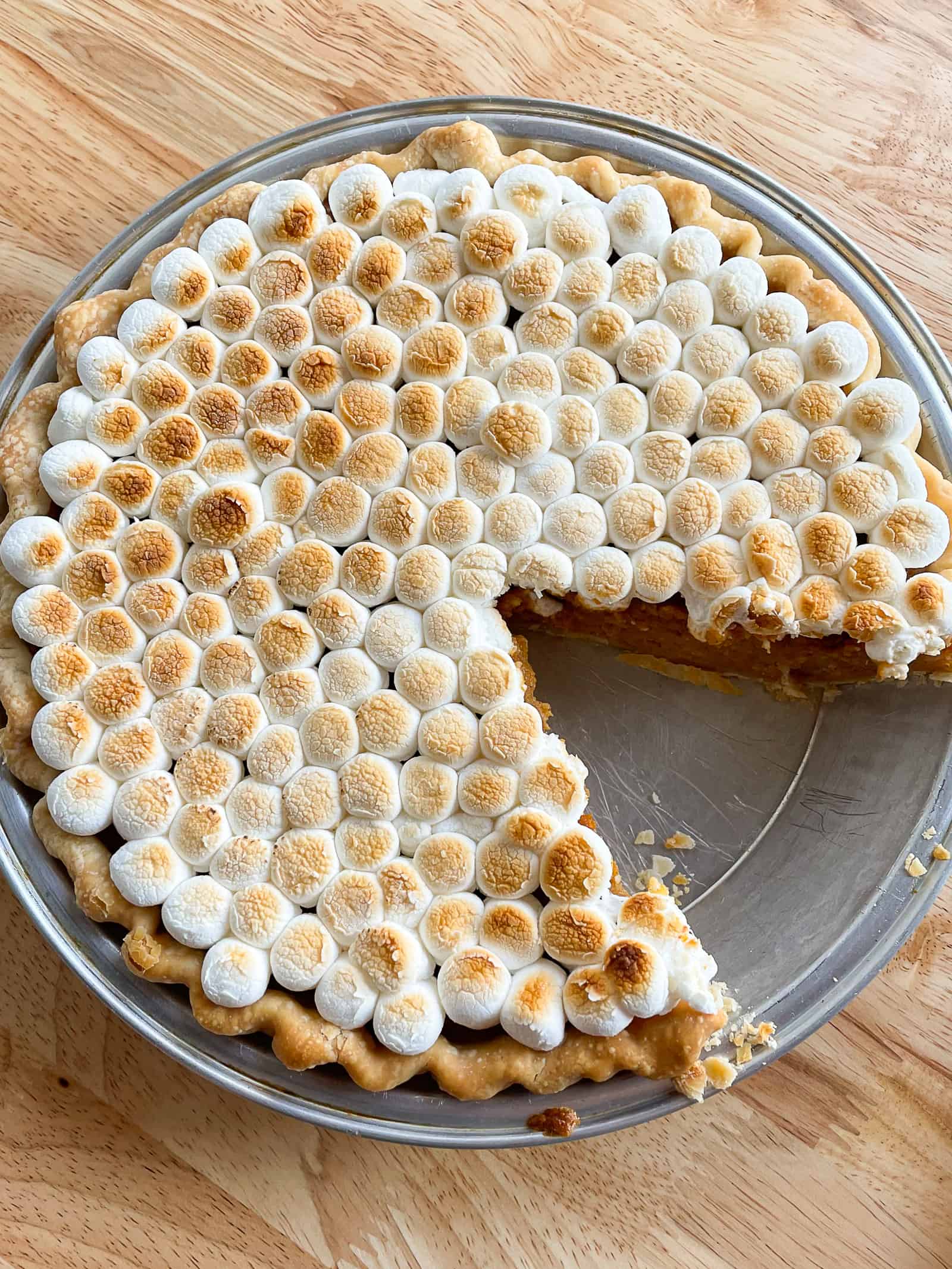 Ingredients You'll Need.
Sweet Potatoes. You'll need about one pound of orange sweet potatoes. Since sweet potatoes vary in size, it's best to use weight. If you don't have a kitchen scale, it's about 2 medium sweet potatoes or about 1 3/4 cups of mashed sweet potatoes.
Brown Sugar. The sweetness comes from light brown sugar. Which also adds a subtle molasses flavor. Both granulated and dark brown sugar also work.
Spices. I like to use cinnamon and nutmeg to add flavor to the filling. You can use any combination of pie spice that you love, including using pumpkin pie spice.
Vanilla Extract. In this pie, the vanilla is optional but a nice addition. It's very subtle but does bring a nice floral flavor to the filling.
Salt. A half teaspoon of table (fine) salt helps balance the sweetness and enhance the flavors.
Eggs. Two eggs help the filling set.
Half and Half. A little half and half adds moisture and helps make the filling creamy.
Melted Butter. For richness, four tablespoons of melted butter are added.
Marshmallows. Top the pie with your favorite marshmallows. Both mini and regular size taste great.
Pie Crust. You'll need a 9-inch pie crust for this recipe. I like to use a pastry crust. (Either store-bought or homemade). If you prefer the texture and taste of a graham cracker crust, that works too.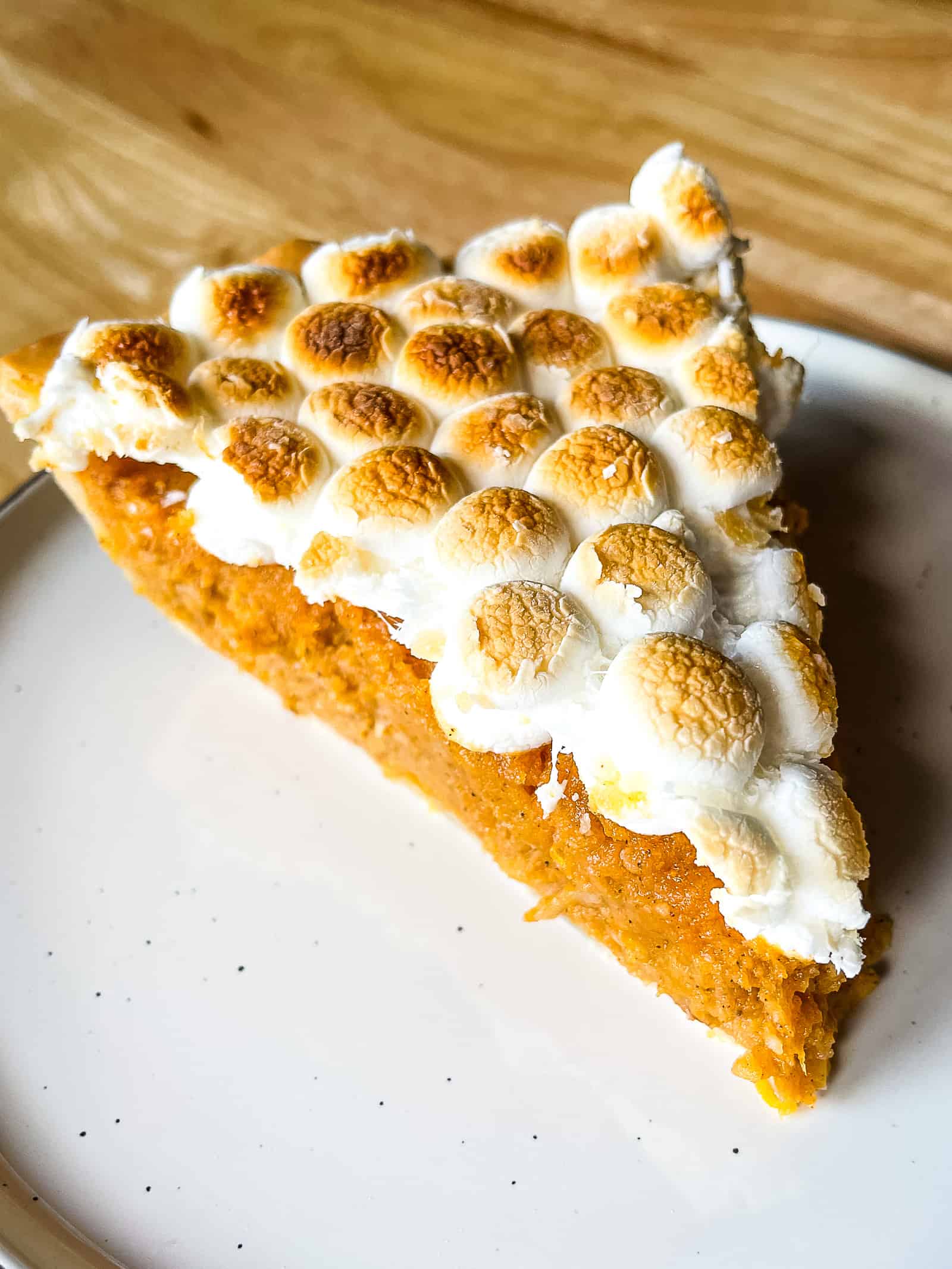 How to Make Sweet Potato Casserole Pie.
Roast the sweet potatoes. Roasting the sweet potatoes brings out their sweetness and adds more flavor to the filling than using boiled sweet potatoes. Roast at 400℉ until tender. This takes about an hour.
Make the Filling. Let the sweet potatoes cool. I like to roast them the day before I make the filling. Mash the potatoes with a fork. This gives the pie a casserole-like texture. Stir everything together. The filling won't be smooth. If you prefer a smoother pie filling, use a handheld mixer.
Bake. This pie takes about 40 minutes to bake. Look for the pie to be set when you wiggle it gently.
Cool. Let the pie cool before topping it with the marshmallows. If you put marshmallows on top of a hot pie, they melt.
Top and Broil. Add the marshmallows and then broil until they are golden brown. This only takes a few minutes. Keep your eye on the pie so the marshmallows don't burn.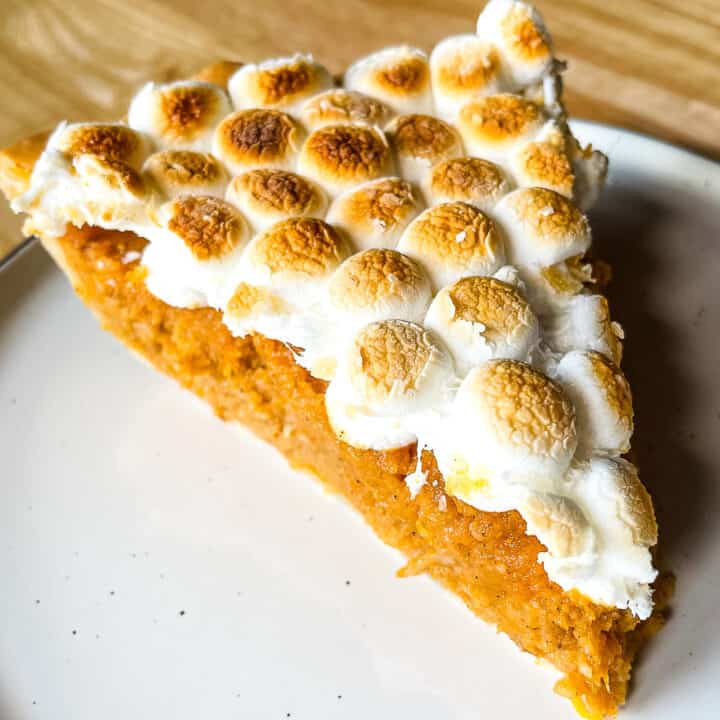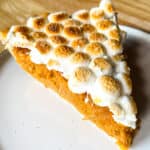 Sweet Potato Casserole Pie
This sweet potato casserole pie combines the classic sweet potato casserole and sweet potato pie.
Potato Roasting Time and Cooling
2
hours
Total Time
2
hours
55
minutes
Ingredients
1

pound

sweet potatoes (about two medium potatoes)

¾

cup

packed light brown sugar

1

teaspoon

ground cinnamon

½

teaspoon

ground nutmeg

½

teaspoon

salt

2

large eggs

½

cup

half and half

4

tablespoons

butter

melted

1

teaspoon

vanilla extract

1

9-inch

unbaked pie crust

1

cup

mini marshmallows
Instructions
Preheat oven to 400°F. Pierce sweet potatoes with a fork. Place on a parchment-lined baking sheet. Bake until tender, about one hour. Cool the roasted potatoes to room temperature or store them overnight in the refrigerator.

When the potatoes are cool, preheat the oven to 375°F.

Peel the roasted sweet potatoes. Mash them with a fork in a medium bowl. Add the brown sugar, cinnamon, nutmeg, and salt. Stir to combine. Add the eggs, half and half, butter and vanilla extract. Stir until smooth.

Pour filing into a 9-inch pie unbaked pie shell.

Bake until the filling is set, about 45 minutes.

When the pie is cool, top the pie with marshmallows. (If you add the marshmallows when the filling is hot, they will melt.) Set the broiler to high. Broil until the marshmallows are light brown, about two minutes.