It's quick and easy to make tasty meatballs in the Air Fryer.

Why Love Air Fryer Meatballs?
Easy
Quick
Makes a small batch
Tasty
I love meatballs. They're a great answer to "what should I make for dinner?" And while classic Italian meatballs are great, (by that I mean the type you fry in oil and then simmer in pasta sauce for an hour or so) baked meatballs are better suited for a quick weeknight meal.
But…what if you want to make your meatballs in an Air Fryer? I think this is a great idea. As you know, I love my Air Fryer and making a small batch of meatballs in it is just another reason for me to love it.
Air Fryers are basically tabletop convection ovens. But unlike a standard convection oven, they heat up really quickly. So it takes about 7 minutes to cook a batch of meatballs. Seven minutes! In a regular oven, it would take that long to preheat the darn thing.
Air Fryer Meatballs Ingredients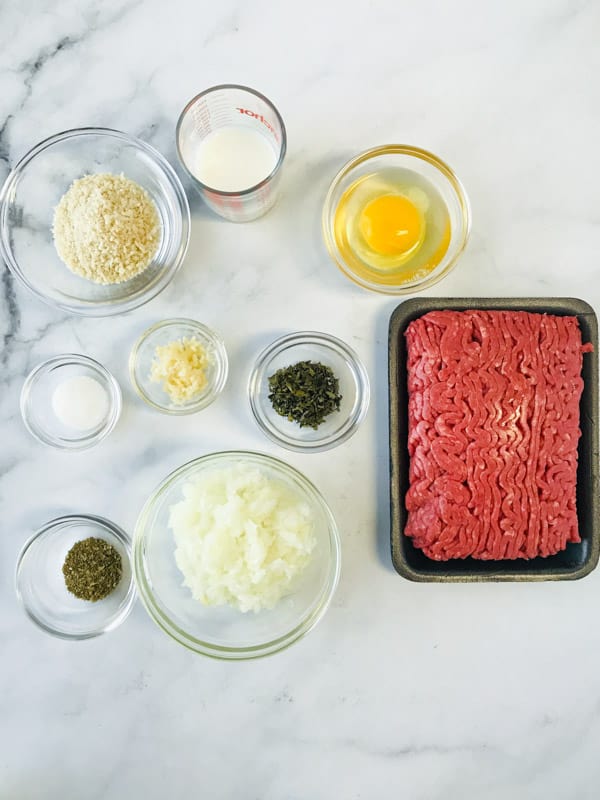 Lean ground beef. To keep Air Fryer meatballs from being greasy, use lean ground beef.
Bread crumbs. Keeps the meatballs moist and tender.
Milk. Used to soak the breadcrumbs to soften them.
Egg. Holds the meatballs together during baking.
Finely chopped or grated onion. Onion makes the meatballs taste wonderful. To ensure the onions aren't crunchy, chop it really fine or grate it on a box grater.
Garlic. Mince it or use a garlic press. The garlic adds flavor. Lover garlic? Add more! Not so keen on it, use only one clove.
Dried Basil and Oregano. As long as your dried herbs aren't outdated, they add flavor. If they're old, they taste like…nothing.
Salt. There's just enough salt in the recipe to make the meatballs taste good but not salty.
How to Make Air Fryer Meatballs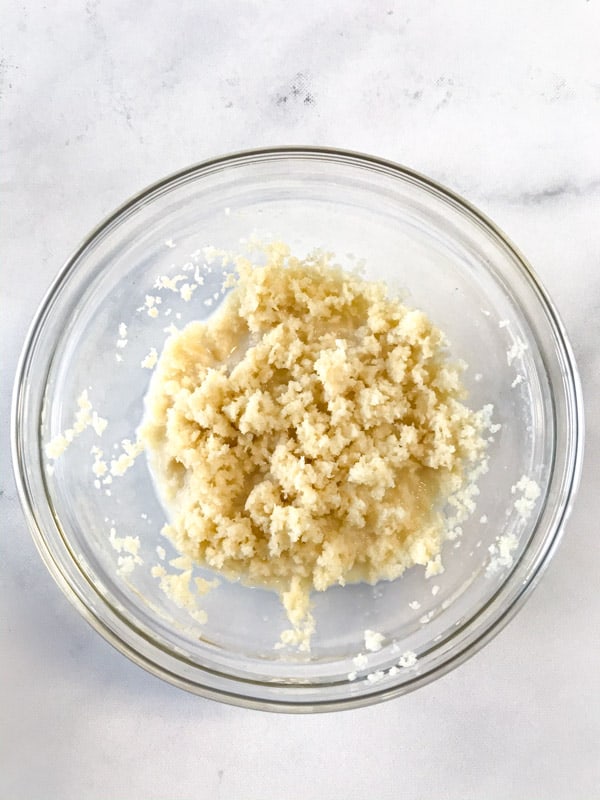 Stir together the bread crumbs and milk. Combining the bread crumbs and milk and letting them sit for a few minutes might seem like an annoying extra step. It's not. I promise. This mixture, called a panade, softens the breadcrumbs and makes for nice moist meatballs. (Please do the work for me and insert a "moist balls" joke here. Thank you.)
Chop the onions and mince the garlic. Here's the thing: these air fryer meatballs cook fast. That's awesome, right? But it has one drawback: if the onions are too large, they remain crunchy. Either chop them really fine or grate the onions on a box grate. OR! If you like to buy your onions precut and they're too large, you can saute them until soft.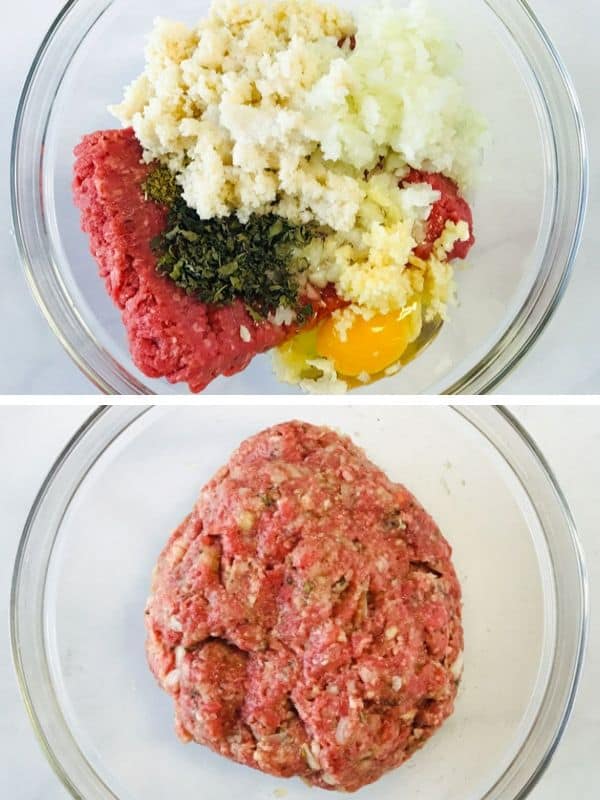 Stir everything together. Combine all the ingredients in a large bowl. Mix together until everything looks smooth and combined. If you don't want to use your hands to mix together meat, I feel you! Use a wooden spoon or get out the handheld mixer. You want to avoid using a food processor for this step because it cuts the ground meat too fine, making for mushy meatballs.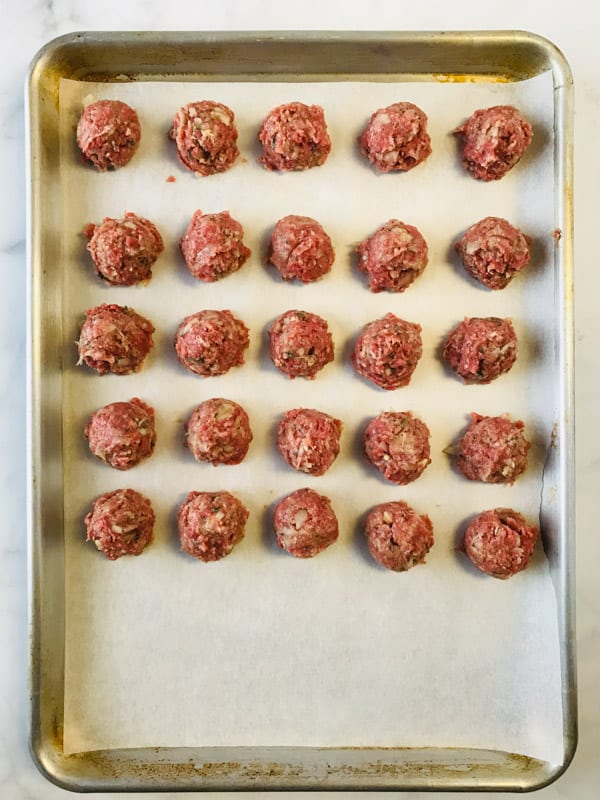 Scoop. To makes sure the meatballs are all the same size, measure out the mixture with a tablespoon or small cookie scoop. Why care if they're the same size? They cook evenly. If they are all different sizes, it throws off the cooking time. Round the meatball mixture into balls and place on a baking sheet.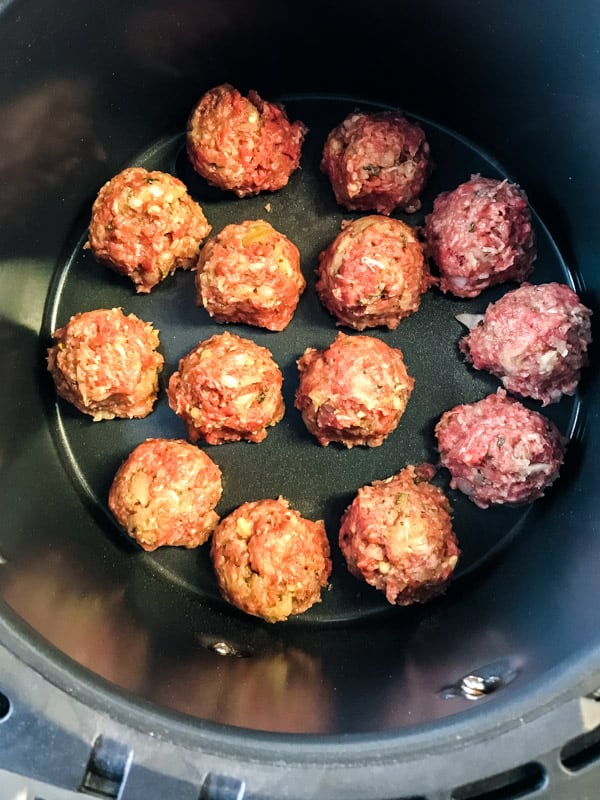 Air Fry. Preheat the Air Fryer for a few minutes. (The preheat time will depend on your model. Mine recommends 3 to 4 minutes.) Pop the meatballs into the pan and cook for about 7 minutes. If you have a small Air Fryer, you might need to cook them in two batches.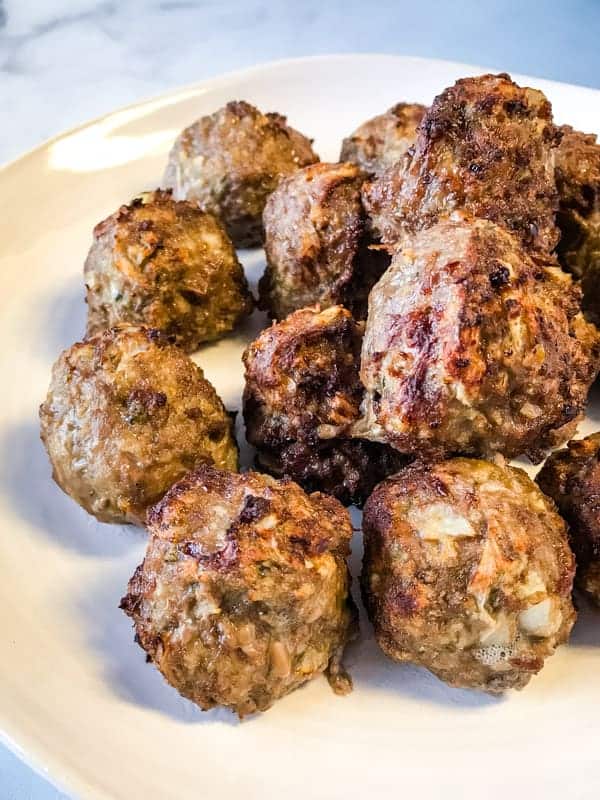 Enjoy!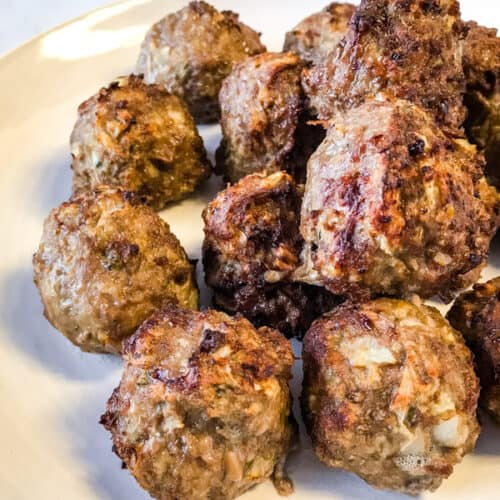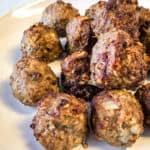 Air Fryer Meatballs
It's quick and easy to make tasty meatballs in the Air Fryer.
Ingredients
1/3

cup

dried breadcrumbs

1/4

cup

milk

1

pound

lean ground beef (90% lean)

1

large

egg

1

small

onion, finely diced or grated

1

clove

garlic, minced or put through a garlic press

1 1/2

teaspoons

dried basil

1/2

teaspoon

dried oregano

1/2

teaspoon

salt
Instructions
Soak the Bread Crumbs. Combine dried breadcrumbs and milk in a small bowl. Allow to sit for five minutes.

Make the Meatball Mixture. In a large bowl, combine the breadcrumb mixture, meat, egg, onion, garlic, basil, oregano, and salt. Mix to combine using your hands, a wooden spoon, or low speed on a handheld mixer.

Shape the Meatballs. Scoop the mixture, about two tablespoons each, into balls and place on a plate or baking sheet.

Cook. Preheat the Air Fryer to 400 degrees F. for three minutes. Place meatballs, close together but not touching, into the Air Fryer tray. (If your Air Fryer is small, you might need to do this in two batches.)

Cook until the center reaches 165 degrees F, about 7 minutes for small meatballs. Remove meatballs from the pan. If you have more meatballs to cook, carefully wipe out the pan and repeat with the remaining mixture. This prevents the second batch of meatballs from sticking to the tray.

Serve and Enjoy. Serve as desired. See below for serving suggestions. Store leftover meatballs in the refrigerator for up to three days.
Recipe Notes
How to Serve Air Fryer Meatballs
Meatball Subs. Split sub rolls, spoon in pasta sauce, add meatballs. Top with mozzarella cheese. Broil until cheese is melted and golden brown. 
Pasta and Meatballs. Cook pasta, add your favorite sauce. Serve with a large green salad. 
Meatballs, Mashed Potatoes,  Gravy, and Green Beans. This is a blue plate special. Serve the meatballs with mashed potatoes (recipe for Instant Pot Mashed Potatoes), a generous helping of gravy, and some garlicky green beans.