It's easy to make perfect frozen French fries in an Air Fryer!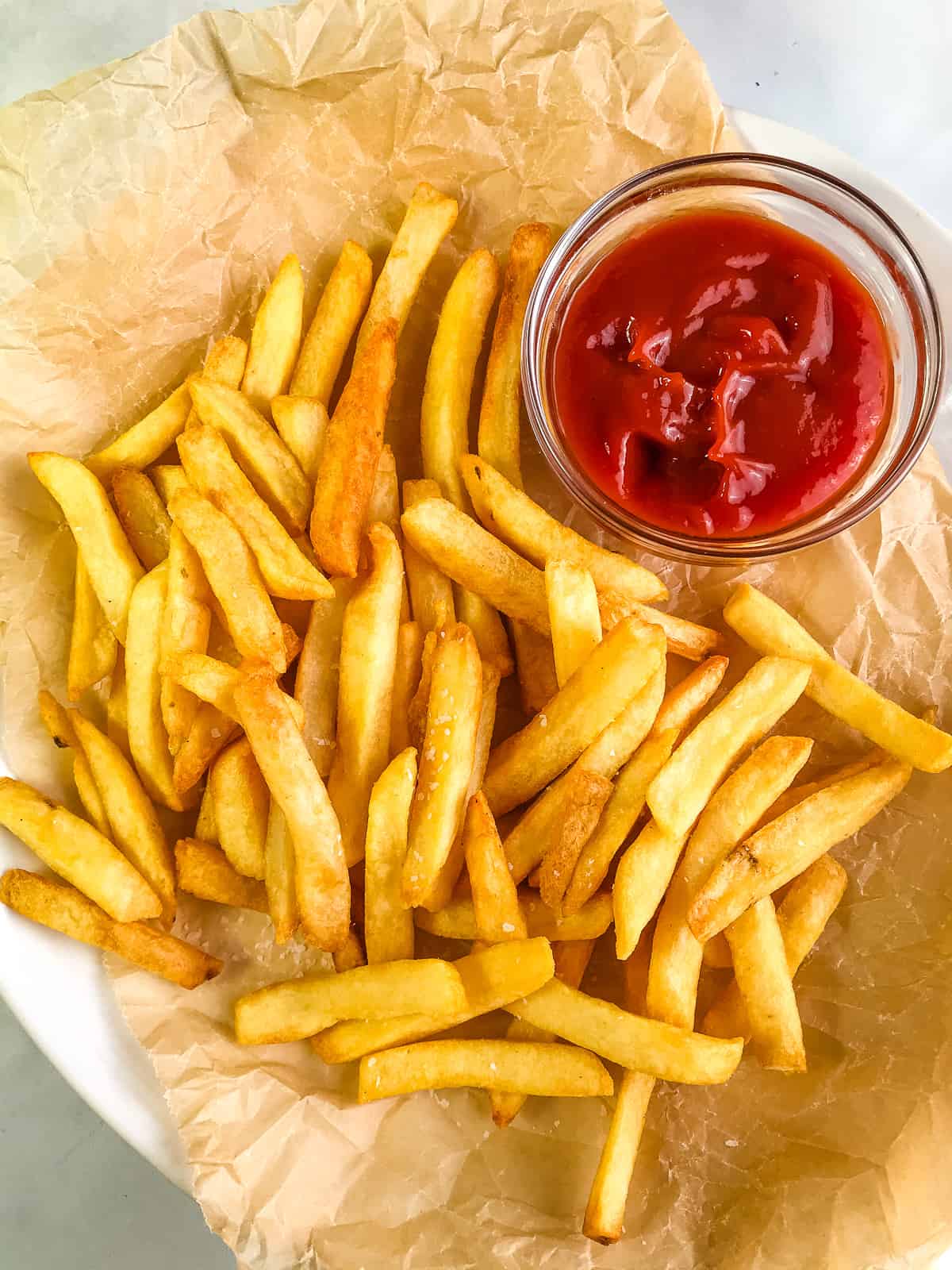 My friend bought an Air Fryer the other day. She texted me and asked what she should make first. My answer? Frozen French fries. Sure meatballs and chicken breasts are awesome but there's something fun about using an Air Fryer to make amazing frozen French Fries.
In less than 20 minutes, you get crispy, "I can't believe these aren't fried!"-French fries. Do they come out better than baking them in the oven? I think so!
Since I texted her my method, I thought I'd share it with you, too.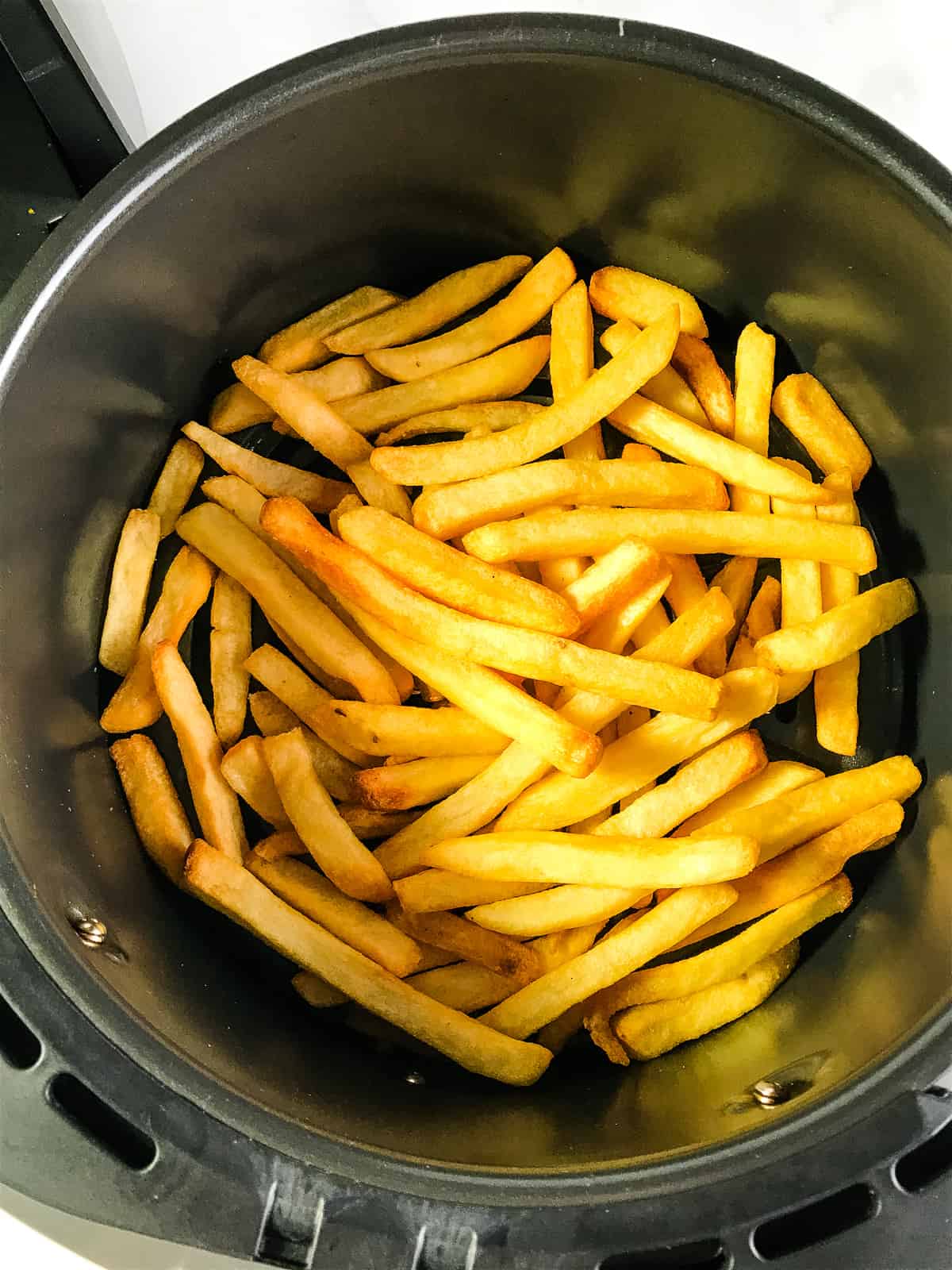 How to Make Frozen French Fries in the Air Fryer: The Basics
Preheat the air fryer.
Ignore the temperature on the bag.
Use a crisping tray, if you can.
Don't overcrowd the fryer.
Shake the fries once during cooking.
Salt, if desired.
Preheat the Air Fryer
The one "secret" to making perfect frozen French fries with your air fryer is this: preheat the air fryer. Yup. That's it. Take three minutes to preheat it to 350 degrees and you'll get crispy, perfect fries every time.
Ignore the temperature on the bag.
As I type this, there aren't directions for air frying frozen french fries on the bag. That might change. But, for now, ignore the temperature. Preheat your air fryer to 350 degrees. I know this seems low. This temperature ensures the outside is crispy while the center stays nice and tender.
Don't use additional oil
You don't need to add oil to the cooking tray for frozen French fries!
Use a crisper tray if you can.
My air fryer comes with a crisper tray. I've found that the tray, which allows a bit of air to circulate around the fries while cooking, helps cook them evenly. If you have a tray-style air fryer, you can stop them halfway through cooking and toss them on the tray with a spatula.
Don't overcrowd the air fryer.
Real talk: If your Air Fryer is 5 quarts or smaller, don't cook an entire bag of frozen french fries at once. This amount of French fries lets off steam and makes the fries a bit soggy. For a 4-quart air fryer, I cook about a third to half of the bag.
Salt, if desired
The amount of salt needed for frozen French fries varies by brand. Some, I've found, require no additional salt at all. And a few brands benefit from a light sprinkle. If you want to add salt to your French fries, salt them as soon as they come out of the fryer.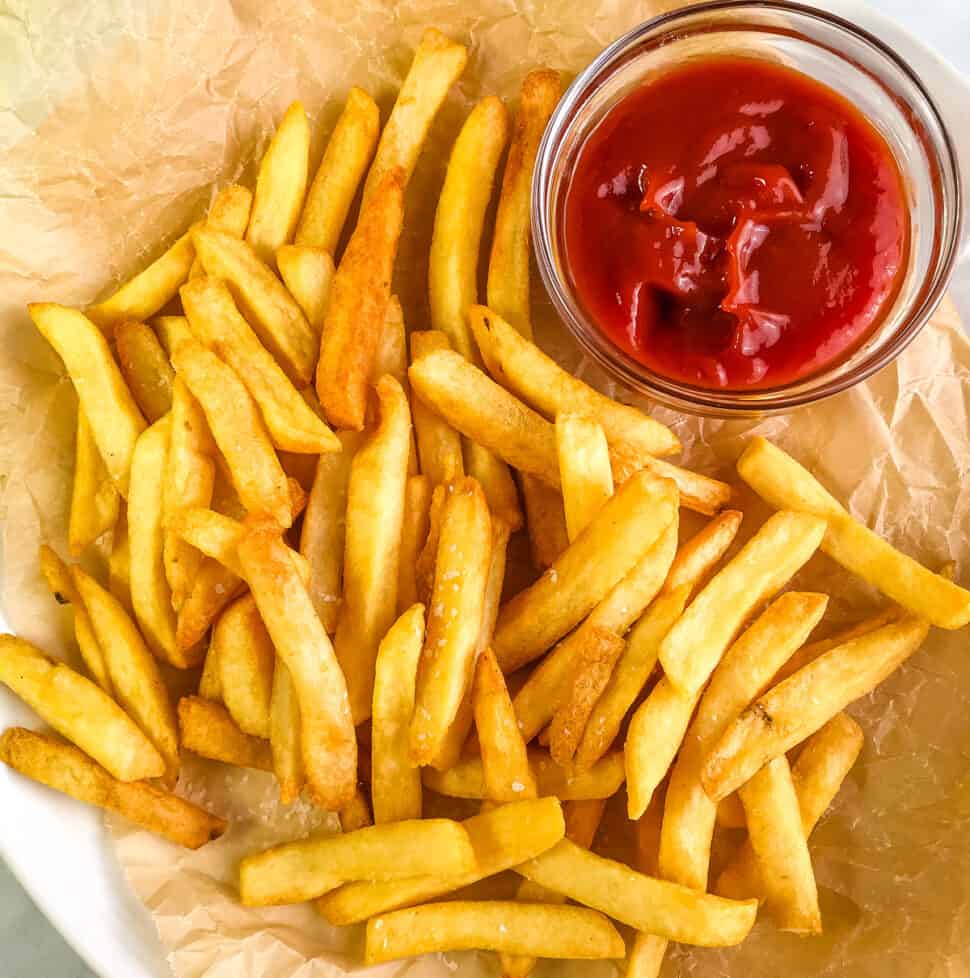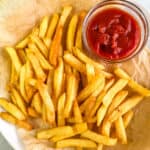 Air Fryer Frozen French Fries
It's easy to make frozen French fries in the Air Fryer. They come out crispy and perfect every time.
Ingredients
10 to 15

ounces

frozen French fries

salt
Instructions
Preheat air fryer to 350 degrees F for three minutes.

Add frozen French fries to the fryer basket. Cook for 8 minutes. Remove the fryer basket and shake a few times to toss the French fries. Cook for an additional 4 minutes or until brown and crispy.

Remove French fries from basket. Salt, if desired. Serve warm.