Easy Chocolate Chip Cookie Bars with Toasted Marshmallows. (Think of these as a chocolate chip cookie bar with a s'more twist.)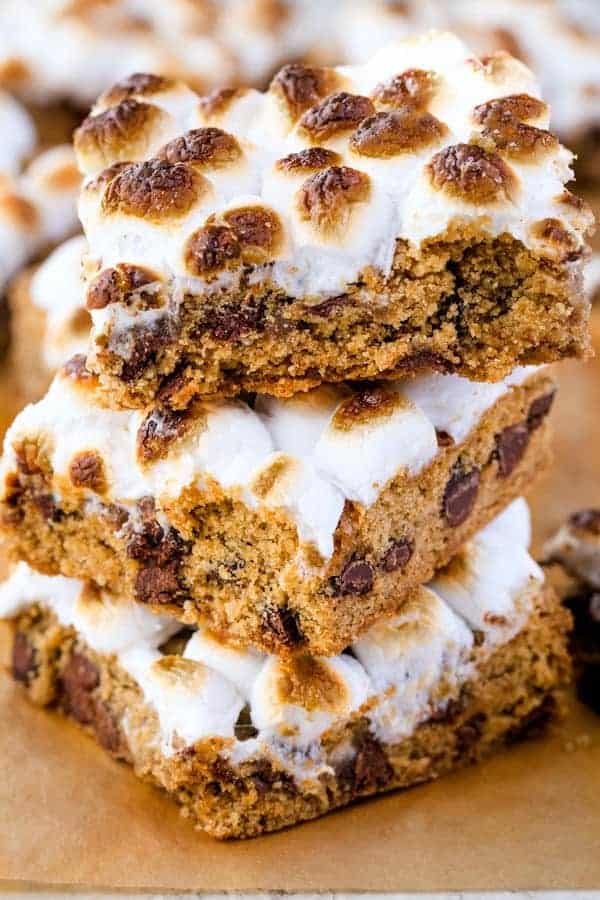 How to Make Easy S'More Bars with Marshmallows
Preheat the oven.

Most ovens take about 10 minutes to heat. If you're making your own dough, heat the oven while you make the dough.

Make the dough⁠—or not.

The base for these cookies is a simple chocolate chip cookie dough. You can either make it from scratch or use premade dough.

Line the pan with foil and grease it lightly.

This makes it easy to remove the dough from the pan.

Press dough into the pan.

Press the dough as evenly as you can into the pan. You want the edges and middle to be about the same thickness.

Bake

. Until the bars are set and the edges are golden brown.

Top with marshmallows and broil

. Top the baked bars with marshmallows and then pop the pan under the broiler. Broil until the marshmallows are toasted and golden brown.
The Base
S'mores inspired these bars. But…the recipe doesn't include graham crackers— an essential element of a s'more. So these are really chocolate chip cookie bars topped with marshmallows.
If you're in the mood, make the chocolate chip cookie base from scratch. (I've included an easy recipe below.)
If you're squeezed for time, skip this step and buy a 32-ounce log of chocolate chip cookie dough. Allow the dough to soften before you use it. This makes it easy to stir the marshmallows into the dough and press it into the pan.
The Topping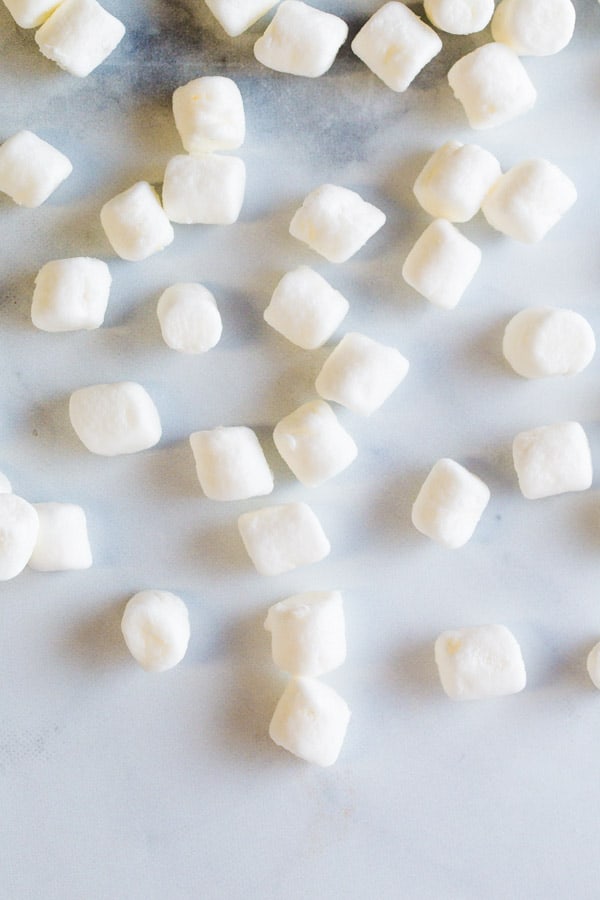 After baking, top the bars with mini-marshmallows. (Why mini? Because we use two cups of marshmallows in the dough. Large marshmallows are too big to use in the dough.)
If my husband was making these bars, which, hello, I wish was, he'd place each marshmallow on the bar and line them up perfectly. Me? I dump the marshmallows onto the bars, pat them into one layer, and call it a day. The best thing? Both methods work.
Broil the bars until the marshmallows brown. This doesn't take long⁠—so don't get distracted by your phone while the marshmallows broil.
Chocolate Chip Cookie Bar with Marshmallows: FAQs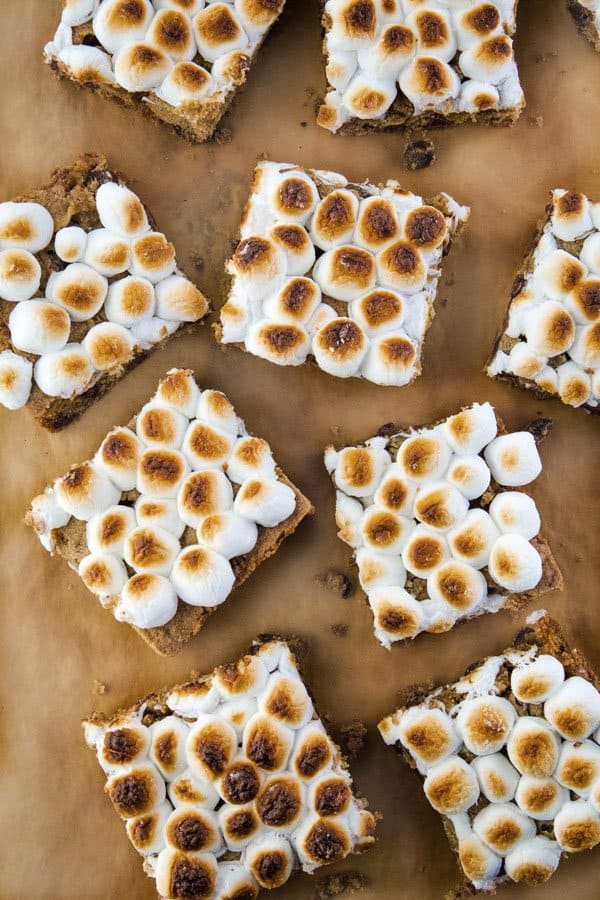 What brown sugar should I use?
I love brown sugar! (If you love brown sugar, you totally need to make a batch of my brown sugar peanut butter cookies or a loaf of easy banana bread with brown sugar.) So I have opinions on this.
Dark brown sugar is my favorite to use in these cookie bars because it contains more molasses than light brown sugar. More molasses=more flavor. If you have light brown sugar in the house, go ahead and use it.
What's the best type of chocolate chips to use for cookie bars?
Milk chocolate chips lend a traditional "s'more-like" flavor because classic s'more are made with Hershey's chocolate bars. BUT! You can use whatever type of chocolate chips you like. These are your bars, friend. If you like semi-sweet or dark chocolate (or white chocolate!) use 'em!
Do I need to chill the dough?
Nope! This recipe does not require you to chill the dough before baking.
Do marshmallows melt during baking?
They do! This is why the baked bars are topped with marshmallows and then broiled. There are two cups of marshmallows in the dough. They lend a marshmallow-y flavor but do tend to melt and leave behind holes in the bars. This is totally normal⁠—and totally tasty.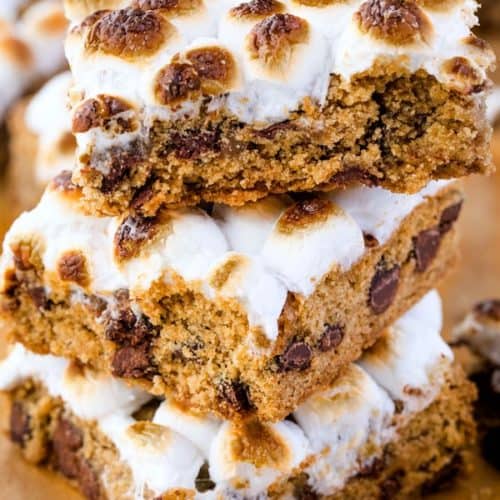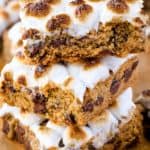 Chocolate Chip Cookie Bars with Marshmallows
Chocolate Chip Cookie Bars topped with toasted marshmallows. Almost s'more-like.
Ingredients
For the Chocolate Chip Cookie Base
1

(32 ounce)

log chocolate chip cookie dough

2 ¼

cups

all-purpose flour

1

teaspoon

baking soda

1

teaspoon

salt

1

cup

(2 sticks butter), softened

¾

cup

packed light brown sugar

¼

cup

granulated sugar

1

teaspoon

vanilla extract

2

large

eggs

1

(10 to 12 ounces bag)

milk chocolate chips

1

(10 ounce bag)

mini marshmallows, divided
Instructions
Heat the Oven. Preheat oven to 350 degrees F. Line a 9x13-inch metal baking pan with foil. Grease the foil lightly with nonstick cooking spray.

Make the Base. (If using store-bought dough, skip to next step.) Whisk together flour, baking soda, and salt. Set aside. Combine butter, brown sugar, granulated sugar, and vanilla extract in a large bowl. Cream until smooth. Add eggs, one at a time, until well blended. Stop mixer. Add whisked dry ingredients. Mix until a dough forms. Stop the mixer again.

Add Chocolate Chips and Marshmallows. Stir the chocolate chips and 2 cups marshmallows into the dough. (Or just marshmallows if you're using premade dough.)

Bake. Press dough into prepared pan. Bake until edges are golden brown, about 20 minutes. Remove pan from the oven. Allow to cool. As the bars cool, the marshmallows will melt, leaving some holes in the bars. This is normal.

Toast Marshmallows. Place pan in a large rimmed baking sheet. Top with remaining marshmallows. Broil until marshmallows are toasted, about two minutes. This happens very quickly. Keep your eye on the pan to prevent burning. Allow bars to cool. Cut into squares. Serve. Store bars wrapped on the counter for up to three days.