Easy Banana Bread with Brown Sugar Recipe. It's easy to make this moist banana bread.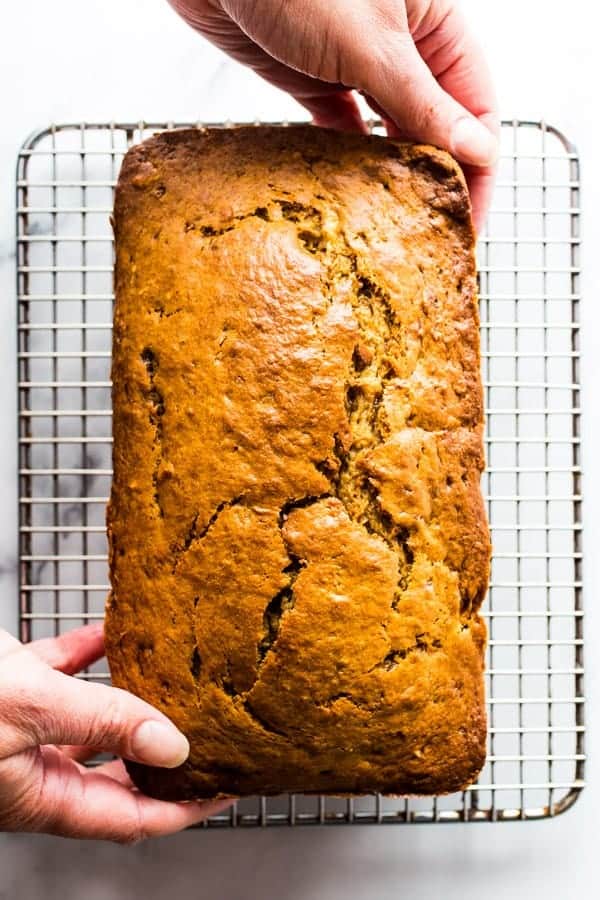 Does anyone ever really plan on making banana bread? Usually I notice that a few bananas on the counter turned brown and, boom, it's time to make banana bread.
Since banana bread is a last-minute baked good, I'm always amused by the ingredient list of many recipes. They call for things like sour cream, buttermilk, oat flour, or some other random ingredient that I don't have in the house.
The only special ingredient I use in my banana bread? Brown sugar. (And if you need to make banana bread without brown sugar, I've got you covered.)
The reason I reach for brown sugar when making banana bread is that the molasses/caramel flavor is a perfect partner for ripe bananas. Think bananas foster. Brown sugar adds a depth of flavor without asking you to do any baking acrobatics like toast sugar or use a hard-to-find flour.
Simply put: brown sugar makes banana bread taste good.
My other requirement? Banana bread should be easy. I'm talking "plop everything in a bowl, stir, put in a pan, and bake." Some folks call this a dump recipe. I personally dislike the word "dump" used when talking about food. So let's just call this an easy recipe.
Brown Sugar and Banana Bread: Dark or Light?
For banana bread, use either light or dark brown sugar. (Actually, that's true in all baking recipes. Light and dark brown sugar are interchangeable. Need another recipe for brown sugar? Try these Three Ingredient Peanut Butter Cookies.)
But just because they're interchangeable doesn't mean they're the same. Light brown sugar gives you a milder flavor. The flavor notes are more caramel and less molasses. It's also less acidic (something, to be honest, that can be hard to detect in the finished baked good).
Dark brown sugar contains more molasses and more moisture than light brown sugar. Usually, when something has a different moisture content, we freak out a bit because moisture changes things. Brown sugar is an exception to this rule. The moisture difference between light and dark brown sugar isn't enough to impact your banana bread.
How Brown (Ripe) Should Bananas Be for Banana Bread?
You know what does have enough moisture to affect the bread? The bananas! The riper the bananas, the more moisture they bring to the bread.
If your bananas are black and have turned into an almost gooey liquid, they're too ripe for this recipe.
Use bananas that are mottled with brown spots but haven't turned totally black and squishy.
How to Mix Banana Bread
I wish this recipe was a one bowl affair. It's not. Before mixing the batter, you need to mash the bananas. This is easy to do with a fork. (If mashing bananas with a fork is a challenge due to physical restrictions, use an electric handheld mixer or a potato masher.)
Once you've mashed the bananas, grab another bowl. Stir together all the dry ingredients. Then add the eggs, melted butter, and mashed bananas. Then…stir. Do this with a fork, firm rubber spatula, or electric hand mixer. Once the batter is thick, you're done.
How to Tell When Banana Bread is Done
Spread batter evenly into a greased pan and bake until a cake tester inserted into the center of the pan comes out clean.
Take care to check the top of the loaf. Banana bread can be a little slow to finish baking. The very top of the loaf sometimes doesn't play along. If the top of your loaf looks raw, but the rest of the loaf is done, cover the pan with a piece of foil. Reduce the oven temperature by 25 degrees and bake until the top is done.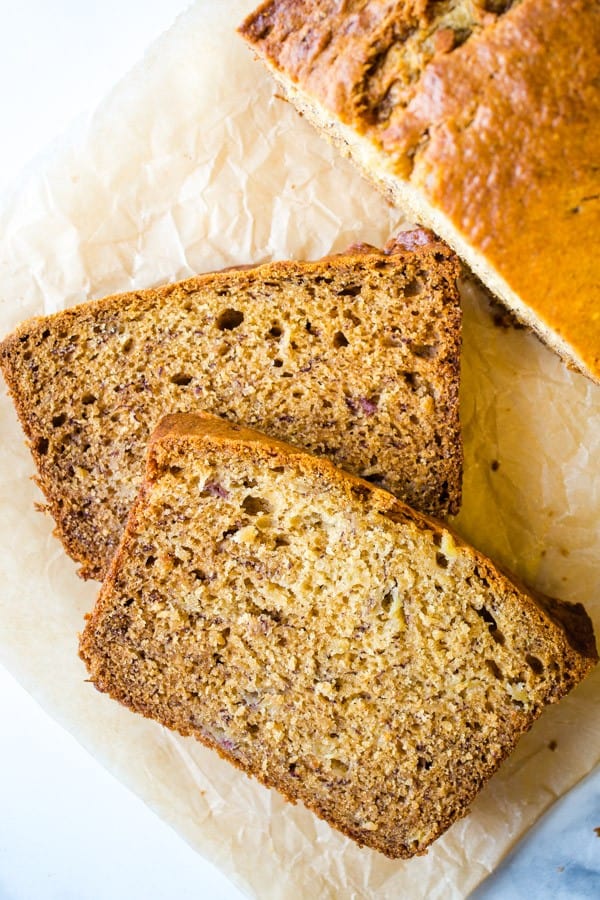 FAQs: Brown Sugar Banana Bread
What can I replace brown sugar with?
For this recipe, replace the brown sugar with an equal amount of granulated sugar.
What's the best pan for banana bread?
For this recipe, use a 9×5 loaf pan.
Can I make banana bread into muffins?
Yes. Scoop the batter into 12 lined or greased muffin pans. Bake until done, about 25 minutes.
Can I add nuts to banana bread?
Yes. Add up to 3/4 cup chopped nuts. For the best flavor, toast the nuts before adding them to the recipe.
Can I add chocolate chips to banana bread?
Sure. Add up to 3/4 cup chocolate chips to the batter.
Can I add both nuts and chocolate chips?
Yes. Add a total of 1 cup. You can add half nuts and half chocolate chips or go heavy on the nuts and light on the chocolate chips. It's up to you. Just don't exceed one cup in total.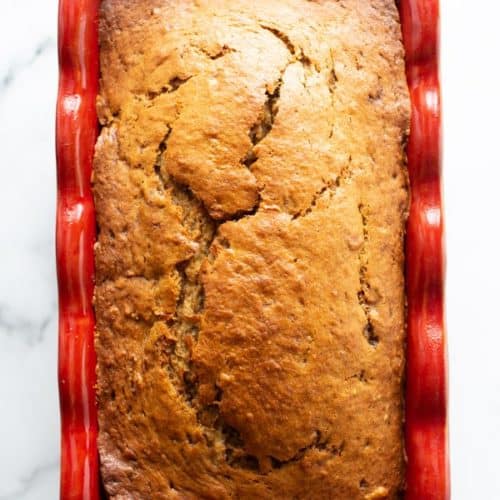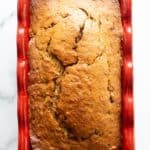 Easy Banana Bread with Brown Sugar
Easy banana bread recipe with brown sugar. This moist banana bread is simple to make.
Total Time
1
hour
5
minutes
Ingredients
nonstick cooking spray

3

large

ripe bananas

(about 1 ¼ cups mashed)

2

cups

all-purpose flour

(10 ounces; 285 grams)

¾

cup

packed light or dark brown sugar

(5 ¼ ounces; 150 grams)

1

teapsoon

baking powder

1

teaspoon

baking soda

1

teaspoon

salt

1

stick

butter, melted

(4 ounces; 112 grams)

2

large

eggs

(about 4 ounces; 113 grams out of shell)
Instructions
Heat oven to 350 degrees F. Spray a 9x5-inch loaf with nonstick cooking spray.

Mash bananas until almost smooth in a medium mixing bowl with a fork. Set aside. Whisk together flour, brown sugar, baking powder, baking soda, and salt in a large mixing bowl. (If there are any lumps of brown sugar, rub them with your fingers to break them up.)

Add melted butter, eggs, and mashed bananas. Stir until a batter forms. Spread batter evenly into greased loaf pan.

Bake until a cake tester inserted into the middle of the loaf comes out clean, about one hour.

In addition to checking the center of the loaf, be sure to check the very top of the loaf for doneness. If the top browns too quickly and the center isn't done, cover the loaf a lightly greased piece of foil. (If the center is baked and top of the loaf is raw, cover with a greased piece of foil and reduce the oven temperature by 25 degrees. Bake until done.)

Cool loaf in pan for 10 minutes. Remove from pan and allow to cool completely on a wire rack. Cut into slices with a serrated knife.