3-Ingredient Cranberry Cream Cheese Pies make a perfect last-minute Thanksgiving dessert! Made with puff pastry, cream cheese, and cranberry sauce. These are great for dessert and they fit right in at breakfast, too!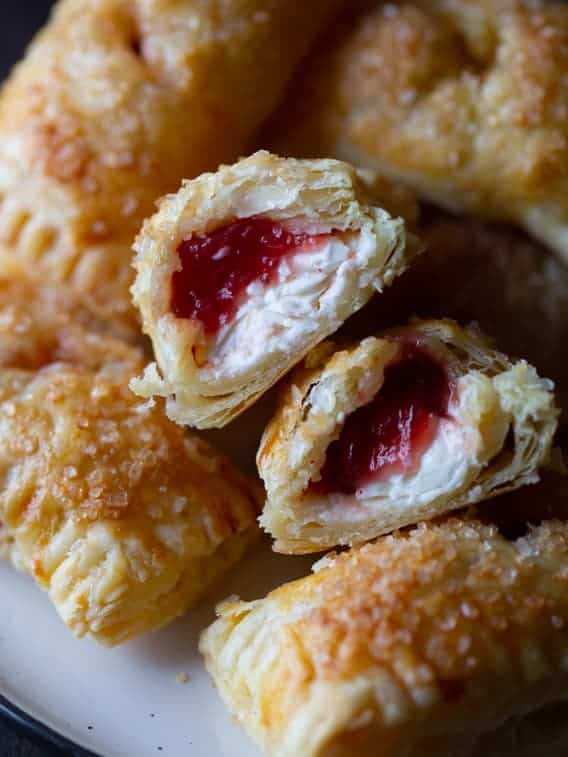 Looking for an easy last-minute Thanksgiving dessert? I've got you covered. These Cranberry Cream Cheese Pies take only minutes to make. Ready for the ingredient list?
Frozen Puff Pastry
Cream Cheese
Cranberry Sauce
Egg
Sugar
That's it! Here's (spoiler alert!) the recipe: Allow the puff pastry to thaw. Cut it into small squares. Place a little cranberry sauce and cream cheese onto each square. Fold. Seal with a fork. Brush the top of each pastry with a beaten egg. Sprinkle with sugar. DONE! (Full recipe is below. ????)
(BTW, I know there's five ingredients in these 3-ingredient pies. Here at Cook Fast, Eat Well ingredients like eggs and sugar are considered pantry staples.)
How do I use frozen puff pastry?
It's easy. The is to allow it to thaw before using. If you have the time, thaw the pastry, still in the box, overnight in the refrigerator.
If you're squeezed for time, allow the puff pastry to thaw on the counter for about 30 minutes. Set a timer! If puff pastry gets warm, it's hard to work with and doesn't puff during baking. If the pastry sheets thaw before you're ready to use, pop them in the refrigerator.
Once thawed, unfold the puff pastry sheets and cut into squares, about 3 1/2 x 3 1/2 inches each. No need to roll out the dough.
What's the best brand of frozen puff pastry?
If there's a Trader Joe's near you, grab a box of their all-butter puff pastry. They usually stock it around Thanksgiving.

If you don't have a Trader Joe's or they're out of it, Pepperidge Farms puff pastry works really well. In fact, it's what I used for the pies you see in the photos.

Can I use homemade cranberry sauce?
It depends. As long as it's thick, you can use it. If the cranberry sauce is too thin, it will leak out of the pastry as it bakes.
Can I use fat-free cream cheese?
You could. It would work. But, honestly, for this recipe I don't recommend it.
Do these freeze well?
Sort of. Since they puff so much during baking, there's a good chance they'll crumble if stacked and frozen. If you want to freeze them, be gentle. Don't force too many into a freezer container. They keep for about one month in the freezer.
Are these pies sweet?
Yes! But they aren't too sweet. Thanks to the cranberry sauce and a generous sprinkling of sugar, they make a nice dessert and breakfast pastry.

How long do these last?
Not very long in my house! The baked pies last about three to four days at room temperature.
Other Quick Dessert Recipes You'll Love!
Easy Cranberry Cream Cheese Pies
Puff Pastry, Cream Cheese, and Cranberry Sauce combine to make easy--and tasty!--individual pies. Perfect for Thanksgiving dessert!
Ingredients
8

ounces

cold cream cheese

1

(8 ounce) can

cranberry sauce, jellied or whole berry

1

(17.3 ounce) box

puff pastry sheets, thawed

1

large

egg, whisked

granulated sugar for sprinkling, about 1/3 cup
Instructions
Heat the Oven. Adjust two oven racks to middle position. Preheat oven to 425 degrees F. Line two baking sheets with parchment paper.

Prepare the Filling: Cut the cold cream cheese into 18 slices. Cut the cranberry sauce into six 1/4-inch thick slices. Cut each slice of cranberry sauce into thirds. You should have 18 small slices of cranberry sauce.

Prepare and Fill the Pastry: Cut the puff pastry into 18 squares. (9 squares per sheet.) Place a piece of cream cheese and a piece of cranberry sauce onto half of the square, leaving a small border around the edge for sealing.

Fold the pastry closed around the cream cheese and cranberry, like a book. Pinch the edges of the puff pastry together. Place the pies on the prepared baking sheet. Crimp the edges together with a fork. Brush with the whisked egg. Using a sharp knife, cut a small "x" into the top of each pie. This allows steam to escape.

Sprinkle each pie with granulated sugar.

Bake Pies Bake until pies are golden brown, about 15 minutes. Rotate baking sheets once during baking. Remove and allow to cool for at least 10 minutes before serving. Filling will be hot.

Store, wrapped, at room temperature for up to four days.