Cranberry Oatmeal Bar Recipe | Easy Recipe with Fresh Cranberries | Gluten-Free Option | Thanksgiving and Christmas Dessert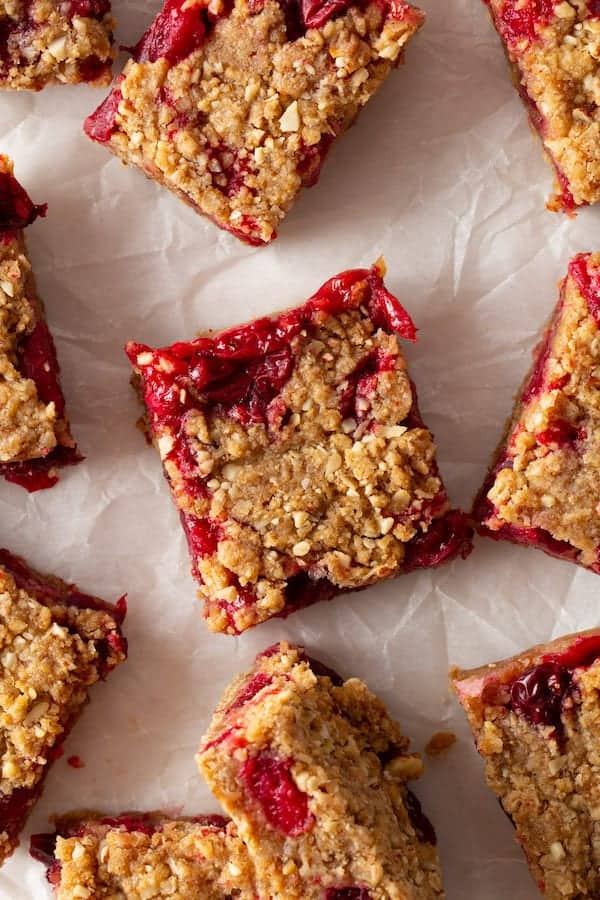 Do you love sweet and tart desserts? How about easy desserts? Then these cranberry bars are for you!
It happens almost every Thanksgiving. I buy too many fresh cranberries. And that's a good thing because then I can make a pan of these cranberry oatmeal bars. If you've made my 3 Ingredient Peanut Butter Cookies or my Brown Sugar Banana Bread, you know that I LOVE 1. easy desserts 2. brown sugar. And these bars satisfy that love. They come together in minutes and contain brown sugar in the base and topping, making for a dessert that gives you warm cozy feelings.
Why You'll Love These Cranberry Oatmeal Bars
Sweet and Tart. The brown sugar brings sweetness while the fresh cranberries add a pleasant pop of tartness. (Similar to the sweet-tart flavor of a strawberry rhubarb pie.)
Easy Recipe. The base and crumb topping come together in one bowl.
Really Yummy. These are one of those, "I can't stop eating these!" desserts. The pan always disappears quickly. Really quickly.
Gluten-Free Option. If you're on a gluten-free diet or have a friend who needs to follow one, you can easily adapt this recipe. (If you're baking for a friend, ask if they include oats in their diet. Some people on the gluten-free diet do not.)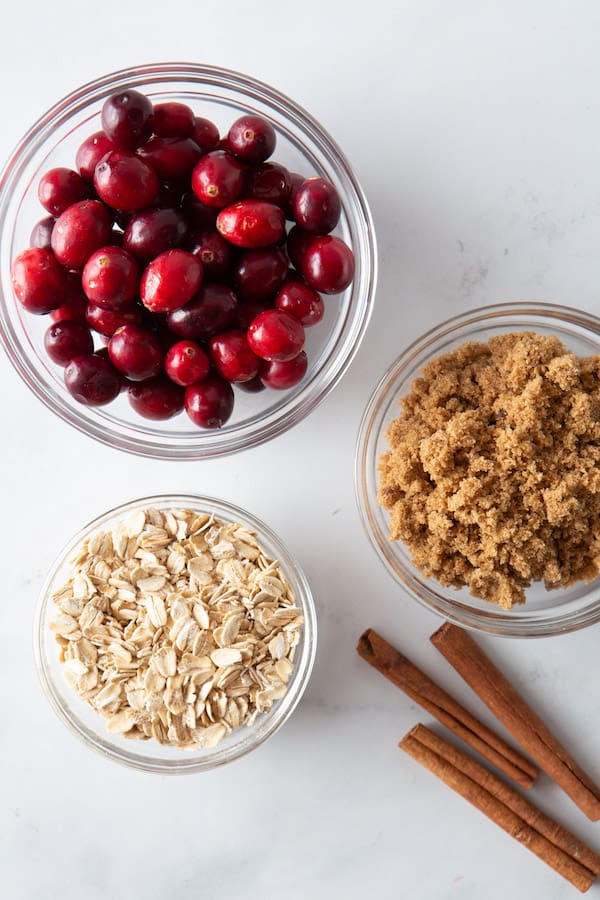 How to Make Cranberry Oatmeal Bars
Make the oatmeal crumb base (psst…it's also the topping.) Whisk together the dry ingredients. It's a nice mix of flour, oats, chopped almonds, and brown sugar. Add room temperature (cool) butter. This is important. If the butter is too cold, the mixture stays sandy and doesn't hold together. If it's too warm, it sort of squishes together. Cool butter is just right for this recipe. To work the butter into the crumb mixture, you can either cut it in with a pastry cutter or use a food processor if you've got one.
Press Half the Mixture Into a Pan. I like to foil-line the pan to make the bars easy to remove but that's up to you. Really press the mixture in; firm pressure helps the base hold together after baking.
Make the Filling. This step doesn't get any easier. Stir together fresh (or frozen cranberries) with granulated sugar and cornstarch. Spread them onto the base. It might seem like a lot of sugar. But it's needed. Fresh cranberries are very tart. Without the sugar, these bars would taste more like warheads than a nice Thanksgiving dessert.
Add the Topping. Sprinkling the remaining oat-brown sugar mixture onto the top of the bars. It might look like too much. It's not.
Bake Until They Bubble. Bake these bars until they are golden brown and the cranberry filling bubbles. Remove the bars from the oven and press them down with a heat-proof spatula.
Cook and Cut. This step is easy but so hard! These bars need to cool overnight. You'll want to eat them right away but…if you cut them while they're warm, they fall apart. Boooo! So let them cool on the counter overnight and cut them into squares the next day.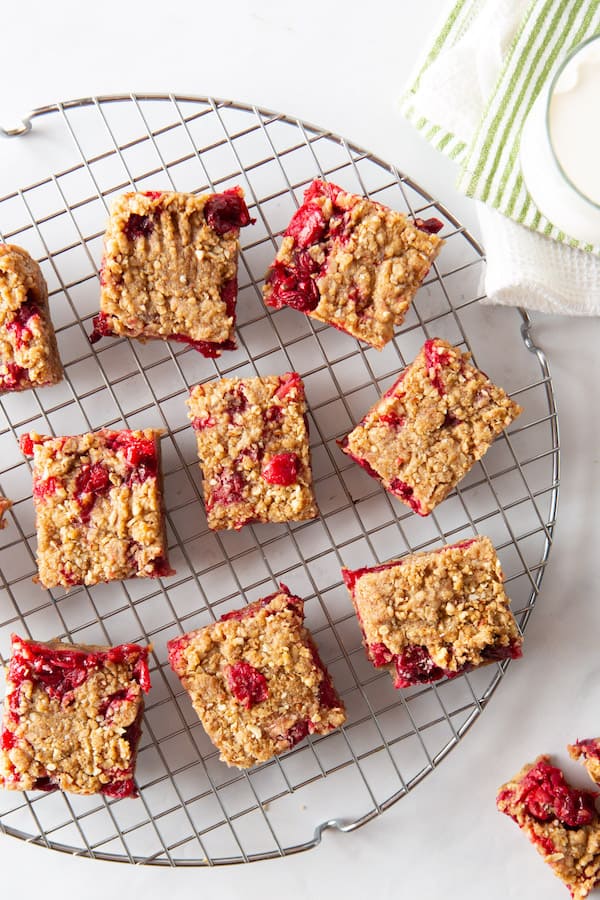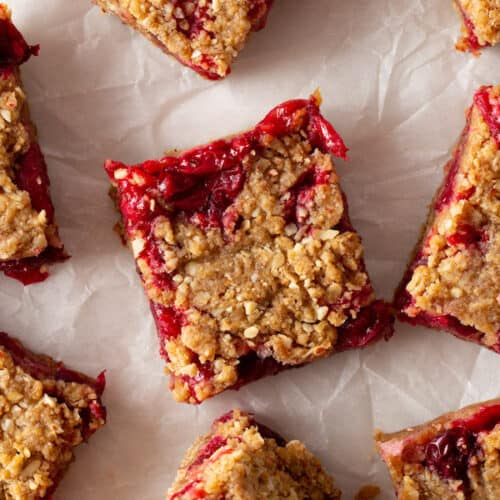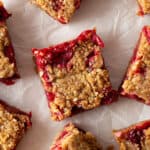 Cranberry Oatmeal Bars
Cranberry Oatmeal Bar Recipe | Easy Recipe with Fresh Cranberries | Gluten-Free Option | Thanksgiving Dessert | Christmas
Ingredients
For the Base
Cooking spray

1

cup

all-purpose flour

(For gluten-free: replace with gluten-free baking flour)

3/4

cup

old fashioned oats

(For gluten-free: replace with gluten-free oats)

1/2

cup

finely chopped almonds

1/2

cup

packed dark brown sugar

1

teaspoon

ground cinnamon

1/2

teaspoon

baking powder

1/4

teaspoon

kosher salt

1/2

cup

(1 stick) cool butter, cut into 8 pieces

3

tablespoons

water
For the Filling
2

cups

fresh or frozen cranberries

(6 ounces)

1/2

cup

granulated sugar

2

teaspoons

cornstarch
Instructions
Prepare Pan and Heat Oven. Preheat oven to 350°F. Grease a 9x9-inch pan with cooking spray.

Prepare the Base and Topping. In a large bowl, combine flour, oats, brown sugar, chopped almonds, cinnamon, baking powder, and salt.

Cut in butter, using pastry blender (or combine ingredients in a food processor bowl and pulse in butter), until mixture looks like coarse crumbs.

Remove half the mixture. Stir in 3 tablespoons of water. Press mixture into the bottom of prepared pan. Set remaining crumb mixture aside.

Prepare the Filling. In medium bowl, stir together the granulated sugar and cornstarch. (This keeps the cornstarch from clumping.) Add the cranberries. Spoon evenly over crust.

Top with Remaining Mixture. Spoon reserved crumb mixture evenly over the filling.

Bake Until Brown. Bake until the top is light golden brown and the filling bubbles, about 40 minutes.

Cool and Cut. Cool completely. Refrigerate until chilled. Cut into squares. Store covered in refrigerator.