This easy-to-make basil pasta salad starts with a creamy basil-garlic dressing. Stir the dressing together with your favorite cooked pasta. Then customize it with vegetables, cheeses, and meats. It's perfect for BBQs or a quick summer meal.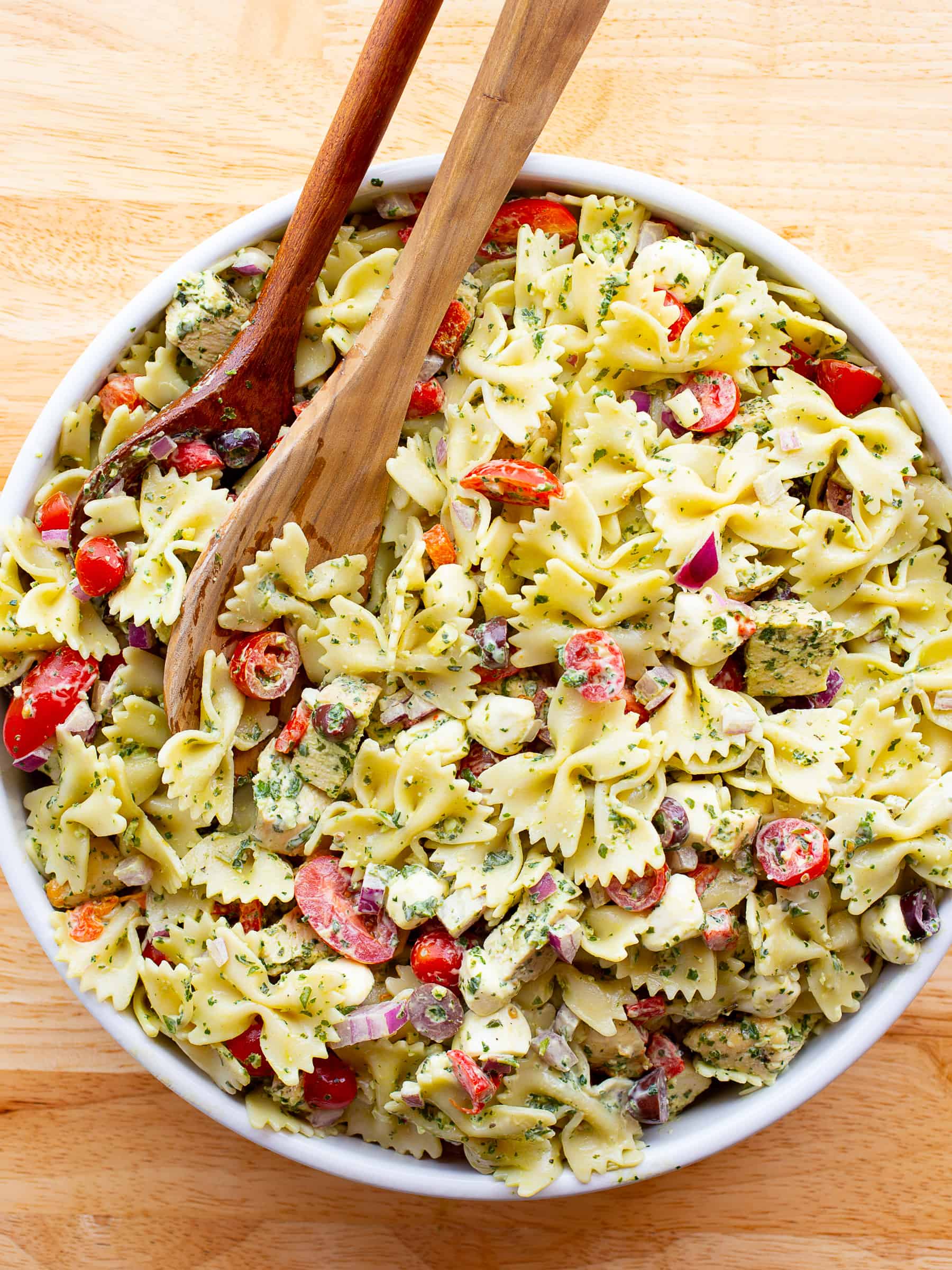 This basil pasta salad is easily one of my favorite summer dishes. The creamy garlic-basil dressing is deeply flavorful and, honestly, could be served as a dip with chips or vegetables. It's that good.
Like all good pasta salads, the vegetable, cheese, and meat "add-ins" are totally customizable. I've included my favorites along with some suggestions below.
Select and Cook the Pasta.
While you really can use whatever type of pasta you love when making pasta salad, there are a few shapes that work better than others. And a few I suggest avoiding. Let's talk about those first.
Pasta Shapes to Avoid.
Long noodles, like spaghetti. Even if broken into small pieces noodles don't make for great pasta salad.
Tiny Pasta. I'd skip acini dipepe, ditalinii, and orzo for this recipe. These small shapes don't work well with this dressing.
Pasta Shapes to Use.
Bowties. My favorite shape for this pasta salad. The bow-tie shape holds onto the creamy dressing nicely.
Fusilli. When making a cold pasta salad, you can't go wrong with fusilli. Like bowtie pasta, the corkscrew shape, grabs the dressing–making every bite flavorful.
Rotini. This shape is similar to fusilli. The spirals are a bit thinner and more delicate. It almost looks like a spring! Be sure not to overcook this shape. If you do, it can fall apart when you stir it together with the other ingredients.
Mini-Shells. The seashell shape of this pasta holds onto both the dressing and add-ins. I love it when an olive get tucked into the opening. So tasty!
Elbow Macaroni. I put elbow macaroni last on this list for a reason. While it's great for traditional l macaroni salad, I find the shape a bit small for this one. It works but it's not my favorite.
Cook the Pasta.
Cook the pasta in salted water until it's tender. You don't want it to be crunchy or mushy. So I always taste it to ensure the texture is right. When it's done, drain and then immediately rinse with cold water. This stops the cooking process and prevents your perfectly cooked pasta from getting too soft and mushy.
If you're not going to make the pasta right away, toss the cooled pasta with a little olive oil to keep the noodles from sticking together.
All about the Dressing.
The creamy basil dressing is the star of this pasta salad. If you've got a food processor or blender, use it to make the dressing. The blades mince the garlic and basil really fine, giving the dressing a nice flavor and texture.
All you need to do is add the peeled garlic and basil to the bowl of the food processor. Pulse until the garlic and basil are finely chopped. Then add the remaining ingredients. Mix for a few seconds until the dressing is creamy. It really takes only a minute or so to make.
But what if you don't have a food processor? You can still make it. Start by finely chopping the garlic and basil until no large pieces remain. Transfer them to a bowl and then stir everything together. It takes a bit longer to make the dressing without a food processor but the flavor is fantastic.
The Sugar is Optional.
There are two teaspoons of sugar in the dressing. Don't worry, it doesn't make the pasta salad sweet. But what it does do is important: it highlights the natural sweetness of the dressing and brings all the flavors together. While it's an optional ingredient, it makes a big difference.
Select Your Favorite Add-Ins.
I usually serve this pasta salad with tomatoes, fresh pearl mozzarella, chopped red onions, roasted red peppers, Kalamata olives, and cooked chicken. But think of those ingredients as mere suggestions. Mix and match the following ingredients to make a pasta salad that works for you. 
Vegetables
Tomatoes. Use grape, cherry, or your favorite chopped whole tomato.
Roasted red peppers. While you can roast your own red peppers, I use the ones in the jar. So easy and so tasty.
Fresh bell pepper strips. Red, yellow, and orange bell peppers add a nice flavor and crunch.
Peas. Thawed frozen peas taste great with the basil-garlic dressing.
Cucumbers. When you add cucumbers to pasta salad, it's a good idea to remove the seeds. They can make the salad watery.
Marinated mushrooms. The flavors of marinated mushrooms go great with this salad.
Red or sweet onion. I love the bite of red onion. If you'd prefer something with a little less bite, use a sweet yellow onion or soak the red onion for about 15 minutes before adding it to the salad.
Scallions (green onions). Both the greens (top) and bulb (bottom) of a scallion can be used for a nice subtle onion-y flavor.
Cheese
Fresh mozzarella. For ease, I prefer mozzarella pearls. To use them, just open the package, separate them and stir into the salad. If you're using larger styles of fresh mozzarella, cut them into bite-size pieces before adding them to the salad.
Feta. Crumbled or block feta are a nice addition.
Shredded parmesan. If you want a little cheese in almost every bite, use shredded parmesan.  
Ricotta salata. Don't confuse ricotta salata with regular creamy ricotta. This cheese is aged and salted. Giving it a firm texture and lovely feta-like flavor. You can either grate it or cut it into pieces.
Meats
Cooked chicken. This recipe is a great way to use up leftover chicken. If you don't have any on hand, you can easily air fry chicken breasts. It only takes a few minutes and the chicken comes out nice and juicy.
Pepperoni, Genoa, or hard salami. I usually cut the pepperoni or salami in quarters. This way, it's easy to eat with the noodles.
Ham. I'd avoid honey or maple ham. The flavor doesn't really go with the rest of the pasta salad.
Put it all Together.
To make the pasta salad grab a large bowl. The bigger the better! Stir together cold pasta with the dressing and "add-ins". Give the pasta a taste. If it needs more salt or pepper or maybe a little more vinegar or mayo, add it now.
You can serve the pasta salad right away but it really tastes better if you wait at least an hour. Cover the bowl and pop the pasta salad in the fridge. This gives the flavors time to mingle. If you've got the time, make it the night before to really give the flavors time to develop. 
Store the leftover pasta salad in an airtight container in the fridge. It keeps for up to three days.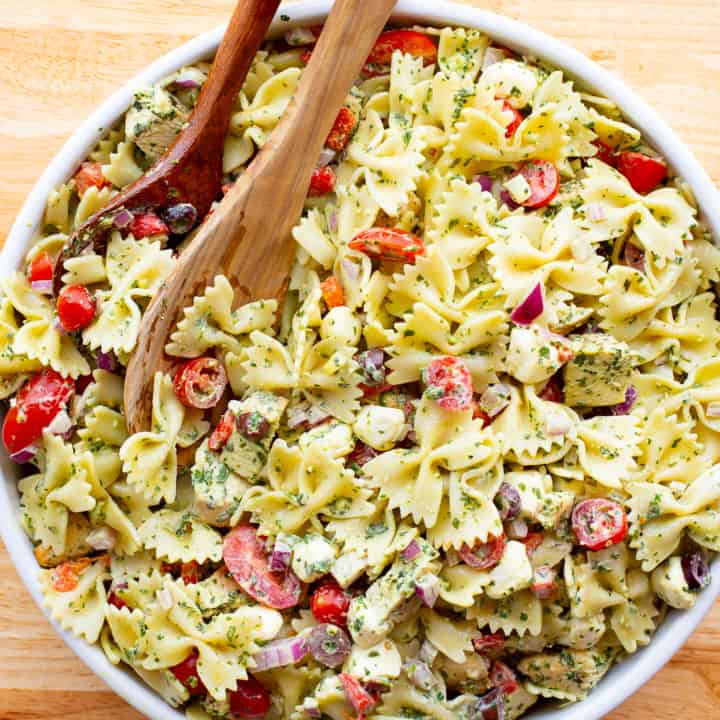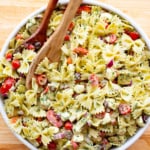 Basil Pasta Salad Recipe
This easy to make pasta salad has a creamy basil-garlic dressing. Add your favorite vegetables, cheeses, and meats to customize the salad
Ingredients
For the Dressing
1

cup

fresh basil leaves, packed

5

cloves

garlic

¾

cup

mayonnaise, plus more as needed

1

tablespoon

red wine vinegar

2

teaspoons

sugar, optional

¼

teaspoon

salt
For the Pasta Salad
12

ounces

bowtie pasta

1

pint

grape or cherry tomatoes, halved

8

ounces

fresh mozzarella pearls

½

small

red onion, chopped

½

cup

chopped roasted red peppers

½

cup

pitted Kalamata olives

2

cups

chopped cooked chicken

Salt and pepper, to taste
Instructions
Place garlic cloves and basil leaves in the bowl of a food processor. Process until finely chopped. Add the mayonnaise, vinegar, sugar, and salt. Blend until smooth.

Bring a large pot of salted water to a boil. Add the pasta and cook until tender. Drain the pasta and rinse with cold water until the pasta is cool.

In a large bowl, mix together the cooled pasta, tomatoes, mozzarella, red onion, olives, and chicken breast. Stir to combine.

Add the basil dressing. Stir gently until all the pasta is coated. Cover and chill for at least an hour before serving. If the pasta is dry, stir in a tablespoon of additional mayonnaise before serving.

Store the leftover pasta salad in the refrigerator for up to three days.
Recipe Notes
Add-In Suggestions
Vegetables
Tomatoes
Roasted red peppers
Fresh bell pepper strips
Peas
Cucumbers
Marinated mushrooms
Red Onion
Scallions (green onions)
Cheese
Fresh mozzarella
Feta
Shredded parmesan
Ricotta salata
Meats
Cooked chicken breast.
Genoa or hard salami
Pepperoni
Ham