Easy-to-make creamy spinach and tortellini soup. Makes use of frozen spinach and frozen tortellini, making this a great "last minute" recipe.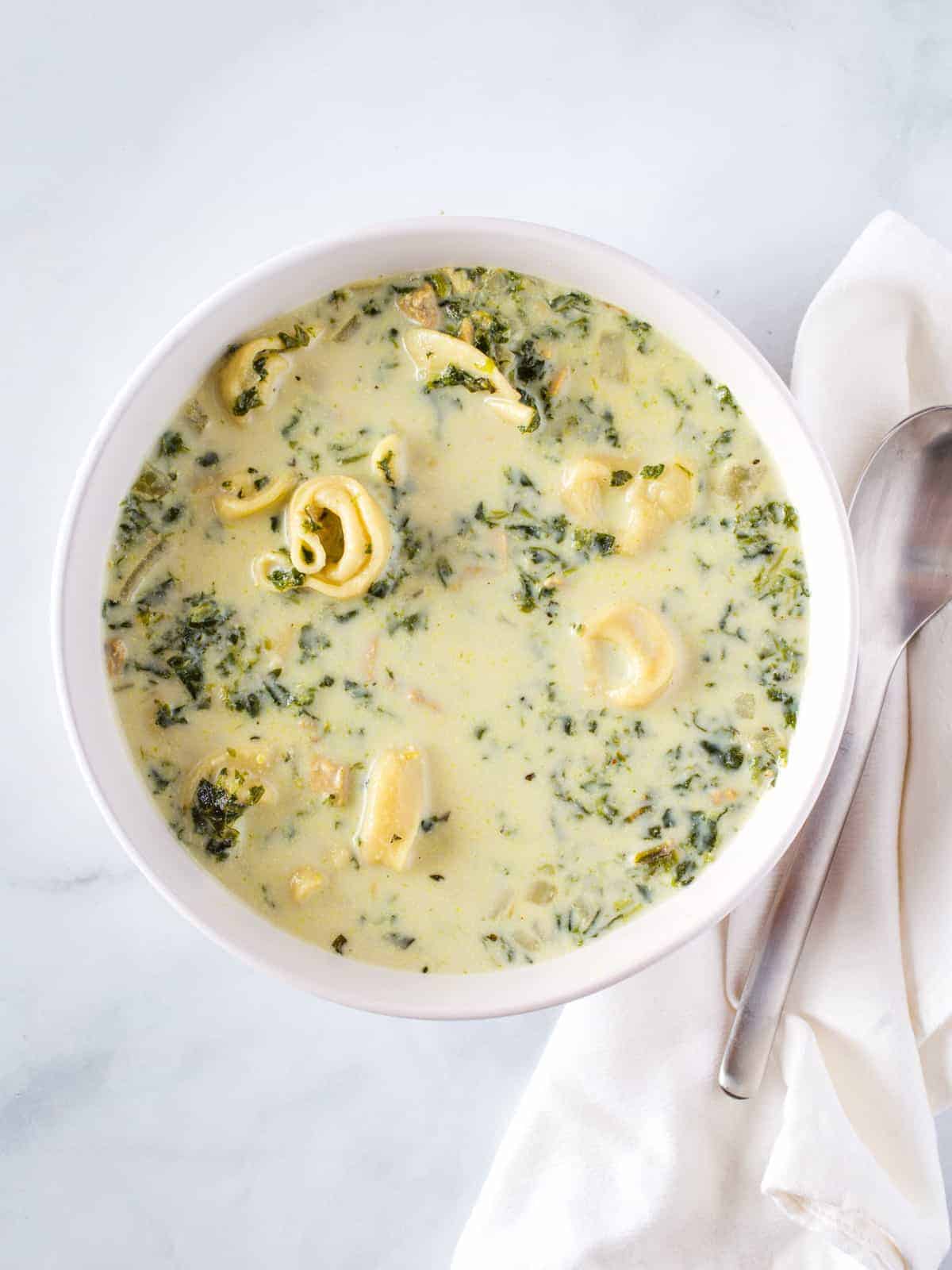 When the weather turns cooler, it's time for soup for supper.
Honestly, I tend to slip into a bit of a soup rut. I make the same recipes over and over and over again. On Monday night, when I caught myself gathering the ingredients for tortellini soup yet again, I decided to shake things up a bit.
(Note: "shake things up a bit" is a gross exaggeration. It makes me sound wild and free and fun. All things which, in 2020, I am decidedly not. I still made tortellini soup; I simply made a different kind.)
Instead of my regular tomato-based soup, I made a batch of creamy spinach and tortellini soup. See! That's different!
Why creamy tortellini soup? You can thank my Instagram feed. I kept seeing pics of creamy tortellini soup and they got me. You know how that goes. It turns out, those soups included ground Italian sausage, which I didn't have in the house and, to be honest, sounds kind of heavy. (Have you had it? Is it delicious? Let me know!)
I put together my own take. A creamy and delicate tortellini soup that's just rich enough. And, happy for me, I'll probably make it again and again and again.
Why You'll Love This Soup
Uses pantry ingredients. It's easy to keep the ingredients for this soup on hand. The two main ingredients are frozen spinach and frozen tortellini. (Oh, and half and half. Since I put a splash in my coffee each morning, there's always some in our refrigerator. If you don't keep it around, get a can of evaporated milk. It makes a great replacement and is shelf-stable.)
A note about that frozen spinach: I love fresh spinach but in the winter you'll find boxes of frozen chopped spinach in my freezer. If you prefer fresh spinach, use a 5-ounce carton of baby spinach.
Easy to make. This creamy tortellini soup isn't thick like a chowder. It's a broth-style soup with just enough half and half stirred in for richness. If you've made my Zuppa Toscana recipe, the broth is similar. (In fact, that broth is what inspired this one.)
Great with leftover chicken. Sometimes on Sunday night, we roast half a chicken. That means there's usually leftovers on Monday. I chopped up the cooked chicken and stirred it into the soup. There wasn't much, about one cup, but it was a nice addition.
Delicate flavor. What's the cliche about a bowl of soup? It feels like a warm hug. That cliche applies to this recipe. There are no sharp or spicy edges. If spinach dip morphed into a soup, it would be this one. (BTW, if you love spice in your soup, add red pepper flakes or a few shakes of hot sauce.)
How to Make Creamy Spinach Tortellini Soup: Three Must-Do Steps
Saute the onions and garlic. For the best flavor, saute the onions and garlic until they're soft and tender. If they're still raw when you add the chicken broth, the soup takes on a sharp, onion and garlic flavor, instead of a creamy softness.
Cook the tortellini until tender. The cooking time on the bag of tortellini is a guide. Since the tortellini is it's cooked in the simmering broth, not boiling water, it usually takes a few minutes longer than the cooking time indicated on the bag. Taste one tortellini before serving to ensure they've cooked all the way through.
Adjust the black pepper and salt. The main flavor for this soup comes from the tortellini and they tend to vary by brand. Once the soup has finished cooking, add black pepper and a pinch of salt. Then taste. Add more pepper if needed.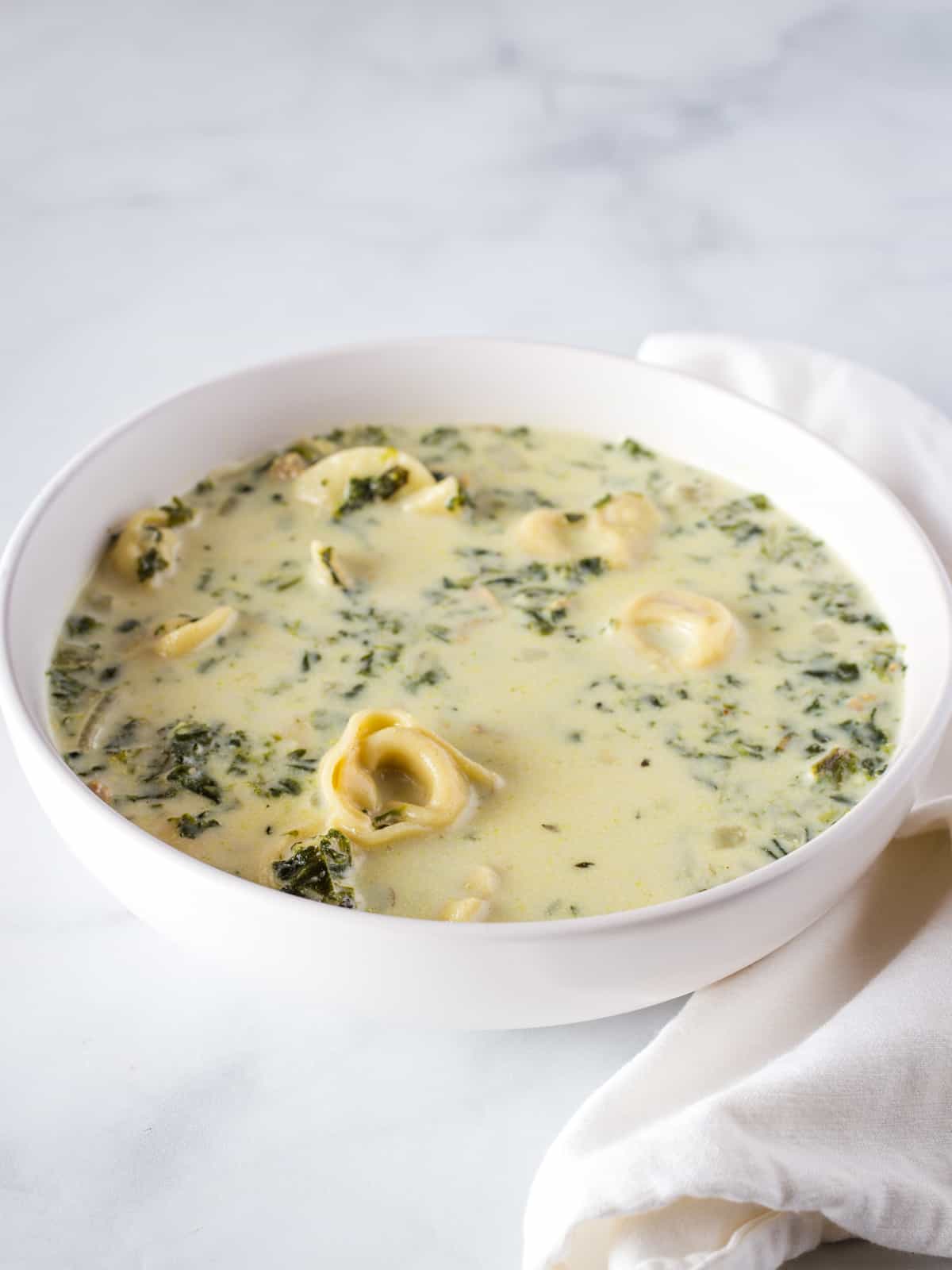 FAQs
Can I use dried tortellini?
Yes! Dried tortellini works in this soup. They tend to contain less cheese than frozen tortellini; so the flavor and richness of the soup is a little different.
Can I use fresh tortellini?
Absolutely! Fresh tortellini cooks very quickly. To avoid overcooking, check for doneness after a minute or so.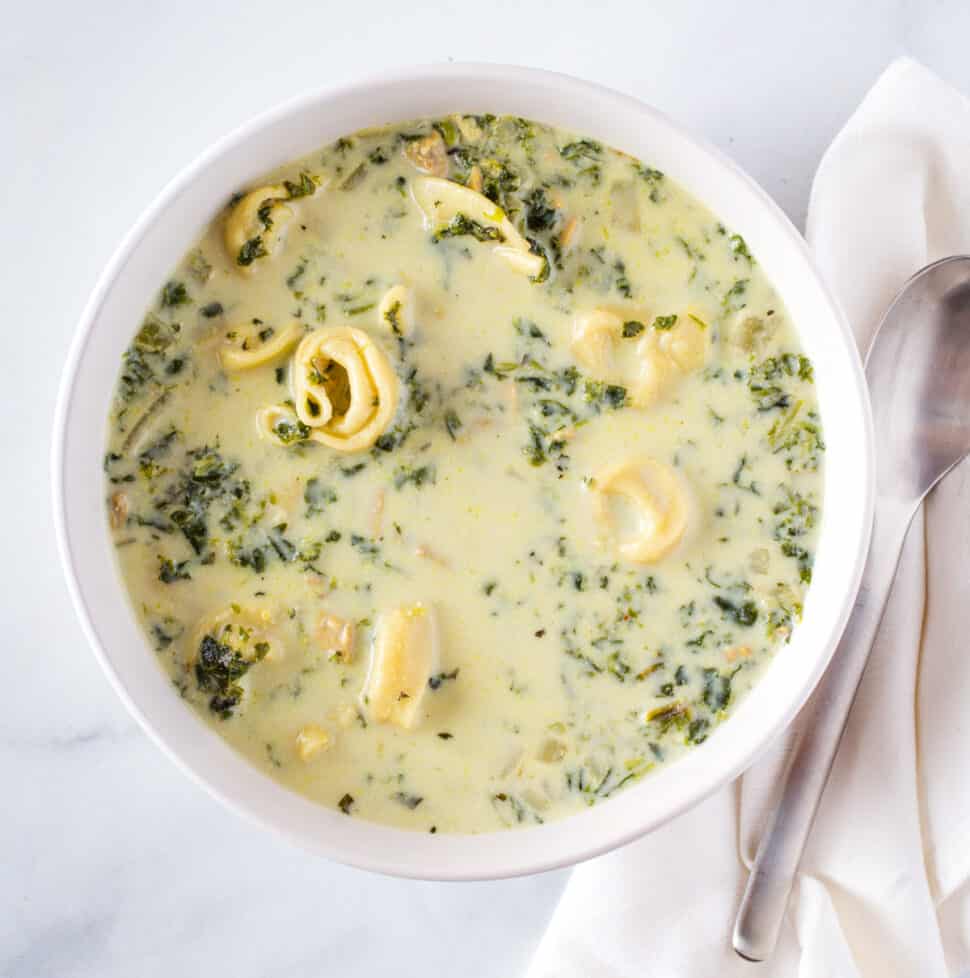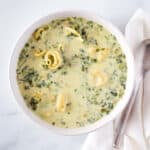 Creamy Spinach and Tortellini Soup
This spinach tortellini soup is mild and creamy. Makes use of frozen spinach and frozen tortellini, making this a great "last minute" recipe.
Ingredients
2

teaspoons

olive oil

1

medium

onion, finely diced

2

cloves

garlic, minced

6

cups

low sodium chicken broth, see note

1

teaspoon

dried basil

Pinch

red pepper flakes, optional

1

cup

cooked, chopped chicken, optional

1

(10 ounce package)

frozen chopped spinach

1

(16 ounce bag)

cheese-filled frozen tortellini

1

cup

half and half

Freshly ground black pepper and salt to taste
Instructions
Heat the olive oil in a large pot over medium-high heat until it shimmers but doesn't smoke. Add the onion and cook, stirring frequently, until translucent, about two minutes. Add the garlic and cook until fragrant, about one minute.

Add the chicken broth, basil, red pepper flakes, and the chicken, if using. Stir to combine. Add the frozen spinach. Cover and bring the soup to a gentle boil. Stir occasionally to break up the spinach. Once the soup reaches a boil, reduce the heat and allow to simmer for 15 minutes.

Add the frozen tortellini and half-and-half. Increase the heat to medium-high and cook until tortellini are tender, about four minutes. Taste. Adjust salt and pepper to taste.

Serve warm. Store leftovers in the refrigerator for up to three days.
Recipe Notes
You can replace the 6 cups of chicken broth with: 
4 cups low sodium chicken broth
2 cups water
1 teaspoon chicken flavored Better than Boullion.