Quick, easy, and delicious tortellini soup! Frozen cheese tortellini cooked with tomatoes, spinach, carrots, celery, and onions. 30-minute soup recipe.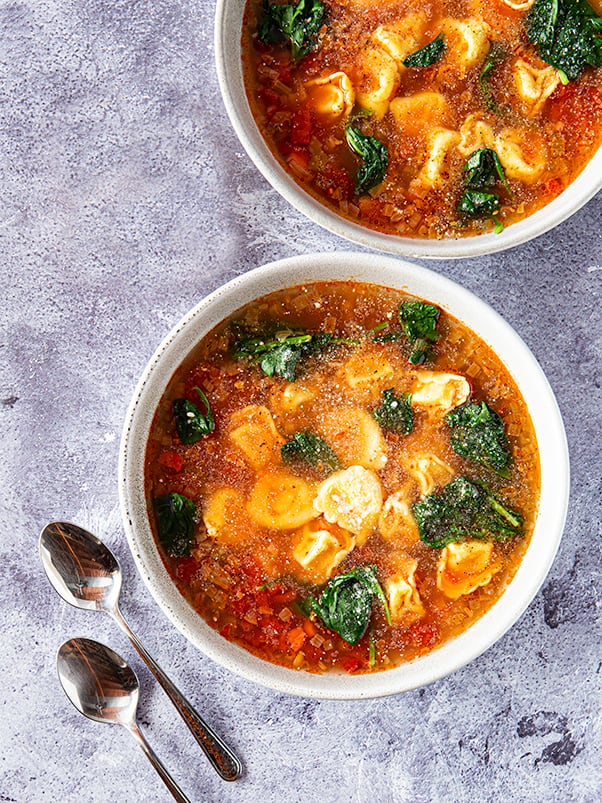 Wondering what to make for dinner tonight? Is it cold out? I have an answer for you: tortellini soup.
Here's why you'll love this easy tortellini soup:
It's fast and easy. You saute some veggies, add broth, water, and tomatoes and simmer. Then you add some tortellini and spinach. (I like frozen cheese tortellini but you can use any type you want.) Boom. Done!
It's a broth-based soup. I love meat-free soups. Most of the time, however, they're bean-based. While that's great, sometimes I'm not in the mood for beans. This broth-based soup is kind of like chicken noodle but, dare I say it, a little better? (And you know how much I love chicken noodle soup.)
It makes great leftovers. Not gonna lie. The recipe makes a big pot of soup. This makes me happy because it means that lunch is taken care of for a few days after making it. Like all soups that contain noodles, the tortellini tends to absorb the broth and get a little soft. This doesn't bother me. I simply add a splash of water before reheating and call it a day.
Kids love this soup. Do I have kids? I do not. But! I've made this soup for friend's kiddos. You know what? They gobbled it up. So maybe the kids in your life will love it too. Or not. Kids are wonderful and…sometimes picky. They might love it one day and hate it the next.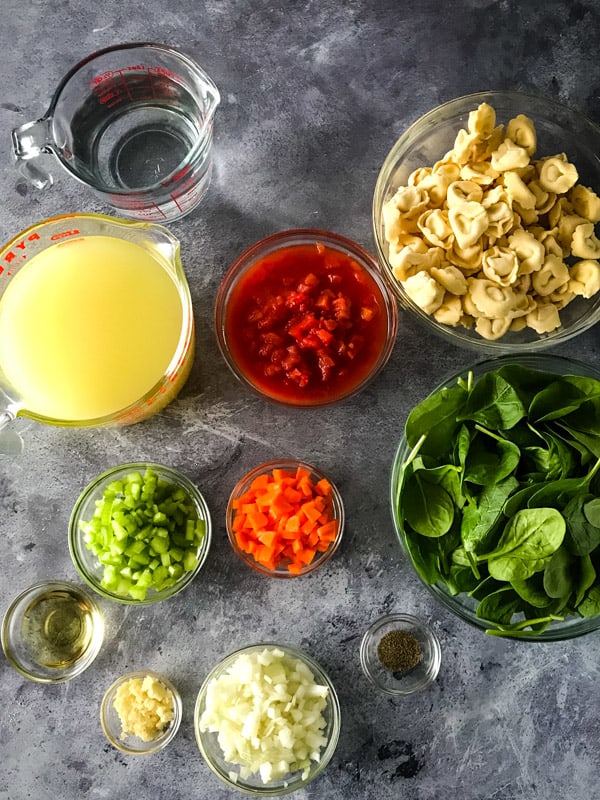 Easy Tortellini Soup: Key Ingredients
Carrots, Onion, and Celery. Chop these small enough to fit on a soup spoon. Or buy them precut. Whatever works for you. (You can also chop them the night before. Just be sure to put the chopped onions in a tightly covered glass container. Chopped onions can stink up the fridge real quick.)
Frozen Tortellini. This recipe calls for frozen tortellini, which takes about five minutes to cook. If you use fresh or dried tortellini, cook according to the package directions.
Fresh Baby Spinach. One package of baby spinach goes in at the end. If you prefer to use kale, it requires about 20 minutes to cook. Add it along with the broth, at the beginning of cooking.
Optional Ingredients.
Zucchini and Yellow Squash. After cooking the carrots, celery, and onions, add chopped zucchini and/or yellow squash. Cook until tender. Add the garlic and proceed as directed.
Chicken. I prefer this as a meat-free soup but it does welcome chicken. Cooked, shredded chicken is an easy addition. Simply stir it in after you add the broth.
Beans. Cannellini beans go really well with tortellini soup. Rinse them and add along with the tomatoes.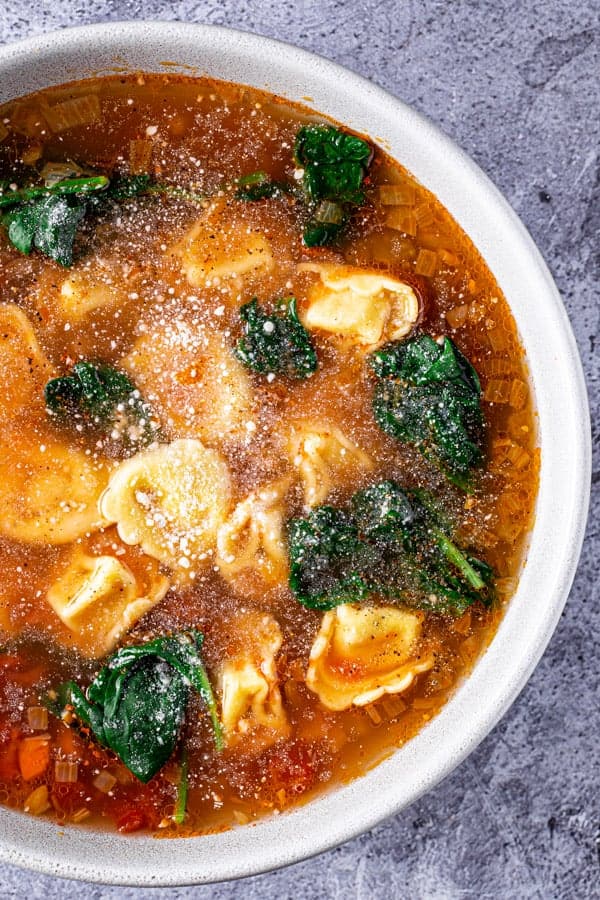 Other Easy Soup Recipes You'll Love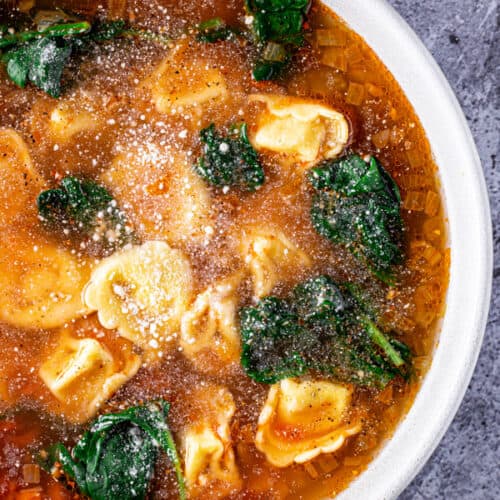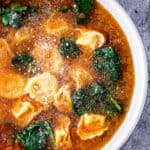 Easy Tortellini Soup
Quick, easy, and delicious tortellini soup! Frozen cheese tortellini cooked with tomatoes, spinach, carrots, celery, and onions. 30-minute soup.
Ingredients
2

tablespoons

olive oil

2

medium

celery stalks, chopped (about 1 cup)

1

medium

carrot, peeled and chopped (about 1/2 cup)

1

small

onion, finely chopped (about 1/4 cup)

2

cloves

garlic, minced or put through a garlic press

1

(15 ounce) can

petite diced tomatoes

2

(32 ounce each)

cartons chicken or vegetable broth (8 cups)

4

cups

water

1

(19 ounce) bag

frozen cheese-filled tortellini

1

(5 ounce)

package baby spinach

Salt and freshly ground pepper, to taste

freshly grated parmesan cheese, optional
Instructions
Saute the Vegetables. Heat olive oil in a large (6-quart) Dutch oven or soup pot over medium-high heat. Add the celery, carrots, and onion. Cook, stirring occasionally, until tender, about 5 minutes. Add the garlic and cook an additional minute.

Add the Tomatoes, Broth and Water. Stir in tomatoes, chicken broth, and water. Increase heat to high and bring to a boil.

Simmer. Reduce heat and allow the soup to simmer for 20 minutes.

Add the Tortellini and Spinach. Stir in tortellini and spinach. Simmer until the tortellini is tender, about five minutes. Salt and pepper to taste.

Serve. Spoon into bowls and top with grated cheese (optional). Store soup in the refrigerator for up to four days. If tortellini swells and absorbs the broth, add a splash of water before reheating. The flavor will remain the same.