Refrigerator dill pickles are so easy to make. All you do is cup up some cucumbers, make a quick brine, and put everything in a jar. Wait two days (this is the hardest part!) and you'll have crisp, garlicky pickles that are even better than the pricy ones sold at the store!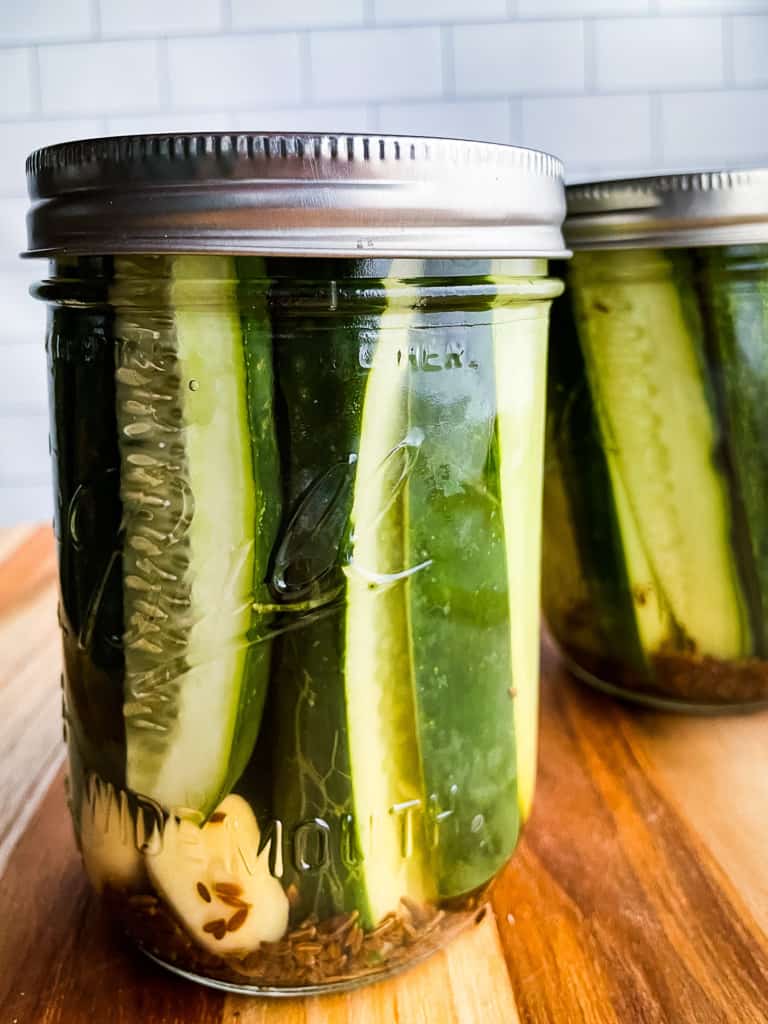 I love canning jalapenos and dill relish. But there's one pickled food I don't can. And that's pickle spears! I find the canning process makes them soft. Instead, I make refrigerator pickles.
The prep takes about 20 minutes. And you don't need any special equipment. Once you make a batch, you'll understand why I love this recipe.
What You Need to Make Refrigerator Dill Pickles.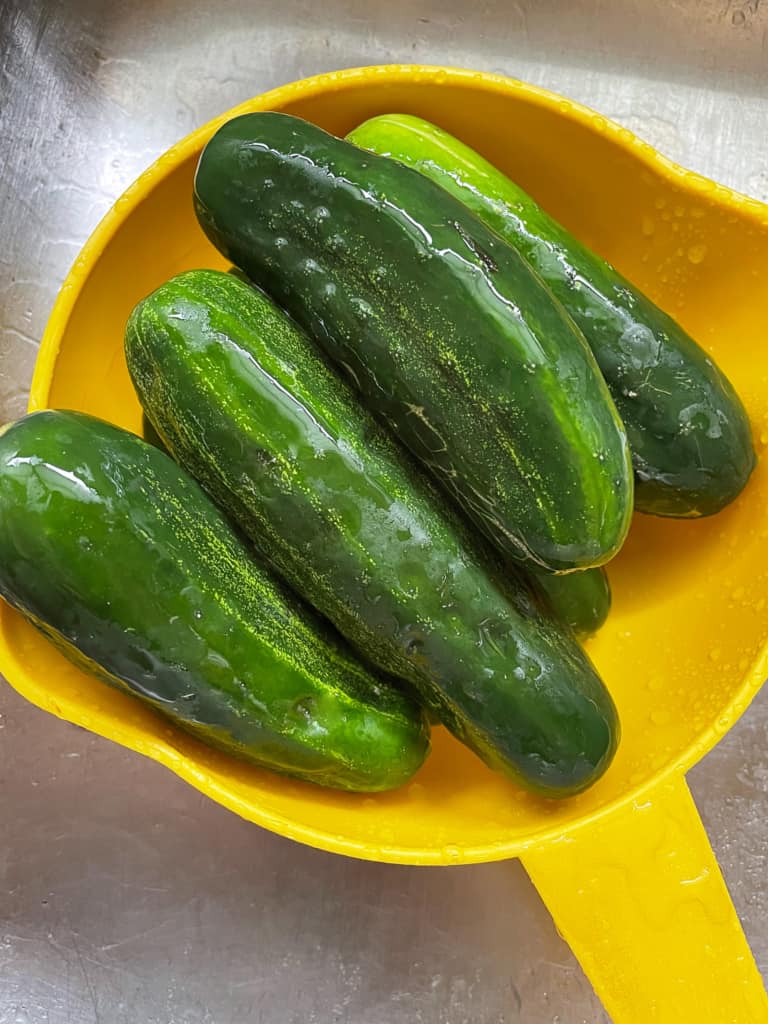 Cucumbers.
When you make refrigerator dill pickles, you can use any firm cucumber you like. They all work. But I prefer to use pickling cucumbers. Thes cucumbers are about 6-inches long and, even when raw, look like pickles. The seeds are smaller and the peel tends to be more tender than slicing or English cucumbers.
Most of the time, they're labeled "pickle cucumbers" but you'll also see them sold as pickling cucumbers or kirby cucumbers.
Prepping and Cutting the Cucumbers.
Wash the cucumbers to remove any dirt. Then, cut about ⅛-inch off of both ends of the cucumber. The blossom end contains an enzyme that makes pickles soft. To ensure the correct end is removed, it's best to cut each end off.
Cut the cucumbers into spears or slices.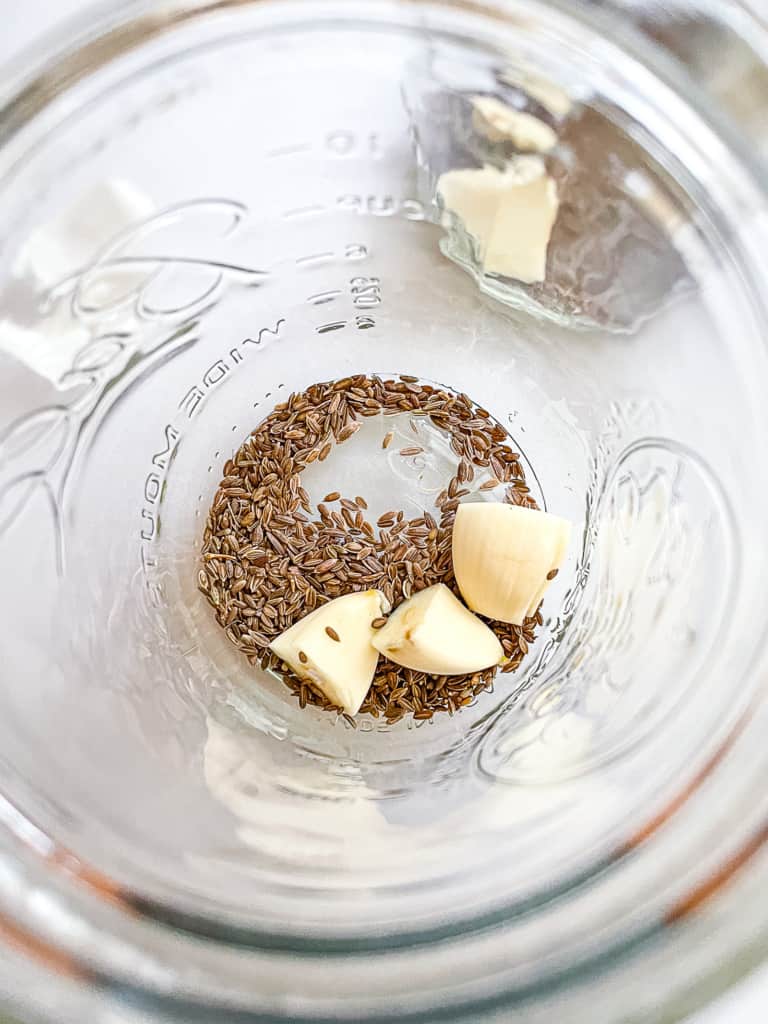 Garlic.
If you love garlicky pickles, add a few cloves of peeled garlic to the jar before adding the cucumbers. For the best garlic flavor, crush or cut the garlic before adding it to the jar.
Dill Seed.
Dill seeds bring the characteristic "dill pickle" flavor to this recipe. Fresh dill and dried dill weed aren't as strong. Since these pickles are ready to eat after two days, the dill seeds help to deliver the best flavor.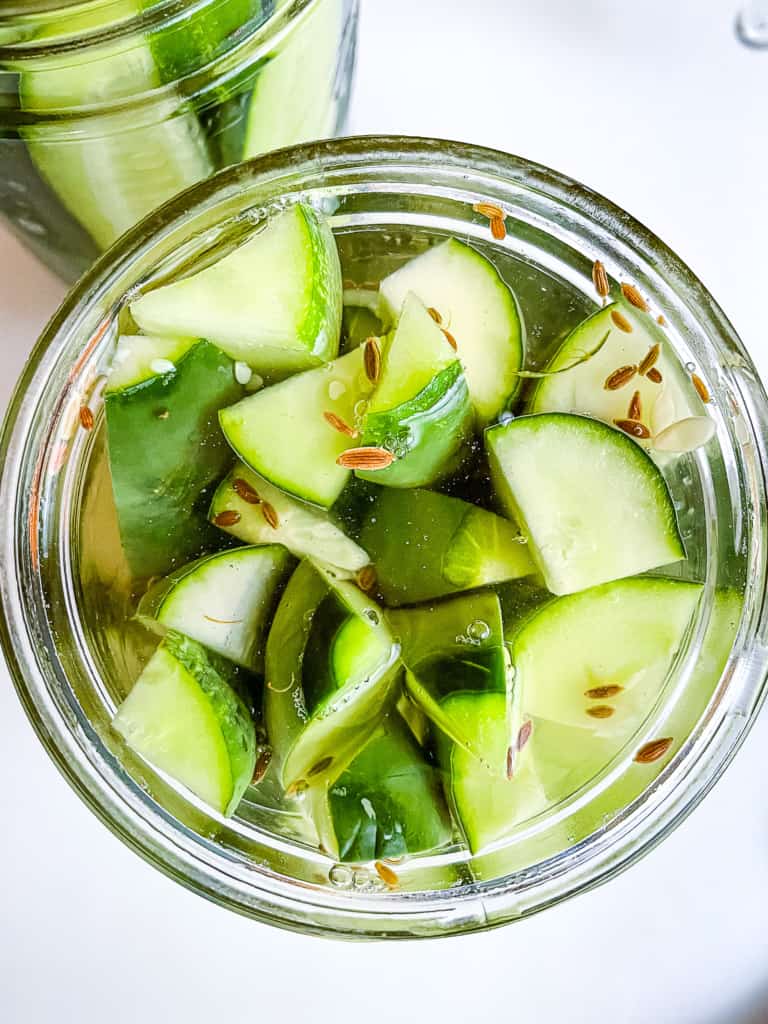 Brine.
Refrigerator pickle brine is made from three simple ingredients: vinegar, water, and salt. Combine them, bring the brine to a boil and pour over the sliced cucumbers. That's really it!
Vinegar: use white or apple cider vinegar with 5% acidity. This will be listed on the bottle. Other kinds of vinegar, like balsamic, red wine, or rice vinegar, are safe to use but they don't give the pickles the classic "dill pickle" flavor.
Salt: use table salt or canning salt. (Iodized table salt can make the brine look cloudy.)
Jars.
No special equipment is needed to make this recipe. If you keep canning jars in the house, use two-pint jars or a one-quart jar. If not, use a heat-safe container with a lid. Select a container that's deep enough for the brine to cover the cucumbers.
How long do refrigerator pickles last?
You can keep refrigerator pickles for up to six weeks. The flavor intensifies the longer you keep them.
My jar lid "pinged". Can I put these on the shelf?
No. A pinging canning jar lid is not an indication of safety. Refrigerator pickles must be stored in the refrigerator or they will spoil.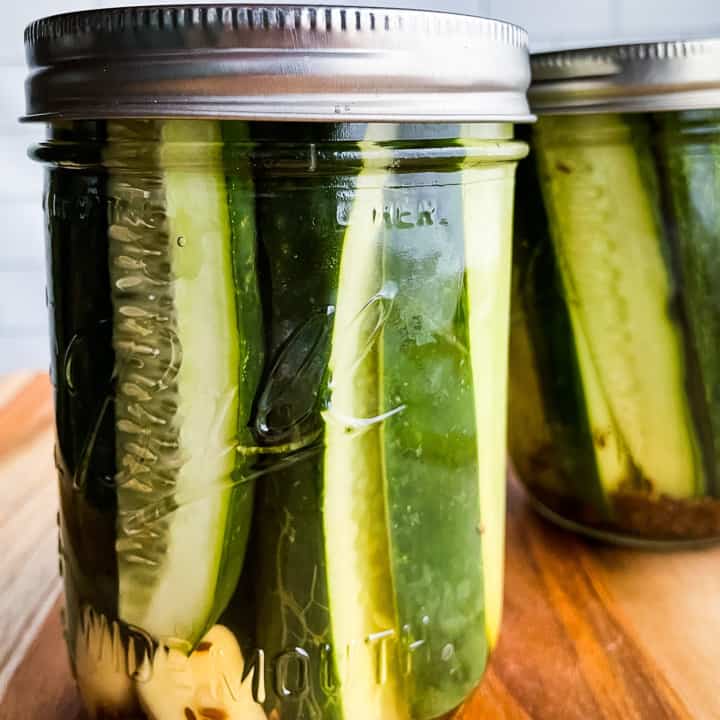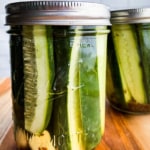 Refrigerator Dill Pickles
These refrigerator pickles are crisp, garlicky, and really easy to make. No canning or special equipment is required! The dill seed and vinegar give them that classic "dill pickle" flavor after only a few days in the fridge.
Total Time
2
days
20
minutes
Ingredients
1 ½

pounds

pickling (Kirby) cucumbers

2-4

cloves

garlic, crushed or cut in half

2

teaspoons

dill seed

1

cups

white or apple cider vinegar

1

cup

water

2

teaspoons

table or canning salt
Instructions
Wash the cucumbers and trim about ⅛-inch off both ends. This removes the blossom ends which can make the pickles soft. Cut into slices or spears.

Place the garlic cloves and dill seed into a quart container or divide evenly between two pint jars.

Pack the cucumber into the jar(s). They should be tight but not squeezed into the jar. You want to avoid bruising or crushing them.

Combine the vinegar, water, and salt in a small pot. Bring to a boil. Pour the hot brine over the cucumbers. (If you're using two jars: divide evenly among each jar.)

Cover the jar with a lid. Let cool at room temperature for about one hour. Place jar(s) into the refrigerator.

Let pickles sit for at least two days before eating.

Store pickles in the refrigerator for up to six weeks. These pickles must be stored in the refrigerator or they will spoil.
Recipe Notes
Garlic: Use two cloves of garlic for a mild garlic flavor. Use up to four cloves for a more intense garlic flavor.