This easy chili mac and cheese recipe starts with leftover chili. Easy. One-Pot. Creamy. Delicious!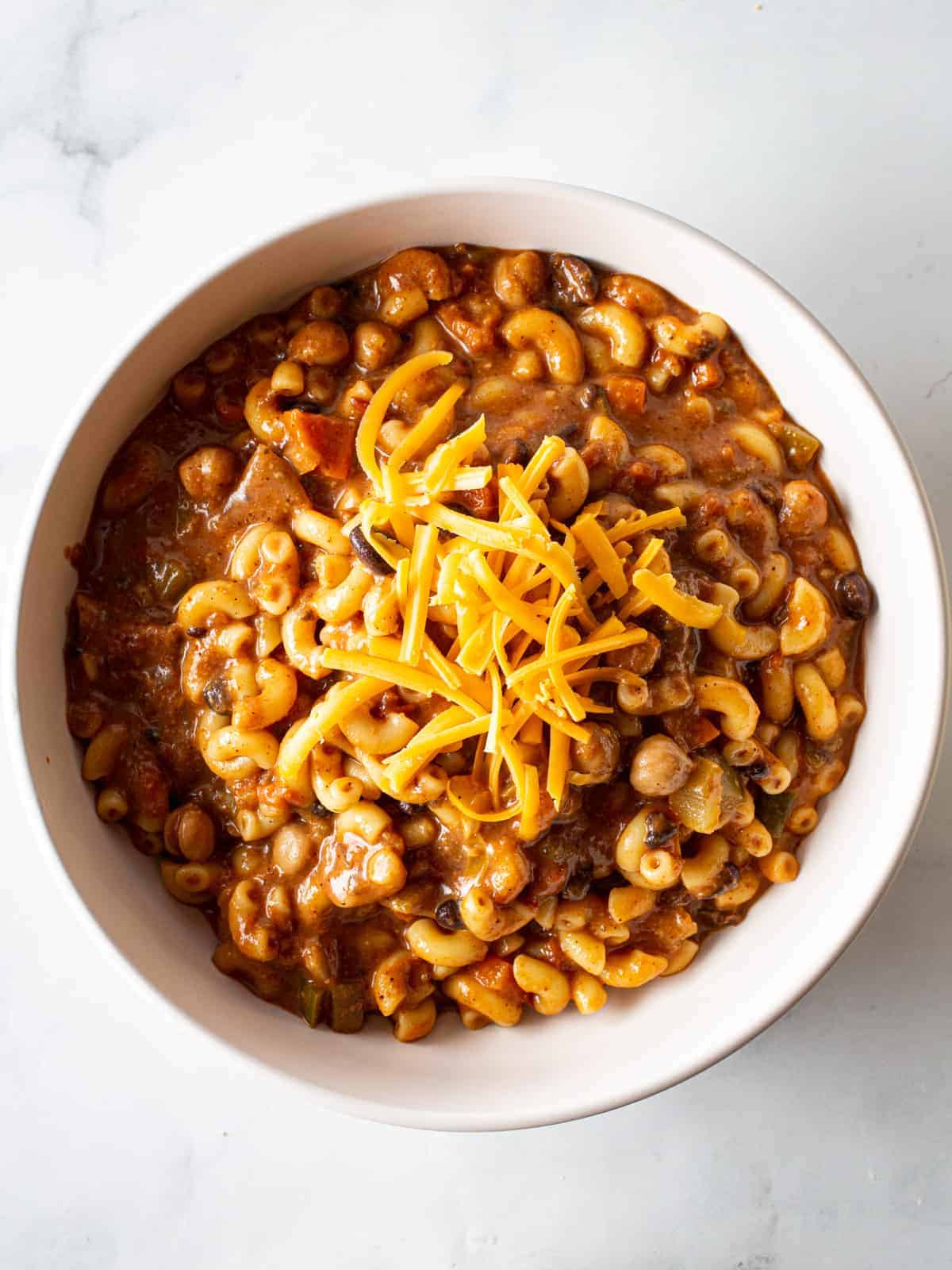 Why You Should Make This Chili Mac and Cheese
You want something creamy, flavorful, and easy to make.
You've got leftover chili.
You love mac and cheese.
Chili Mac and Cheese? What does that taste like?
Good question. The answer really depends on the chili you start with. I usually start with some leftover Instant Pot vegetarian chili. So it tastes somewhat like a combination between pasta e Fagioli and pasta with beef. (But without the beef.)

How to Make Chili Mac and Cheese
Start with Leftover chili. Veggie chili goes really well with chili mac and cheese but, really, any chili you've got in the fridge works.
Cook the pasta. Here's the deal, I think elbow pasta is the ideal pasta for all things mac and cheese. You might disagree. Use whatever pasta shape you like or have on hand.
Make a cheese sauce. (OR NOT!) Making a cheese sauce is one of my favorite things to do in the kitchen. You melt butter. Add flour. Cook it until browns and then slowly whisk in milk. Once that's done, add cheese one handful at a time. Some folks love to do this. Others? Not so much. If making a cheese sauce isn't your thing, replace the roux (flour and butter mixture) with cubed Velveeta cheese. Creamy. Dreamy. Done.
Stir everything together. Toss the pasta with the cheese sauce, add the chili and heat. That's it.
How to Make EVEN EASIER Chili Mac
Want the secret to the world's easiest Chili Mac? Use Velvetta. The stuff is made to melt. Seriously. So if you want to skip making a roux and adding Cheddar cheese one handful at a time, use Velvetta. Cube it up. Heat the milk and add the Velvetta. In a few minutes, the Velvetta melts into the milk, giving you an easy cheese sauce that goes really well with chili mac.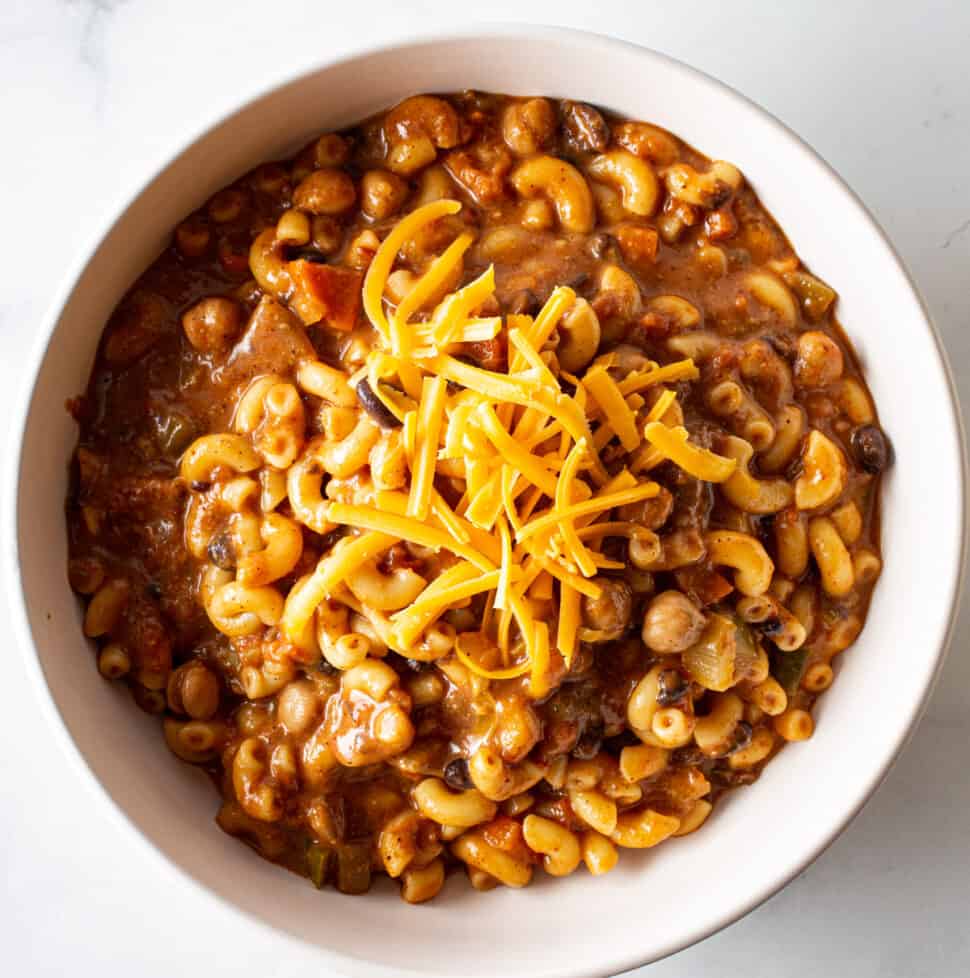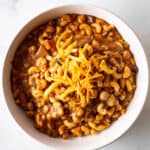 Easy Chili Mac
Fast Chili Mac starts with leftover chili.
Ingredients
8

ounces

elbow macaroni, about two cups

(regular or gluten-free)

4

cups

leftover chili

2 ½

tablespoons

flour, omit if using Velvetta

2 ½

tablespoons

butter, omit if using Velvetta

1

cup

milk

4

ounces

Cheddar cheese, grated OR 4 ounces cubed Velvetta
Instructions
Cook the Pasta. Bring a medium-size pot of salted water to a boil. Cook pasta until tender.

Prepare the Cheese Sauce. While the pasta cooks, make the cheese sauce.

If using Cheddar cheese: melt the butter in a large heavy-bottomed pot. Add the flour and whisk until smooth. Cook, whisking constantly, until smooth and light tan, about three minutes.

While whisking, add the milk in a slow and steady stream. Whisk to remove any lumps. Add the cheese, one handful (about two tablespoons) at a time. Stir gently. Allow the cheese to melt into the sauce before adding the next handful. Repeat until all the cheese is added.

If using Velvetta: Add the milk to the pot. Heat. Add the Velvetta. Stir gently until melted.

Make the Chili Mac. Drain the pasta. Add to the cheese sauce. Stir to combine. Add the warm chili. Stir. Reduce heat to low. Cook for about three minutes, stirring occasionally so the cheese doesn't stick to the bottom of the pot and burn.