Wondering what to do with leftover mashed potatoes? Fry them! These fried mashed potatoes are easy-to-make. You only need a skillet, leftover mashed potatoes, and some butter.With the irresistible crispy edges, these might even taste even better than freshly made mashed potatoes.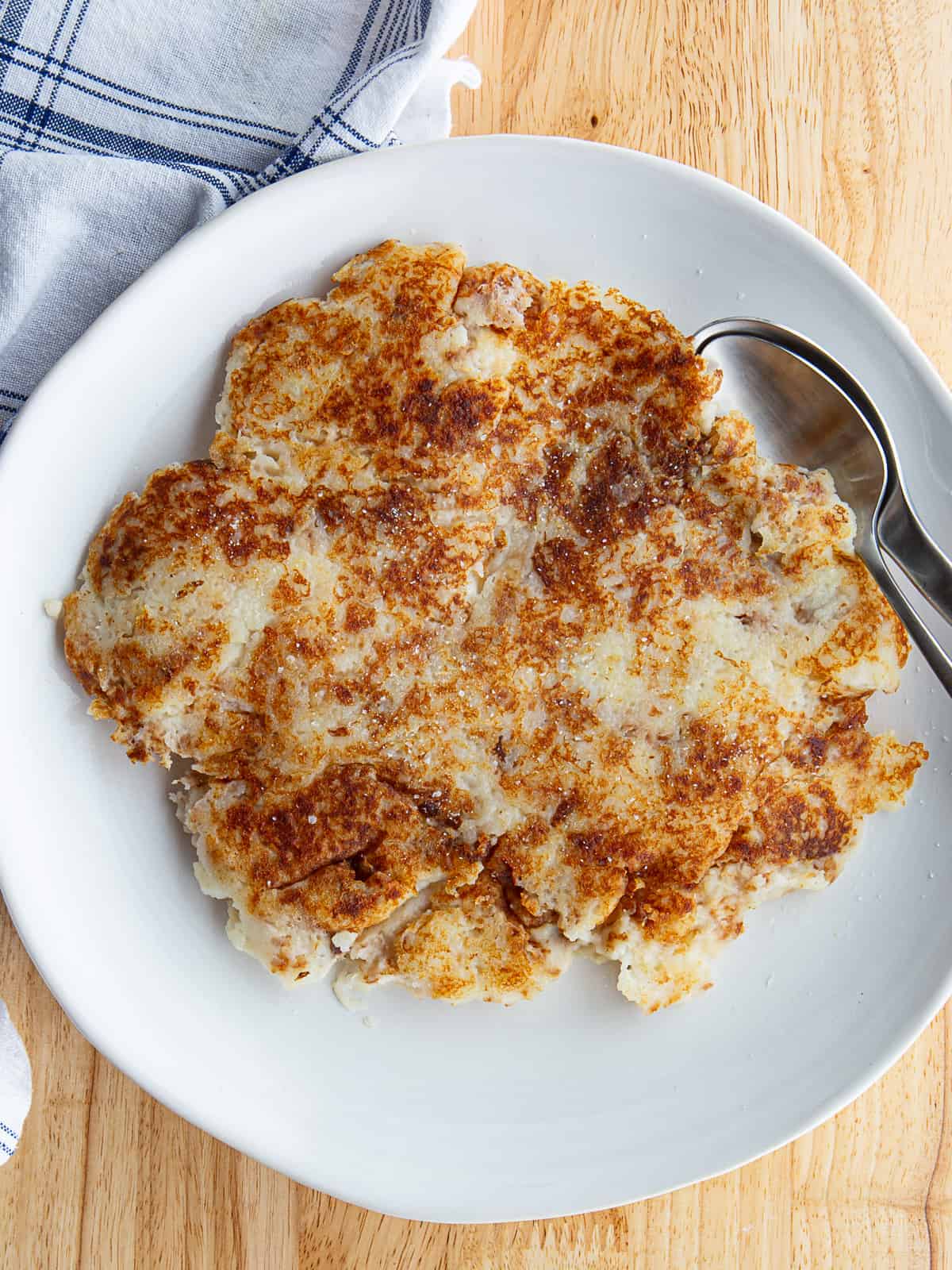 Why You'll Love Fried Mashed Potatoes.
They're a great way to use leftover mashed potatoes. 
They taste amazing. Crispy and soft and potato-y.
You can serve them almost anything. (They're especially good with eggs and a salad.)
To state the obvious, mashed potatoes are one of life's perfect foods. (You can even make instant pot mashed potatoes when you need them in a flash.) But leftover mashed potatoes? Those are…fine. While there are ways to reheat mashed potatoes to bring them back to their freshly-made glory, sometimes you want to jazz them up a bit.
Enter: fried mashed potatoes. They're crispy and soft–sort-of-like a softer version of a hash brown. And the best part? They are ridiculously easy to make
What You Need to Make Fried Mashed Potatoes
A nonstick skillet. 
Leftover mashed potatoes. Cold, day-old mashed potatoes work best. 
Butter. If you use unsalted butter, add a pinch of salt to the potatoes before serving. 
Salt. (Optional.) Salt the fried mashed potatoes to taste after cooking. The amount needed depends on how much salt the mashed potatoes contain. 
How to Make Fried Mashed Potatoes.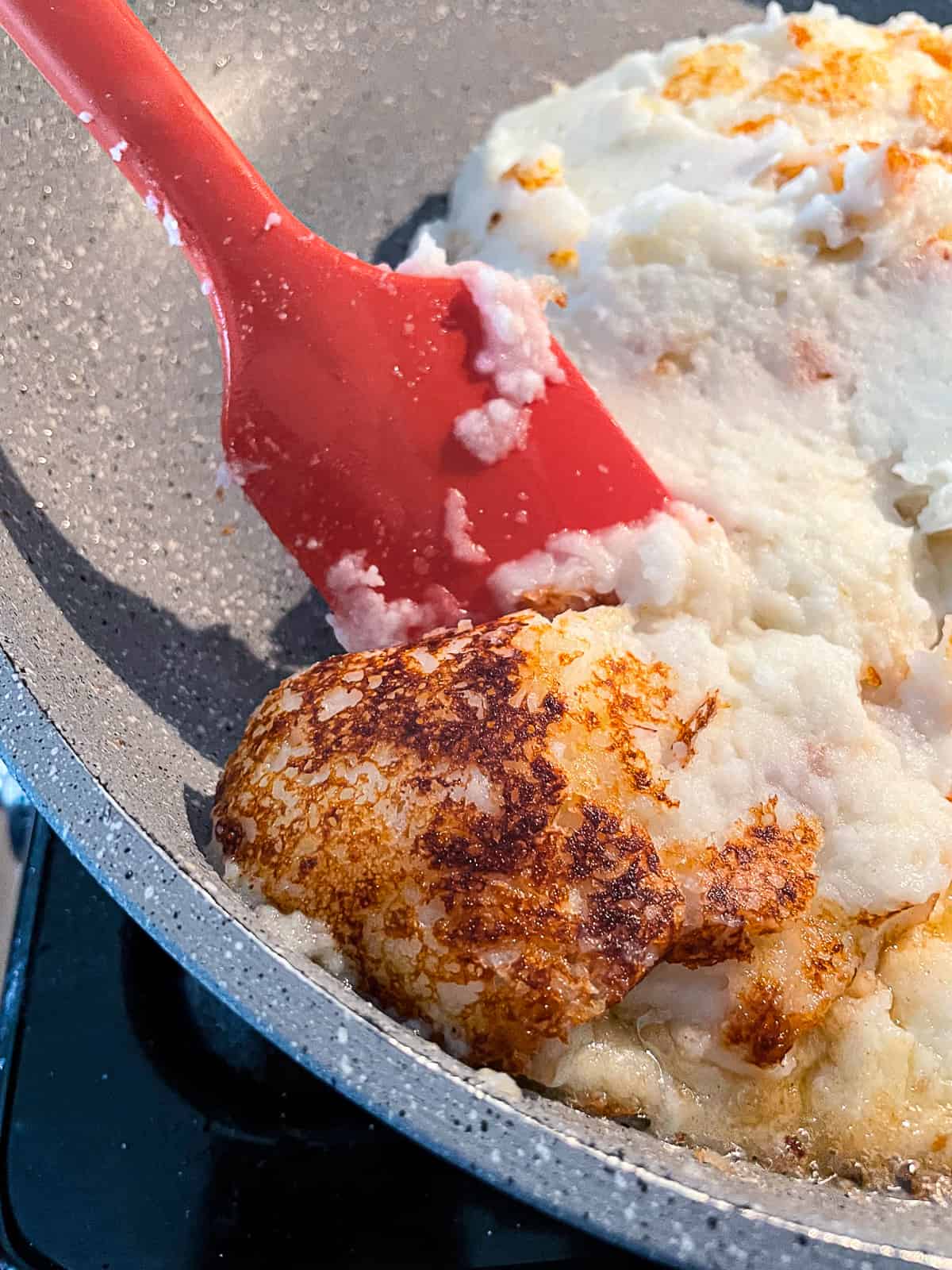 Melt the Butter.
Heat a nonstick skillet over medium heat and heat the butter until it melts. You want to use about one tablespoon of butter for each cup of leftover mashed potatoes.
Let the butter brown. You can skip this step but allowing the butter to brown just a little adds a really nice flavor.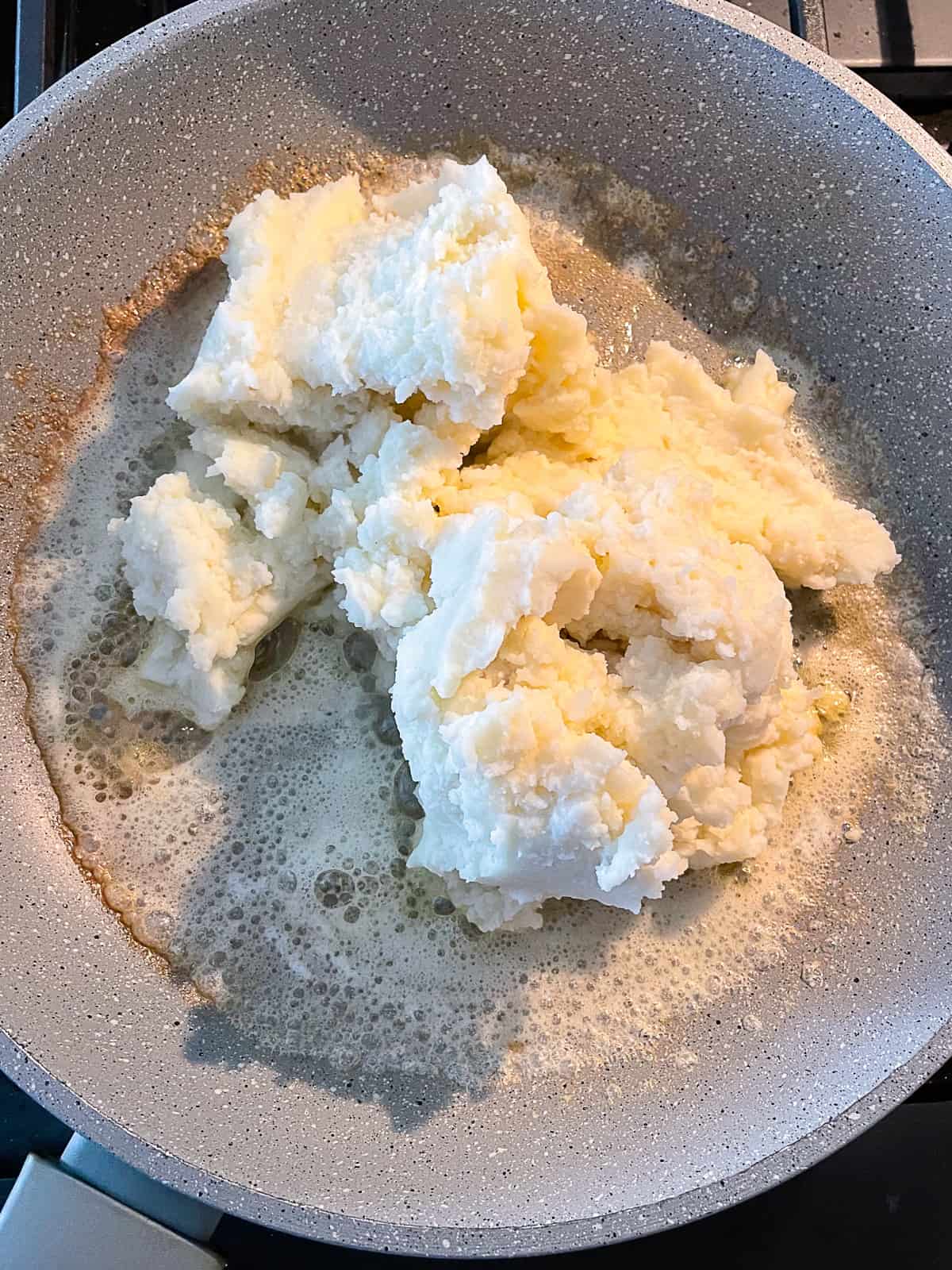 Add the Mashed Potatoes. 
Reduce the heat to medium-low. Add the cold mashed potatoes to the pan. Press them down into a large cake.
Cook Until Brown.
Let them cook for about three minutes. Then gently stir with a rubber spatula. Keep the heat on medium or medium-low to prevent the potatoes from burning.
When you stir, bring the crispy part into the rest of the potatoes. Repeat this a few times. 
Turning the potatoes as they cook ensures there are bits of crispy potatoes throughout the mashed potatoes. Fried mashed potatoes take a little while—at least 10 minutes—to get nice and brown and crispy. But it's worth it.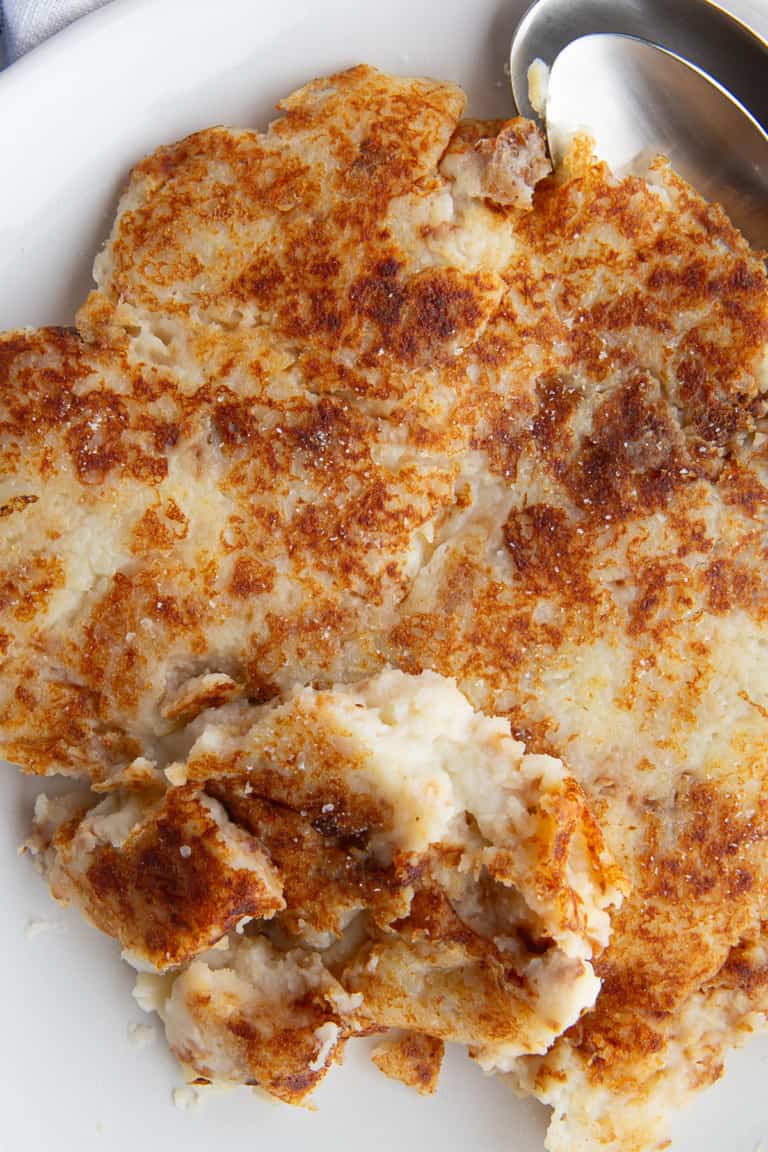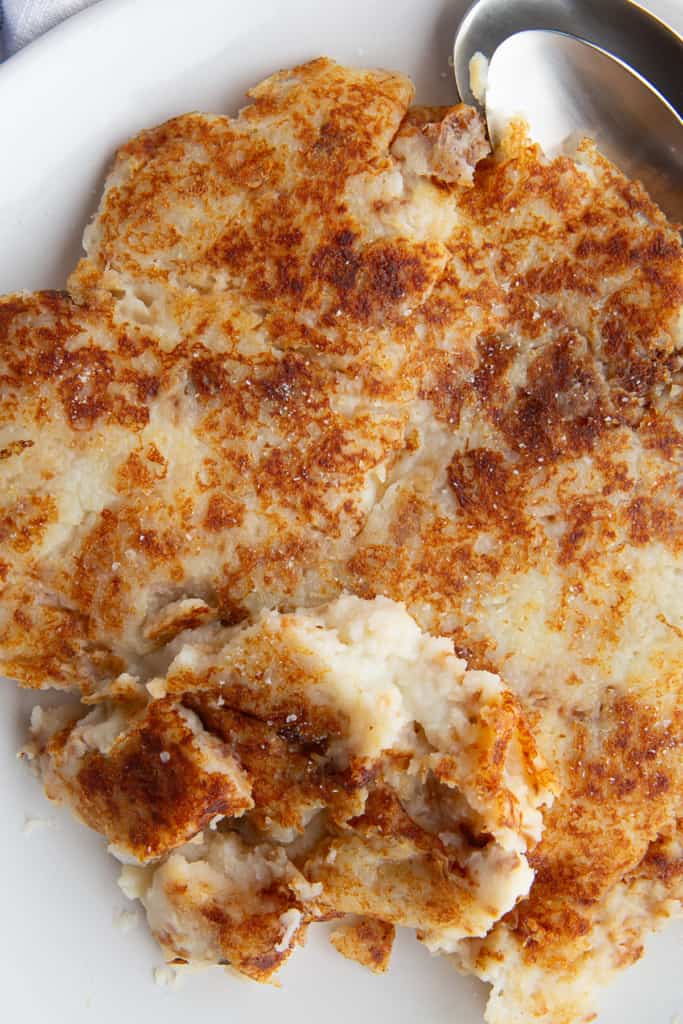 Topping Suggestions.
Sour cream.
Shredded cheese. Cheddar or mozzarella are go great with these.
Cooked and crumbled bacon.
Chopped fresh chives.
Sliced green onions.
My fried mashed potatoes burnt. 
Two things might have happened. Either the heat was too high or the mashed potatoes weren't stirred enough.
When cooking, keep the heat on medium or medium-low. Turn them occasionally and you'll avoid burning your mashed potatoes. 
The fried potatoes taste bland.
All of the flavor comes from your original mashed potatoes. If your original mashed potatoes are bland, let's fix that! 
First, add a bit of salt. You don't want them salty but a bit of salt enhances the flavor of mashed potatoes. You can also add a pinch of garlic and onion powder. That should fix them right up. 
I don't have leftover mashed potatoes but I want to make these.
Get a package of pre-made mashed potatoes. The kind they sell in the refrigerator section, not the kind sold at the hot buffet bar. You want cold mashed potatoes. Follow the recipe as directed. I've noticed that fried mashed potatoes made from store-bought potatoes don't brown as much. Cook them slowly and you'll have a great flavor.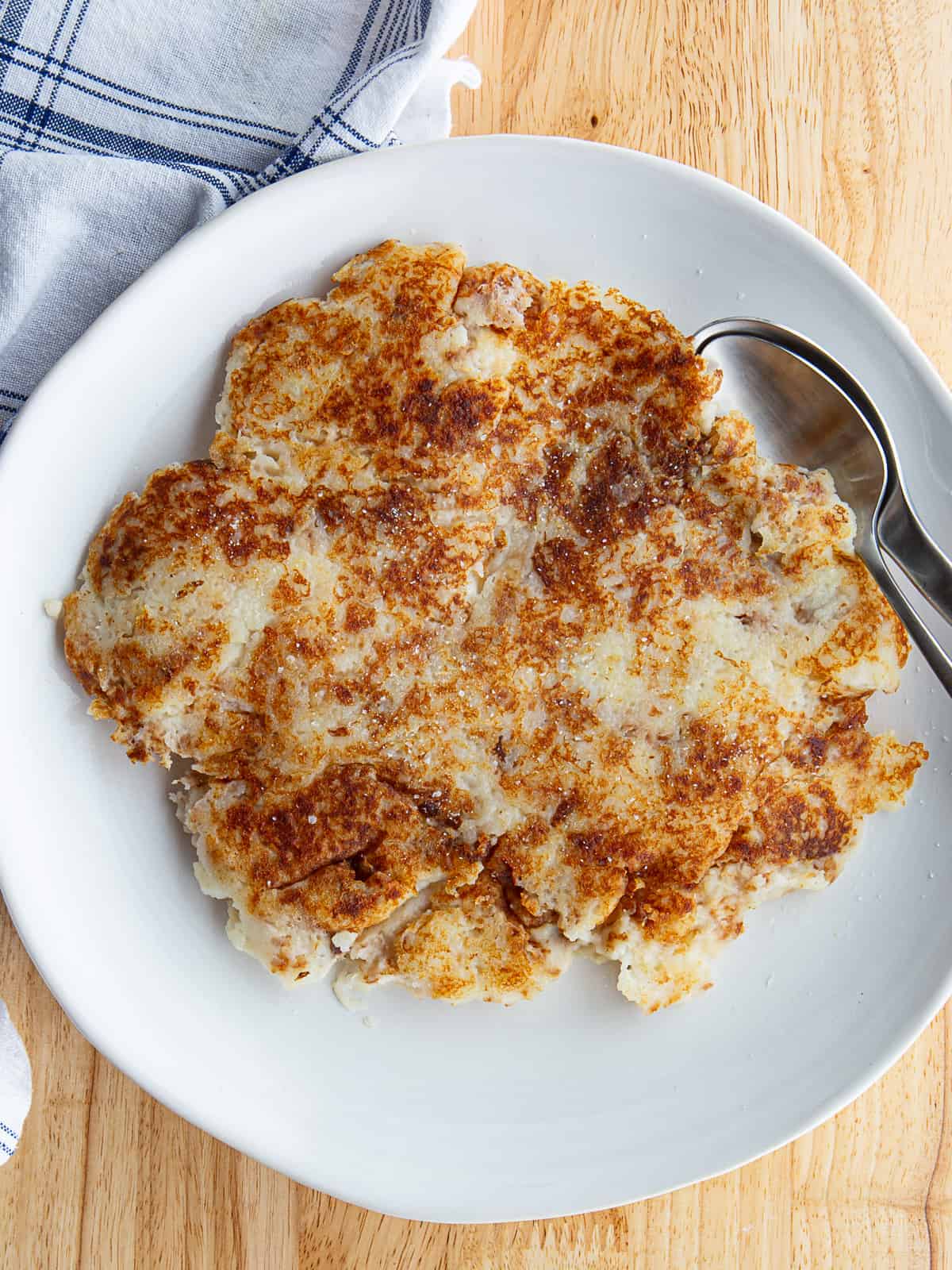 Fried Mashed Potatoes
Easy fried mashed potatoes. All you need are cold leftover mashed potatoes and butter.
Ingredients
2

tablespoons

butter

2

cups

cold mashed potatoes

salt

freshly ground black pepper
Toppings, Optional
chopped green onions

shredded cheese (Cheddar, parmesan)

sour cream

cooked and crumbled bacon
Instructions
Heat the butter in a 10-inch nonstick skillet over medium-low heat. Cook until butter just begins to brown.

Add the cold mashed potatoes. Spread evenly into pan. Cook for about three minutes until the bottom browns. Turn the mashed potatoes with a rubber spatula. Repeat until the potatoes are spotted and golden brown. This takes about 10 minutes.

Season with salt and pepper to taste.

Before serving, top as desired. (optional)
Recipe Notes
Use about one tablespoon of butter per cup of leftover mashed potatoes.
If you have more than four cups of mashed potatoes, cook them in two batches for the best browning.