Wondering what to do with leftover mashed potatoes? Fry them! Fried mashed potatoes are easy-to-make, you only need a skillet and some butter, and taste even better than freshly made mashed potatoes.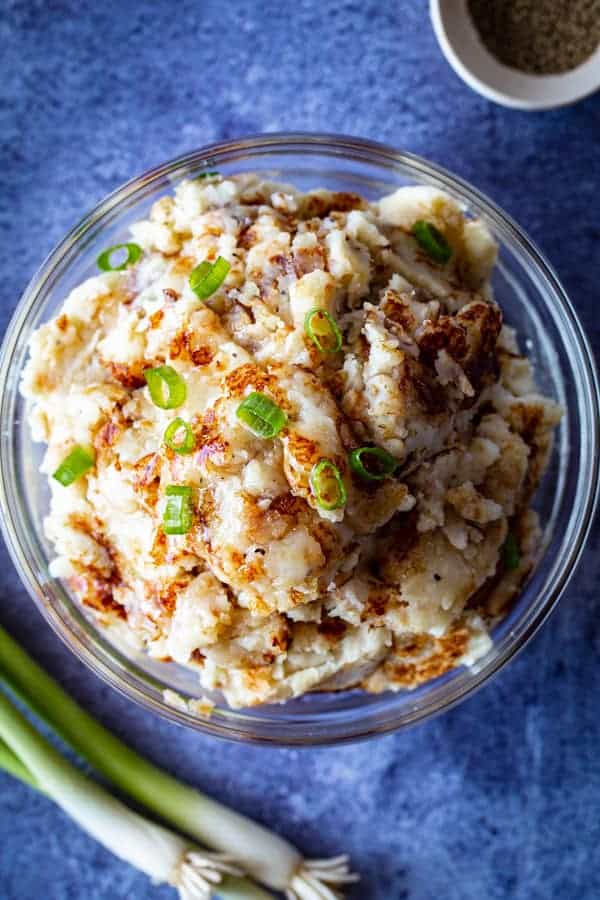 Why You'll Love Fried Mashed Potatoes
You've got leftover mashed potatoes.
They taste amazing. Crispy and soft and potato-y.
You can serve them almost anything. (They're especially good with eggs and a salad.)
What You Need to Make Fried Mashed Potatoes
a nonstick skillet.
leftover mashed potatoes
butter.
To state the obvious, mashed potatoes are one of life's perfect foods. (You can even make instant pot mashed potatoes when you need them in a flash.) But leftover mashed potatoes? Those are…fine. While I know there are ways to reheat mashed potatoes to bring them back to their freshly-made glory, I always find them a bit meh.
Fried mashed potatoes, however? They're a thing of beauty.
They're crispy and soft and sort-of-like a hash brown but better. And the best part? They are ridiculously easy to make.
How to Make Fried Mashed Potatoes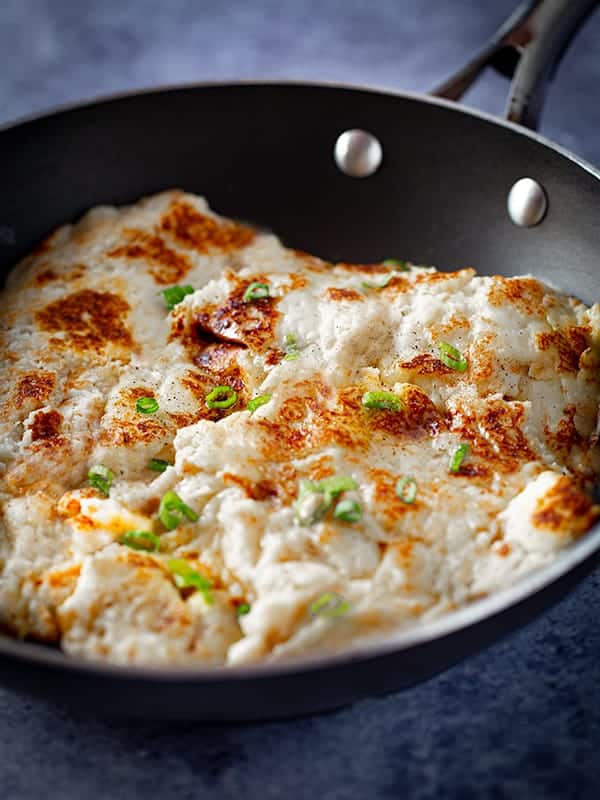 There are lots of recipes for fried mashed potatoes that include adding cheese and chopped herbs and all sorts of things. Those recipes also have you pat the mashed potatoes into patties and dredge them in breadcrumbs and flour.
This is not that recipe.
My "recipe" isn't really a recipe at all. You simply take a big pat of butter and put it in a nonstick skillet. Then melt the butter, over low-medium heat, until it gets light brown. Once that happens, add the cold mashed potatoes to the pan. Press them down into a large cake and cook. Every once in a while, turn parts of the cake over with a spatula. (The kind you flip pancakes with.) That's it.
Turning the potatoes as they cook, ensures there are bits of crispy potatoes all through the mashed potatoes. This doesn't go fast. Fried mashed potatoes take a little while (we're talking at least 10 minutes) to get nice and brown and crispy. But it's worth it.
Troubleshooting Fried Mashed Potatoes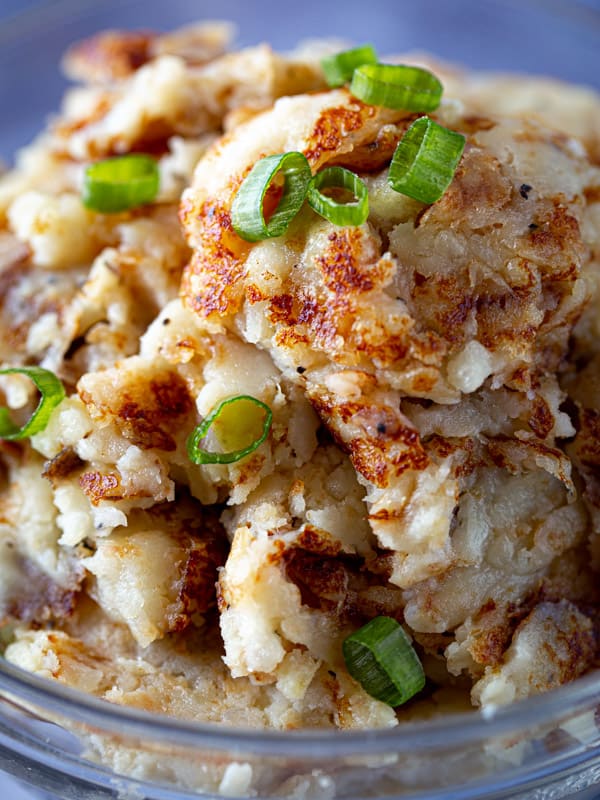 My fried mashed potatoes burnt.
Ok. Two things happened here. Either the heat was too high or…you wandered off and forgot that they potatoes were on the stove. (It's okay, bb, we all make mistakes.)
Keep the heat on medium-low and turn them occasionally and you'll avoid burning your mashed potatoes.
Mine taste bland.
Did you start with bland mashed potatoes? Because all of the flavor comes from your original mashed potatoes.
If your original mashed potatoes were bland, let's fix that!
First, add a bit of salt. You don't want them salty but a bit of salt enhances the flavor of mashed potatoes. If that doesn't do it, add a bit of garlic powder. That should fix them right up.
I don't have leftover mashed potatoes but I want to make these.
Ok. We can fix this. But it will involve a run to the store. Get a package of premade mashed potatoes. The kind they sell in the refrigerator section, not the kind sold at the hot buffet bar. You want cold mashed potatoes. Use as directed.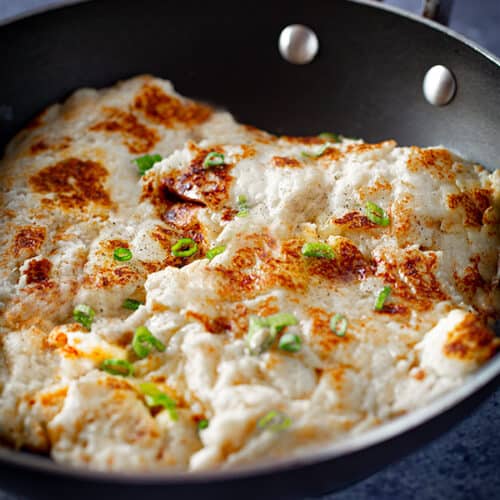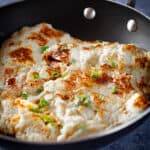 Fried Mashed Potatoes
Easy fried mashed potatoes. All you need are leftover mashed potatoes and butter.
Ingredients
1

tablespoon

butter

2

cups

cold mashed potatoes

salt

freshly ground black pepper
Toppings, Optional
chopped green onions

grated parmesan cheese
Instructions
Melt and brown the butter. Heat butter in a 10-inch nonstick skillet over medium-low heat. Cook until butter just begins to brown.

Brown the Mashed Potatoes. Add cold mashed potatoes to the pan. Spread evenly into pan. Cook until brown. Turn the mashed potatoes occasionally. Cook until golden brown, about 10 minutes. Season with salt and pepper to taste.

Before serving, top as desired. (optional)