Want to make great tasting frozen broccoli? Don't want to have to roast it? No problem! Start with a bag of frozen broccoli, add garlic and lemon, and you'll make some really tasty broccoli in a snap!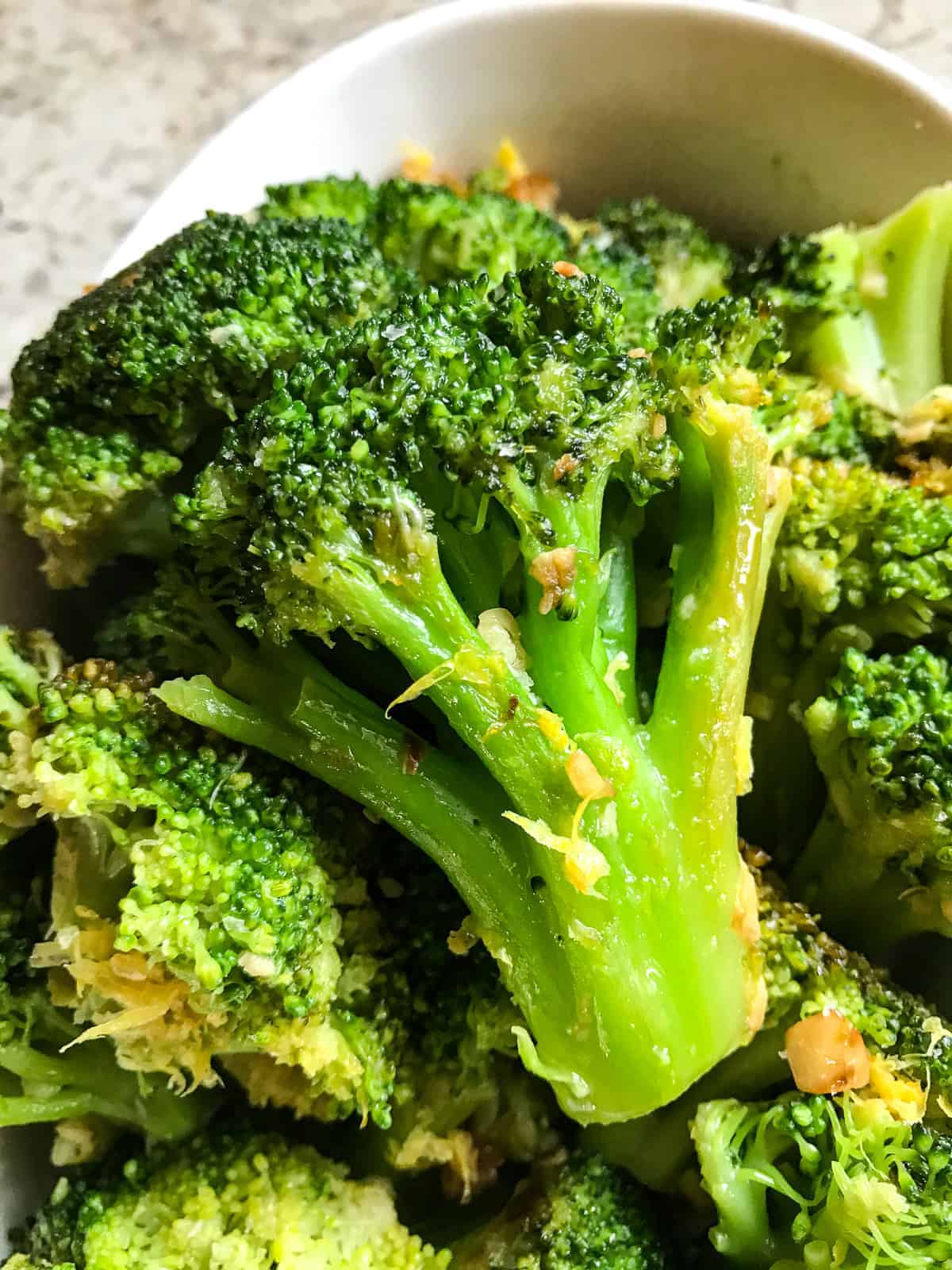 Frozen vegetables can be great—if you treat them right. Two staples that are always in my freezer are frozen green beans and frozen broccoli. They make quick and tasty side dishes.
That's right. I said tasty. Here's the thing about cooking frozen vegetables: if you simply thaw them and serve, they are kind of blah. If you take a few minutes (seriously, a few minutes) and add a couple of ingredients, like garlic and lemon, they transform from blah to "I can't stop eating this!"
Step One: Buying Frozen Broccoli.
There are three choices when it comes to buying frozen broccoli: florets, cuts, and seasoned/sauced broccoli.
We're going to talk about the first two. If you're buying seasoned or sauced broccoli, you don't need this recipe.
Broccoli Florets
This is my preference when buying frozen broccoli. The florets are the top of the broccoli that look like little trees. They include a bit of stem but not too much.
Broccoli Cuts
As the name implies, broccoli cuts aren't whole florets. You get a mix of florets and stems. Broccoli cuts are great for casserole and soups. They work for this recipe, too. So if you prefer the cuts, get them.
Cook's Tip: Whether you buy florets or cuts, make sure the only ingredient is broccoli.
Step Two: Thaw
This broccoli gets sauteed with garlic and lemon. But before you throw it into a hot skillet, you need to thaw it. This extra step is worth it. Thawing it, either in the microwave or giving it a light steam, removed excess moisture. During testing, I found that sautéing frozen broccoli gave me soggy broccoli. Taking a minute to thaw it before autéing, ensured a much better texture.
How to Thaw Frozen Broccoli in the Microwave.
Remove the broccoli from the bag. Place them in a microwave-safe container. Add a little water and cover. Heat until the broccoli is just thawed. The broccoli does not need to be hot.
How to Thaw Frozen Broccoli on the Stovetop
If you don't have a microwave, you can thaw frozen broccoli using a steamer. Heat about a half-inch of water in a small pot until steaming. Place the broccoli in a steamer basket over the water. Cover and steam for about two minutes.
Step Three: Saute with Garlic and Lemon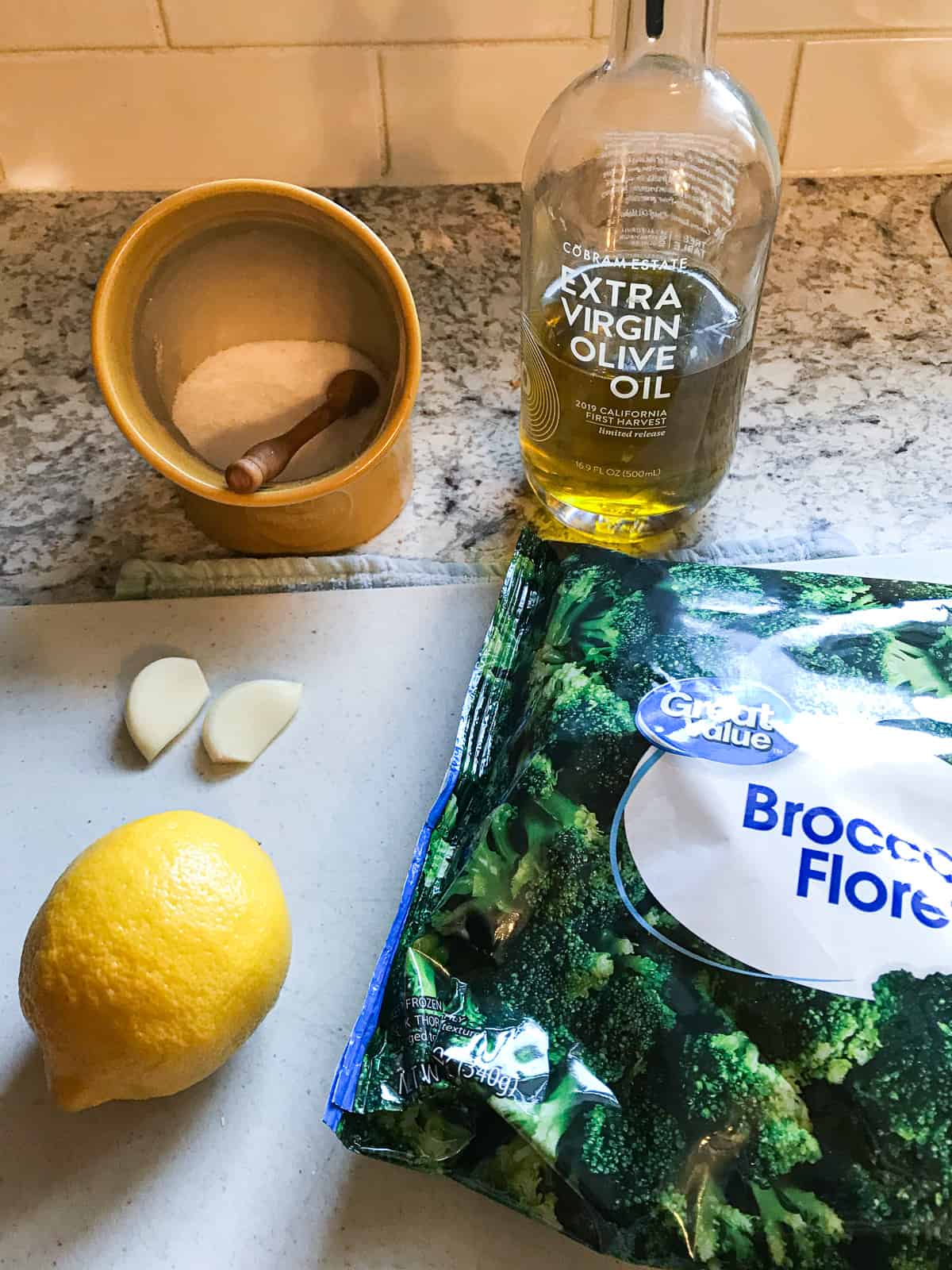 A lot of recipes call for roasting frozen broccoli in the oven. This doesn't work for me. If I'm grabbing a bag of frozen broccoli, I don't want to be bothered roasting it.
So I saute it. This doesn't make it as crisp as oven-roasted broccoli but it does a good job driving the excess moisture out. (Just don't overcook it or the broccoli gets soggy.)
How to Saute Frozen Broccoli
Heat some olive oil in a cast-iron skillet or nonstick frying pan. Add a clove or two of minced garlic. Once the garlic starts to turn lightly brown, add the thawed garlic. Toss cook until bright green. If you like, you can cook until some brown spots appear on the broccoli. Add lemon zest and juice, salt to taste and you are done! (Or not…)
Step Four: Add Cheese or Heat (optional)
You can stop at step three. And sometimes I do. But other times, I add some parmesan cheese. Or a spoonful of sambal oleck.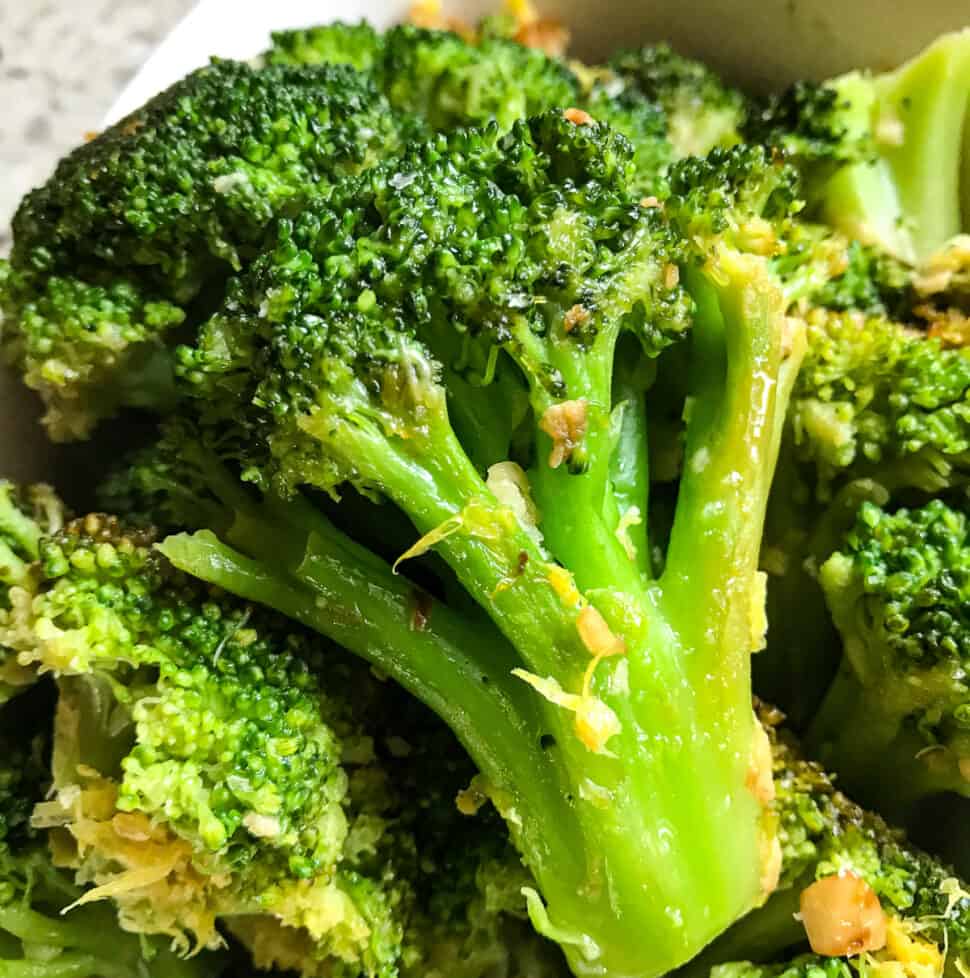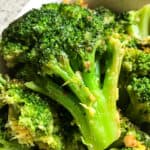 How to Cook Frozen Broccoli
It's quick and easy to make great tasting frozen broccoli. Start with a bag of broccoli, add garlic and lemon and you'll soon enjoy a flavorful side.
Ingredients
1

(12 ounce)

bag frozen broccoli, florets or cuts

2

tablespoons

water

1

teaspoon

olive oil

1-2

cloves

garlic

Zest and juice of one lemon

Salt, to taste

Optional
Optional
Parmesan cheese

sambal oleck
Instructions
Place broccoli in a microwave-safe container. Add water. Cover. Microwave until broccoli until thawed but not hot, about two minutes. Drain and set aside.

Heat olive oil in a cast iron or nonstick skillet over medium-high heat until oil shimmers but does not smoke. Add the garlic. Cook, stirring frequently, until garlic is light brown.

Add the drained broccoli to the skillet. Toss the broccoli to coat with oil and garlic. Cook until broccoli is hot and bright green, about three to four minutes. Add the lemon zest and juice. Toss to combine. Season with salt to taste.

Optional: Add parmesan cheese or sambal oleck to taste.