It's quick and easy to turn a bag of frozen Brussels sprouts into a tasty side dish. Thaw them and saute with a generous amount of chopped onion and black pepper. When cooked this way, they turn out brown and crispy, not soft and mushy. (And there's no need to roast them!)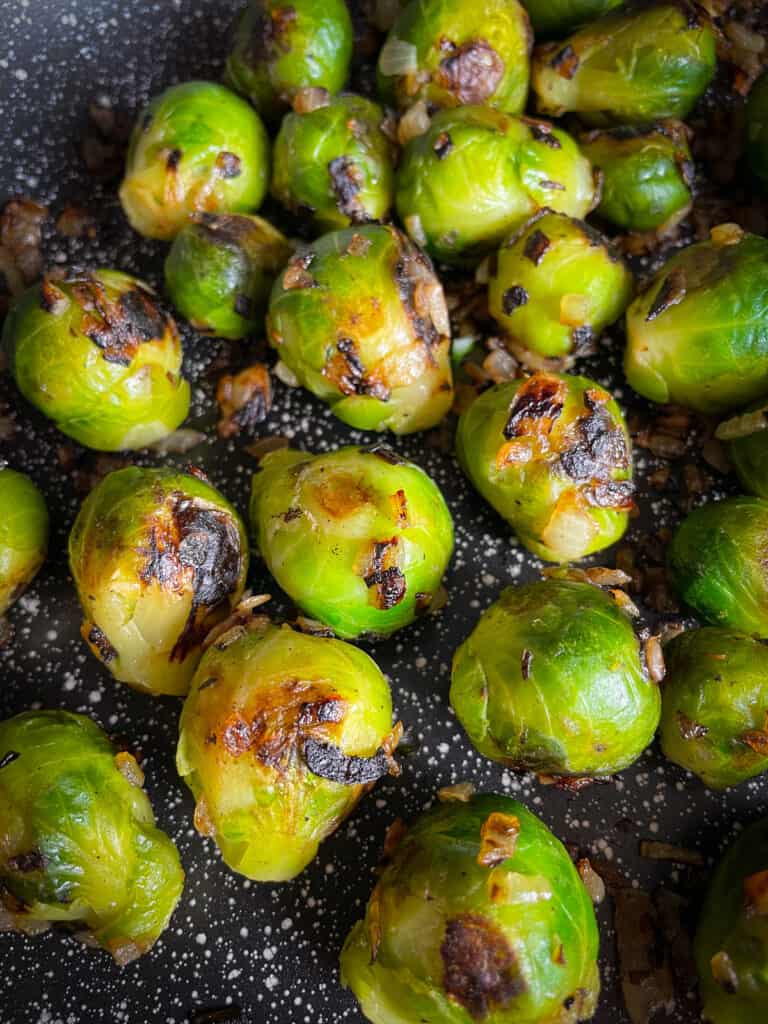 Steamed and served straight from the bag, frozen Brussels sprouts can turn out bland and mushy. Who wants that? Thankfully, like with my recipe for frozen green beans, it takes only a few minutes to transform them into a really tasty side dish.
Step One: Buying Frozen Brussels Sprouts
There are usually four options for frozen Brussels sprouts at the store: whole, baby, halved and seasoned. For this recipe, avoid seasoned or sauced frozen Brussels sprouts.
Whole Frozen Brussels Sprouts: This is the classic Brussels sprout in both flavor and size. They're a little larger than a mouthful. Whole Brussels sprouts are the most common size sold in the freezer section.
Baby Frozen Brussels Sprouts: Smaller than traditional Brussels sprouts, some are as small as a dime. They're one-bite and cook much faster than regular Brussels sprouts. The texture, depending on the brand, can vary from firm to mushy. The flavor is sweeter and milder than traditional Brussels sprouts.
Halved Brussels Sprouts: Pre-cut, these Brussels sprouts are a great option. The bag usually states that they're for roasting. But you don't need to roast them. When sauteed, they get extra crispy.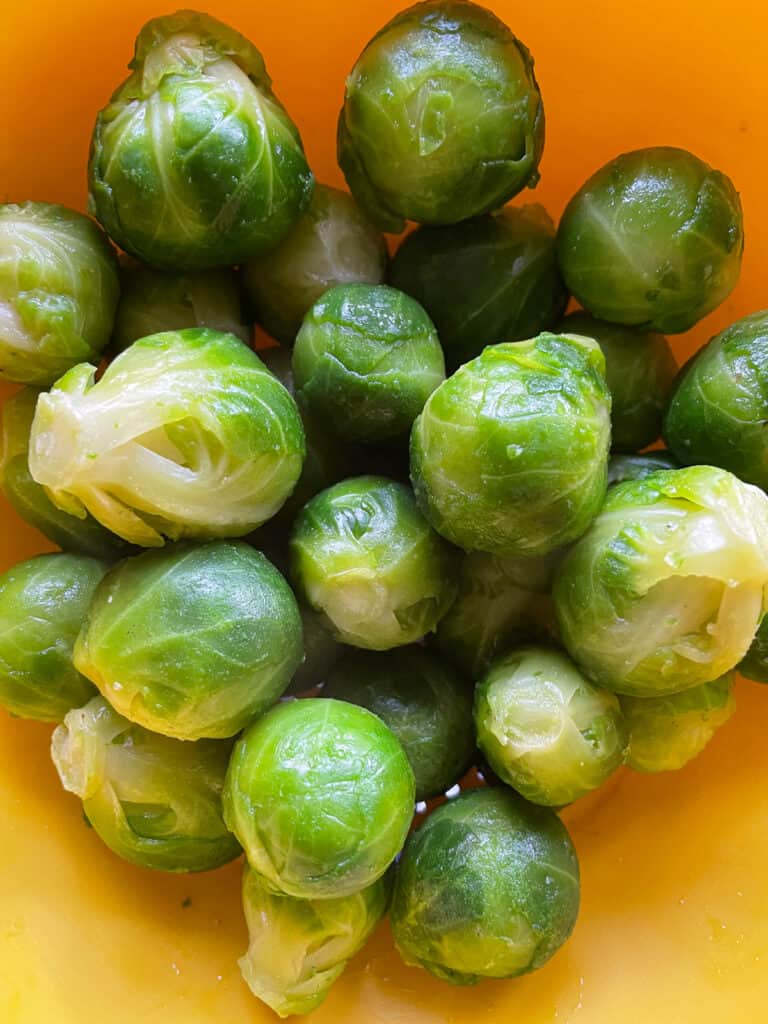 Step Two: Thaw
Frozen Brussels sprouts have one drawback: they tend to be soft in the center. While we can't completely prevent this, we can minimize it. Take a minute to thaw them before adding them to the skillet. This helps with the texture because they cook evenly in the skillet.
How to Thaw Frozen Brussels Sprouts in the Microwave.
Many brands can be microwaved right in the bag. Follow the directions for how to do this. If you prefer to thaw them out of the bag, here's what to do: remove the Brussels sprouts from the bag and place them in a microwave-safe container. Add two teaspoons of water and cover. Heat until the Brussels sprouts are just thawed. They don't need to be hot.
How to Thaw Frozen Brussels Sprouts on the Stove.
Heat a half-inch of water in a small pot. Add the frozen Brussels sprouts. Cover and cook for about three minutes.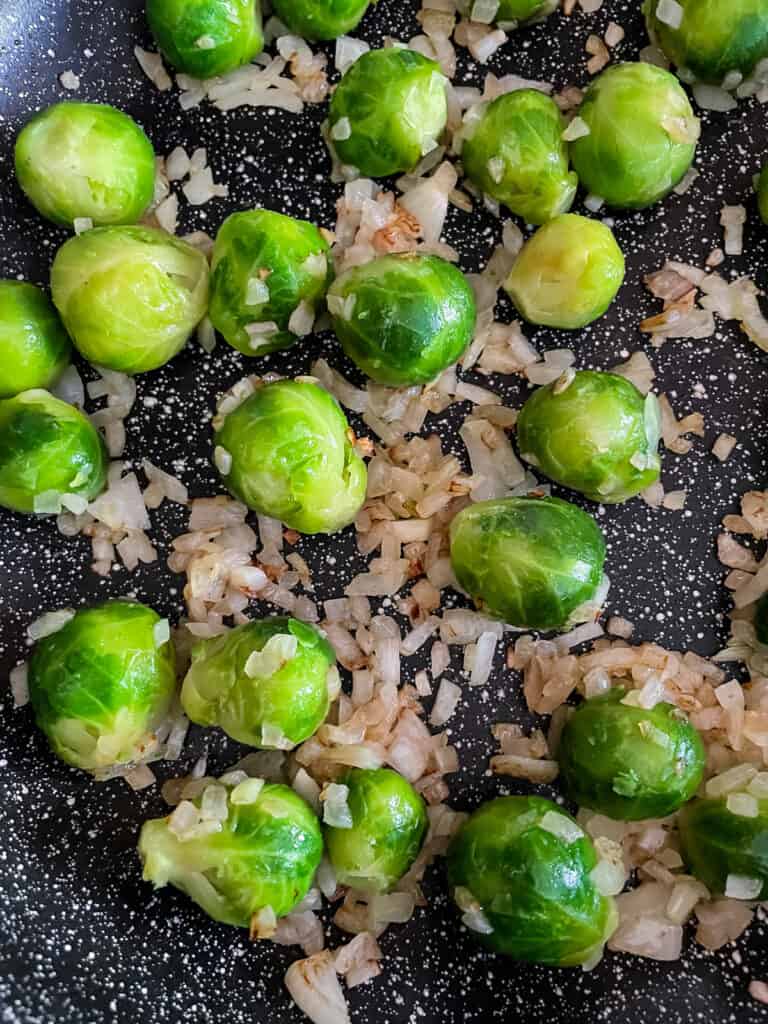 Cook with Onions and Black Pepper
Many recipes for frozen Brussels sprouts call for them to be roasted. This is a lovely option but it takes too long for me. By the time you heat your oven and cook the Brussels sprouts, it's at least a 30-minute process. By sauting them, you save time and get great-tasting sprouts. Cooking them at a high-temperature crisps the outside and removes some of the water from the sprouts.
How to Saute Frozen Brussels Sprouts
Heat olive oil in a cast-iron skillet or nonstick frying pan. Add finely chopped onion. Cook until the onion is soft, about two to three minutes. Add the thawed Brussels sprouts. Toss to combine with the onions and oil.
Spread Brussels sprouts out in a single layer. Cook without moving for about two minutes. and then give them stir. If they've reached the color and crispness you like, you're done. If not, cook for a few more minutes. I like very dark. So I usually cook for about four to five minutes.
Dark but Not Burnt
Very dark, almost black, spots will appear on the sprouts. This is a good thing! The darker the outside, the more flavorful they turn out.
Step Four: Add Cheese or Vinegar. (Optional)
While you can stop at step three, I never do. I like to add either a shake of Parmesan cheese or some balsamic vinegar to the Brussels sprouts. Both of these enhance the flavor of Brussels sprouts.
Do Frozen Brussels Sprouts Taste Fresh?
There is a slight difference in flavor and texture between fresh and frozen Brussels sprouts. Unlike frozen peas or frozen corn, you won't confuse frozen for fresh. Due to the water content, they tend to get soft in the center. However, when cooked with onions and sauteed for a few minutes, they are very close to fresh—and take much less time to prepare!
How to Cook Other Frozen Vegetables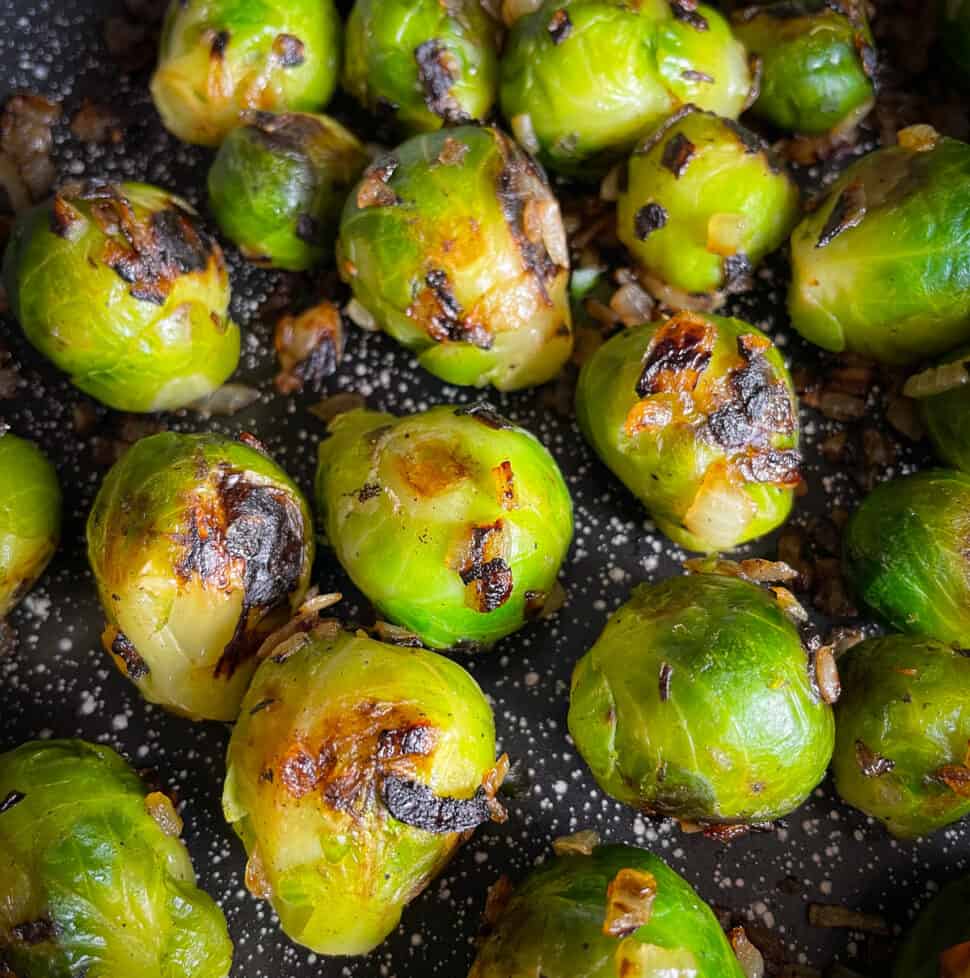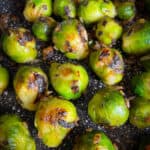 Frozen Brussels Sprouts (Stovetop Recipe.)
It's quick and easy to make great-tasting frozen Brussels sprouts. Start with thawed Brussels sprouts, saute an onion, and cook the Brussels sprouts until brown and crispy. A generous amount of freshly ground pepper finishes the dish. (10-minute recipe)
Ingredients
1

(10 ounce) package

whole or halved Brussels Sprouts

2

teaspoons

olive oil

1

small

onion, diced (about ¼ cup diced)

½

teaspoon

freshly ground black pepper

Salt, to taste
Optional
¼

cup

grated Parmesan cheese

Balsamic vinegar
Instructions
Thaw Brussels sprouts until warm but not hot. Drain and set aside.

How to Thaw in the Microwave: Place Brussels sprouts in a microwave-safe container. Add water. Cover. Microwave until broccoli until thawed but not hot, about two minutes.

How to Thaw on the Stovetop: Heat ½-inch of water in a medium pan. Add the brussels sprouts. Heat until thawed, about three minutes.

Heat olive oil in a cast iron or nonstick skillet over medium-high heat until oil shimmers but does not smoke. Add the onions. Cook, stirring frequently until onions are soft and tender, about two minutes.

Add the thawed and drained brussels sprouts to the skillet. Toss the Brussels sprouts to combine with oil and onions. Cook without stirring until brown spots appear on the bottom of the Brussels sprouts, about two minutes. Add black pepper. Stir to combine. Season with salt to taste.

Optional: Add parmesan cheese or a drizzle of balsamic vinegar to taste.

Serve warm. Brussels sprouts are best enjoyed the day they are made. Store leftovers covered in the refrigerator for up to two days. Reheat in the microwave or on the stovetop in a saute pan until heated through.