Air Fryer Pasta Chips are the latest fun food trend. Toss cooked pasta with oil and seasonings and then air fry until crisp. It's really that easy!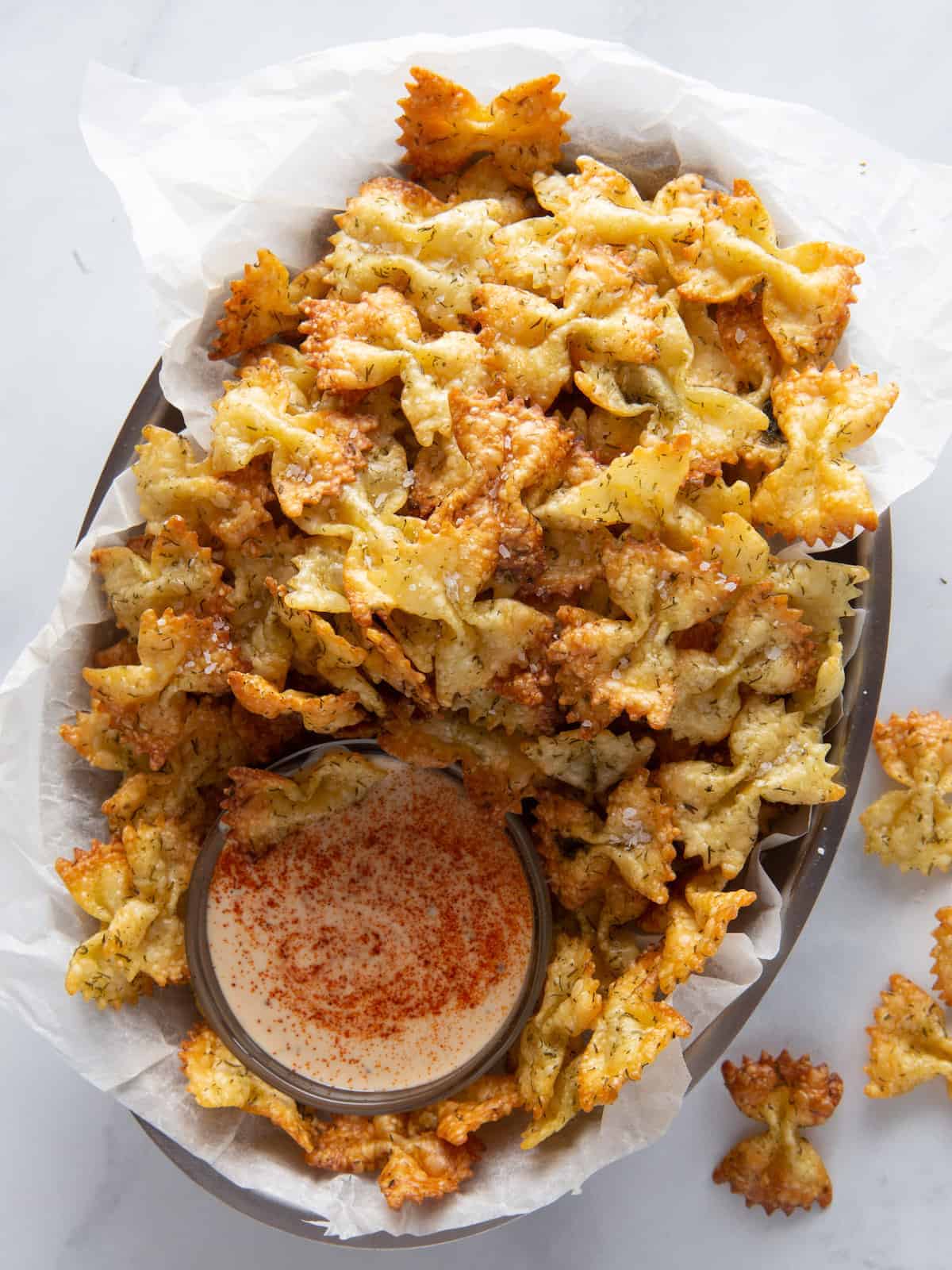 Want a quick and fun snack? Then you need to try pasta chips! Grab your air fryer and make a batch in less than 30 minutes. You could serve these with homemade pasta sauce but garlic dip or ranch dressing are also great. (And don't worry. They don't taste like raw pasta. They really do have a chip-like crunch.)
Ingredients for Basic Pasta Chips
You only need three ingredients to make Air Fryer Pasta Chips.
Pasta. Rigatoni, penne, ziti, and bow ties make the best pasta chips. For a crunchy pasta chip, use regular pasta. Whole wheat, chickpea, and vegetable pastas work but don't always crisp as well.
Oil. To get the best crunchy texture, toss the pasta with oil. You need a tablespoon of oil for 8 ounces of pasta. Any oil works. Olive oil is nice as are flavored oils. (Especially garlic oil!)
Salt. It's a good idea to salt the pasta before air frying. Once the pasta is crispy, the salt doesn't stick to it.
Optional Ingredients
Flavoring pasta chips is half the fun!
Spices. Dried spices are perfect for this recipe. They evenly coat the pasta and don't burn in the air fryer.
Garlic and Onion Powder. A pinch of each powder is all you need to add a flavor boost. (Think sour cream and onion chips!)
Cheese. Toss a hard grated cheeses, like parmesan and asiago, on the pasta before air frying. Cheeses like Cheddar and mozzarella don't work well.
Vinegar. Love salt and vinegar chips? You can make a pasta chip version. Toss the cooked pasta with four to six tablespoons of vinegar. It seems like a lot but the pasta needs that much vinegar for the flavor to stand out.
How to Make Air Fryer Pasta Chips: Key Steps
Boil the Pasta. For the best flavor and texture, boil the pasta in salted water until it's al dente. You're looking for it to be tender but not too soft.
Drain the Pasta. This is a key step. After cooking, drain the pasta and shake it to get as much of the cooking liquid off as possible. If there's still water clinging to the pasta when you air fry it, the chips won't come out as crispy.
Add oil and spices. To get the best crunchy texture, toss the pasta with olive oil. You need about a tablespoon for 8 ounces of pasta. Then add any spices or flavorings.
Air Fry. Arrange the pasta in one layer and air fry until crispy. (If you don't have an air fryer, bake the pasta in an oven. They won't be as crunchy when made in an oven.)
(Bonus Step) Cool on a wire rack. If you have a wire cooling rack, cool the pasta chips on it. This allows the steam to escape from the chips, keeping them nice and crisp.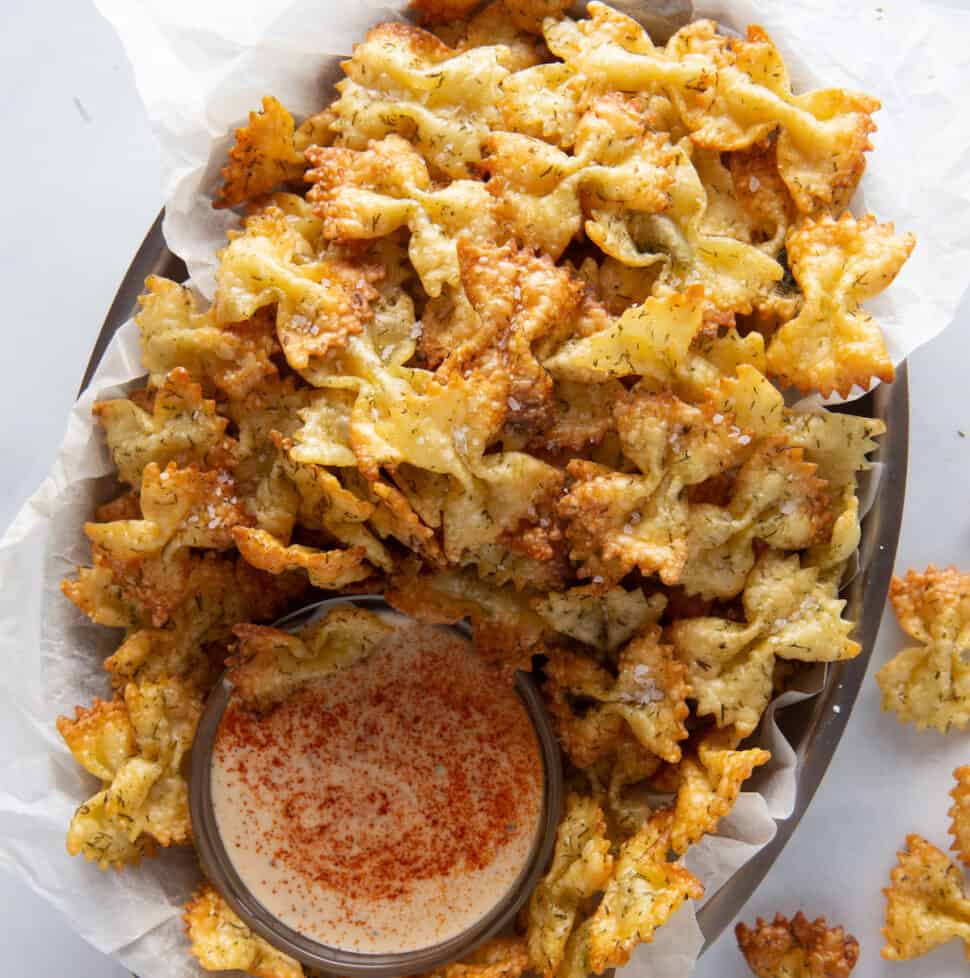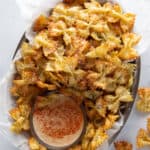 Easy Pasta Chips
Crispy air fryer pasta chips are so easy to make. Toss cooked pasta with oil, salt, and seasonings.
Ingredients
8

ounces

pasta (bow tie, rigatoni, or penne)

1

tablespoon

olive oil

½

teaspoon

salt
Optional
4

tablespoons

white or apple cider vinegar

2-4

tablespoons

grated Parmesan or asiago cheese

1

teaspoon

dried herbs (basil, oregano, or Italian mix)

pinch

garlic powder

pinch

onion powder
Instructions
Cook pasta according to package directions in a large pot of salted water. Drain and shake colander to remove excess water.

Place pasta in a medium bowl. Add oil, salt, and optional ingredients if using. Stir to combine.

Heat Air Fryer to 400°F. Cook in a single layer in an Air Fryer for 10 to 12 minutes until golden brown. Shake or toss the pasta after five minutes. If your air fryer is small, cook in two batches.

Cool on a wire rack (optional) and serve with dip, if desired.

Store the cooled chips in a sealed container for up to three days.