Pressure Cooker Crack Chicken comes together in minutes in an Instant Pot or electric pressure cooker. Makes great sandwiches or an easy casserole. This recipe is perfect for a quick weeknight meal.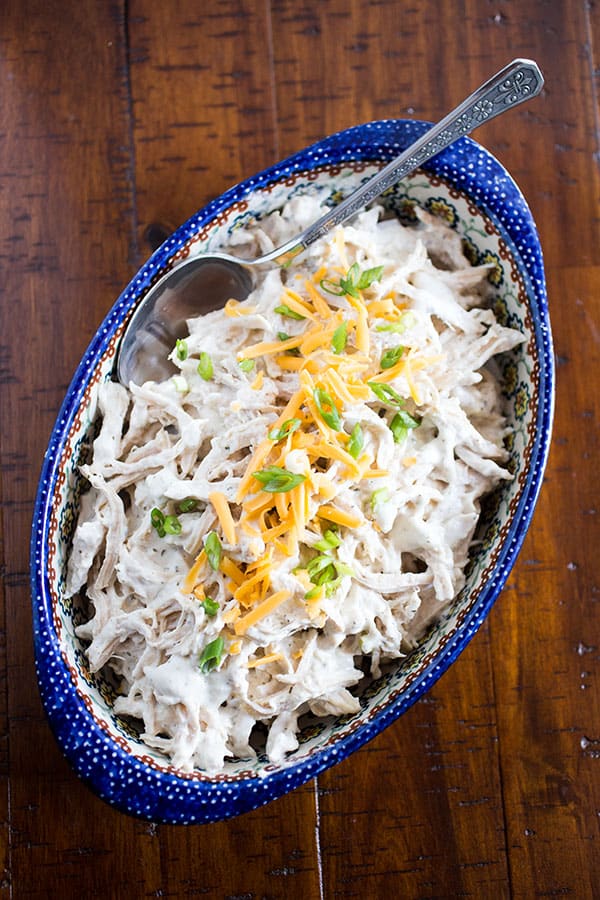 Things I love:
Facebook.
Cooking
Watching TV.
This means that Facebook cooking videos were basically designed with me in mind. The other day, one kept popping up in my feed: Crack Chicken from Cookies and Cups.
The video had OVER 61 million views. That's means about 20% of Americans had possibly seen the video. Twenty percent! So I did what anyone does when they see a viral video. I shared it. First, I sent the video to my mom.
"Looks easy!" she replied.
I sent it to my husband. "Over 60 million people have watched this. What do you think?"
"I'd eat it," he said.
That settled it. I had to try the crack chicken. It looked rich and over-the-top and, honestly, not a recipe I'd normally make. But if we only make recipes that we'd normally make, things get boring. Fast.
There was only one problem. I'm currently having a fight with my slow cooker. I've thrown it aside for my new love: the Instant Pot.
I needed to tweak the recipe a little.
The original recipe contains only four ingredients: chicken breasts, cream cheese, a packet of ranch dressing mix, and –at the end–crumbled bacon. While this makes for a really easy recipe, it's a problem for a pressure cooker. Pressure cookers require liquid to reach and maintain pressure. Without adequate liquid, the sealing valve won't lift into place.
I added one thing to the recipe and, boom, Pressure Cooker Crack Chicken made its debut in my kitchen.
Pressure Cooker Crack Chicken: How to Make It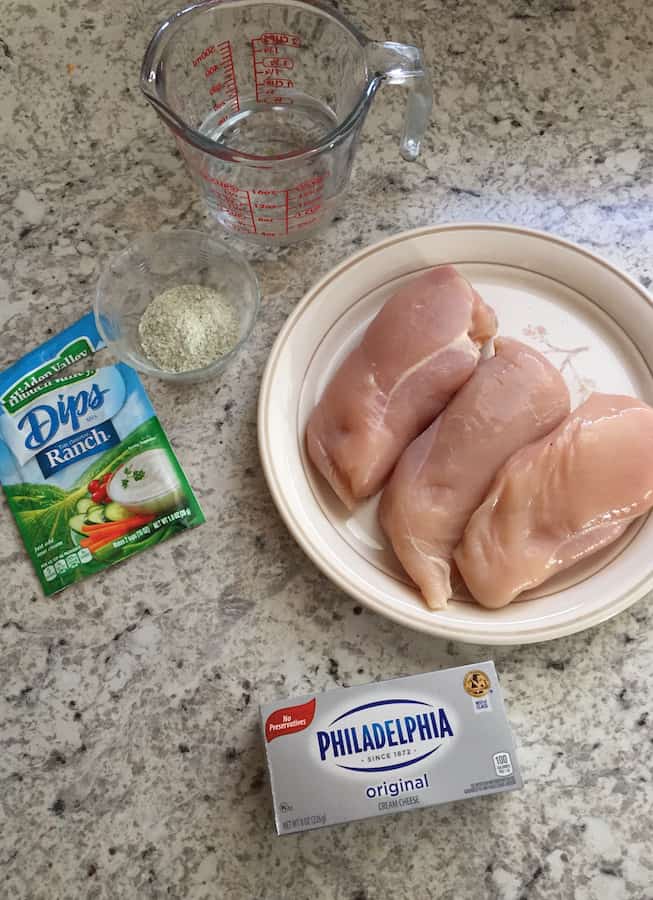 Gather the ingredients. For the pressure cooker crack chicken, you'll need chicken breasts, cream cheese, a packet of ranch dressing PLUS one cup of water. Without the water, the recipe won't work. (You can add bacon. We'll talk about that in a minute.)
If you've made my chicken burrito bowls or my pulled chicken, you know I prefer chicken thighs to chicken breasts. However, since the original recipe used chicken breasts, that's what I did here. (Spoiler: the recipe turned out great.)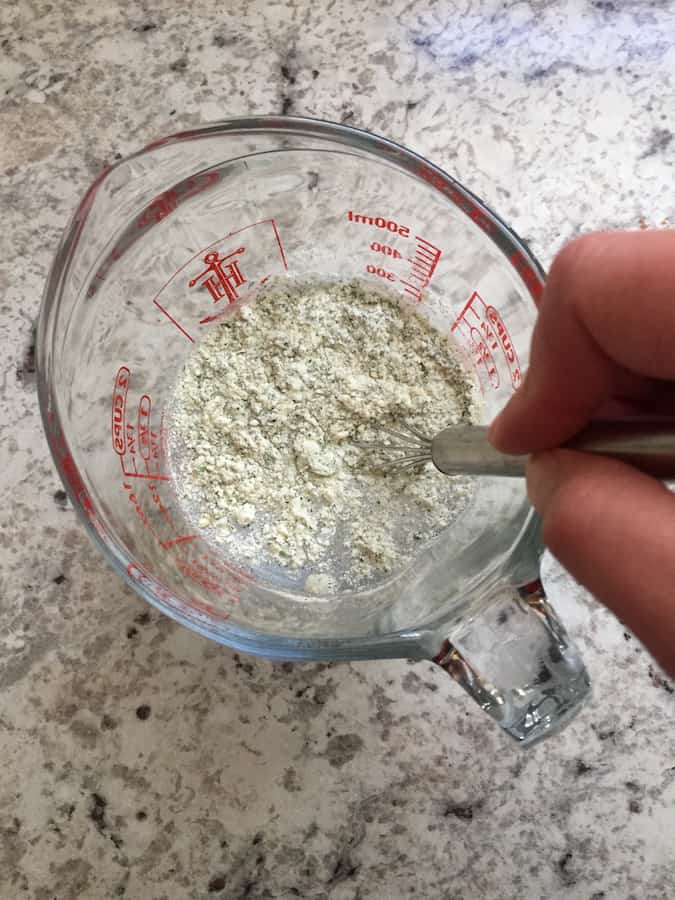 Whisk a half packet of ranch seasoning into the water. You can do this in the measuring cup or right in the insert of the pressure cooker. This step prevents the dressing from clumping and distributes it evenly. The original recipe called for the entire packet of ranch seasoning. I found that to be a little too much ranch for my taste. So I reduced it.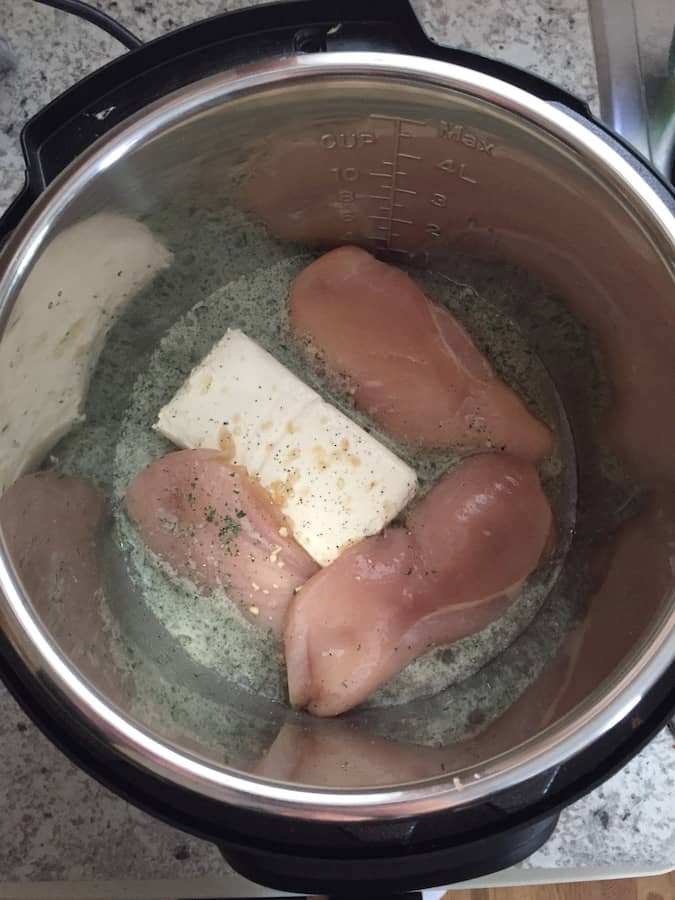 Plop the chicken, cream cheese, and ranch mixture into the pot of your electric pressure cooker. Since I wanted my crack chicken to be a little more chicken-y than cheesy. I upped the ratio of chicken to cheese. I used 1 1/2 pounds of chicken to one block of cream cheese, instead of a 1:1 ratio.
Cook under high pressure for 15 minutes. Then allow the pot to sit for five minutes before releasing the pressure. If you open the pressure cooker too fast, the chicken will be cooked but it will be hard to shred.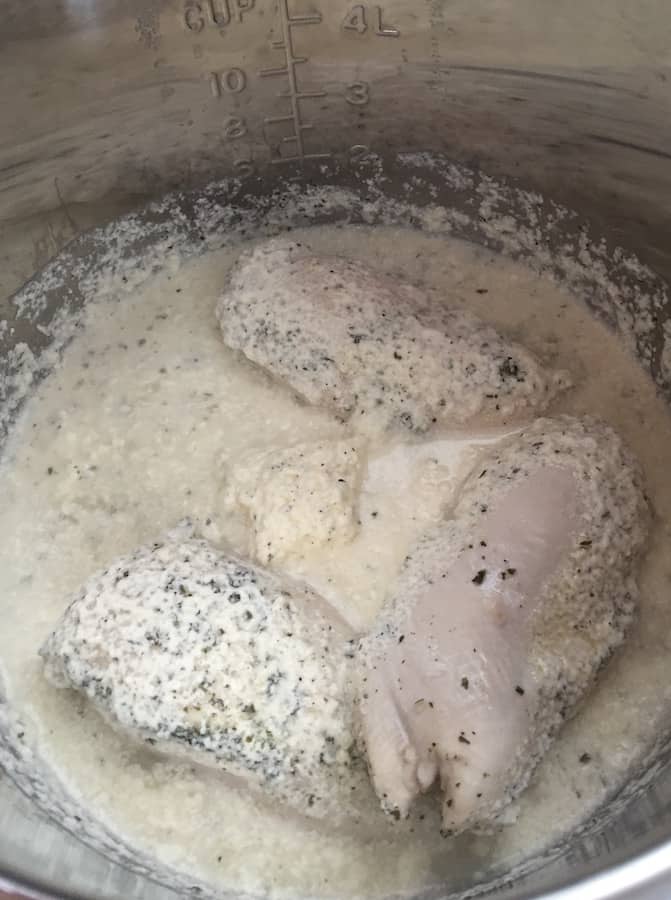 Ta-da! Doesn't that look…clumpy and kind of terrible? Yeah. I thought so too. In fact, I kind of freaked out a little.
I removed the chicken from the pot and set the sauté feature to low. (Or "less" in Instant Pot lingo) A quick stir with a whisk took care of the lumps. I left the sauté feature on to reduce the liquid a little while I shredded the chicken. Unlike the version made in the slow cooker, the sauce for this crack chicken is a bit thin. It's less like chicken salad, more like a creamy pasta sauce. We thought this was a good thing!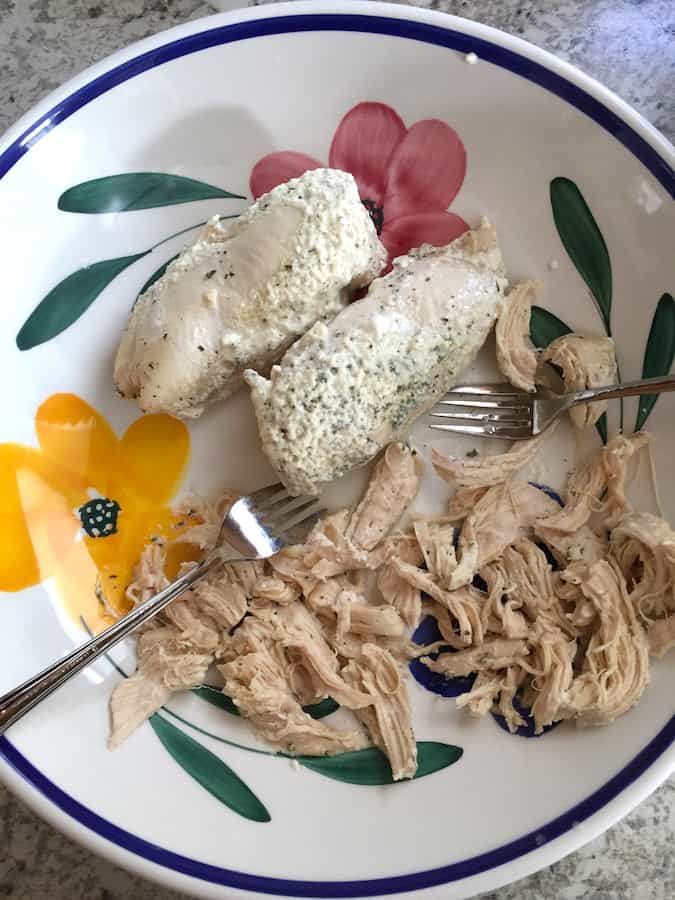 Shred the chicken with two forks. It should come apart easily.
When I shred chicken, I don't full shred it because I don't want it to get mushy. For pork and beef, I pull it into thin pieces. This is just a personal preference.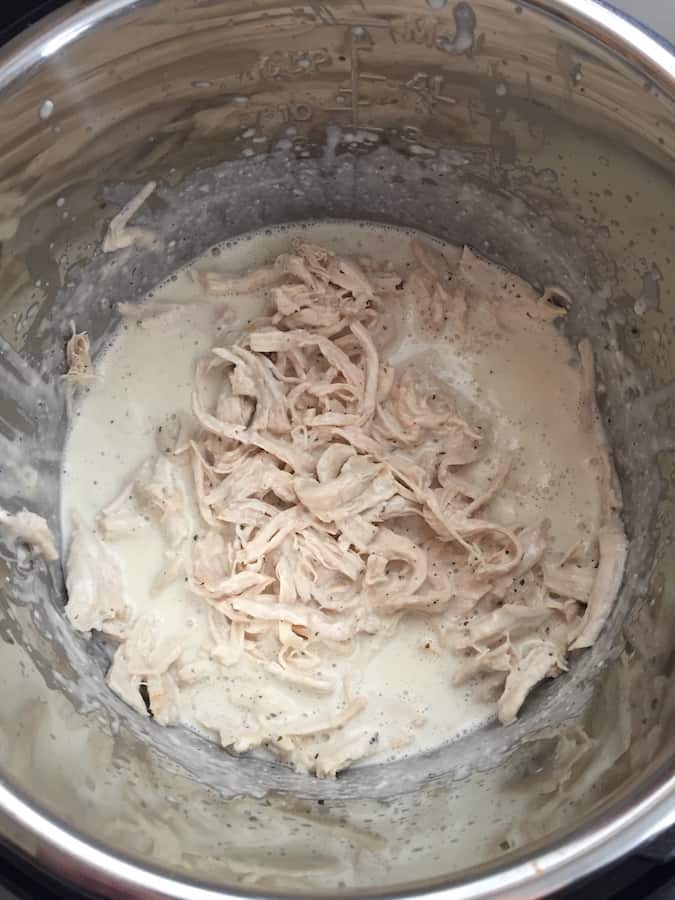 Return the shredded chicken to the pressure cooker. Stir. Season with freshly ground black pepper and additional dressing mix if you think it needs it.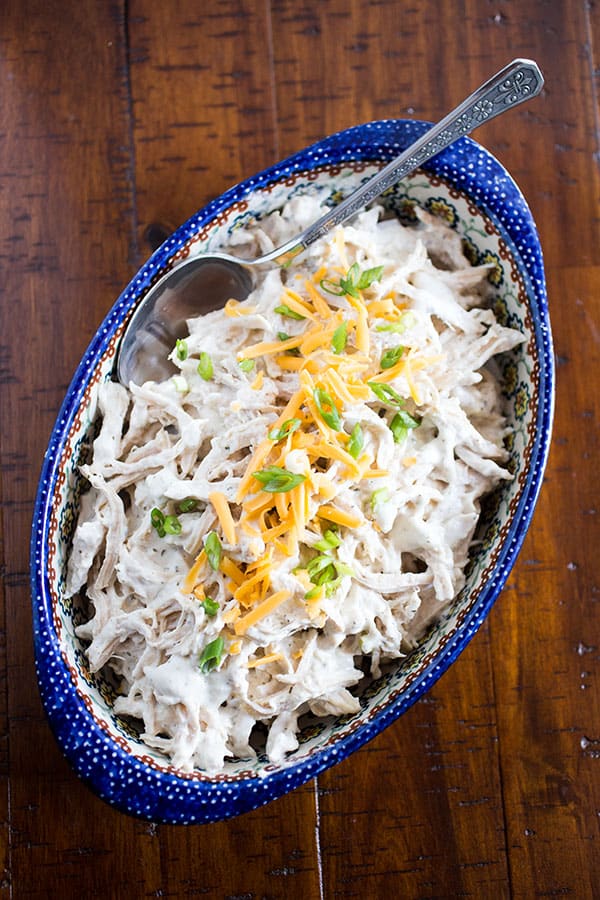 Serve! You'll notice that I skipped the bacon. Can we be real here for a second? I didn't think this needed bacon. So I didn't add it.
If you want bacon, go for it!
Now, here's a question: what to serve it with?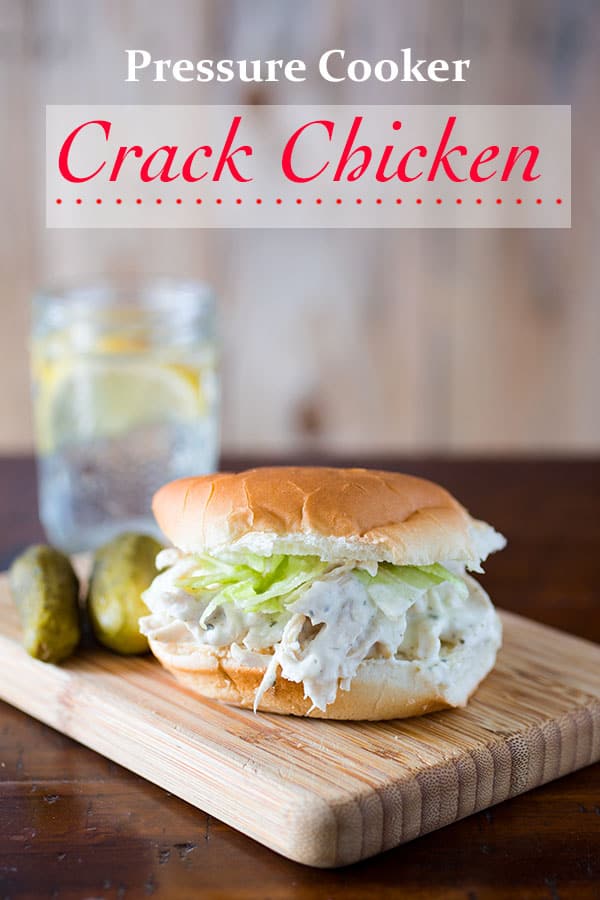 Pressure Cooker Crack Chicken: Serving Suggestions
Make sandwiches. Serve the chicken on a toasted bun. Add shredded cheddar, crumbled bacon, and lettuce.
Make Crack Chicken Pasta. Toss the pressure cooker crack chicken with a half pound of cooked elbow macaroni. If it's too dry, add a splash of warm milk.
Make a Spinach Casserole. I did this! And, oh my goodness! SO GOOD. Add one small package of baby spinach to the pulled chicken. Stir occasionally for about three minutes until the spinach wilts and cooks. Serve over rice.
Make Loaded Baked Potatoes. Bake a few Russet potatoes, split, and top with crack chicken, cheese, and steamed broccoli.
Serve with Rolls. King's Hawaiian Rolls go great with this recipe. Toss a large green salad together with a vinaigrette and you're good to go.
Serve Burrito-style. Roll up the chicken in flour or corn wraps. Add olives, pickled jalapenos, cheese, and salsa if you feel like it.
Add your serving suggestions in the comments!
Pressure Cooker Crack Chicken
Pressure Cooker Crack Chicken. Great for sandwiches, casseroles, and dips. Makes an easy weeknight meal.
Ingredients
1

cup

water

4

teaspoons

Hidden Valley Ranch Dressing dry mix, plus additional as needed

(1/2 of a 1 ounce packet)

1 1/2

pounds

boneless, skinless chicken breasts

8

ounces

cream cheese, regular or lite

freshly ground black pepper
For Serving: Optional
cooked, crumbled bacon

shredded Cheddar cheese

shredded lettuce

hamburger buns

for more serving suggestions, see above
Instructions
Combine water and dressing mix in a small bowl. Whisk until smooth. Combine dressing mix, chicken and cream cheese in the cooking insert of an electric pressure cooker.

Close the lid. Set the valve to "sealing." Cook for 15 minutes under high pressure. (Use the manual setting.)

When the cooking time ends, allow the pot to sit for five minutes. After five minutes, turn the sealing valve to release for a quick pressure release. Remove the chicken and place in a large bowl.

Select the saute setting and turn it to low (or less on an Instant Pot). Whisk the cooking liquid until smooth. Allow it to simmer and thicken as you shred the chicken.

Shred the chicken with two forks. Keep an eye on the cooking liquid. If it looks like it's getting too thick, turn off the saute setting.

Return the shredded chicken to the pot. Stir to combine. Season with freshly ground black pepper and additional dry dressing mix, as needed. Serve on buns or using one of the serving suggestions listed above.