White chocolate popcorn is easy to make. It's perfect for snacking and makes a great treat for baby showers or Easter.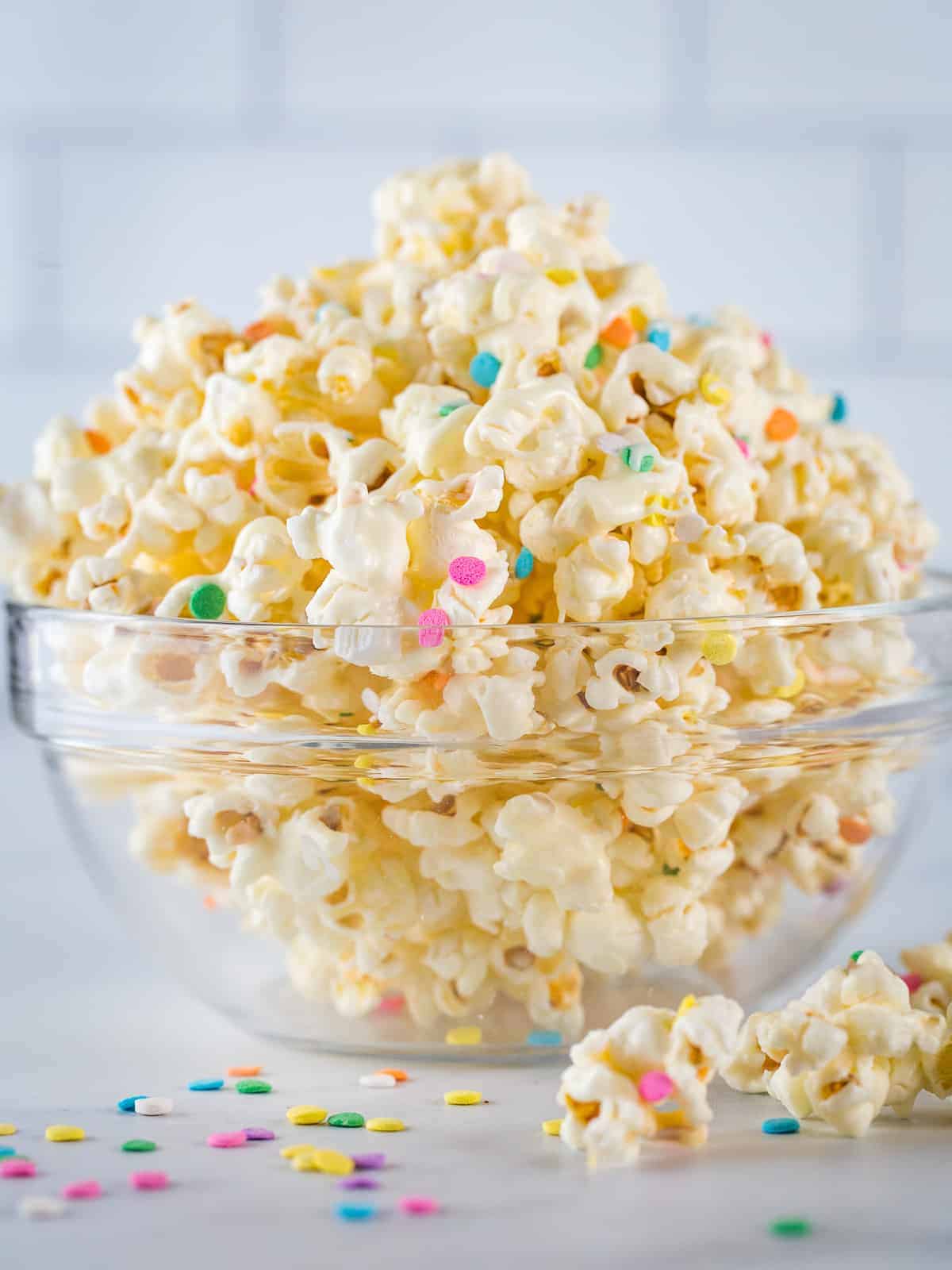 White chocolate popcorn? Since I don't love white chocolate, I had my doubts when a friend offered me some from a bag she'd bought. After one bite, I gobbled it up by the handful. The sweet-salty combo got me. (It's like cinnamon-sugar pretzels, so easy to make and so hard to stop eating!)
When I went to buy myself a bag, I experienced a bit of sticker shock. The small bag was almost five dollars. I bought a bag but then vowed to make my own. It's so easy.
How to Make White Chocolate Popcorn
Use oil-popped or kettle corn popcorn. Avoid air popped popcorn for this recipe. The texture and flavor aren't right.
Melt white candy wafers. White candy wafers are made to melt and harden. If you can't find them, you can replace them with white chocolate chips.
Stir together quickly. After melting the candy wafers, pour it over the popcorn and stir to combine.
Place on a sheet pan. Spread the popcorn mixture onto a parchment-lined baking sheet. Try to keep the popcorn in one layer. This makes it easier to break up when it sets.
Add sprinkles. This is optional but makes for a pretty treat.
The Best Popcorn for White Chocolate Popcorn
If you want a sweet-salty combo, use oil popped popcorn. You can either make your own or buy a bag, like Popcorn Indiana.
If you want popcorn that's a bit sweeter, start with kettle corn. If you want to use kettle corn, I suggest buying a bag.
How to Melt White Candy Melts
The microwave is the best tool for melting white candy melts. Place the melts into a microwave-safe measuring cup and heat for 30 seconds. Remove the cup from the microwave and stir. This step is important. It removes any hot-spots and prevents the candy melts from burning.
Return the melts to the microwave and heat in 20-second intervals, stirring between each, until the melts are smooth.
If you don't have a microwave, use a double-boiler. Fill a small saucepan with about 1-inch of water. Set a bowl into the pot, be sure it doesn't touch the water, and place the candy melts into the bowl. Stir until the candy melts are creamy and smooth.
How to Use White Chocolate Chips
If you can't find white candy melts, you can use white chocolate chips. After melting the white chocolate chips, add two teaspoons of either coconut oil or butter. This helps the white chocolate to set on the popcorn.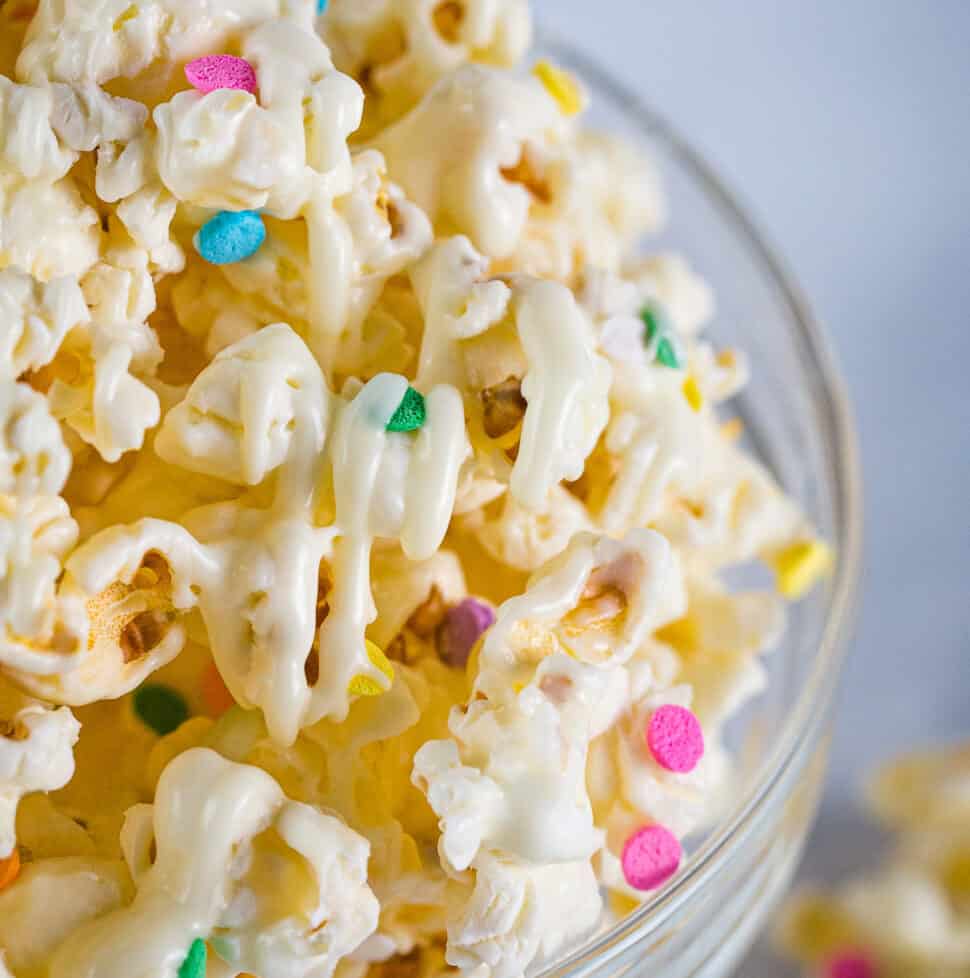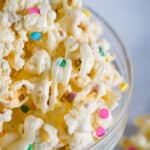 White Chocolate Popcorn
White Chocolate Popcorn is an easy-to-make snack that's perfect for baby showers, Christmas, and Easter
Ingredients
10

cups

popped popcorn, oil popped or kettle corn

1

cup

white candy melts, see note

(5 ounces; 142 grams)

sprinkles, optional
Instructions
Line a 18x13-inch rimmed baking sheet with parchment paper.

Place the popped popcorn into a large mixing bowl and set aside.

Place the candy wafers into a microwave-safe measuring cup. Heat for 30 seconds in the microwave. Remove and stir. Repeat until the wafers are melted. They should be smooth and creamy.

Pour the melted wafers over the popcorn and stir to coat. Spread the coated popcorn evenly onto the baking sheet and top with sprinkles.

Let sit at room temperature until hardened, about 1 hour. Break up into pieces before serving.
Recipe Notes
White Chocolate Chips
To replace the white chocolate wafers with white chocolate chips, use the following amounts:
1 cup white chocolate chips
2 teaspoons coconut oil or butter
Melt the white chocolate chips as directed above. Stir in the coconut oil or butter. Use as directed.