Easy 100% whole wheat bread recipe. Soft and tender with a mild, sweet flavor. Great for toast with jam and butter. Also excellent for grilled cheese. This bread loves sharp cheese. Bread machine recipe.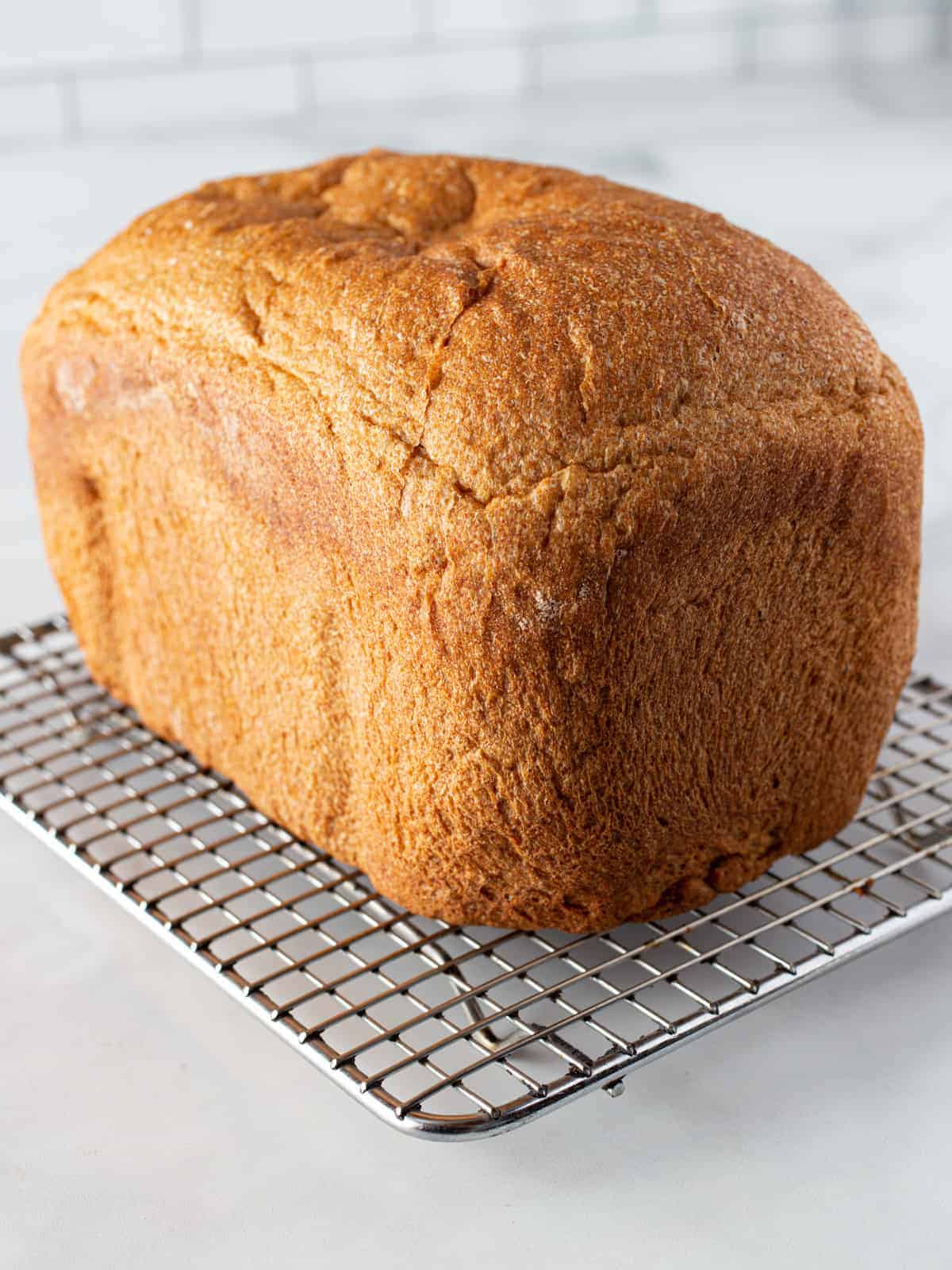 So you want to make whole wheat bread in your bread machine?
Excellent. Me too!
I love whole wheat bread but my prior attempts at a 100% whole wheat loaf in the bread machine were lackluster. The bread came out dense, heavy, and a bit dry.
But I was inspired by the success of my bread machine sandwich bread recipe. (Which inspired my bread machine cinnamon raisin bread recipe.) If I could make tender, flavorful white bread, why not try a 100% whole wheat loaf.
Why You'll Love This Whole Wheat Bread
It's delicious with an impressive rise. A whole wheat loaf that's soft, tender, and flavorful? Yes! Unlike many whole wheat recipes, this loaf isn't dense and heavy. It rises high with a tender and flavorful crumb.
It's 100% whole wheat. Many "whole wheat" bread recipes are a blend of whole wheat and white flour. This recipe uses all whole wheat.
It's easy to make. A bread machine makes this recipe a snap to make.
It's light with a mild sweetness. Is this bread amazing eaten as toast with butter and jam? You bet! But it's also fabulous as the base for a grilled cheese sandwich. This bread loves sharp cheese!
It makes your house smell amazing. This is such a "little-big" thing that I love about this bread. When it bakes, your house smells amazing. There's something about the nutty aroma of whole wheat flour that kicks the bread baking aroma up a notch.
Ingredients for Bread Machine Whole Wheat Bread
Whole Wheat Flour. This recipe was developed with King Arthur Flour's whole wheat flour. The protein content of whole wheat flours can vary from brand to brand. If you use a flour with less protein, the loaf might not rise as high.
Yeast. Both instant or active dry work in this recipe. I prefer baking bread with instant yeast because it's more reliable than active dry yeast.
Salt. Salt adds flavor and controls yeast growth. Use table salt, not Kosher salt.
Granulated Sugar. Many recipes for whole wheat bread use honey. Since I don't always keep honey in the house, I used granulated sugar. If you prefer honey, follow the directions below for replacing it in the recipe.
Milk and Half and Half. A combination of milk and half and half are used to keep the loaf soft and tender. If you've made my sandwich bread or cinnamon raisin bread recipe, you'll notice this recipe calls for more milk and half and half. That's because whole wheat flour requires more hydration. If the recipe doesn't contain enough liquid, the bread comes out dry.
Butter. Adds tenderness and flavor.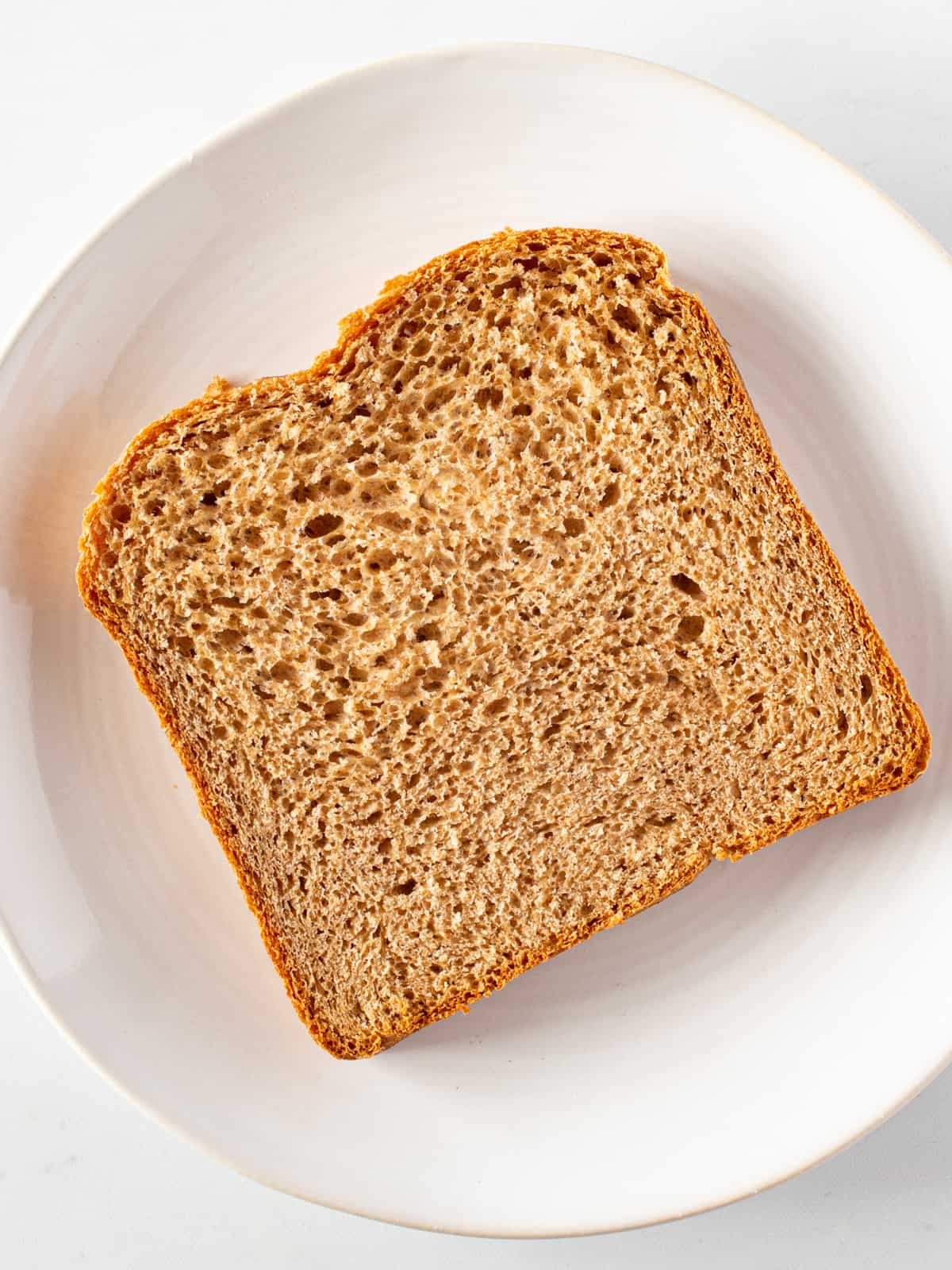 How to Make Whole Wheat Bread in a Bread Machine
Note: Bread machines vary from maker to maker. This recipe requires a machine that has a two pound capacity. Follow the directions that come with your bread machine. This is a basic method.
Use a 1 1/2 to 2 pound bread machine. This recipe requires a large bread machine.
Select the "basic" program. Bread machine programs vary by manufacturer. For this recipe, it's best to use the "basic" program. You're looking for something similar to this:


Preheat 20 to 30 minutes (If your machine doesn't have a preheat option, warm the liquid ingredients)




First Knead: about 18 minutes




First Rise: about 45 minutes




Second Rise: about 20 minutes




Third Rise: about 45 minutes




Bake Time: 60 minutes

Layer the ingredients. Add the milk, half and half and butter. Then add the flour and salt. Finally, sprinkle the yeast on top of the dry ingredients.
Skip the keep warm. If possible, remove the bread from the machine as soon as the baking cycle completes. The keep warm cycle can overbake the bread–causing the texture to be dry.
Cool on a wire rack. Remove the loaf from the pan and place it on a wire rack to cool. This keeps the crust crisp and the center soft. And be sure to let the bread to cool for at least 20 minutes before slicing.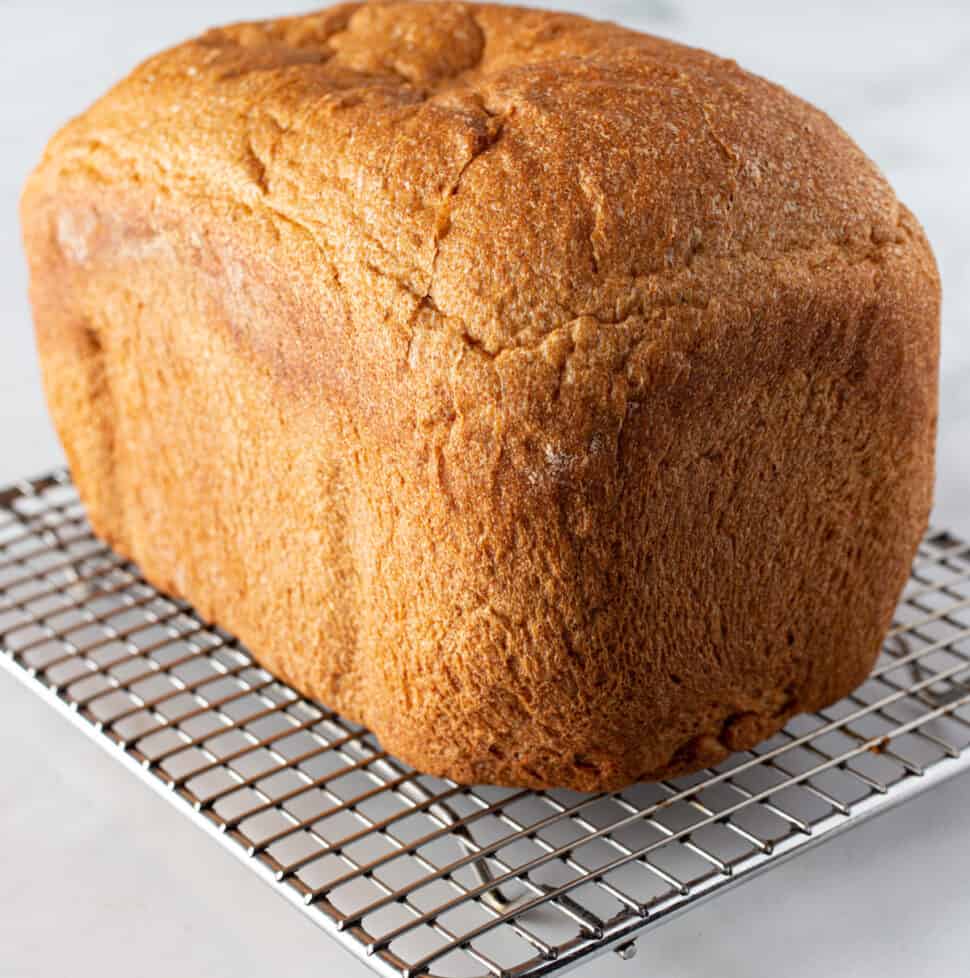 Whole Wheat Bread Machine Recipe
Soft and tender whole wheat bread machine recipe. Made with 100% whole wheat flour.
Cook Time
3
hours
20
minutes
Ingredients
3 ½

cups

(450 grams) whole wheat flour, see note

3

tablespoons

(35 grams) granulated sugar, see note

1 ½

teaspoons

salt

1

cup plus 1 tablespoon

(255 grams) milk

½

cup

(100 grams) half and half

3

tablespoons

(42 grams) softened butter, salted or unsalted

1 ½

teaspoons

instant yeast or active dry
Instructions
Whisk together the flour, sugar, and salt in a small bowl.

Place the ingredients into the pan of a 1 ½ to 2-pound bread machine in the order recommended by the manufacturer.

Select the program for basic white bread. Press Start. When the cycle completes, remove the pan from the machine.

Remove the bread from the pan, sometimes this requires a shake to get the bread out of the pan. Set the loaf on a wire rack to cool.

Store, in a bread box, bread bag or well wrapped on the counter for 4 days, or freeze for up to 3 months.
Recipe Notes
Whole Wheat Flour
This recipe was developed with King Arthur Flour's whole wheat flour.
Granulated Sugar
If you prefer honey in your whole wheat bread, replace the sugar with 1 ½ tablespoons of honey.
Milk and Half and Half
Use lukewarm milk and half-and-half if your bread machine does not have a preheat cycle.