Easy Bread Machine Cinnamon Raisin Bread. This recipe makes a light, sweet loaf of bread that's dotted with raisins.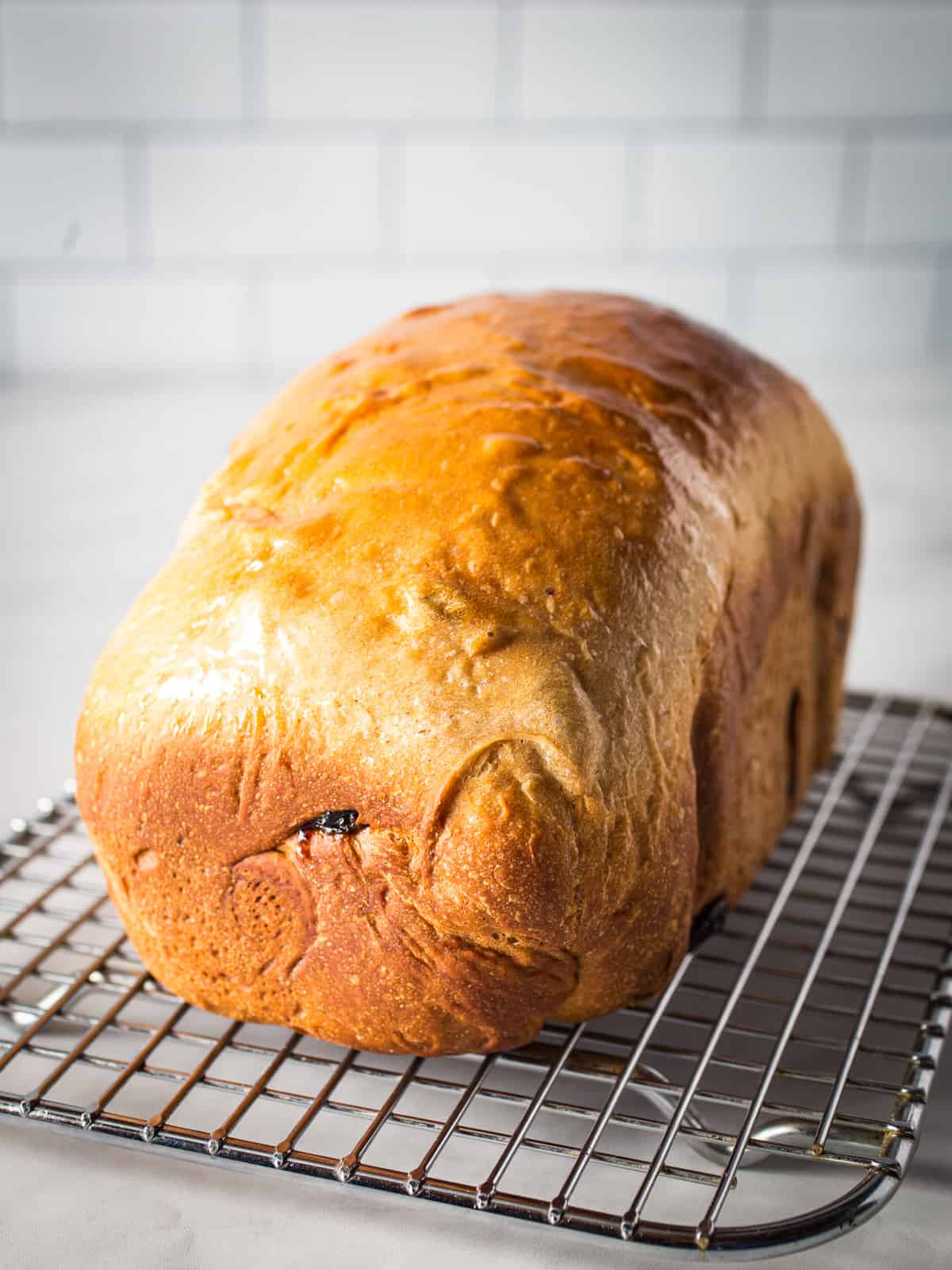 After making loaf after loaf of my bread machine sandwich bread recipe, it was time to shake things up and bake a loaf of cinnamon raisin bread.
Wow, I wish I'd done this sooner. Simply put: it was the best cinnamon raisin bread I'd ever eaten.
When creating the recipe, I had two goals in mind: a loaf of bread that actually tasted like cinnamon and was mildly sweet. Too often, cinnamon raisin bread either doesn't taste like cinnamon or it's so bland that it might as well be regular bread.
The only thing that's missing is a swirl in the center. But since it's so easy to make (and so tasty), I don't think you'll miss it.
What You'll Love About This Cinnamon Raisin Bread
It's easy. Place the ingredients into a bread machine, push a button, and three hours later, you've got bread. Most models even alert you when to add the raisins.
It tastes like cinnamon. There are two teaspoons of ground cinnamon in the dough. That's means that every bite of bread includes cinnamon. It's wonderful–and not overpowering.
It's mildly sweet. You won't confuse this bread with a slice of plain toast. It's just a little sweet. (And makes great French toast!)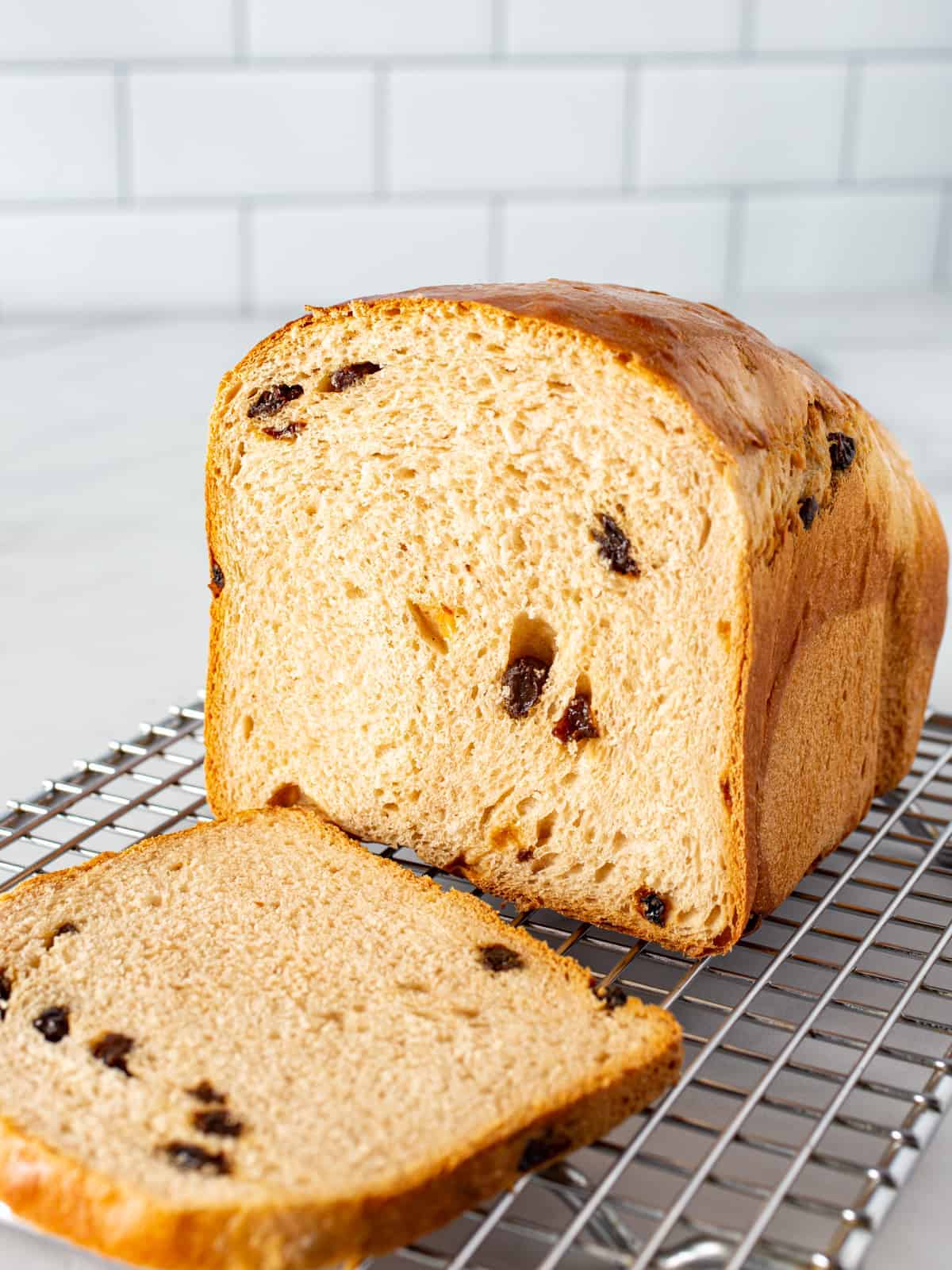 Ingredients for Bread Machine Cinnamon Raisin Bread
Bread Flour. For the best results, use bread flour. This recipe can also be made with all-purpose flour. Bread made with all-purpose flour doesn't rise quite as high and the bread tends to be a little softer.
Yeast. Both instant or active dry work in this recipe. I prefer baking bread with instant yeast because it's more reliable than active dry yeast.
Salt. Salt adds flavor and controls yeast growth. Use table salt, not Kosher salt.
Sugar. Granulated sugar adds a nice sweetness to the bread. If you prefer your cinnamon raisin bread less sweet, reduce the sugar from 1/3 cup to 1/4 cup.
Milk and Half and Half. The combination of milk and half and half make for a loaf of bread that's tender and creamy-tasting.
Butter. Along with the milk and half-and-half, butter is also used. Not only does the butter add great flavor, it also keeps the loaf soft and keeps it from drying out too quickly.
Raisins. Use soft, plump raisins in this recipe. If the raisins you have in the kitchen have dried out, soak and drain them before using. And if you aren't a fan of raisins, omit them from the recipe or replace them with dried cranberries.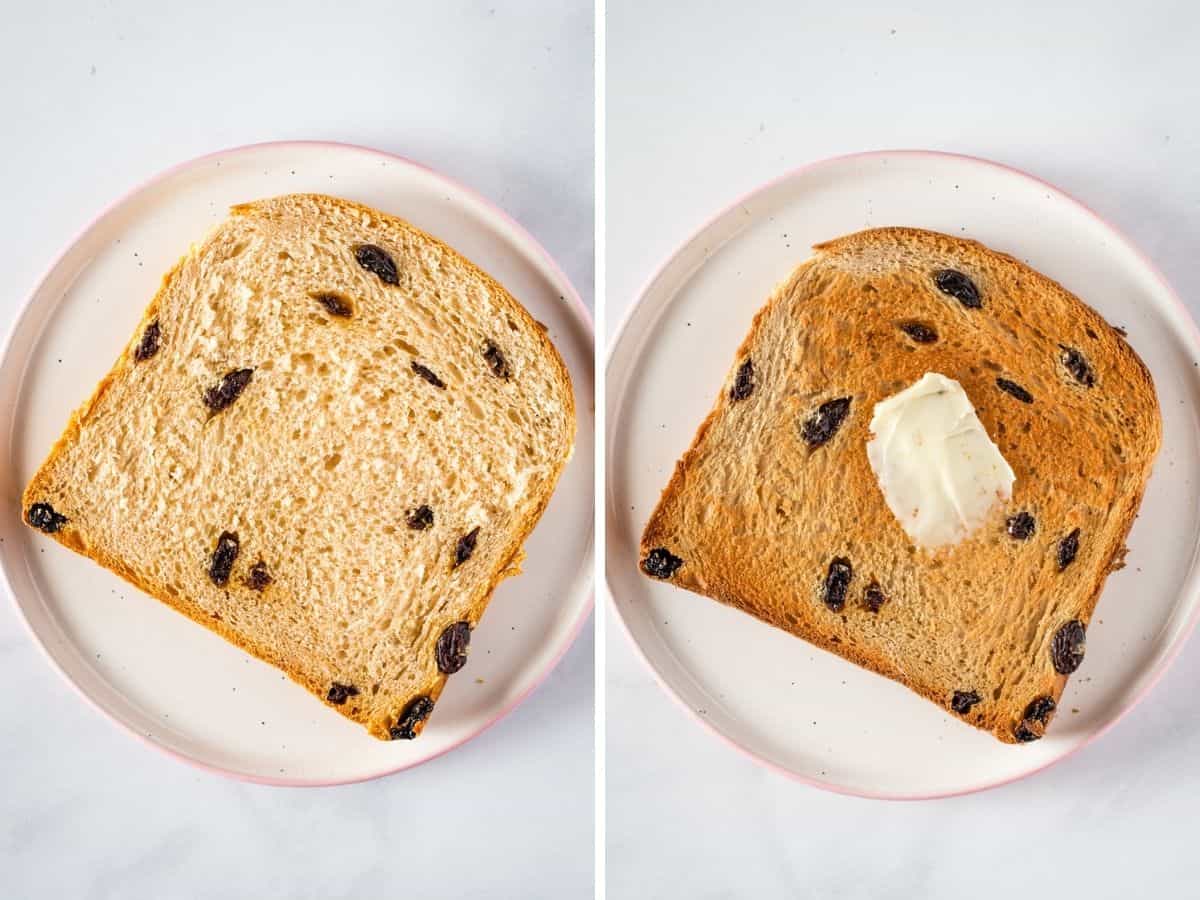 How to Make Cinnamon Raisin Bread in a Bread Machine
Add the liquid ingredients. Place the milk, half-and-half, and butter into the loaf pan. If your bread machine includes a preheat cycle, you don't need to warm the milk and half-and-half. If your machine does not warm the ingredients before mixing, warm the milk and half-and-half before adding it to the loaf pan.
Add the dry ingredients. The next step is to add the dry ingredients. To ensure that the sugar, ground cinnamon, and salt are evenly distributed throughout the flour, I like to whisk the dry ingredients together before adding them to the loaf pan. This dirties a bowl but the results are worth it.
Top with yeast. Most bread machines call for you to sprinkle the yeast on top of the flour. Check with the manual that came with your bread machine to see when to add the yeast.
Add raisins–once the dough has formed. You'll want to stick around while the dough mixes. The raisins must be added once the dough has a chance to mix. If they're added too early, they prevent the dough from mixing properly because they interfere with gluten development. Most bread machines alert you when to add raisins. My Zojirushi starts beeping and flashing the words "add-in".
Cool on a wire rack. Once the bread machine completes its cycle–this takes about three hours–remove the loaf from the pan and place it on a wire rack to cool. Allow the bread to cool at least 15 minutes before slicing. If you slice hot bread, the loaf can squish.
Other Comfort Baking Recipes You'll Love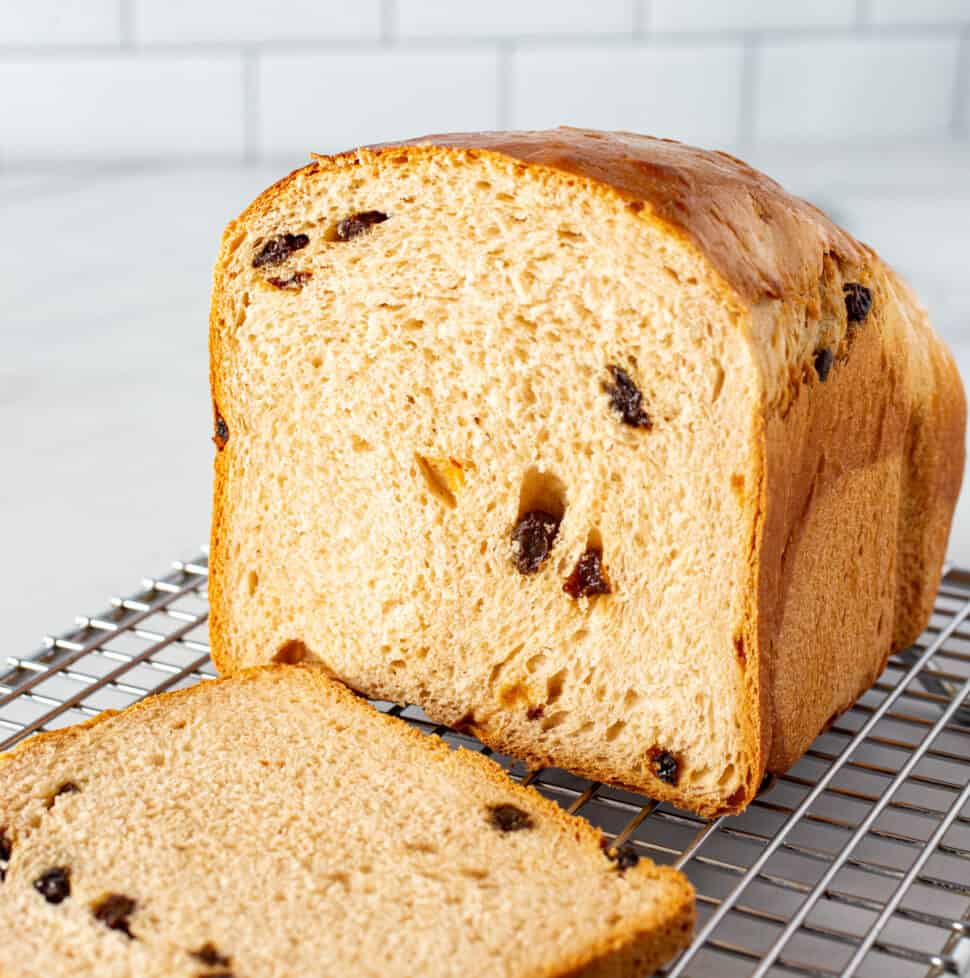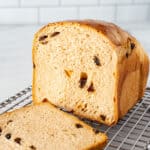 Bread Machine Cinnamon Raisin Bread
Easy bread machine cinnamon raisin bread recipe. Makes a light, sweet loaf of bread that's dotted with raisins.
Cook Time
3
hours
30
minutes
Ingredients
3 ¾

cups

(450 grams) bread flour, see note

⅓

cup

(70 grams) granulated sugar

2

teaspoons

ground cinnamon

1 ½

teaspoons

table salt

1

cup

(225 grams) milk, see note

⅓

cup

(75 grams) half and half, see note

4

tablespoons

(56 grams) softened butter, salted or unsalted

1 ½

teaspoons

instant yeast or active dry

⅔

cup

(103 grams) raisins
Instructions
Whisk together flour, sugar, cinnamon, and salt in a medium bowl.

Place the ingredients, except the raisins, into the pan of a 1 ½ to 2-pound bread machine in the order recommended by the manufacturer.

Select the program for basic white bread. Press Start. When the machine alerts you, or two-thirds through mixing, add the raisins.

When the cycle completes, remove the pan from the machine. Allow the bread to cool in the pan for about 5 minutes.

Remove the bread from the pan, sometimes this requires a shake to get the bread out of the pan. Set the loaf on a wire rack to cool.

Store, in a bread box, bread bag or well wrapped on the counter for 4 days, or freeze for up to 3 months.
Recipe Notes
Recipe Notes
Milk and Half and Half
Use lukewarm milk and half-and-half if your bread machine does not have a preheat cycle.
Bread Flour
For the best rise and texture, use bread flour. All-purpose flour can be used, however, the bread won't rise as high.