Use the Instant Pot to make quick and tasty shredded chicken. Perfect to use in tacos, on salads, or in soups.
There are many reasons to love your Instant Pot. (Once you figure out how to set it up, of course.) You can make quick chicken burrito bowls,whip up a tasty version of Olive Garden's Pasta e Fagioli, or make a pot of veggie chili. But one of my favorite uses for the Instant Pot is…shredded chicken.
I know. I know. It's not terribly exciting. But, friends, it is. Let me explain.
On nights that I don't know what I want to eat for dinner, I often make shredded chicken. While the Instant Pot does its thing, I figure it out.
Sometimes I use the shredded chicken on a salad. Other times I use it to make easy black bean and cheddar quesadillas. Other nights, I toast some buns, stir some warm barbecue sauce into the shredded chicken and, boom, I have pulled chicken sandwiches.
I've even used it for quick chicken soup. The uses for shredded chicken feel endless. And, the best part, it doesn't take long to make.
The reason I can use shredded chicken in so many different ways? Other than salt and pepper, I don't season it. This allows me to use it however I'd like. If the dish doesn't have enough flavor to carry the chicken, I add some seasoning after cooking but this is rarely needed.
How to Make Shredded Chicken in the Instant Pot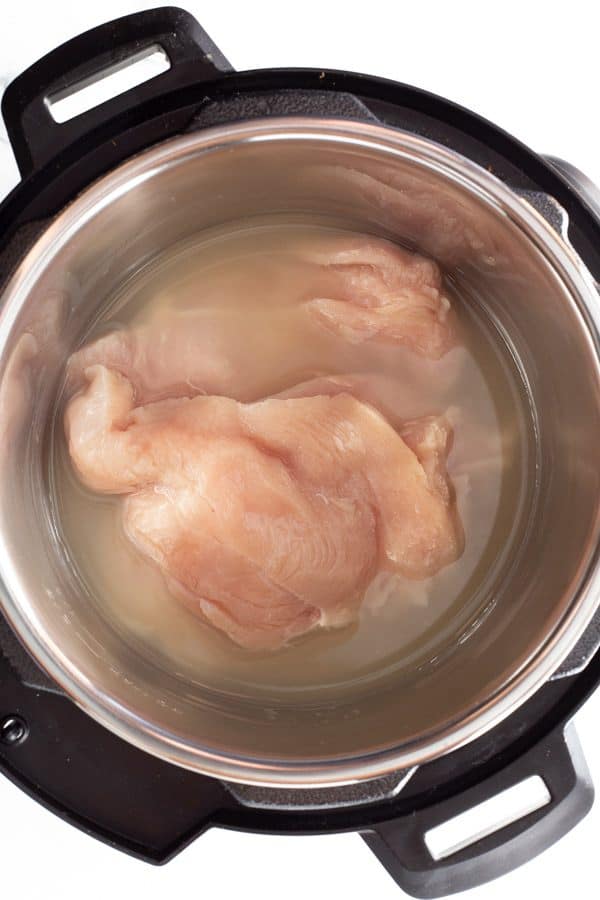 Add chicken to the pot. Use either boneless chicken breasts or thighs (more about the differences below.)
Add chicken broth or water. For flavor, use chicken broth. Don't have any on hand? Use water. It works just fine.
Cook for 15 minutes. Set the cook time for 15 minutes on high pressure. The cook time is the time the pot is under pressure. It takes pressure cookers a few minutes to reach pressure and begin the cook cycle.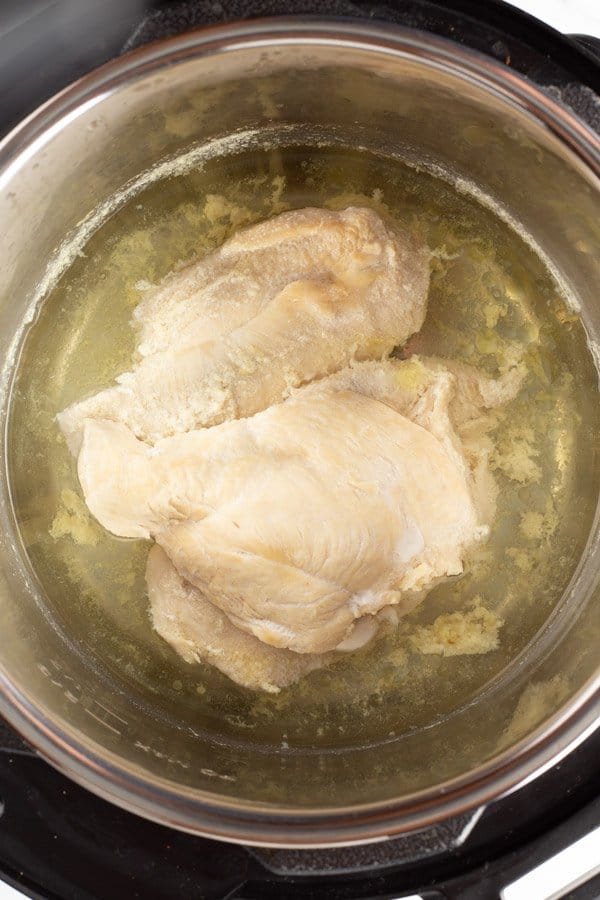 Allow a 10-minute natural release. When the cooking cycle completes, don't do anything. Simply allow the pressure cooker to cool. After 10 minutes, turn the steam valve to release any remaining pressure in the pot.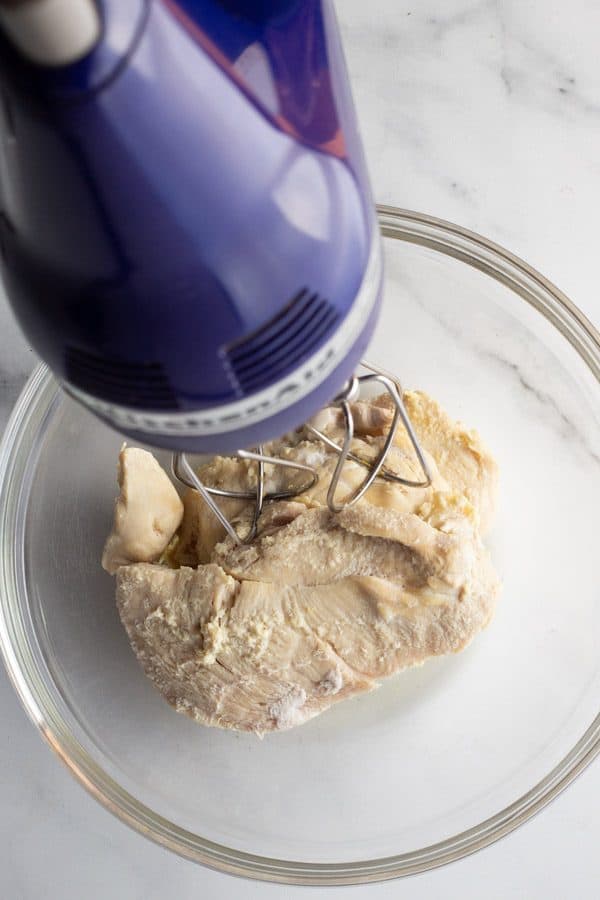 Shred the chicken. Remove the chicken from the pot. Place in a large bowl. Shred with either two forks or an electric mixer.
What's best for shredded chicken? Breast meat or thigh meat?
It doesn't matter! As long as you use boneless, skinless meat, either chicken breasts or thighs work when you're making quick shredded chicken.
The difference comes down to flavor and texture. Breast meat is leaner and comes out a bit less moist than thigh meat. On the other hand, chicken thighs make for very flavorful shredded chicken. Some folks go with the best of both: they use a combination of chicken breasts and thighs. Win-win!
How do you shred chicken?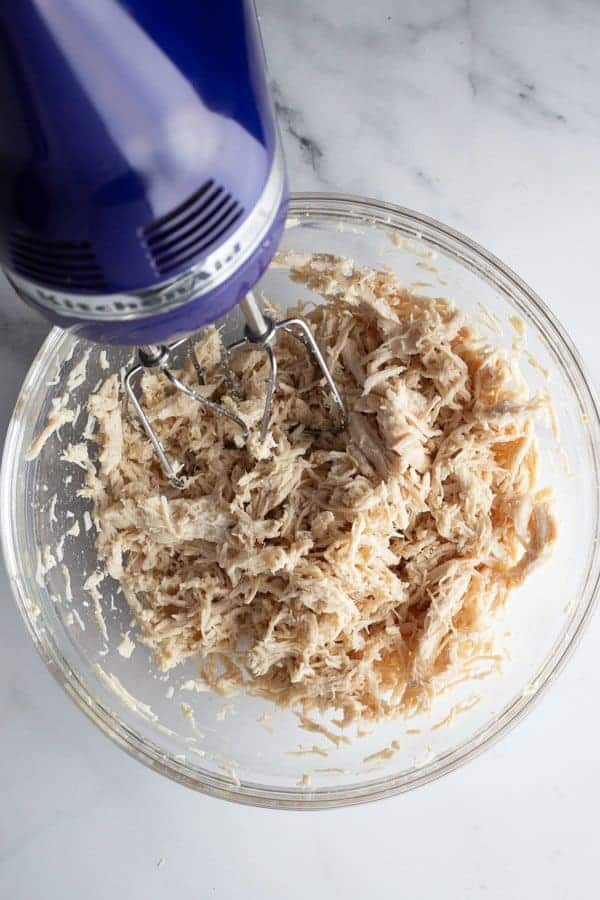 If you own a handheld mixer or stand mixer, it's time to get it out. While you can shred chicken by pulling it apart with two forks, that method takes forever (or least it feels like it takes forever when you're hungry). In sharp contrast is shredding chicken with a stand or handheld mixer. This takes seconds. Seriously. Seconds.
Place the chicken in a large bowl. Turn on the electric mixer and watch as the chicken quickly shreds. When using an electric mixer to shred chicken, take care not to over mix or the chicken can taste mushy.
Why use the Instant Pot for shredded chicken?
Convenience. You add the chicken to the pot, add some liquid, and cook. You don't need to watch the chicken or worry about it overcooking and turning out dry.
Notice I said "convenience" and not "speed." While this method is faster than making shredded chicken in the slow cooker, it's not a super-fast recipe. The recipe requires a 15 minute cooking time (once it reaches pressure) and a 10-minute natural release.
How long does it take to cook shredded chicken in the Instant Pot?
It takes about 30 minutes, from start to finish, to make shredded chicken in the Instant Pot.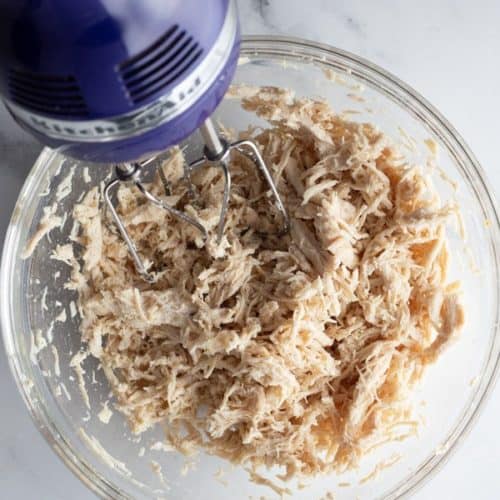 Instant Pot Shredded Chicken
Use the Instant Pot for to make quick shredded chicken.
Ingredients
1

pound

boneless, skinless chicken breasts or thighs

(about 4 breasts or 5 thighs)

Freshly ground black pepper

Salt

1

cup

chicken broth or water
Instructions
Season the Chicken

Season each chicken breast lightly with black pepper and salt.

Cook the Chicken.

Pour the broth or water into the cooking pot of an electric pressure cooker. Add the chicken. Lock the lid into place.

Set the timer for a 15 minute cook time on high pressure.

Natural Release for 10 minutes.

When the cooking cycle completes, allow the pressure to release naturally for 10 minutes. After 10 minutes, carefully turn the steam valve to the venting posting. Release all pressure.

Shred the chicken.

Transfer the chicken to a large mixing bowl. Shred with either two forks or an electric mixer.

Serve as desired. Season to taste if needed.