This simple meat-free chili uses canned beans and chili powder to make a quick and flavorful meal. While the ingredient list looks long, the ingredients are fairly simple. Plan on spending about an hour and half making this recipe. It can be made ahead and then reheated for a quick weeknight meal.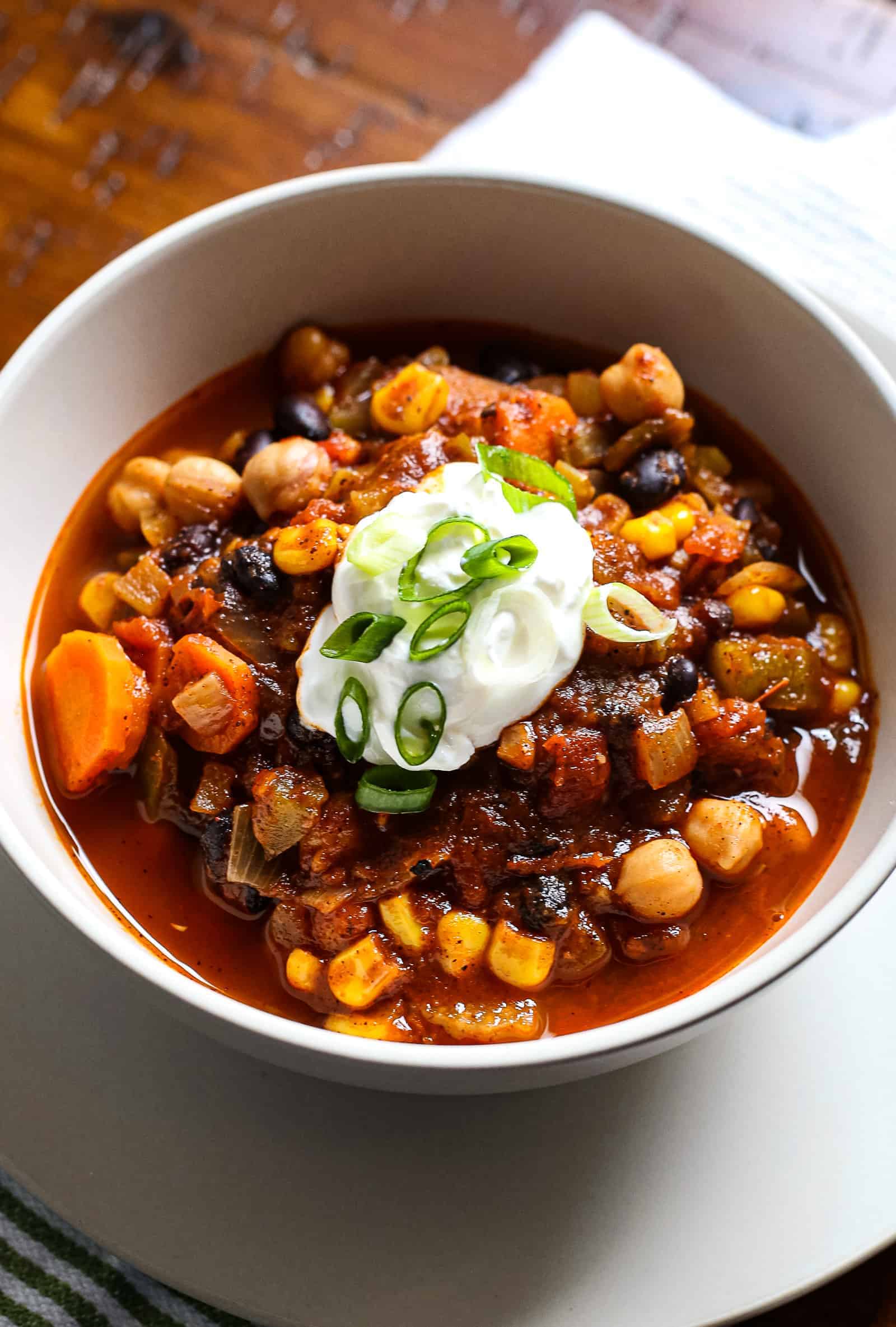 Ingredients.
Vegetables. You need a chopped green pepper, carrots, onion, celery, and garlic for this chili. Either chop them yourself or buy them prechopped.
Beans. Canned black beans and garbanzo beans not only taste great, they help reduce the prep time. Simply open the cans and rinse. No need to soak the beans. If you like kidney beans in your chili, add a can or swap the garbanzo beans for kidney beans.
Crushed Tomatoes. A large can of crushed tomatoes gives the chili a thick, saucy texture.
Canned Green Chilis. Depending on the spice level you prefer, use either mild, medium, or hot chopped canned chilis. Don't use pickled green chilis. The vinegar flavor is a little strong for this recipe. You can always serve the chili topped with pickled jalapenos.
Spices. Think of this chili as flavorful, not "spicy-hot". The main flavor comes from chili powder. Use whatever chili powder you like. The flavor and spice level varies a lot by brand. (I love Penzey's medium chili powder.) A little cumin and salt finish the chili.
Corn. Frozen or canned corn is an optional but "nice to have" addition to the chili. It adds texture and a hint of sweetness.
Water. Why is water listed as a key ingredient? Because it is! Adding three cups of water to the chili allows it to simmer down and thicken. At first, it might look like the chili is too thin. After an hour or so of simmering, it thickens beautifully.
How to Make Easy Vegetarian Chili on the Stove.
Start with a Large Pot and Wooden Spoon
This recipe makes a generous amount of chili. (Which means you might get yummy leftovers!) use a large soup pot, about 8 quarts, or a large Dutch oven to make sure the chili has enough room to cook.
Sauté the Vegetables.
Heat olive oil or a neutral oil until it shimmers but doesn't smoke. Then add all the chopped vegetables and cook until they start to soften. Plan on this step taking about five minutes. 
Add the Spices.
When the vegetables are soft, add the chili powder, cumin, and salt. Adding the spices to the hot vegetables brings out their flavors. 
Add the Remaining Ingredients.
Once the vegetables are cooked and the spices added, the hard work is done. Stir in the rinsed beans, the green chilis, crushed tomatoes, and water. Give the chili a stir. It will look thin. This is normal. Bring the chili to a boil and then reduce the heat to a light simmer. You should see bubbles every minute or so. Cook until the chili is thick. This takes about an hour. Give it a stir ever so often to prevent the bottom from burning. 
How to Make Easy Vegetarian Chili in a Slow Cooker.
Cook the vegetables before adding them to the slow cooker. This adds a nice flavor to the chili.
Add all the ingredients to the slow cooker. Stir. Cook on low for 4-6 hours. Or on high for 3 hours.
Toppings and Serving Suggestions.
Topping chili is half the fun!
Sour cream
Grated cheddar cheese
Chopped red onions
Pickled Jalapenos
Chopped avocado
Chopped cilantro
Chili is great on it's own. If you'd like to serve something on the side, here are some ideas.
Storage and Reheating Instructions.
Place leftovers into a shallow container, no more than three inches deep, with a tight fitting lid. Store in the in the refrigerator for up to 5 days. Reheat in a saucepan on the stovetop over medium-low heat until warmed through. Stir the chili occasionally as it reheats.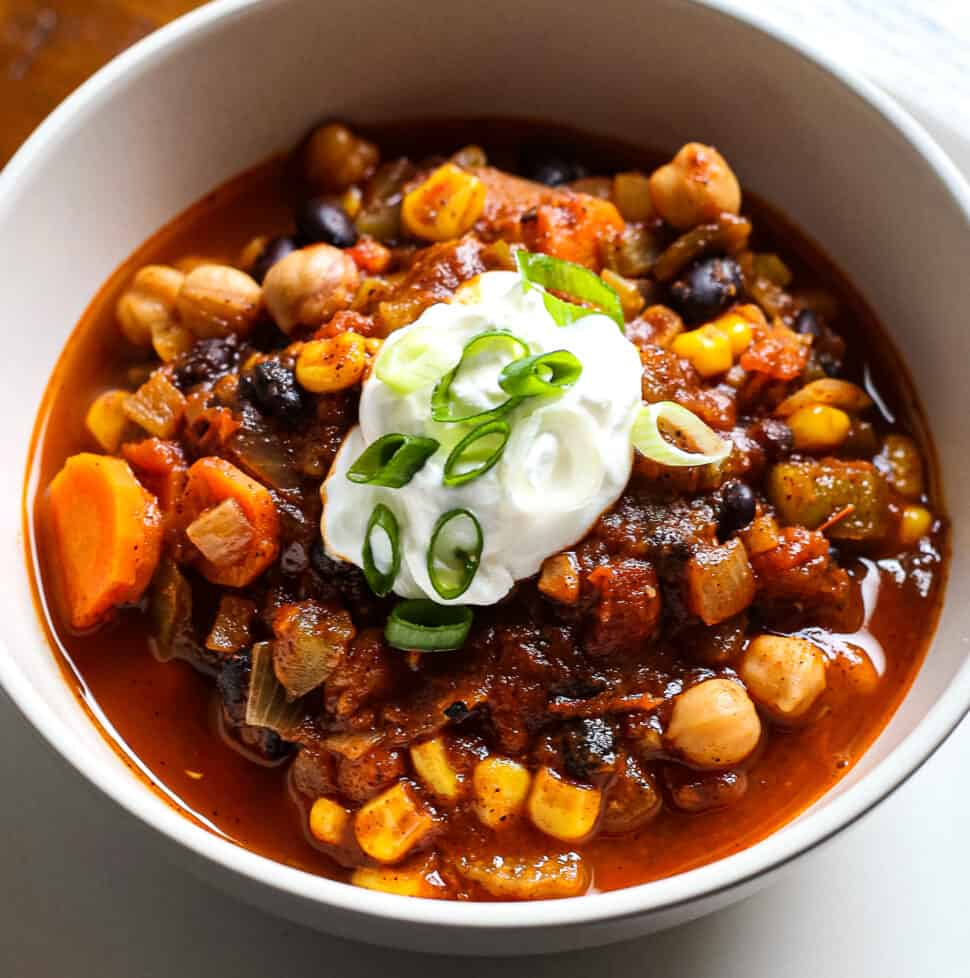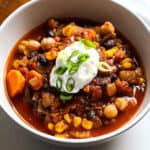 Easy Vegetarian Chili
This thick and filling bean chili uses canned garbanzo and black beans but you can use any beans you love. From prep to finish, the chili takes about an hour and half to cook.
Cook Time
1
hour
10
minutes
Total Time
1
hour
30
minutes
Ingredients
3

tablespoons

olive oil

1

medium

onion, finely diced

3

medium

carrots, peeled and chopped

3

medium

stalks celery, leaves removed and thinly sliced

1

large

green bell pepper, cored and finely diced

3

cloves

garlic, minced or put through a garlic press

3

tablespoons

chili powder

1 ½

teaspoon

ground cumin

1

teaspoon

salt

1

(28 ounce) can

crushed tomatoes

3

cups

water

1

(15 ounce) can

garbanzo beans, rinsed

1

(15 ounce) can

black beans, rinsed

1

cup

frozen corn

1

(4 ounce)

green chiles, undrained
Instructions
Heat 3 tablespoons of olive oil in a large (8-quart) pot or Dutch oven over medium-high heat until it shimmers but doesn't smoke. Add 1 chopped onion, 3 peeled and sliced carrots, 3 stalks of sliced celery, 1 chopped green pepper, and 3 cloves of minced garlic. Cook until vegetables are soft and tender, about five minutes. Add 3 tablespoons chili powder, 1 ½ teaspoons cumin, and 1 teaspoon of table salt. Stir to combine. Cook an additional minute.

Add 1 (28-ounce) can crushed tomatoes, 3 cups of water, 1 (15-ounce) can of rinsed garbanzo and 1 (15 ounce) can rinsed black beans. Stir in 1 cup of frozen corn, and a 4 ounce can of green chilis.

Cook chili over medium heat until thick, about one hour. Stir chili occasionally.

Serve with toppings. Place leftover chili in a shallow container with a lid. Refrigerate for up to five days. Reheat leftovers until warm in a medium pot.
Recipe Notes
Topping Suggestions
Sour cream
Shredded cheese
Chopped red onions
Chopped avocado
Pickled Jalapeños
Serving Suggestions
Cornbread
Baked potato
Garlic bread