Roasted garlic bread starts with three heads of delicious roasted garlic. It's garlicky, buttery, and worth the time it takes to make. (Don't have time to roast garlic? Make this quick 5-minute garlic bread.)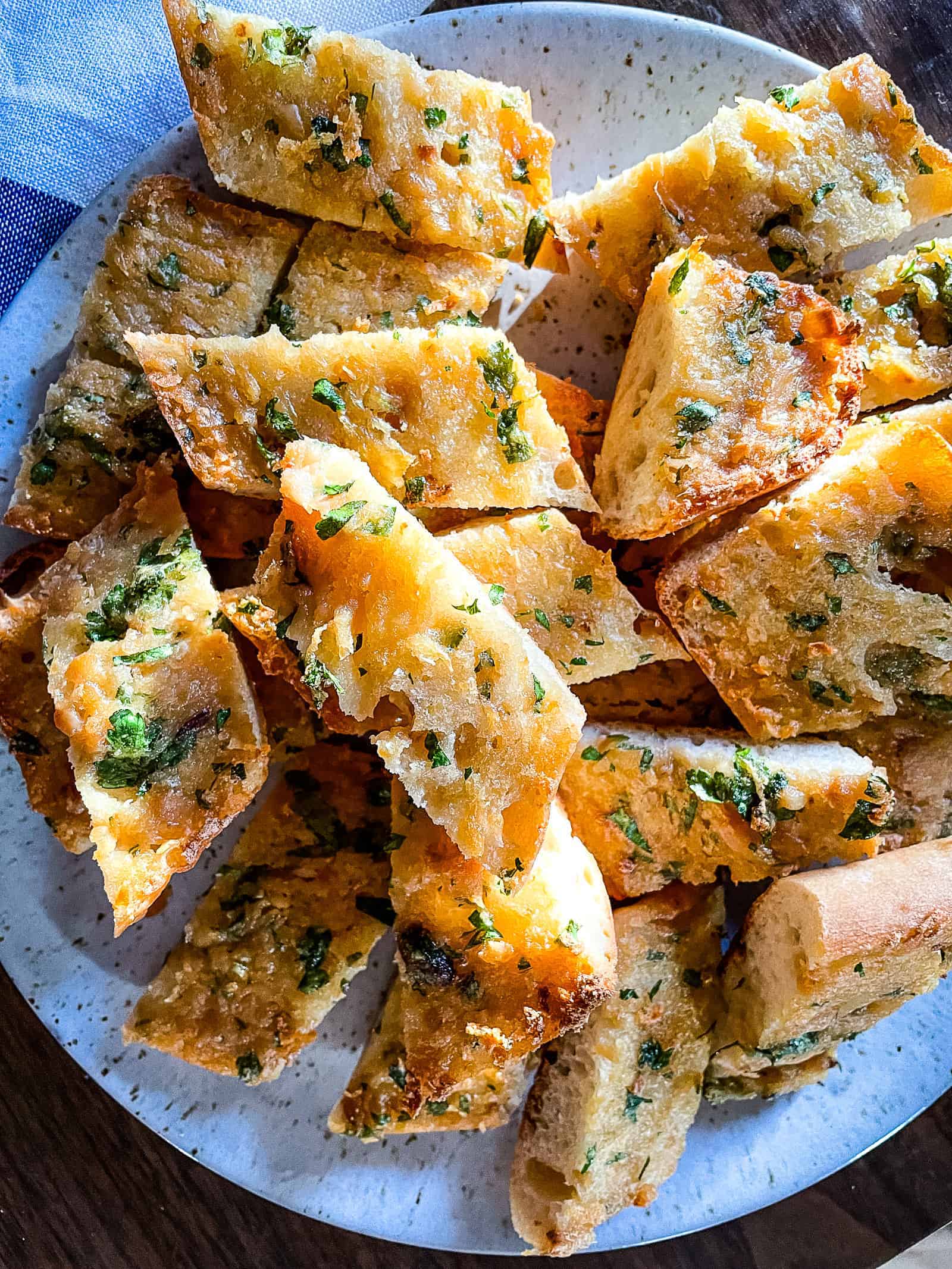 Roasted Garlic Bread: Ingredients.
The Essentials.
You only need four ingredients for roasted garlic bread: roasted garlic, parsley, butter, and bread. Everything else is optional.
Roasted Garlic.
Roasted garlic is the star of this recipe. It's soft, creamy, and less pungent than raw or sautéed garlic. Roasting garlic takes about thirty minutes. You can roast garlic the day before you plan on making this bread. Simply roast it and store it in the refrigerator. 

Directions for roasting garlic in the oven are included below. You can also roast garlic in the air fryer.
Parsley.
Fresh or dried parsley Chopped parsley adds a bright, almost peppery, flavor to the garlic bread. Stir some into the topping and then, after toasting, top with additional parsley.
Butter.
Garlic bread should be two things: garlicky and buttery. For this recipe, use softened butter. It makes it easy to mix the roasted garlic and other ingredients into the butter. I prefer salted butter for garlic bread. If you use unsalted butter, add a small pinch of salt to the topping mix.
Bread.
Almost any style of bread works as the base for garlic bread. Here are a few that I love. (And one that I don't.)
French Bread or Baguette. If you love crispy, crunchy garlic bread, use a loaf of French bread or a baguette.
Baguettes are thin with a crisp crust and chewy interior. A classically shaped baguette tapers to almost a point. They make very crunchy garlic bread.
French bread is wider than a baguette, usually about three inches across, with a firm crust and soft interior. Garlic bread made with French bread is crunchy with a lovely soft crumb. It's my favorite bread to use for garlic bread.
How to Cut: Carefully cut a baguette or French bread into two or three pieces with a serrated knife. Then cut the pieces in half lengthwise.
Sourdough Boule. A large round loaf with a thick crust and chewy, tangy crumb. Sourdough's unique tangy flavor tastes great with the roasted garlic topping.
How to Cut: Cut the boule into thick (1/2 inch) slices with a serrated knife.
Italian Bread. The term "Italian bread" is used to describe a wide variety of bread. It usually means a simple white loaf of bread with a crunchy crust and soft interior. Wider than French bread, Italian bread is a great choice if you prefer your garlic bread soft and tender.
How to Cut: For loaves about 10-inches long: cut into two pieces with a serrated knife and then cut the pieces lengthwise. If the loaf is longer than 10 inches, cut into three pieces.
Sub Rolls. A nice option for garlic bread is sub rolls. They come pre-cut and two 6-inch sub rolls are about the size of a loaf of French bread. Garlic bread made with sub rolls is soft with a little crunch thanks to toasting the bread.
Optional Ingredients.
Parmesan Cheese. Cheese and garlic bread go hand-in-hand. Parmesan cheese adds a salty-nutty flavor that, depending on the cheese, can slightly compete with the delicate flavor of roasted garlic.
Red Pepper Flakes. For a little spice, add a sprinkle of red pepper flakes. This ingredient, also known as crushed red pepper, is popular in the United States. Each spice company uses a different blend of peppers to make red pepper flakes but they're all mildly spicy.
How to Make Roasted Garlic Bread.
Roast the Garlic. It's easy to roast garlic but it isn't quick. Depending on the garlic, this takes about 45 minutes to an hour. (To save time, you can roast the garlic the day before you plan on making this bread.)

For this recipe, you'll need three medium heads of garlic. Cut about 1/4-inch off the tops of garlic. Drizzle with olive oil and sprinkle lightly with salt. Wrap the garlic tightly in foil. This is key. If the garlic isn't wrapped well, it dries out during roasting. (You can also place the heads of garlic into a cupcake pan and over the pan with either aluminum foil or top with another pan.)

Cook the garlic until it's soft and tender and golden brown.

Make the Garlic Butter. After toasting, remove the garlic from the foil or pan. Wait until the garlic is cool to the touch so you don't burn yourself. This takes about 20 minutes.

Remove the garlic from the papery skin by either squeezing it out or using a fork to remove the garlic cloves from the peel.

Mash the garlic cloves until it's almost smooth. Combine the garlic with butter and chopped parsley. . The warmth from the garlic softens the butter. If you roast the garlic the day before making the bread, use softened butter.

Top the Bread and Bake. Split a loaf of French or Italian bread or use thick slices of sourdough bread. Spread the garlic butter generously over the bread. (If your loaf is smaller than 16 ounces, you might have leftover garlic butter.) Place the bread on a baking sheet and bake until golden brown and crispy.

Slice and serve. Remove the bread from the oven. Let it cool for a few minutes and then cut into slices.
Serving Suggestions.
How to Store Roasted Garlic Bread.
Roasted garlic bread tastes best right after it's made. Reheating it can cause the bread to turn dry.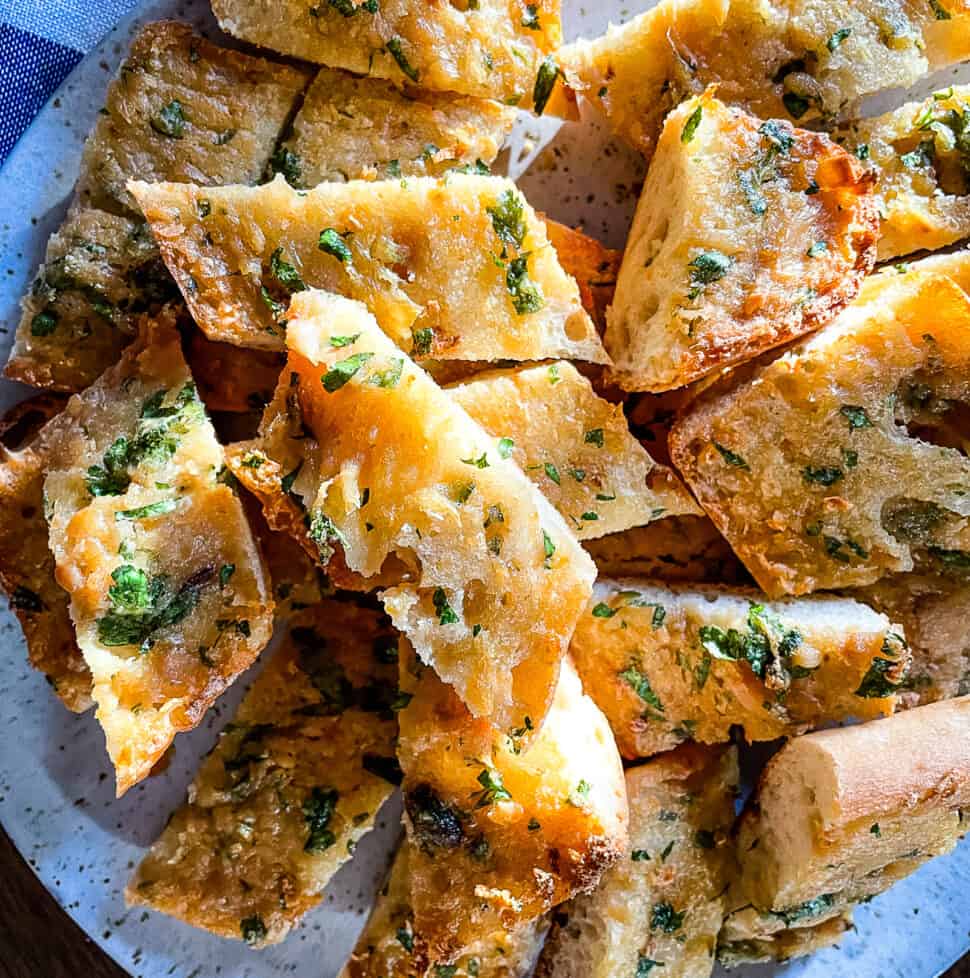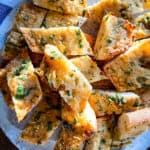 Roasted Garlic Bread
This garlic bread starts with three heads of roasted garlic. It's garlicky, buttery, and so good.
Total Time
1
hour
5
minutes
Ingredients
3

heads

garlic

1

tablespoon

olive oil

2

tablespoons

freshly chopped parsley

1

stick

softened butter

¼

cup

grated parmesan, optional

Pinch

red pepper flakes, optional
Instructions
Prepare the Roast Garlic. Heat oven to 375° F.

Cut about ½- inch from the top of 3 garlic heads, exposing the individual cloves. Place the garlic heads on a piece of aluminum foil. Drizzle each head with about 1 teaspoon olive oil. Seal the foil around the garlic making a packet.

Place the foil packet on a baking sheet. Roast until the garlic is soft, about 45 minutes. Remove garlic from the oven and set it aside to cool slightly.

Make the Garlic Bread. Increase oven temperature to 400°F

Let the garlic cool until it's comfortable to the touch. Remove the garlic cloves from the skin by either squeezing the garlic or removing it with a small fork. Place the garlic into a small bowl and mash with a fork until almost smooth.

In a separate bowl, stir one stick (half cup) butter until smooth and spreadable. Add the mashed garlic and stir until smooth. If using, add ½ cup parmesan, 2 tablespoons chopped fresh parsley, and/or a pinch of red pepper flakes. Stir to combine.

Cut the loaf into two or three pieces using a serrated knife. Then slice each piece in half horizontally. Spread the roasted garlic butter evenly onto the bread.

Place bread onto a baking sheet. Bake for about 8 minutes for soft garlic bread or about 12 minutes for crunchier bread.

Remove bread from the oven and place on a cutting board. Let cool for a minute. Sprinkle additional chopped parsley onto the bread, optional. Slice into 1-inch pieces. Serve right away.