These cookies taste like a cross between banana bread and a cookie. They're soft and cakey with a hint of cinnamon flavor.
If you love banana recipes, these cookies are for you! And so is this brown sugar banana bread, banana pudding pie, and small batch banana muffins. (Can you tell we love bananas around here? We even make a one-bowl banana cake that everyone raves about.)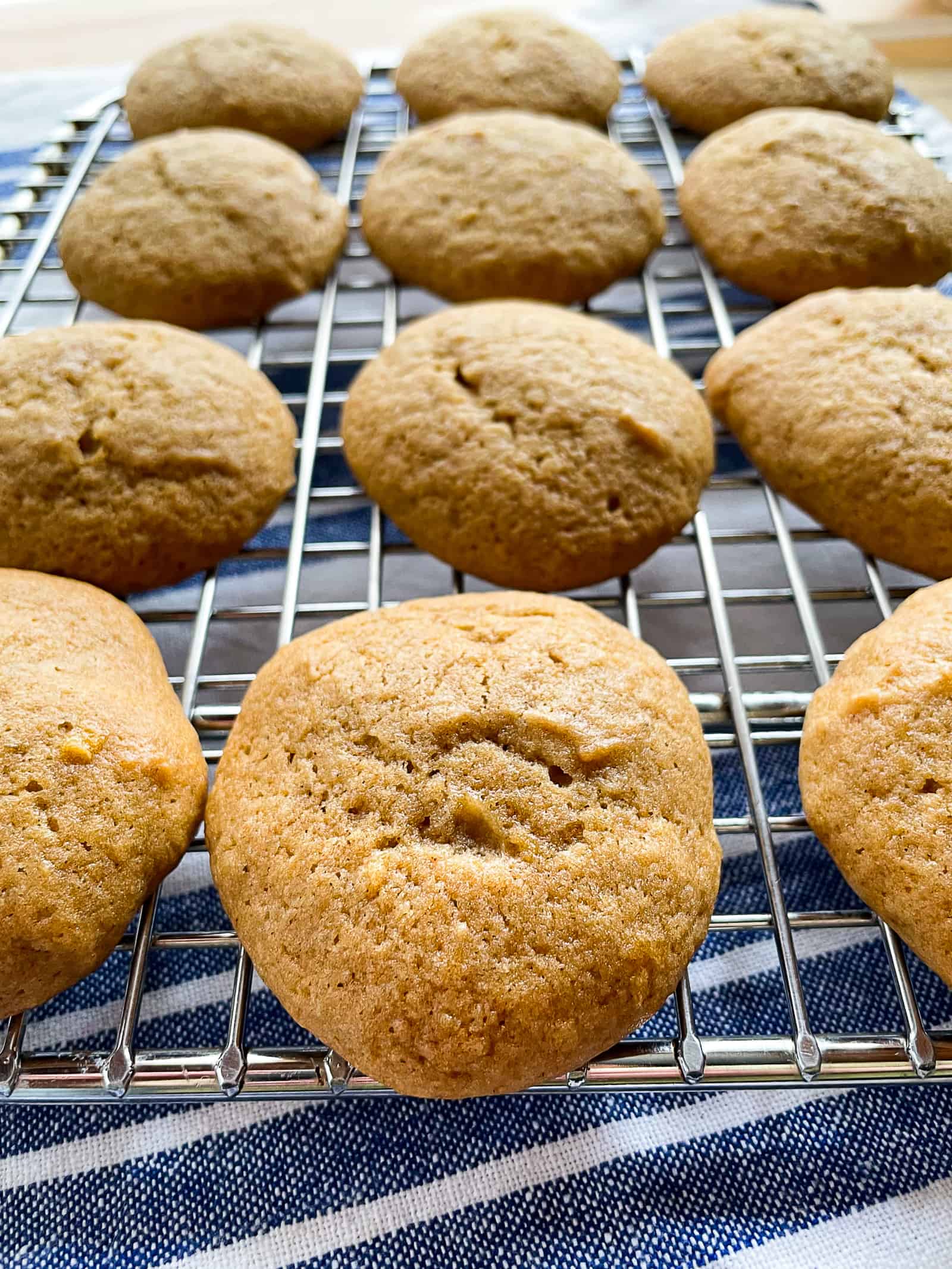 Reasons to Love These Banana Cookies!
If you're a little bit bored with making banana bread, may I introduce you to banana cookies? The texture is dreamy. We're talking some seriously soft and cakey cookies. And, like banana bread, these cookies are great way to use up overripe bananas.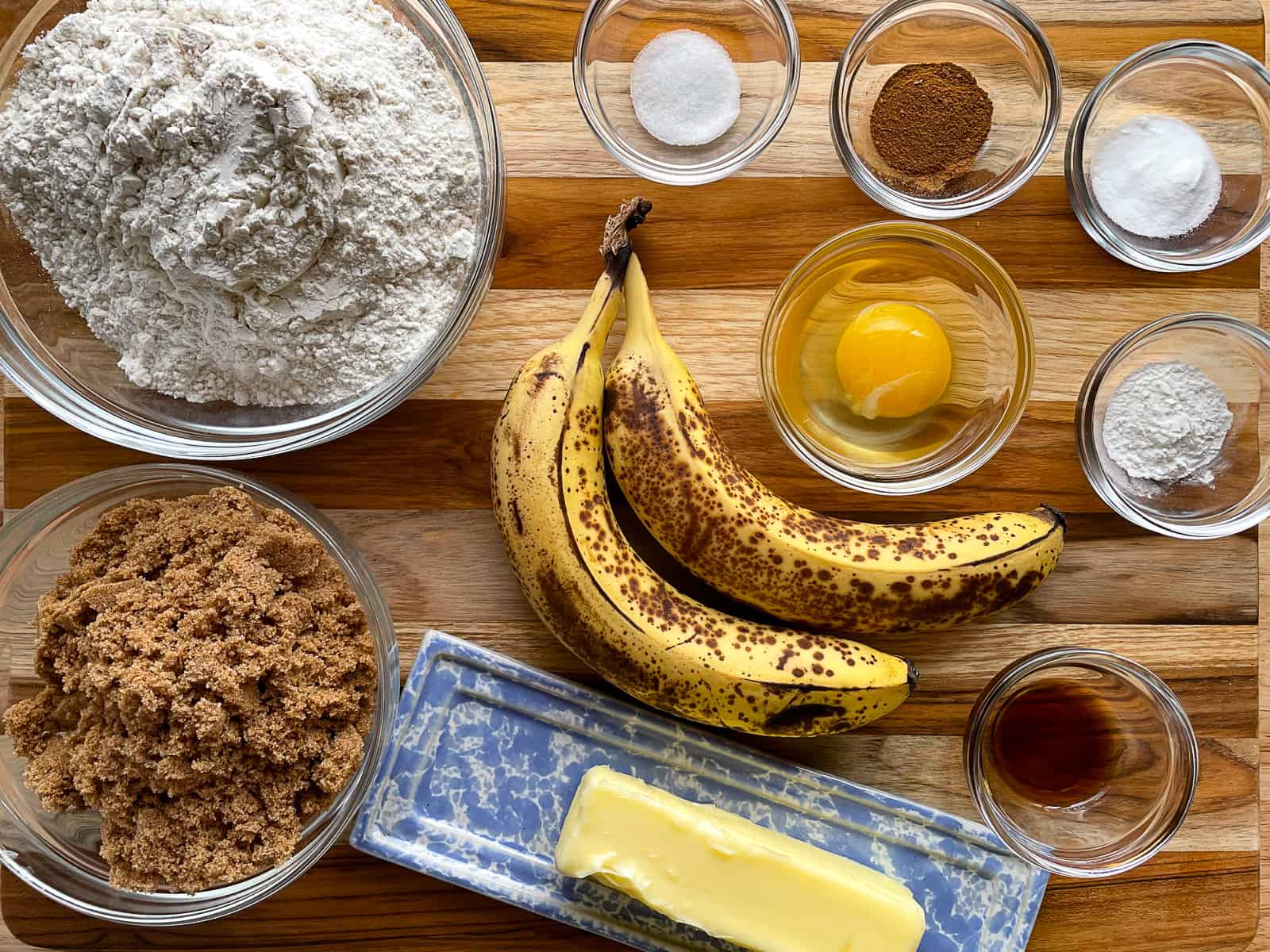 Ingredients and Substitutions.
Ripe Banana. It's important to use very ripe bananas for the best flavor.
All-Purpose Flour. The soft and cakey texture of these cookies comes from the all-purpose flour.
Substitute: Whole wheat flour. Use all whole wheat or a mixture of regular flour and whole wheat.
Baking Powder and Baking Soda. Helps the cookies rise.
Cinnamon. A little cinnamon adds a lovely flavor. Feel free to omit it or use pumpkin-spice for an additional spicy flavor.
Salt. The half teaspoon of salt enhances the flavor. Use table (fine) salt, not Kosher/flaky-style salt.
Butter. The richness of the cookies comes from butter. You want the butter softened so it mixes easily with the sugar.
Substitute: dairy-free butter or shortening.
Dark Brown Sugar. I love the flavor and texture dark brown sugar gives these cookies. If you don't have it in the house, use granulated sugar.
Substitute: an equal amount of light brown sugar or granulated sugar.
Egg. Use a large egg. Vanilla Extract. Adds flavor. If you'd like an almond flavor, replace the vanilla extract with almond extract.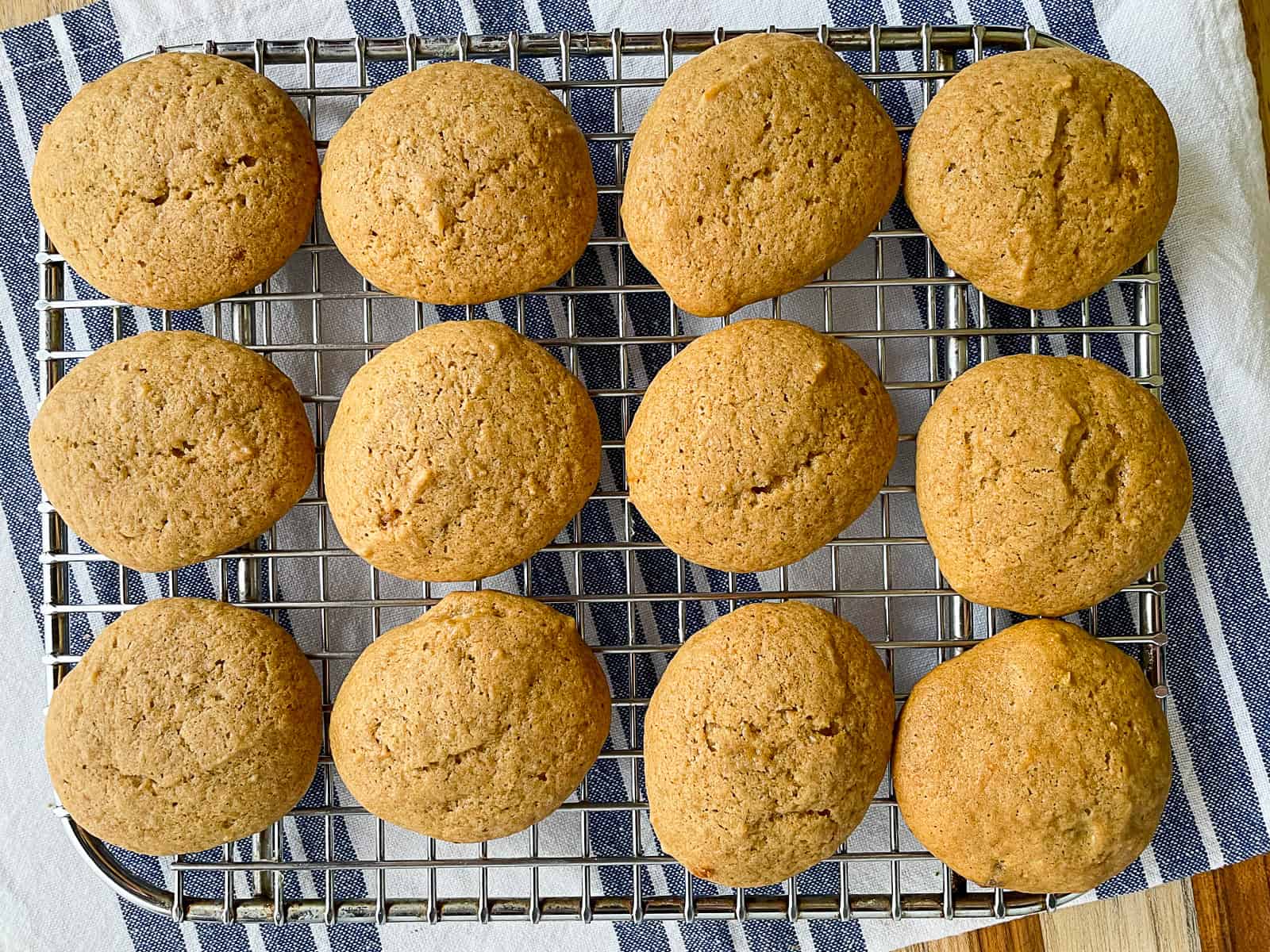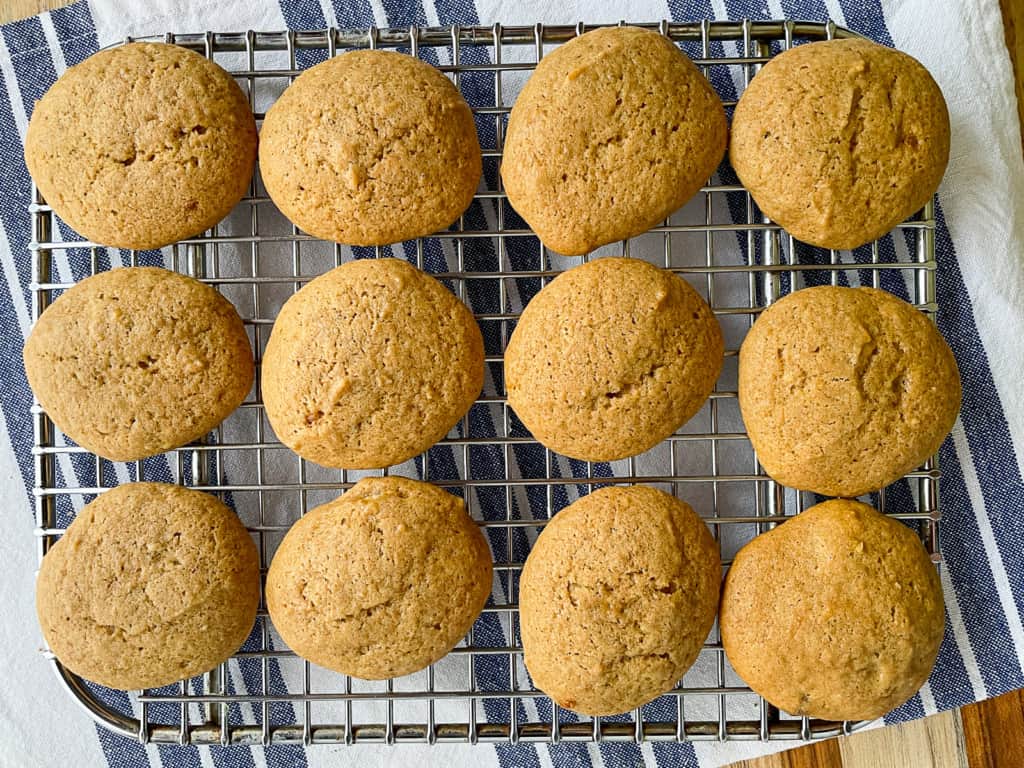 Tips for Making the Best Soft Banana Cookies.
Start with very ripe bananas. Use bananas that are spotty or very brown. The darker the banana the better. As bananas ripen, the starches in the banana are converted to sugar and the banana flavor intensifies.
Worried your banana is too ripe? It's OK to use black bananas. Even if they are almost liquid inside. You want to avoid bananas that are moldy. Those you need to toss.

Mash the bananas with your mixer. If you're using an electric mixer to make the cookie dough, use it to mash the bananas. It only takes seconds! Peel the bananas and mash them on low speed until they're almost smooth.
Not using an electric mixer? Mash the bananas with a fork or potato masher.

Whisk the dry ingredients. Take a second to whisk the flour with the other dry ingredients. While you might want to skip this step, I don't recommend doing so. Whisking everything together mixes the baking powder, baking soda, salt, and cinnamon even throughout the flour. This means there are no clumps of cinnamon or baking powder in the dough.

Use a cookie scoop. A cookie scoop is one of my favorite kitchen tools. It makes it so easy to drop cookie dough onto the baking sheet. If you don't have a cookie scoop, use about two tablespoons of dough per cookie.

Don't crowd the cookies. These cookies spread as they bake. Drop the cookie dough about two inches apart on the pan.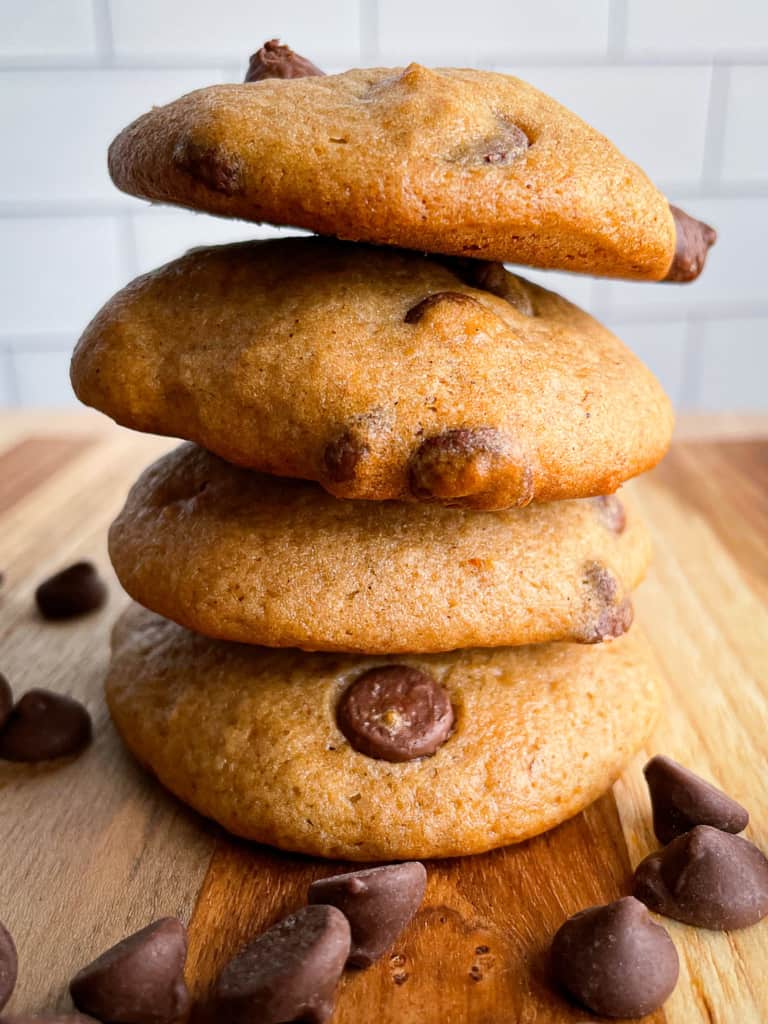 Tasty Add-Ins for Banana Cookies
Add chocolate chips, nuts, or raisins. Think of this recipe as a starting point. Make it your own by adding chocolate chips or chopped nuts.
How to Store and Freeze These Cookies.
Store the baked, cooled cookies in an airtight container. They last three to four days at room temperature.
If you want to freeze them, place the cooled cookies in an airtight container or a freezer bag. Frozen banana cookies last about two months in the freezer.
Don't freeze the cookie dough. It's similar to cake batter and does not freeze well.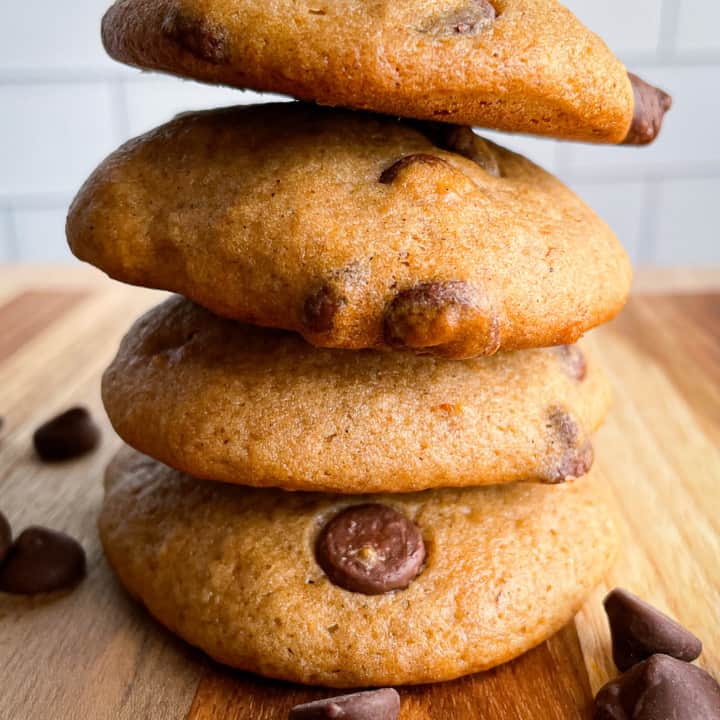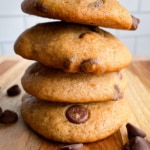 Soft Banana Cookies
These banana cookies are soft and cakey. For the best flavor, use very ripe bananas. If you'd like, stir in chocolate chips or chopped nuts.
Ingredients
1

cup

mashed bananas, about two large bananas

(9 ounces/255 grams of banana puree)

2 ½

cups

all-purpose flour

(10⅛ ounces; 287 grams)

1

teaspoon

baking powder

1

teaspoon

baking soda

1

teaspoon

ground cinnamon

½

teaspoon

salt

1 ¼

cup

dark brown sugar

(9 ounces; 255 grams)

½

cup

butter, softened

(4 ounces; 1133 grams)

1

large

egg

(2 ounces; 56 grams)

1

teaspoon

vanilla extract

1

cup

chocolate chips, optional

(6 ounces; 170 grams)

1

cup

pecans or walnuts, chopped

(4 ounces; 113 grams)
Instructions
Preheat oven to 350℉. Line baking sheets with parchment paper.

Mash banana in a small bowl. Set aside.

In a medium bowl, whisk together flour, baking powder, baking soda, cinnamon, and salt. Set aside.

In a large bowl, mix brown sugar and butter together until blended. Mixture will be thick. Add egg and vanilla extract. Beat until fluffy. Stop mixer and scrape down bottom and sides of the bowl with a rubber spatula.

Add flour mixture and mashed bananas. Mix until blended. If using, add chocolate chips or nuts, if using.

Drop about two tablespoons of dough onto prepared baking sheets. Cookies will spread. Space about two inches apart.

Bake until edges are golden brown, about 15 minutes. Cool cookies on pan for 5 minutes, then transfer to a wire rack to cool completely.

Store cookies in an airtight container for up to four days or freeze for up to two months. To freeze the cookies, place into a freezer container. If you need to stack the cookies, place a piece of parchment or wax paper between each layer.
Recipe Notes
Mixing bowls: You'll need three mixing bowls to make these cookies. A small one for mashing the bananas. A medium bowl for whisking the flour with the other dry ingredients. And a large bowl for making the batter. 
Cookie Scoop: For evenly sized cookies, use a cookie scoop.