Spiced cranberry sauce is really easy to make. Perfect for Thanksgiving.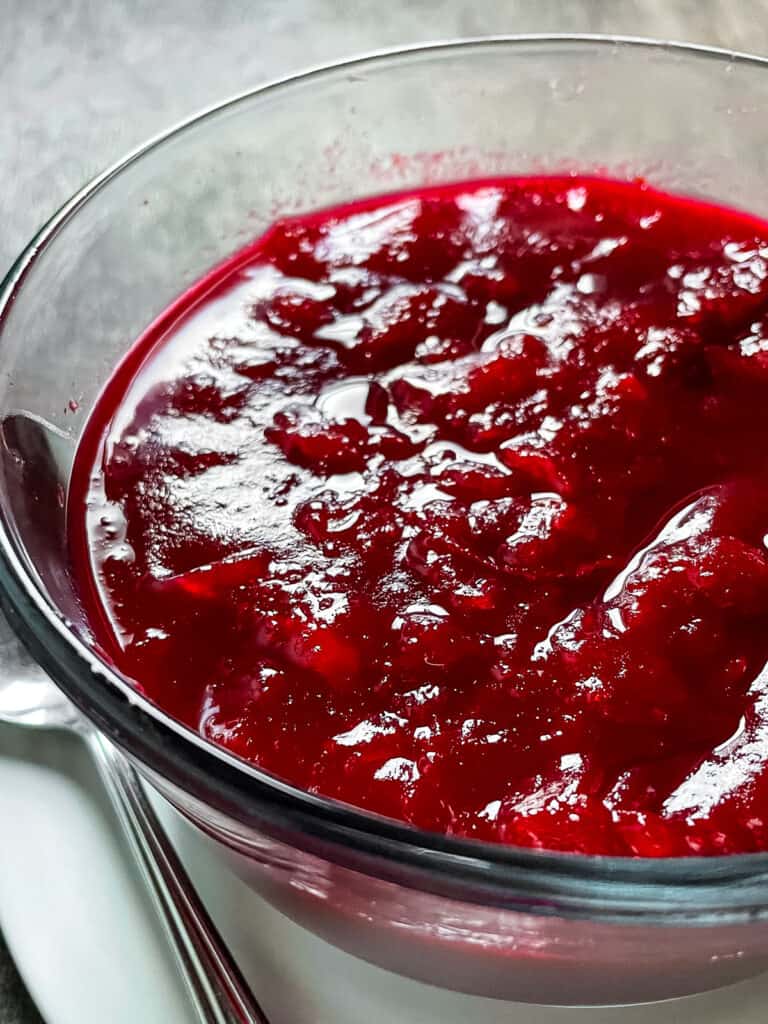 Spiced Cranberry Sauce Ingredients
Fresh or frozen cranberries. Fresh or frozen cranberries both work in this recipe. If your cranberries are frozen, simply use as directed. Cooking time increases slightly when making cranberry sauce from frozen cranberries but not by much.
Granulated sugar. Fresh cranberries are very tart. For sweetness, add granulated sugar to the cranberries. As written, this recipe makes a sweet-tart sauce. If you prefer a sweet cranberry sauce, increase granulated sugar from 3/4 cup to one cup. The water helps the cranberries to cook into a thick sauce.
Pie spice. The spice for this easy spiced cranberry sauce comes from pumpkin pie spice. It's a blend of cinnamon, ginger, nutmeg, allspice, and cloves and adds a lovely flavor to cranberry sauce without overpowering it. If you don't have pumpkin pie spice, replace it with a blend of cinnamon and ginger—or all cinnamon.
Orange juice and zest (optional). The zest and juice of a fresh orange adds a lovely flavor to this spiced cranberry sauce.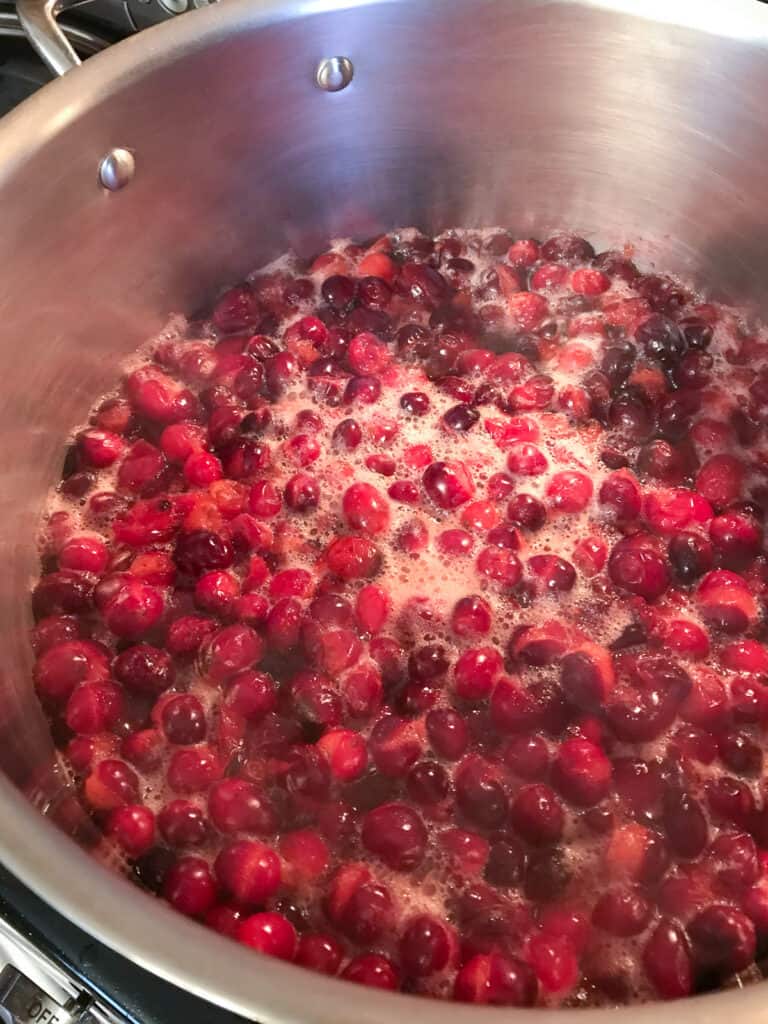 How to Make Homemade Cranberry Sauce
Combine all ingredients. Grab a medium pot and combine all the ingredients. As cranberries cook, they pop. It's a good idea to use a larger pot than you think you need to prevent a mess.
Stir frequently. As the cranberry sauce comes to a boil, stir it frequently to prevent it from sticking to the pot and burning.
Mash the cranberries. After the cranberries are soft, mash them with either the back of a spoon or a potato masher. If you like a really smooth sauce, use an imersion blender.
Cook until thick. Cook the cranberry sauce until thick. This usually takes about 12 to 15 minutes total.
Serve. Cranberry sauce is usually enjoyed cold. Remove the sauce from the stove and allow to cool. Then transfer to a covered container and chill until ready to serve. Cranberry sauce can also be served warm.
Other Holiday Recipes To Try
Creamy Lemon Pie. An easy three ingredient pie.
Easy Chocolate "Mousse" Pie. Instant pudding and heavy cream make it easy to make a fluffy chocolate pie.
Cranberry Cream Cheese Spread. A savory cranberry sauce tops a block of cream cheese for an easy appetizer.
Cranberry Puff Pastry Pies. So good and so easy. Fill puff pastry with a little leftover cranberry sauce and some cream cheese for an easy (and delicious) dessert!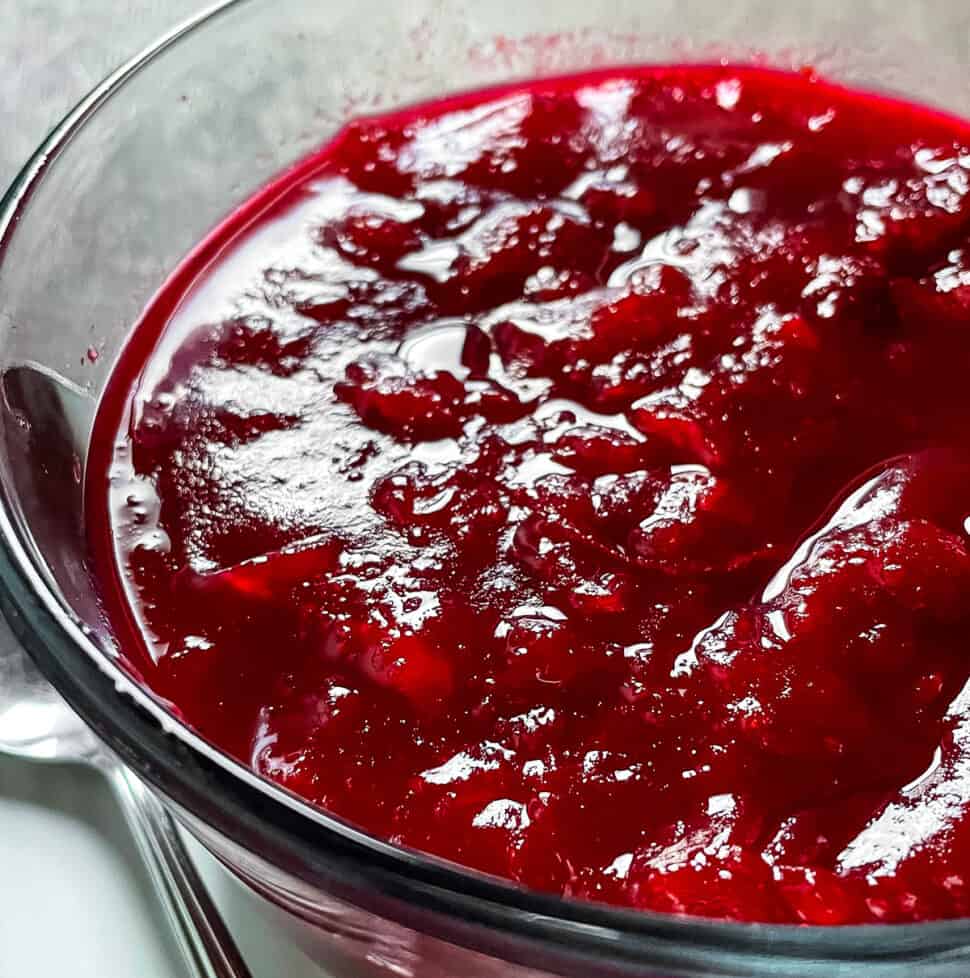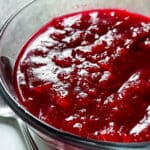 Easy Spiced Cranberry Sauce
It's easy to make homemade cranberry sauce. Cook together fresh cranberries with water, sugar, and some spices. If you've got a fresh orange, it's a lovely addition to this sauce.
Ingredients
1

bag (12 ounces)

fresh cranberries

1

cup

water

¾

cup

granulated sugar (see note)

1

teaspoon

pumpkin pie spice (see note)

1

medium

orange, zest and juice, optional
Instructions
Wash cranberries. In a medium pot, combine cranberries, water, granulated sugar, and pumpkin pie spice. If using an orange, add the zest and juice. Stir to combine.

Bring to a boil over medium-high heat. Stir frequently. When cranberries are soft, mash with either a wooden spoon or a potato masher. Do this right in the pot. Stir to combine. Cook until thick, about 12 minutes total.

Remove from heat. Serve sauce warm or allow to cool and then store in a covered container in the refrigerator.
Recipe Notes
Sugar. As written, this recipe makes a sweet and tart sauce. For a sweeter cranberry sauce, increase sugar to one cup.
Pie Spice. Replace pie spice with 1/2 teaspoon ground cinnamon and 1/2 teaspoon ground ginger.
Orange Juice. The fresh orange can be replaced with 1/2 cup orange juice.