This garlic mayonnaise is made in 5 minutes with only 3 ingredients. It's the perfect topping for sandwiches, fries, salads, and more!

Want to add a little pizzazz to sandwiches or burgers? Make a batch of garlic mayonnaise. This recipe takes less than five minutes to make and you're rewarded with a flavorful garlic mayo that tastes almost like a homemade aioli. If you like my garlic bread dip, you're going to love this mayonnaise.
Garlic Mayonnaise Ingredients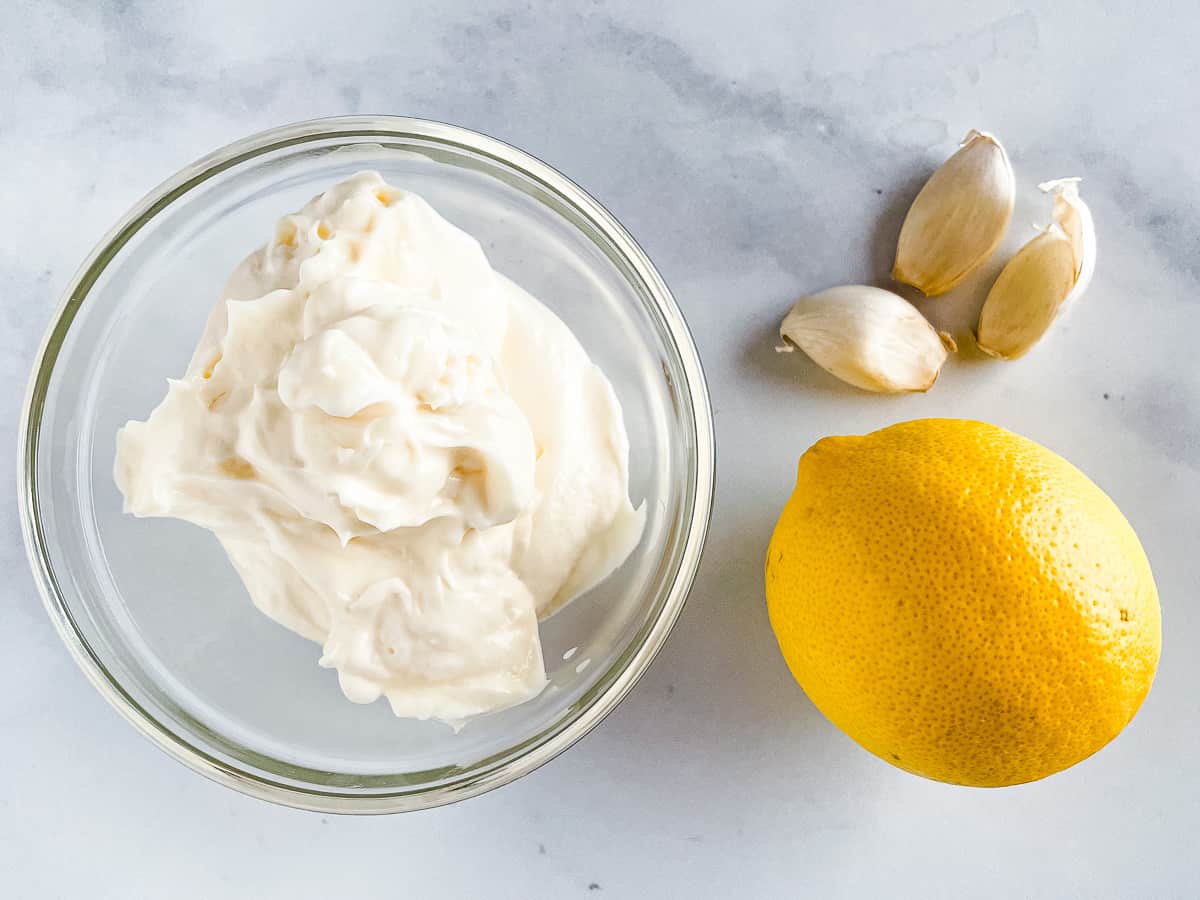 You only need three ingredients to make a quick garlic mayonnaise. Because the ingredient list is so short, all of the ingredients are important.
Mayonnaise
This recipe starts with store-bought mayonnaise. Brands vary from bland and oily to wonderfully rich and creamy. Here are three that I love:
Hellman's. (Known as Best Foods on the West Coast) This mayo is a classic for a reason. It's thick, rich, and has a pleasant egg-custard flavor. There's enough salt and acid to balance out the richness.
Duke's. If you live in the South, there's a good chance Duke's mayonnaise is your mayo of choice. It's tangy with a hint of sweetness. The texture is always silky smooth, making it a perfect base for garlic mayo.
Kraft Real Mayo. This mayo always feels like a hidden gem. Like Hellman's and Duke's, it's rich and smooth. But it also contains garlic and onion, making it a flavorful choice.
What to Avoid: Miracle Whip. During testing, we found Miracle Whip too sweet for the classic taste of garlic mayonnaise.
Garlic
The star of this recipe is garlic. And lots of it! Mince fresh garlic very fine or put it through a garlic press. Fresh garlic is preferred but if you use minced garlic from a jar, it works in this recipe.
Lemon Juice
Freshly squeezed lemon juice balances the richness of the mayonnaise and the garlic. Start with about a tablespoon of lemon juice and add more to taste. If you love lemon, adding the zest of one lemon is a great way to enhance the lemon flavor.
Black Pepper
In this recipe, pepper is optional. Since the garlic and lemon juice are so flavor-forward, pepper takes a backseat but does add a subtle peppery-citrus flavor. I usually add pepper when I'm using the mayonnaise as a sandwich spread and skip it when I'm using it as a dip.
How to Make Garlic Mayonaise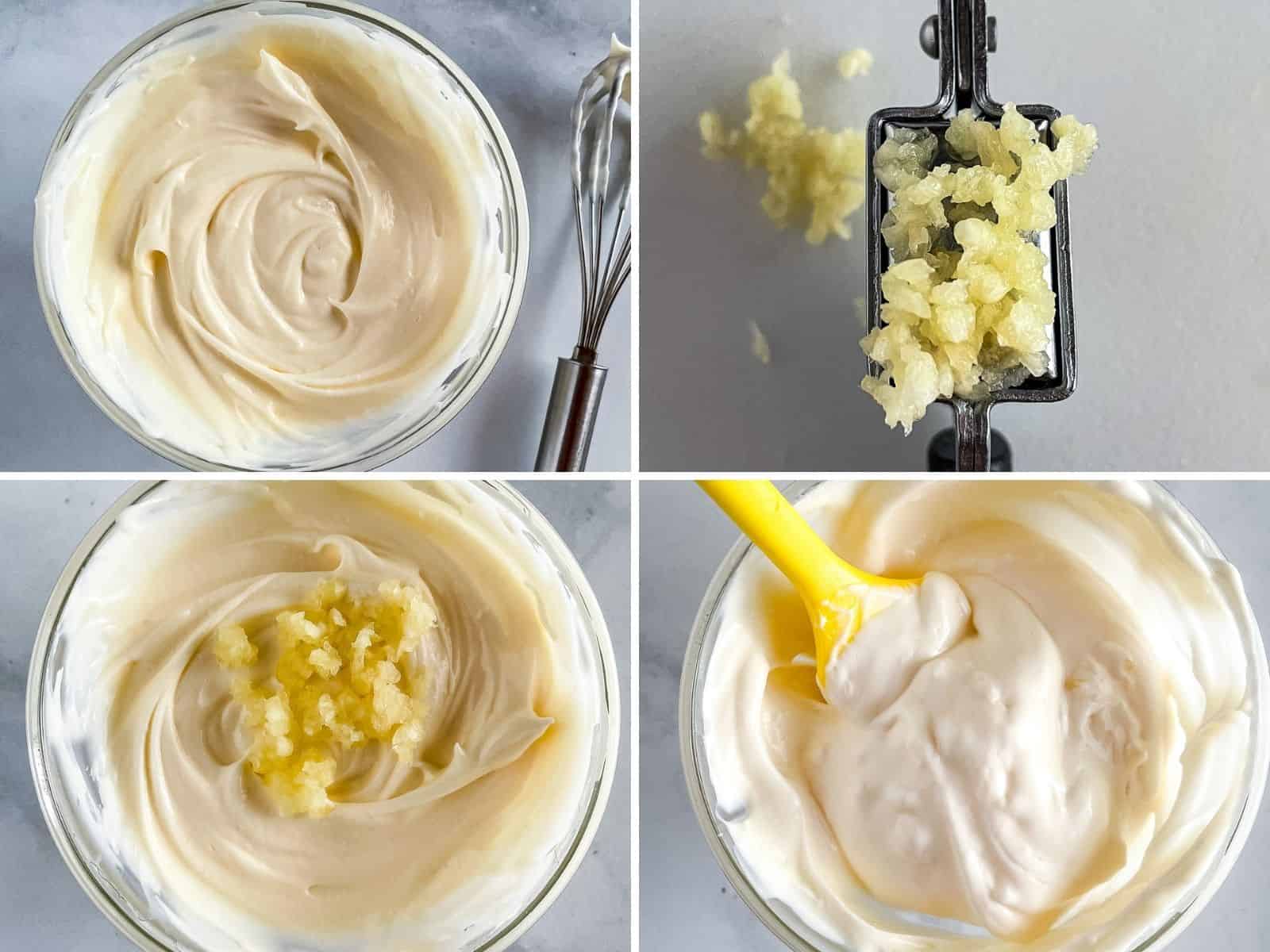 Garlic mayonnaise is very easy to make. Let's walk through the process.
Step One: Stir the mayonnaise. Before adding any ingredients, stir the mayonnaise until it looks smooth and creamy. Straight from the jar, mayo can be airy and a little lumpy. A quick stir or two takes care of this.
Step Two: Add the Garlic. Stir in the minced garlic. Since minced garlic loves to clump, take a minute to slowly stir it in. This spreads the garlic evenly through the mayo.
Minced garlic adds a little texture to the mayonnaise. When used as a dip or spread, the texture isn't really noticeable. However, if you like silky smooth mayonnaise, process it in a blender or with an emersion blender.
Step Three: Stir in Fresh Lemon Juice. The amount of lemon juice you'll need depends on two things: the brand of mayonnaise and the texture you want. You're looking for a bright flavor and a smooth creamy texture.
Step Four: Chill for 30 Minutes. The flavor of garlic and lemon intensifies the longer the mayonnaise sits. So it's a good idea to mix it, pop it in the fridge, and then taste it. Add more garlic or lemon juice if needed. This is when I add salt or pepper.
Serving Suggestions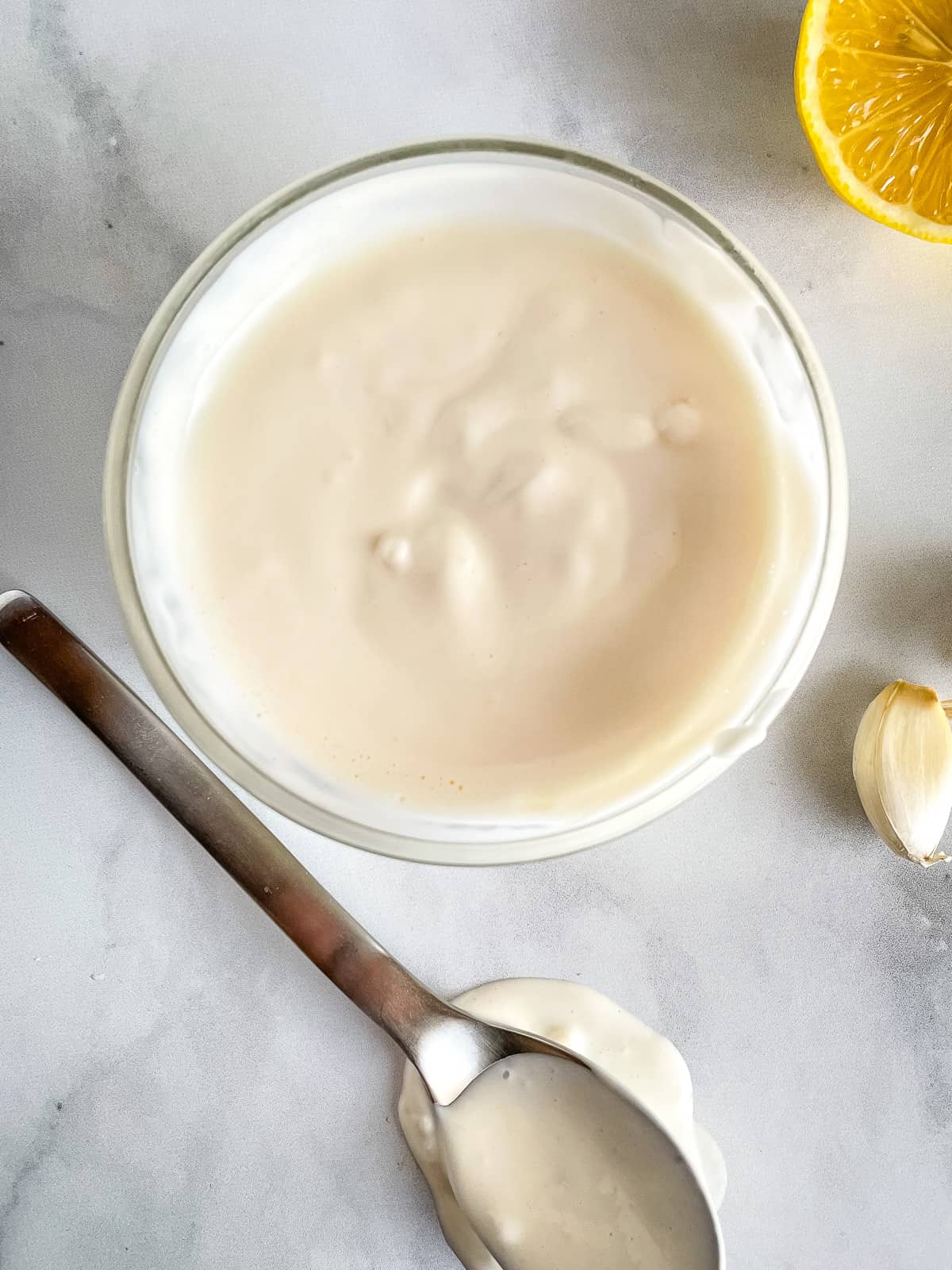 Storage
Store this mayonnaise in a tightly sealed container in the refrigerator for up to three days. Because it contains raw garlic, it has a pungent aroma that can fill the fridge. A sealed container is a must for this mayonnaise.
Recipe FAQs
Is this garlic aioli?
It isn't a true aioli but the flavor is very similar. Aioli is made by emulsifying eggs, mustard, and oil in the blender. Then adding other ingredients, like garlic and lemon juice. So you can see where it's similar. Making homemade aioli is a somewhat easy process but does take longer than this recipe.
Can I double this recipe?
Yes. Since the mayonnaise only lasts for three days in the refrigerator, the recipe makes about one cup. If you need more, simply double the ingredients.
Can I use low-fat or fat-free mayonnaise?
If low-fat mayonnaise is your preference, you can certainly use it in this recipe. Since low fat and fat-free mayo aren't as rich as traditional mayonnaise, the garlic flavor tends to be stronger. Start with a little less garlic and then increase to taste.
Other Garlic Recipes You'll Love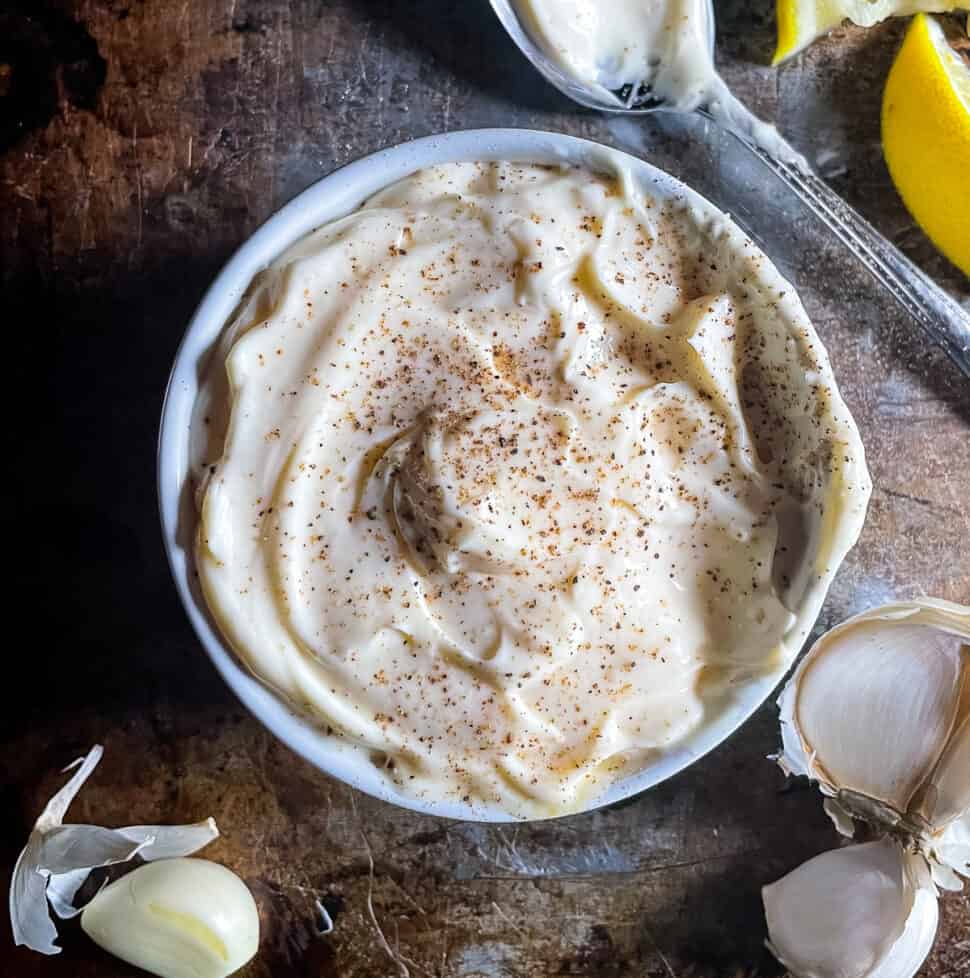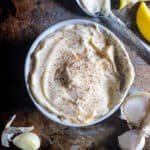 Easy Garlic Mayonnaise
This garlic mayonnaise is made in 5 minutes with only 3 ingredients. It's the perfect topping for sandwiches, fries, salads, and more!
Ingredients
1

cup

mayonnaise

4

cloves

garlic, minced

2

tablespoons

freshly squeezed lemon juice, plus more to taste

Salt and freshly ground black pepper, to taste

to taste
Instructions
Place mayonnaise into a small bowl. Stir until smooth. Add the minced garlic and stir to combine. Add the lemon juice. Stir until smooth. Add more lemon juice as needed. Consistency should be thick enough to coat a spoon but thinner than regular mayonnaise.

Cover and chill for 30 minutes. Taste. Adjust ingredients (add more garlic and lemon juice as needed.) Salt and pepper to taste.

Store covered in the refrigerator for up to three days.S